Man cave ideas for the pandemic
The safest place to watch sports with your pals is outdoors
You want to enjoy sports on TV and drink a few cold ones with your best buds. But the man cave in your basement isn't the safest place to host a gathering during the pandemic.
So, what do you do? Create an outdoor bro's nest, of course.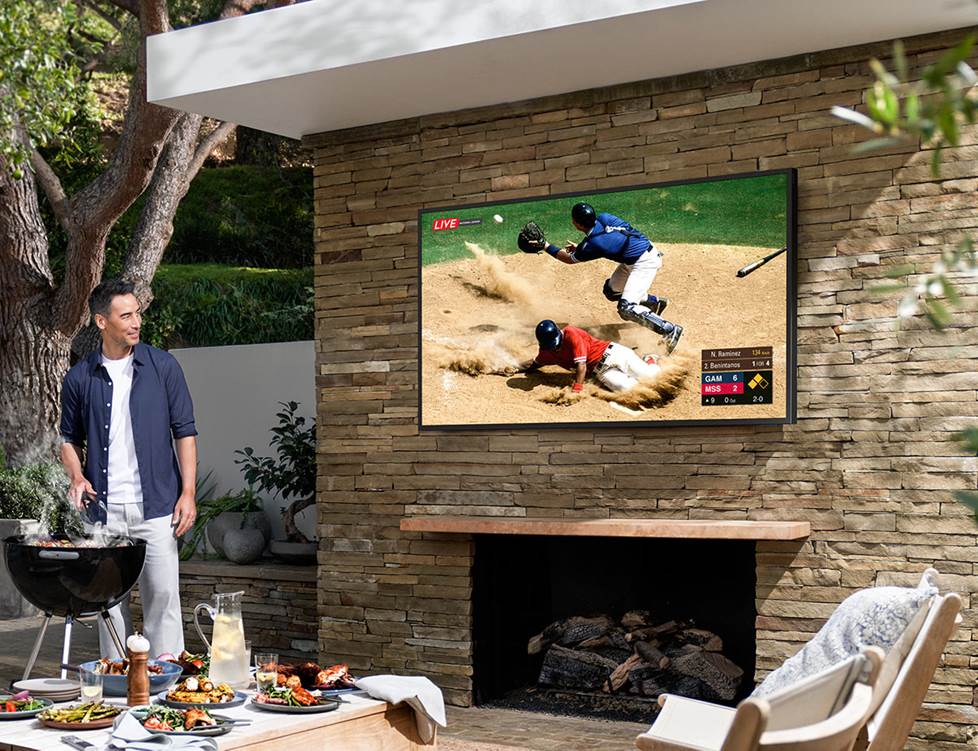 Safe! Or at least safer than an indoor party during the pandemic.
How to safely host an outdoor party
Hosting an outdoor party is safer than doing it indoors. But that's just the first thing you need to know.
Before you invite your pals, read up on how to party safely. This article from the New York Times and this one from Reader's Digest Best Health offer some great advice about crowd size, social distancing, and mask-wearing. Learn about safe methods for serving for food and taking bathroom breaks. Shouting is risky, so you might try some safer ways to emote when your team scores.
Now, on to the geeky part. What sort of A/V gear do you need?
Is it OK to use your indoor TV outside?
Sorry, but for a lot of reasons, the answer is no. Here are a few of them:
Most regular TVs don't have enough brightness to provide you with a good picture in a sunlit outdoor setting.
Regular TVs aren't built to withstand the elements. They can be damaged by temperature extremes, humidity (which can cause condensation inside the TV), insect infestations, dirt and grime. They can pose an electrical hazard if used in a moist environment. And outdoor use may even void your regular TV's warranty.
How to choose an outdoor TV
The best outdoor TVs are made by SunBrite and Samsung.
Before you buy an outdoor TV, read the product descriptions carefully. Some models, like the ones in the SunBrite Veranda Series, are best suited to a sheltered or shaded outdoor space like a screen porch or covered patio. Others, like the ones in the SunBrite Pro Series, can perform well in a space that's fully exposed to sunshine.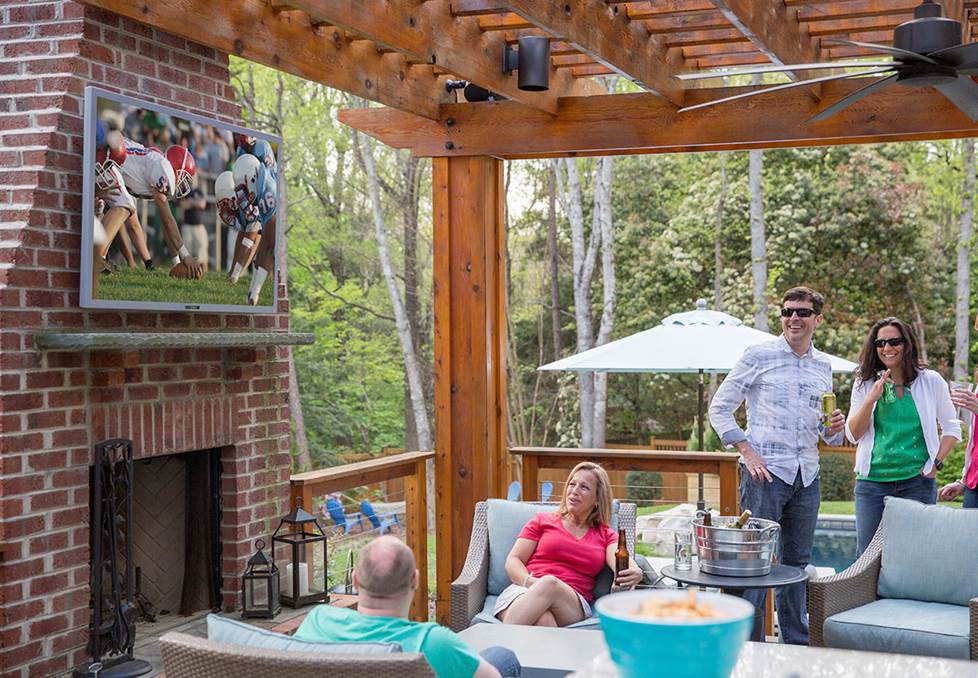 Sunbrite offers three series of outdoor TVs. The Veranda Series is for shaded locations. The Signature 2 Series is for partly shaded locations. And the Pro Series is for use in direct sunlight.
For night games, a portable outdoor theater setup is a great option. You'll need an outdoor screen, a projector, and a powered speaker or two. To learn more, read our backyard theater guide.
How to connect an outdoor TV
Want to run an HDMI cable from a cable or satellite TV box (or your A/V receiver) to an outdoor location? You have a few options.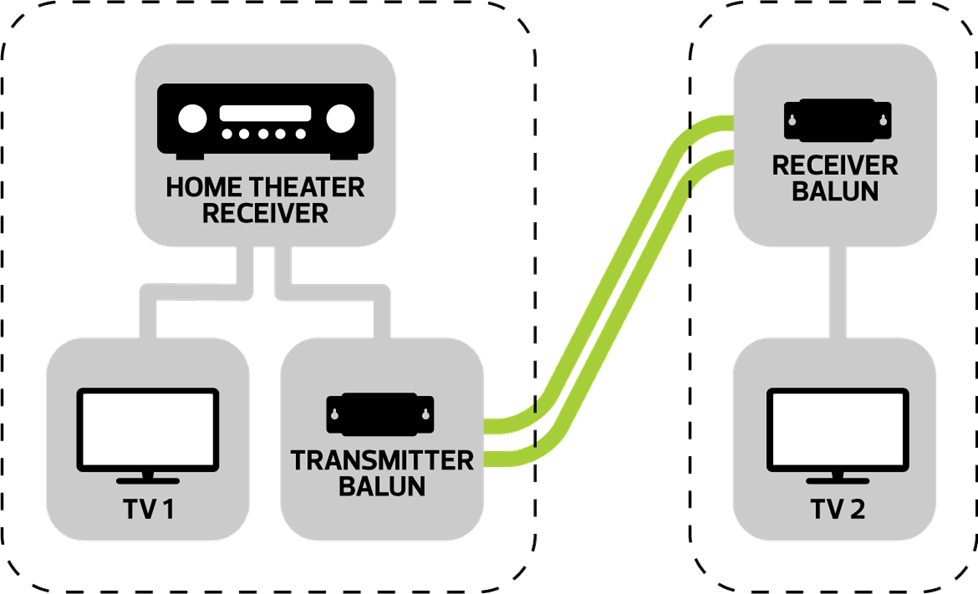 HDMI baluns let you send TV signals over long distances via CAT-6 cable...

... or you can also use fiber-optic HDMI cables.
Look for long HDMI cables that are in-wall rated. To learn more about outdoor HDMI connections, read our article on how to choose and install an outdoor TV and our guide to multi-room video with an A/V receiver.
Outdoor smart TVs
If you get your sports from an online streaming service, take a good look at Samsung's "The Terrace" family of outdoor smart TVs. These TVs can access a host of live TV apps via your Wi-Fi network. No HDMI connection or external box required. All you need is broadband internet connection and a Wi-Fi signal that reaches your outdoor location.
Do a speed test to determine whether your Wi-Fi signal is strong enough in your outdoor TV location. The popular Speedtest app by Ookla is available for iOS and Android.
Samsung recommends a network connection speed of at least 10Mbps for high-definition streaming (or 25Mbps for 4K streaming).
To improve your Wi-Fi in the back yard, consider getting a new mesh network Wi-Fi router system. Place one of the mesh nodes as close as possible to your outdoor living space. To learn more about mesh networks, read our wireless router buying guide.
Outdoor TV antennas
For games that are broadcast over the air, connect an outdoor TV antenna like the Mohu Crescent. To learn about TV antennas, read our HDTV antenna buying guide.
Mounting an outdoor TV
To see what's involved in an outdoor TV installation, watch SunBrite's how-to videos.
You'll need a stand or wall mount that's built for outdoor use. If DIY installation is beyond your skill set, we can help you find a local installer.
Outdoor sound solutions
Outdoor TVs have built-in speakers. If those aren't loud enough, you have options.
SunBrite offers an outdoor sound bar for select SunBrite TVs. Samsung makes a sound bar for The Terrace TVs. Samsung outdoor TVs can transmit sound to any portable Bluetooth speaker.
After the game is over, you might want to chill out with some music. A Bluetooth speaker is a good option. But perhaps you're interested in a more satisfying, permanently-installed outdoor music system. If so, read our outdoor speaker system planning guide.
Outdoor living space design ideas
I'm not a landscape architect or an exterior designer. So I'll leave you with a few links for inspiration: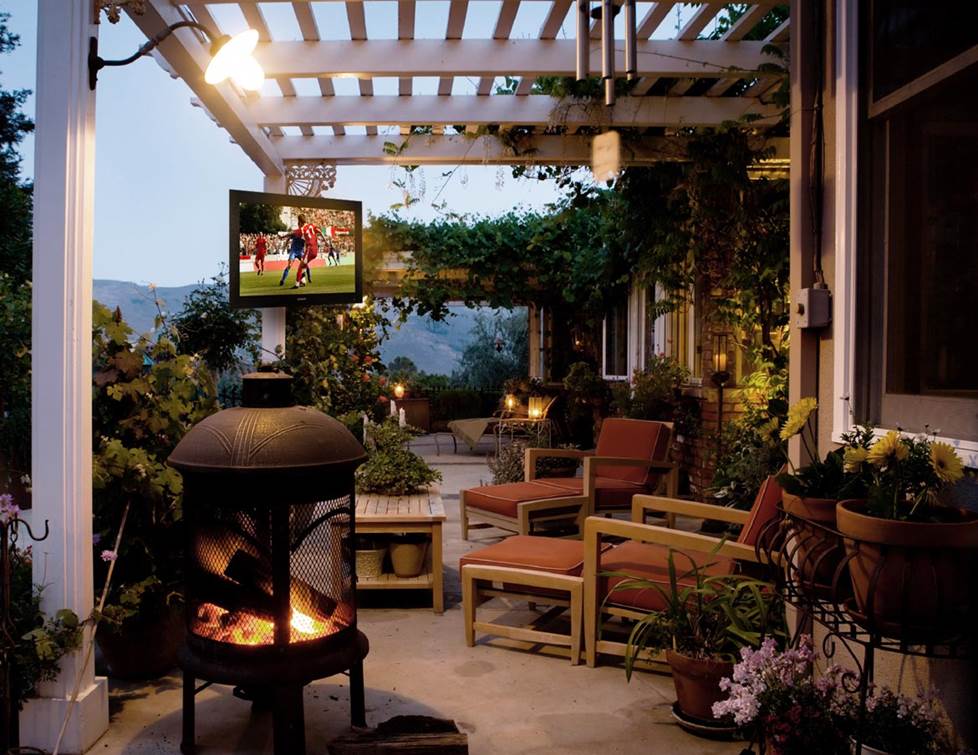 Like spending time outdoors, but don't want to miss the big game? Even when you're not entertaining friends, you'll love having an outdoor TV.
Questions?
Crutchfield can help you choose an outdoor TV, a mounting bracket, a TV antenna, outdoor TV wiring, or outdoor speakers. And remember, lifetime tech support comes with every Crutchfield purchase.
Last updated 9/23/2020