Dan's Mazda Miata meets the Alpine KTP-445A Power Pack
A compact amp for any car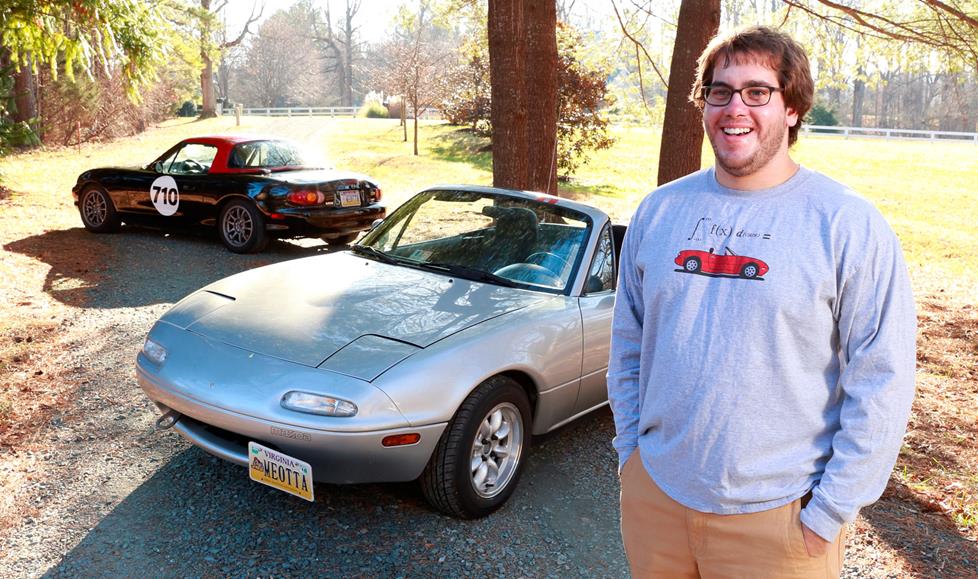 Dan, a Crutchfield web designer, managed to perform a major sound upgrade in his 1991 Mazda Miata (the silver one in front there).
Increasing power by adding an amplifier always improves the sound quality of a car's stereo system. It allows your music to play loudly and clearly over wind and road noise — which is especially beneficial in a convertible. But many people worry that they don't have enough room inside their car to install an amplifier. Putting in a small, compact amp solves this problem handily, as we demonstrate in a tiny Mazda Miata sports car.
A Crutchfield web designer's Miatas
When he's not designing web pages for Crutchfield, Dan likes to race his Miata. He actually owns two of them and although he's not a professional driver, he enjoys pushing his racer to the limit around a couple of open-to-the-public race courses in the state. While he wouldn't think of wasting resources by putting a new stereo in his racing car, he wanted some higher-quality sound for his everyday ride, a 1991 Miata. He already had an Alpine receiver he wanted to install in the dash.
When we heard what he was planning, we knew it'd sound even better if we added an Alpine KTP-445A compact amplifier to his system. Dan was excited about the prospect.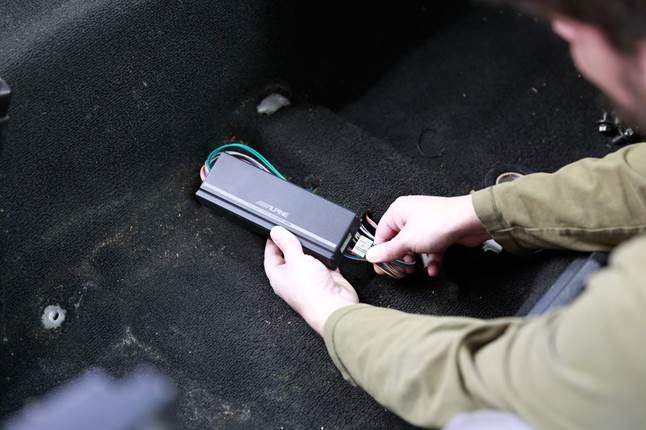 The Alpine power pack fit right under the passenger seat. We used existing slits in the carpet to get the wiring to the amp.
An amp that plugs in and plays
Alpine designed the KTP-445A Power Pack to simply plug into one of their receivers for power and input, and into the vehicle's stereo harness for its output. On top of that, it's tiny — just over 8 inches long, 3 inches wide, and only an inch and a half tall — yet still puts out 45 watts RMS, which is plenty for a small car like the Miata.
Finding a mounting location
In a typical passenger car, the Power Pack often fits in tight spots, such as behind the dash or in the glovebox. The Miata, however, proved a little more challenging, due to its severely limited space. Luckily, we found just enough space under the passenger seat.
The amp's harnesses were long enough to run the connections from behind the receiver in the dash, under the carpet, and on to the mounting location. No other wiring was necessary. We only had to remove four bolts, and the seat came right out, giving us plenty of room to work. We used self-adhesive strips of velcro to keep the amp from sliding.
Feeding power to a new set of speakers
A new stereo and amp weren't going to do Dan much good if he didn't replace his factory speakers. After 23 years of duty, there really wasn't much left of them. It's a wonder they still played at all. Not surprisingly, the Miata presented a few spatial challenges here, too. This limited the models we could choose from since Dan didn't want to modify his car too much.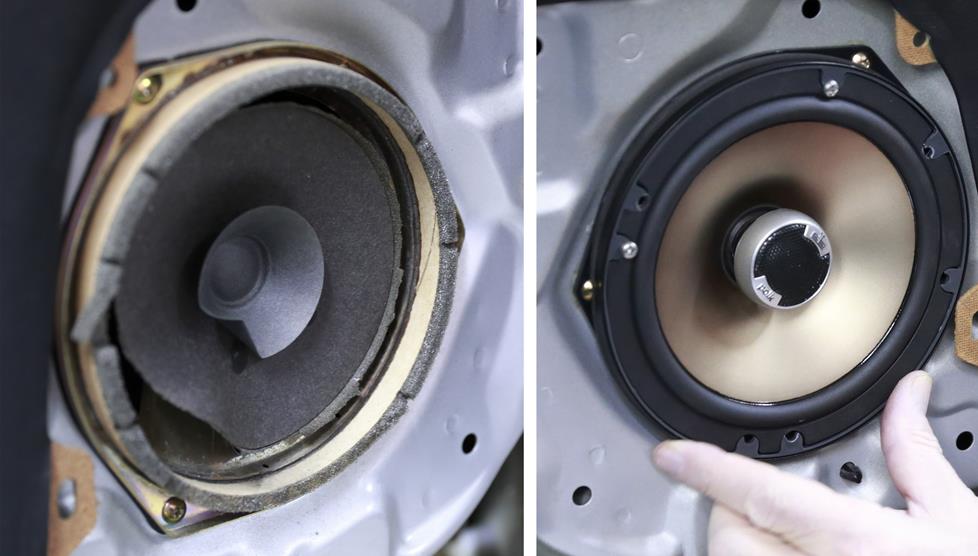 Dan's factory speakers were completely falling apart. It's an understatement to say that the new Polk dbs made a huge difference.
We ended up replacing the factory disasters with a set of Polk Audio db speakers, which dropped right in, and didn't interfere with his windows rolling down. Dan had to remove the factory speaker grilles to accommodate the new speakers (which is not unusual with a Miata), but that simply lets him show off the distinctive copper Polk woofer cones. Luckily, the dbs come with grilles, so they're protected from the dangers of stray feet.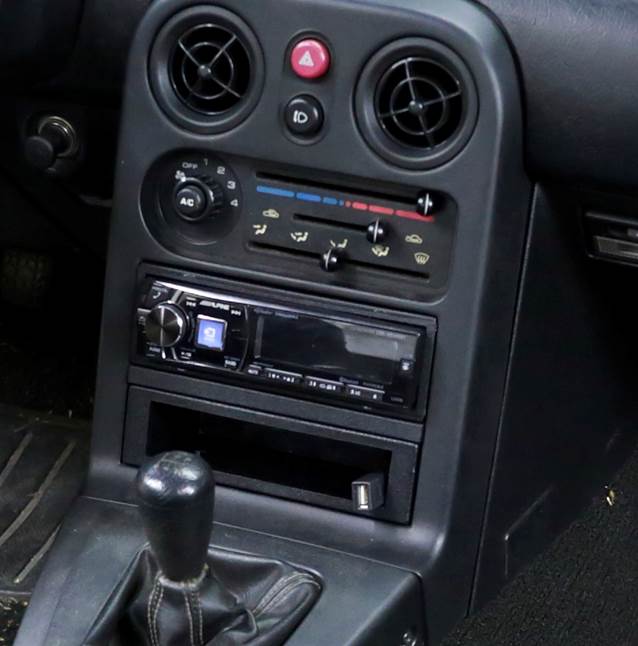 The now discontinued Alpine CDE-HD149BT receiver looks fantastic in Dan's dash
How he likes it now
Dan loves the sound now. He reports that "there's finally a bottom end and the highs are much crisper. I can also turn the volume way up without losing sound quality. Now cruising with the top down, I can actually hear the music." And it doesn't hurt that the final result looks fantastic, too.
Your turn
Do you have a compact car with a sound system you'd like to upgrade? Just need more power? Check out our line of compact amps. And give us a call at 1-888-955-6000 if you'd like some advice on the finding the best gear for your ride.