MirrorLink™ — smartphone connectivity
An overview of one form of smartphone integration
Heads up!
Welcome to this article from the Crutchfield archives. Have fun reading it, but be aware that the information may be outdated and links may be broken.
If you're like most people these days, you've made your smartphone your source for… well, pretty much everything. You store music on it, do things like get directions with it, and sometimes even make phone calls with it. So it's only natural that you'd want to tap into it when you're on the road.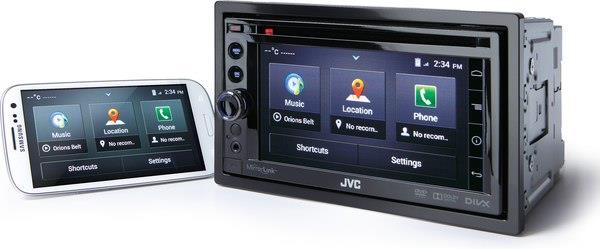 With your phone connected and its MirrorLink friendly app launced, you'll see its interface replicated on your receiver's screen. That's your gateway to functions like your music, app-based GPS, and Bluetooth functionality.
It's easy for car electronics manufacturers to develop hardware and software that'll help their stereos connect to and control your iPhone® — there's only one platform they need to worry about.
Working with Android™ and other non-Apple phones presents a much greater challenge. With so many hardware and software platforms to contend with, it's been impossible to develop one simple solution for in-dash control.
To help solve this problem, nearly 100 electronics, phone, and vehicle manufacturers joined together to form the Car Connectivity Constortium. The goal: to create an industry-standardized system to provide in-car control over a wide range of smartphones using a wide range of stereo systems. The result: MirrorLink.
Your smartphone, your receiver, and MirrorLink — working in perfect 3-part harmony
MirrorLink is designed to provide easy-to-use in-dash control over compatible smartphones. The system needs three elements to do its thing: a compatible in-dash receiver, a compatible smartphone, and an app that works with MirrorLink. The system works like this:
Download the app (prices vary) to your compatible phone. Launching the app provides a simplified graphical interface that's ideal for use in the car, because it's easy to see at a glance, and much easier to use.
Connect your phone to the receiver. This can sometimes require a special cable or interface.
Launch the app on your phone, and tap the MirrorLink icon in the receiver's source menu. The optimized carmode menu will appear on your receiver's screen.
And that's it. You're ready to rock. You'll be able to use your in-dash receiver to access the music stored on your phone, engage select navigation apps, and more. You'll also be able to use your receiver's hands-free calling, if it has Bluetooth® connectivity built in. MirrorLink even offers up the "menu," "home," and "back" buttons you're used to using.
Android Auto — another form of Android integration
Android Auto is a newer, more popular form of car stereo integration for Android users. It's similar to MirrorLink, but it's more widely available on new car stereos. Learn more in our article about Android Auto. Then you can check out our selection of car stereos that work with Android Auto.
What about Apple devices?
Apple devices (iPhones, iPads, and iPod touch) do not work with MirrorLink. That's because most stereos already work with Apple devices via the USB cable. More advanced receivers (those with touchscreens) offer Apple CarPlay™ as a way of interfacing with your iOS device. Read our article about Apple CarPlay to learn more, then look for car stereos with Apple CarPlay.
So, will my phone and receiver work with MirrorLink?
The Car Connectivity Consortium is currently working with its members to certify phones and receivers for use with MirrorLink. While the MirrorLink system has been in use in certain factory stereos in Europe, it hasn't quite become the standard in our country. The list of compatible U.S.-based receivers and smartphones keeps growing — you can search for MirrorLink compatible products on MirrorLink's website.