Introducing Monitor Audio
Highly refined, superb-sounding home loudspeakers
Heads up!
Welcome to this article from the Crutchfield archives. Have fun reading it, but be aware that the information may be outdated and links may be broken.

Monitor Audio may not be exactly a household name here in the States, but this U.K.-based company has quietly been building highly refined, superb-sounding loudspeakers for appreciative audiences since the mid-1970s. Their innovative designs and reputation for quality have earned them accolades from the audio press both here in the U.S. and around the globe.
Crutchfield is thrilled to introduce our customers to a wide selection of Monitor Audio products that can fulfill all of their home theater and music listening needs.
We offer traditional cabinet speakers from Monitor's Gold, Silver, and Radius lines, plus an array of high-performance in-wall and in-ceiling speakers for stealthy custom installations.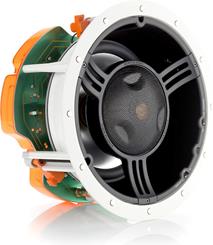 The high-performance CT280IDC in-ceiling speaker boasts an aimable midrange/tweeter module that lets you direct sound to your listening position.
We also carry Monitor's Airstream A100 stereo integrated amplifier.
In addition to a variety of space-saving bookshelf models and full-range floor-standing towers, our assortment of Monitor speakers includes powered subwoofers, center channel speakers, as well as dedicated surround sound speakers — all sonically matched to create a seamless listening experience.
Technology that serves the sound
One of the secrets to Monitor Audio speakers' sonic performance lies in their unique and proprietary speaker-building technologies. For example, most Monitor speakers boast drivers made from a ceramic-coated aluminum/magnesium alloy originally developed for jet engine components. This exceptionally stiff, lightweight material allows the speaker to respond swiftly and precisely to the audio signal — making them equally capable of reproducing the most delicate musical atmospherics of a fine concert hall, as well as the explosive dynamics of a blockbuster movie soundtrack.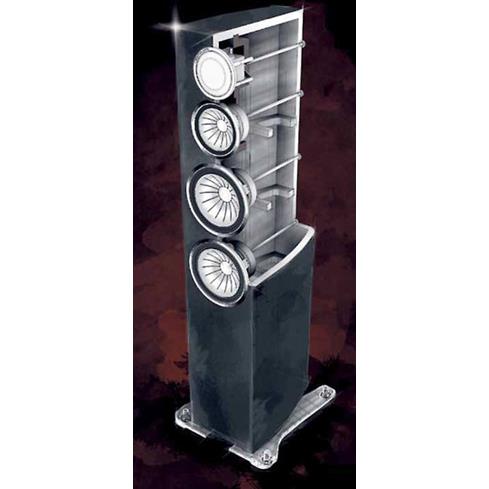 Monitor Audio mounts each driver using a bolt attached to the back of the cabinet instead of mounting screws. This strengthens the cabinet and provides a clean, streamlined look.
Another technology that Monitor employs to enhance sound quality is their unique "bolt through" design. Instead of using conventional screws, Monitor mounts each driver firmly into the cabinet using a single bolt that threads into its backplate, runs through the entire length of the speaker, then attaches to the back of the enclosure. This mechanically decouples the driver and front baffle to enhance clarity and resolution, while acting as rigid cross bracing for a more solid, non-resonant cabinet.
Hands-on design approach
But Monitor knows that technology alone is no guarantee of superior performance, the human element is just as critical. That's why they spend countless hours listening to their designs, tweaking and fine tuning each one by ear to achieve that ideal balance between technical accuracy and smooth, natural sound.
Appealing to the eye
Although sound quality is of utmost importance to Monitor Audio, they also make some of the most beautiful speaker cabinets we've ever seen. From the mirror-like high-gloss black or white finishes, to the rich, genuine wood veneers, the quality of Monitor speakers' fit and finish is exceptional. With their wide variety of sizes and gorgeous looks, we could see them being a welcome addition to virtually any room.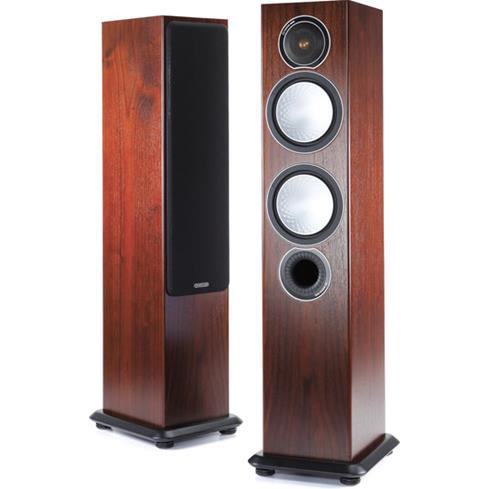 Monitor Audio's Silver 6 towers combine high-tech audio design with exquisite craftsmanship for speakers that look as good as they sound.
What the press is saying...
Praise for the Silver 6 floor-standing speakers from SoundStage! Access
"As sharp as the Monitors looked, what grabbed my attention was their sound. Although I've focused so far on their small size and unobtrusive shape, that doesn't describe what I heard. I could crank these speakers to great effect, enjoying clean output at volumes unsafe for extended listening. They were as comfortable reproducing the sound of a solo violin as of a symphony orchestra, and their ability to convey real-life dynamics was exemplary....
...No other compact music system that I am aware of could capture the scale of this music so effortlessly, or so energize a listening room, as did these in mine.....
...The S6 was not bright. The superb level of detail it uncovered was not the result of tipping up the high frequencies to draw attention to them in a way that one might mistakenly perceive as enhanced detail. Rather, it was the combination of several factors, including their solidly constructed cabinets and high-quality drivers, that gave the S6es excellent clarity and allowed them to possess such magnificent resolution....
...At $1500/pair, the Monitor Audio Silver 6 is a no-brainer."
— From Philip Beaudette's review in SoundStage! Access, August 1, 2014
Personal impressions
As one of Crutchfield's home audio writers, I often have the privilege of auditioning products we carry in my home. Sometimes, they sound so good that bringing them back to work proves much harder than lugging them home. That was certainly the case when I had the chance to try out the Monitor Audio Radius 90 bookshelf speakers.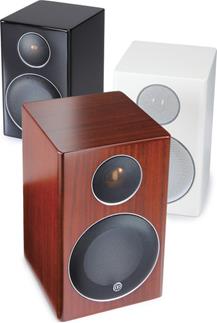 The tiny Radius 90 bookshelf speakers deliver big, room filling sound, and look fantastic doing it.
Radius 90 — Quality over quantity
I found the Radius 90 speakers to be surprisingly smaller than expected when I unboxed them. Man, these things are tiny. I placed them on the stands where my own bookshelf speakers normally live, and fired them up. The sound was spacious, detailed, and far smoother on top than I've come to expect from a number of metal-dome tweeters. Imaging and soundstaging were impressive, as well, with good height and extension off to the sides of the cabinets on good recordings.
The only area where these mini-monitors had any noticeable shortcomings was in filling my good-sized 16' x 24' family room with high volume levels. And that was simply a matter of physics due to their extremely compact size. Plus, my wife thought they were cute, so that scored big points back in their favor. These would make a killer system in a small living room, bedroom, or den, especially with one of Monitor's compact Radius 380 powered subs.