Multi-room home speaker system buying guide
How to design an easy-to-use music system that sounds and looks great
In a nutshell: A well-planned home has a variety of fixtures and systems to keep its occupants comfortable and happy. Architects and designers work wonders with lighting, plumbing, air conditioning, appliances, furniture, and fabric.
But there's one element designers frequently neglect: sound.
Imagine music flowing through your rooms like light from the windows or cool air from the vents. That's what it feels like when the speakers are built into your walls or ceilings.
It's easy to incorporate in-wall and ceiling speakers when you're building or renovating a home. In an existing home, it's easier to use wireless multi-room speakers.
Your music can come from an Internet service like Spotify®, or from a computer or hard drive that's attached to your home network.
It's easy to play one song in the family room and another in your bedroom. Or play the same music throughout the house.
You can use your smartphone or tablet a remote control. Or you can install in-wall controls.
Ready to plan the perfect system for your home? Read the full story
uilding a new house (or thoroughly renovating an old one)? You have the perfect opportunity to conceal speakers and wires in your walls and ceilings. It can be done in an existing home, but it's not easy work for a do-it-yourselfer. For details, see our in-wall wiring guide.
Wireless systems are the easiest solution. We'll explore those first.
Wireless systems
Today's wireless systems are popular for good reasons.
Installation and setup takes minutes.
They don't have to involve a bulky and complicated home theater receiver.
You can easily carry a wireless speaker from one room to the next.
And you can take the entire system with you when you move.
A wireless system is an obvious choice for an existing home, but may also be the best platform for a new home.
Consider a hybrid system
That's a system in which wireless components, such as the Sonos Amp, feed the music to in-wall or ceiling speakers.
In such a system, you enjoy the convenience of a smartphone remote control app. But the hardware is hidden in a utility room or equipment closet.
A common misconception about the Sonos wireless system is that you must have Sonos hardware in every room. And that notion can be a deal-killer if ceiling speakers are all you can get away with in the dining room and the formal living room. Fortunately, it's not the case.
The solution is to locate one or more Sonos Amp modules in your utility room and run speaker wires from there to the ceiling speakers in the dining room and the living room.
Your system might also include several other Sonos components that are located elsewhere.
Your yard is a room, too
Now let's turn our attention to your outdoor zone.
Say you need several weatherproof speakers to evenly distribute sound about the pool and patio areas. You'll play the same music through all of your outdoor speakers, so you only need one Sonos component for this zone. But outdoor speakers require a lot of power, so you don't want to rely on a single 2-channel amplifier.
In this scenario, you might pair a non-powered Port module with a multi-channel amplifier. Place them in the utility room along with the Sonos Amp modules serving the living and dining rooms. Get an equipment rack or cabinet to keep things organized in the utility room.
Wired systems
Wireless systems are terrific, but some people find a wired system with in-wall controls easier to live with.
Installation of a wired system can be daunting for a do-it-yourselfer. Most people will require the services of an electrician or audio/video installer. But Crutchfield's A/V Design Group can help you plan your system.
70-volt systems
Wired systems are also good for commercial applications, such as a dentist's office or a coffee shop. A traditional stereo system is good in a very small office or shop, where there are only a few sets of speakers.
In a commercial building, a 70-volt system is usually the best solution. There are several reasons why:
One amp can drive many speakers without using a complex wiring scheme.
It's easy to set different volume levels in different listening areas.
You use lighter, less expensive speaker wire and much less wire overall.
Easy system expansion — just add more speakers to an existing chain.
For help a commercial installation, contact a system designer at 1.800.315.2758. To learn more about commercial audio, read our guide to 70-volt systems.
What type of system is best for you?
Below we'll explore the pros and cons of two types of wired systems. First, we'll look at setups that use the multi-zone outputs of a home theater receiver. Then we'll discuss separate music-only systems.
Home theater receiver with multi-zone capability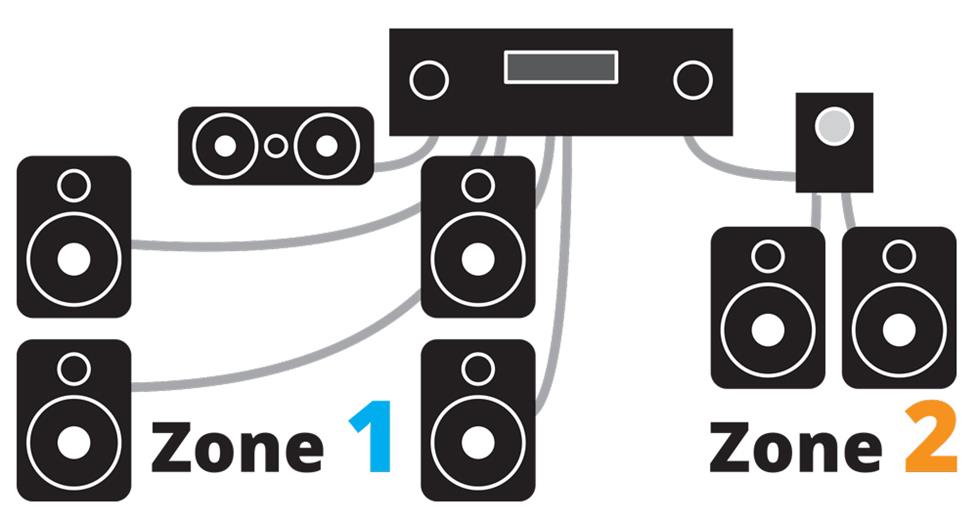 Audio for two rooms, using the receiver's "B" speaker outputs.
Most modern receivers have speaker outputs for a second room. Many connect to a home network for access to Internet music sources. These features make a receiver-based system a great option in some situations.
Planning a system that will serve more than one or two additional zones? You can connect several pairs of speakers to a receiver's "B" speaker outputs (or to a separate two-channel amp connected to a receiver's preamp outputs). You'll need a speaker selector or impedance-matching volume controls. Be careful, though. Some speaker selectors are meant to be used only with an amp capable of driving a low-impedance speaker load.
Music-only systems
You might be better off keeping the home theater receiver out of the equation. A multi-channel amp (with its own music sources) is safer, easier to operate, and capable of bigger, better sound. To learn more, read our article on how to power a multi-room audio system.
Wall-mounted volume controls require speaker wiring only. In-wall keypads that let you control your music source components also require CAT-5 wiring. You may also need infrared "flashers" to relay remote control commands to your music source components.
[Shop for multi-room audio hardware, in-wall cable and accessories, and remote control extenders.]
What music sources are best for your system?
Playing the music files stored on your computer is a good option for many systems, but there are a few drawbacks. The computer must be turned on, of course. And your computer's hard drive might not hold all your music.
Consider storing your music library on a high-capacity networked hard drive (also known as a NAS drive). You can leave it turned on, so your tunes are always instantly available.
Or take a look at the Bluesound Vault 2i It rips your CDs in a hi-resolution format and stores the files on a built-in drive. This takes your computer (and all the associated hassles) completely out of the equation.
With some systems, you may be able to play the files stored on your smartphone or tablet. If you want to do this in a receiver-based system, make sure the receiver can play your phone or tablet music in the second zone. Many receivers play only analog sources through the second zone outputs.
When choosing a wireless system or a receiver, make sure it's compatible with your favorite music streaming services.
Next steps
Feeling overwhelmed by too many choices? Here's how to sort it all out:
Jot down some notes about which rooms you want music in. What kind of sound and what kind of speakers you want in each one.
Think about whether you want to simultaneously play different music in different rooms.
Consider whether you want to use a wireless device such as a smartphone or tablet as your system controller.
Continue your research by reading more Crutchfield articles about multi-room audio.
Get a free system design
In a well-designed home, form and function are on the same team. Furnishings and appliances smoothly serve your family and guests. You should expect no less from your audio/video gear. But first you need a plan, and that's where your Crutchfield A/V design specialist comes in. Submit a system design request today! You'll receive a detailed system plan and a link to a pre-filled shopping cart.
3 easy steps
1
Share your info and ideas