Shooting music festivals
Four pro photographers share their secrets
Heads up!
Welcome to this article from the Crutchfield archives. Have fun reading it, but be aware that the information may be outdated and links may be broken.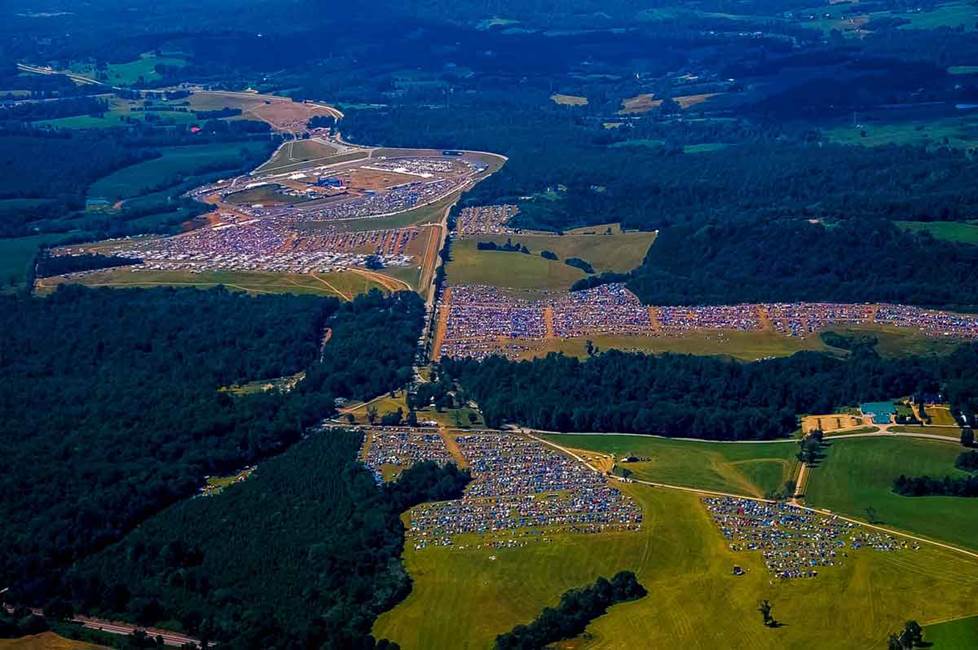 Lockn' Festival 2013, Arrington, VA — Aerial shot
There's nothing like attending a music festival — or the challenge of getting photos that really capture the festival experience. I was one of many happy campers who attended the maiden voyage of the Lockn' Festival (local to Crutchfield's corporate offices). It was a delightful musical and social event that proved to be a great opportunity for photographers. I caught up with some of the local pro and semi-pro show shooters who also attended and quizzed them on their experience shooting the event. I also asked what advice they had for festival goers who were ready to move beyond holding a smartphone in the air all day.
---
Milo
G.Milo Farineau started in film photography at the age of 13. He currently focuses his efforts on live music photography and is working on a photo journal project featuring the music festival scene. His photos have been used as album art by Tim Reynolds and TR3, The Infamous Stringdusters, Keller Williams and have appeared in Relix Magazine, Bluegrasstoday and Peter Conner's new Festival book project JAMerica. He does NOT do wedding photography.
What equipment do you use?
Two Nikon D7000s, Nikkor 24-70 2.8 and Nikkor 80-200 2.8 are my main 2 lenses. I bring but don't always carry a Nikon 17-35 2.8, a Nikon 50mm 1.4 prime and a fisheye. Monopod (rarely use, and never bring it into the photo pit) and a tripod for night shots. I carry both camera bodies with attached lenses in a Lowepro shoulder bag I got and tested for Crutchfield a long time ago -- you can drop two bodies in lens first.
Why did you choose this brand/piece of gear?
I chose the bag because it's deceivingly capable of carrying and protecting a lot of gear, and I've had to make use of the built in rain fly on more than one occasion when caught in abrupt rain. I like Nikon and Nikor lenses, and because it's what I grew up with.
What do you like most about it?
I like the layout of the D7000, It's got a good sensor and the batteries last a long long time. It also takes two SD cards which is a lot more efficient and less expensive than compact flash cards. It works great with remote wireless flash. I'm hard on equipment, and they've really held up well.
The shots:
Shot One: Chris Robinson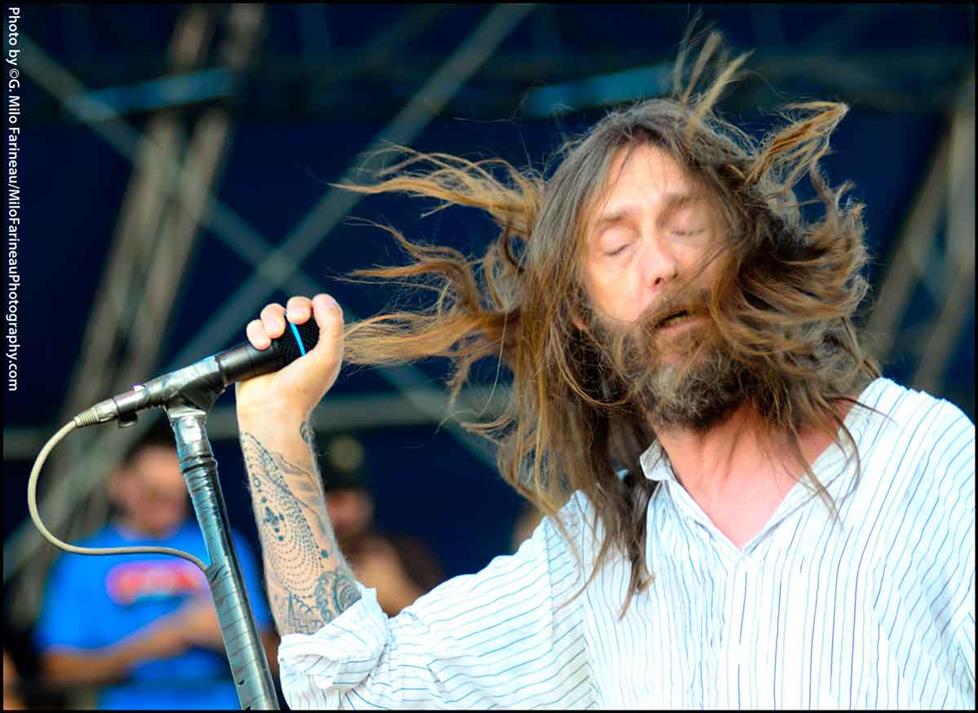 Chris Robinson of the Black Crowes | Nikon D7000, Nikkor 80-200mm lens, ISO 200 f/3.2, 1/320th
He was a little too far away to use the 24-70, and being able to zoom in to 200 to get good focus and a light reading was helpful. I shot it at ISO 200 to eliminate noise and still give me some room for speed. f3.2 to blur the distracting folks in the background a bit and 1/320 of a second to minimize the motion. This was about the tenth attempt to time his head snap and I finally got it.
Shot Two: Jimmy Cliff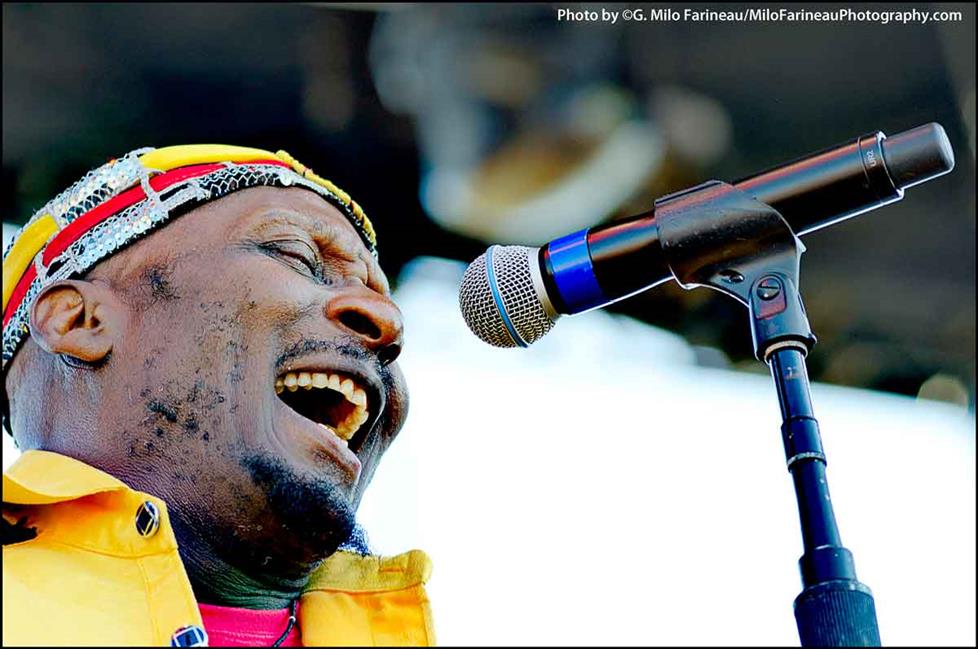 Jimmy Cliff | Nikon D7000, Nikkor 80-200mm lens, ISO 250 f/4.5, 1/320th
I was a little closer to Jimmy than Chris, so I zoomed to a focal length of 112 to fill the frame as much as I could with Jimmy. As you can see, being off to the left or right, and not straight on, gives some room between the microphone and the face.
Shot Three: Fire Spinner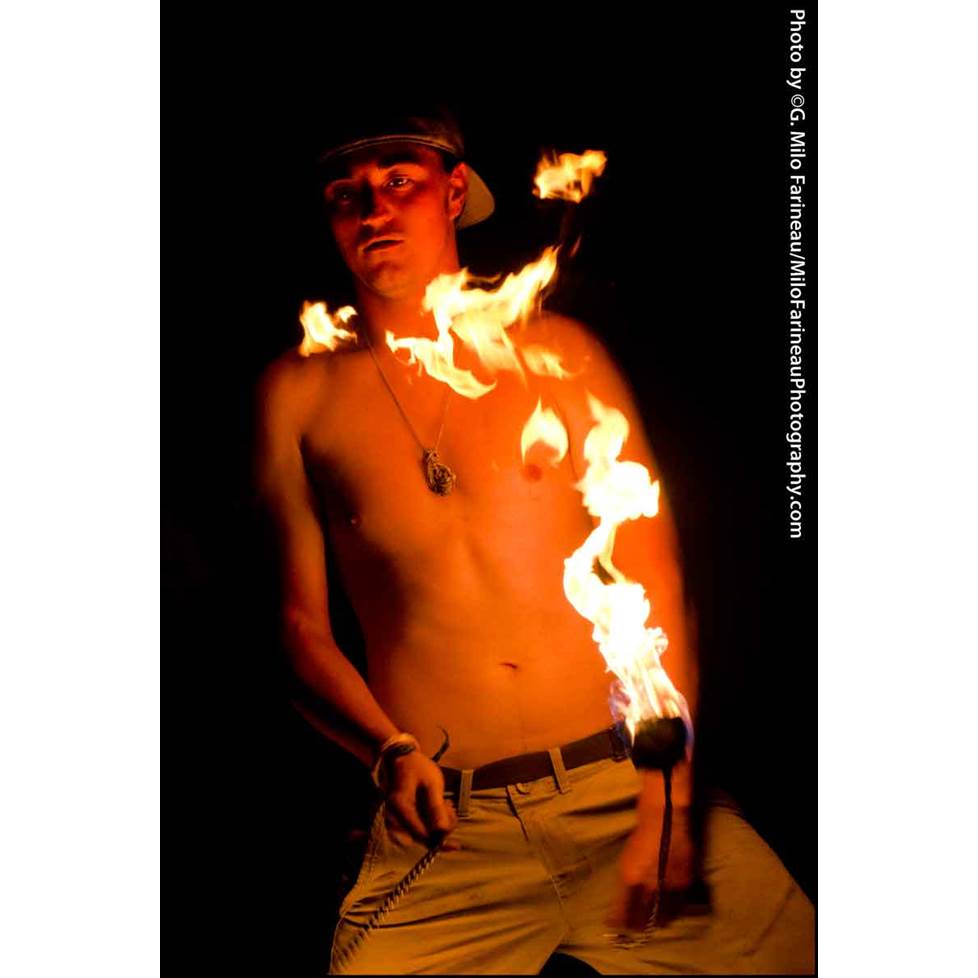 Fire Spinner | Nikon D7000, Nikkor 20-70mm lens, ISO 1600 f/8, 1/160th
Because I was close, I wanted a bigger depth of field so the guy and the flame could both be relatively in focus at the same time so I chose f/8. People spinning fire often hold their bodies fairly still for a few seconds while performing as they are essentially a gyroscope. This allows you to freeze their bodies and get a little motion out of the spinning flame. Good lenses allow for better light gathering. The flames were so bright that I could use f.8 and get the image.
What program do you use for post-production and how invaluable do you find it for shooting shows?
I use Adobe Photoshop CS5 primarily, and am learning CS6 and Lightroom. I'm an old school photographer, and I hate the term post production. It makes many people think that the electronic image they see in their viewfinder is the REAL image, then you doctor it in POST. In fact, the whole process of shooting and editing is image production. We used Photoshop in 1977, it just wasn't called photo shop. It was called film choice, plus processing choice, time and temperature choice, enlarger density choice, photo paper choice, print chemical choice, dodging and burning etc. In other words, our darkroom was Photoshop. Photoshop isn't a cheat, or a trick photo tool — it's essential.
What advice do you have for someone who wants to get better festival photos?
Listen and watch for habits and rhythms of the performer. You want to avoid the microphone covering the artists face so wait for the end of the sung line and time when the artist breaks away from the mic. Don't shoot straight on when the artist is singing into the microphone. I like to get up front and to the left of the stage if the artist is right-handed. That way you get more of the guitar/stringed instrument face in the photo, and you can take advantage of the mic breaks (when they pull away from the mic). If you are going to shoot them while singing, you need to be off to the side a little so the microphone doesn't end up in front of their face like a koala bear nose. Settle for noise over motion blur in low light. Don't make an artist look bad.
Also on tips for shooting, hold your breath as you press the shutter. Don't jerk the shutter down, press smoothly. I'm more comfortable shooting with both eyes open, occasionally closing one for a split second to confirm the framing of the image.
Milo's Lockn' shots on Facebook
---
Roger
Roger Gupta picked up the art of film photography from his father when he gave Roger his first camera at seven. Since Roger's a musician it seemed natural to combine his two passions of photography and music. He's shot Grateful Dead shows, Pink Floyd and the Rolling Stones on film but has since embraced the transition to digital bringing more freedom than film and further expanded possibilities for creativity. You can find Roger's photos on numerous bands' sites, the cover of the National Endowment for the Arts Magazine as well as online and print publications including Appalachian Jamwich, Jambase.com, Jambands.com, and Honest Tune Magazine.
What equipment do you use?
Nikon D300, Nikkor 18-200mm, Nikkor 35-70mm, Nikkor 10.5mm
What program do you use for post-production and how invaluable do you find it for shooting shows?
I use Photoshop and GIMP (GNU Image Manipulation Program). Both are extremely invaluable for creating pleasing shots.
The shots:
Shot One: Furthur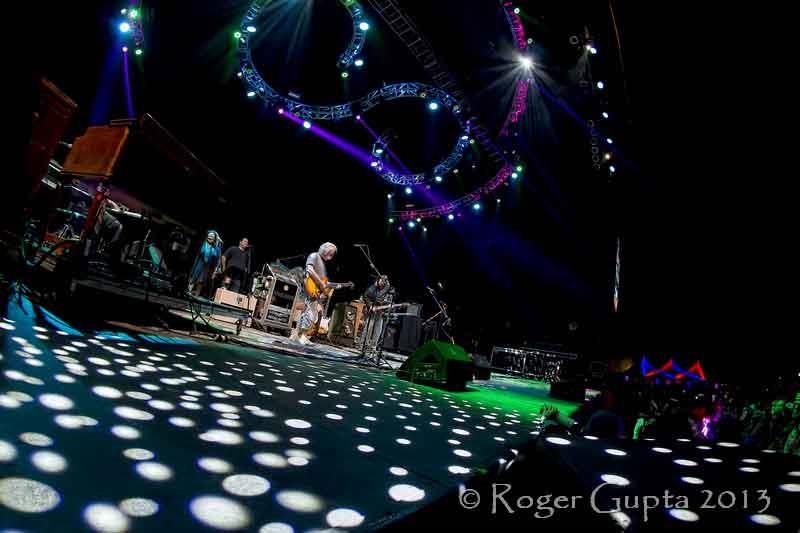 Furthur | Nkon D800, Nikkor 10.5 mm, f/2.8
For this shot of Furthur, I felt the very wide-angle of the 10.5mm was best suited to capture the lighting trusses, band and bonus display of light patterns on the stage floor.
Any tips on how to take a shot like this?
The lighting and effects can change rapidly but the changes often follow patterns. Keep your extra eye on the lighting for unique changes that can help contribute to a memorable shot.
Shot Two: Warren Haynes and Grace Potter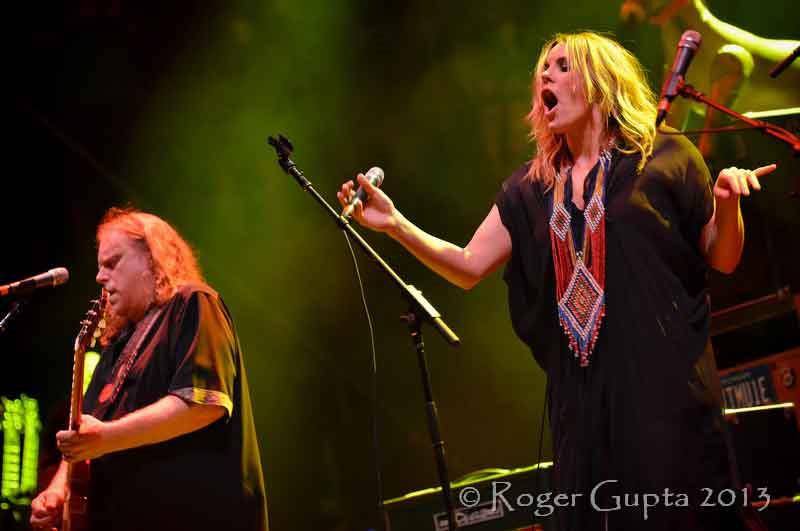 Warren Haynes and Grace Potter| Nkon D800, Tamron 70-200mm
I was at a considerable distance from the stage and needed the narrow zoom. Grace in the moment always makes for a great shot. This was taken during a rendition of Fleetwood Mac's 'Gold Dust Woman' when I noticed Grace's hair light up in golden yellow.
Any tips on how to take a shot like this?
Be aware of the lighting and find the moment that stands out and feels right. It often is.
Shot Three: Jimmy Herring and John Fogerty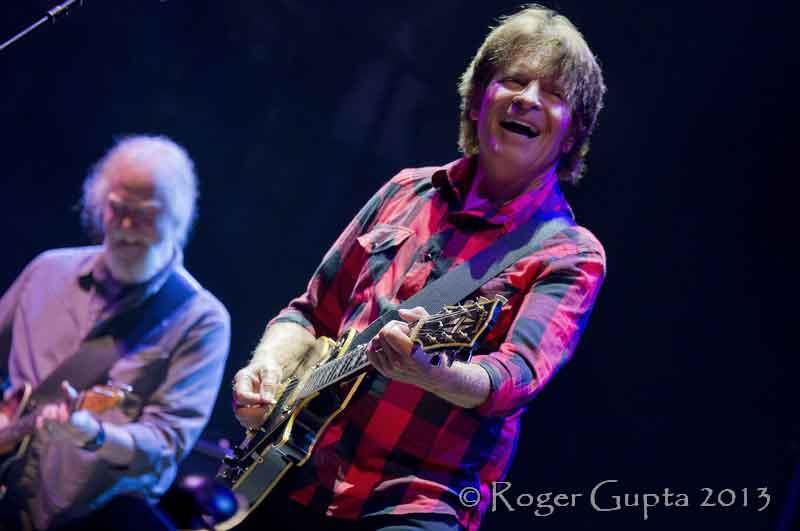 Jimmy Herring (of Widespread Panic) and John Fogerty| Nkon D800, Tamron 70-200mm
A narrow field was necessary at this angle to get both Fogerty and Herring in the frame. The beaming smile on Fogerty's face makes the shot.
Any tips on how to take a shot like this?
Watch for the subject's facial expressions and then try to capture their best side.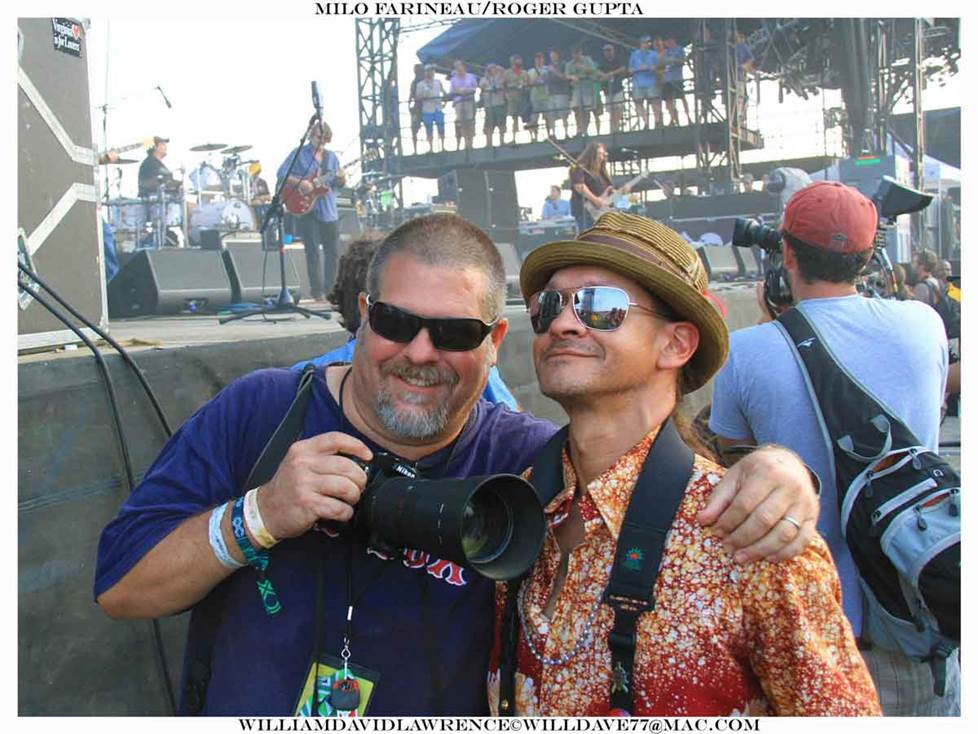 Milo & Roger in front of Widespread Panic
---
Gina:
Gina Elliott Proulx had a long and varied career in broadcast radio and visual journalism before becoming a part time photographer. She's primarily involved in live concert reportage and also makes environmental portraiture. Being so moved by live music performance she shoots primarily for publications, venues and performers.
What equipment do you use?
Canon 5d Mk II and a Canon 5d Mk III — I don't use a grip. LowePro Stealth Reporter camera bag, although I never take it in the shooter's pit, it gets in the way. Lenses: 200mm/2.8, 100/2.8 Macro, 16-35mm/2.8, 24-70mm/2.8, 85mm/1.2, 50mm/1.2
I use a double harness to hold both camera bodies, and typically a single additional lens in a waist pouch, in case the two I'd already chosen prove lacking. I try not to change lenses in the pit, it wastes time, it's a very dirty environment, and the risk of dropping gear in darkness is real. Lenses typically deployed for a large festival: 16-35mm/2.8L and a 100 mm/2.8. I'll often have either an 85/1.2 or a 50/1.2 as that single backup lens, in the pouch. I don't use a monopod or a tripod in the pit. I use a blower for quick cleanings in the field.
I use polarizing filters on all my lenses, and will occasionally deploy a neutral density filter if I want to control color a bit more. I shoot RAW always, and use as little post production as I can. I prefer a more journalistic look to my work. I will occasionally remove an errant mic stand. But I'm more apt to try to shoot around it, as that makes the experience more interesting for me.
Why did you choose this brand/piece of gear?
I started out with Pentax cameras during my film days. I came to Canon in digital, and have been pleased. I have a ton of excellent Canon L series lenses.
What do you like most about it?
I feel the controls are intuitive.That's pretty important when you are working FAST, and in darkness or rapidly changing light.
The shots:
Shot One: Jimmy Cliff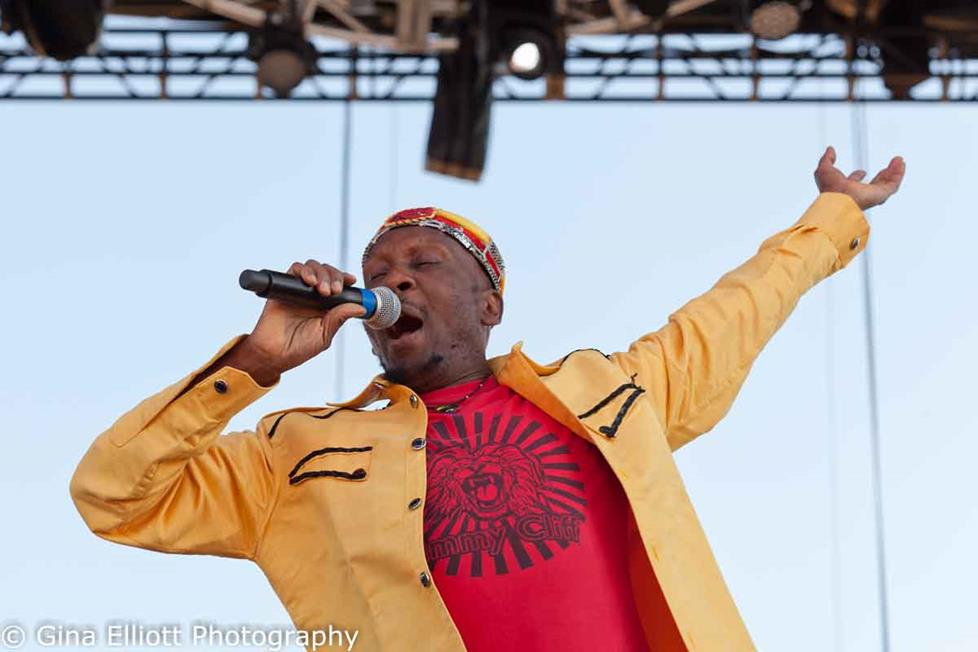 Jimmy Cliff| Canon 5d MkIII, 100mm, f/2.8
I've seen Jimmy Cliff perform several times over the years. This was my first chance to photograph him from the pit. The staging at Lockn' was large, as is that of all big festivals. But I found some vantages that worked for me. I had to try for the shot a few times to avoid losing part of his hands out of the frame. I've grown to rely on that 100mm Macro for single person frames. My vantage in the pit wasn't offering me a solid enough view of the entire band. So I focused on Jimmy.
The only thing missing in that photograph is a gust of wind to move his jacket enough to reveal the 'J' on his tee shirt.
Any tips on how to take a shot like this?
Know the band and how they'll move. Note the direction the vocal mic is pointing and try to be on the side the performer is most likely to be best visible from, as they sing into it.
Shot Two: Chris Robinson of The Black Crowes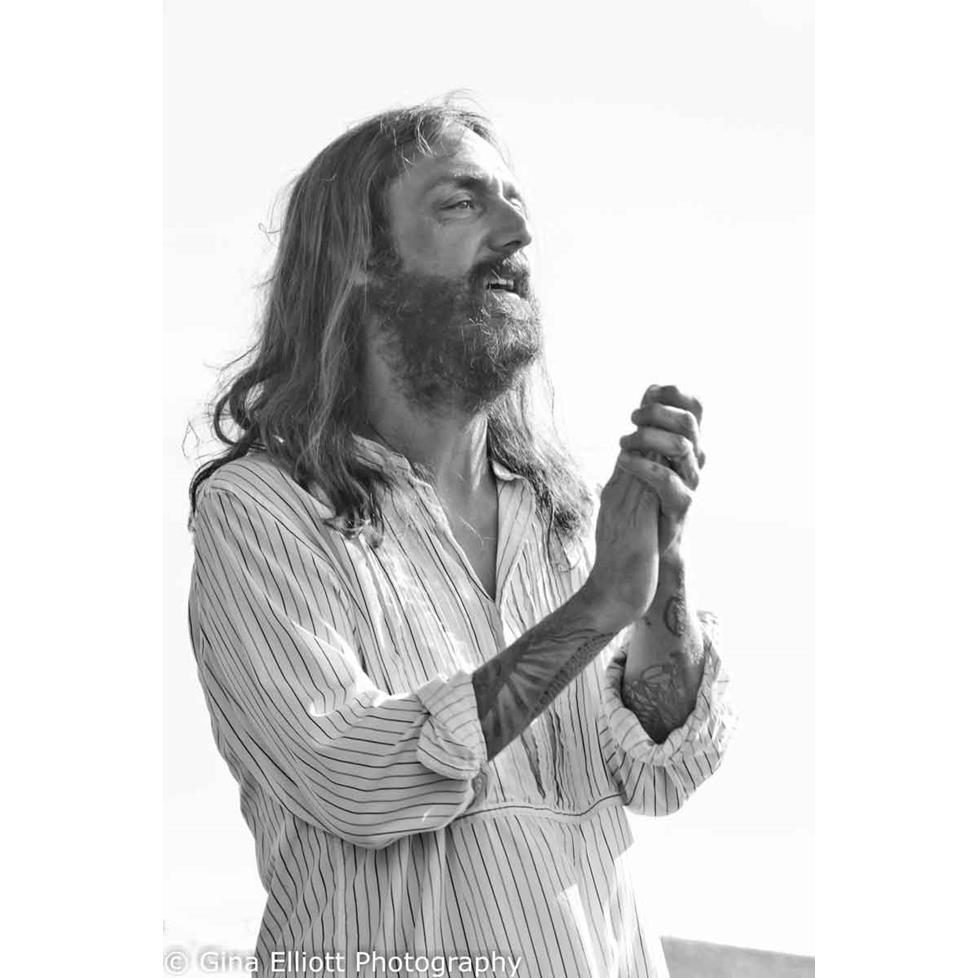 Chris Robinson of the Black Crowes| Canon 5d MkIII, 200mm, f/2.8
I wasn't in the pit for this photograph. After the pool shooters were pulled from the pit, I stayed in the VIP section and switched to my 200mm, due to the increased distance. I wish a bit of his left eye were more visible. But it's not a failed image without it. Robinson was the most fun to photograph, actually. He moves like a cross between Jagger and Plant.
Any tips on how to take a shot like this?
Don't be afraid to shoot into harsh light. With some post production, the results can often be quite interesting.
Shot Three: Zac Brown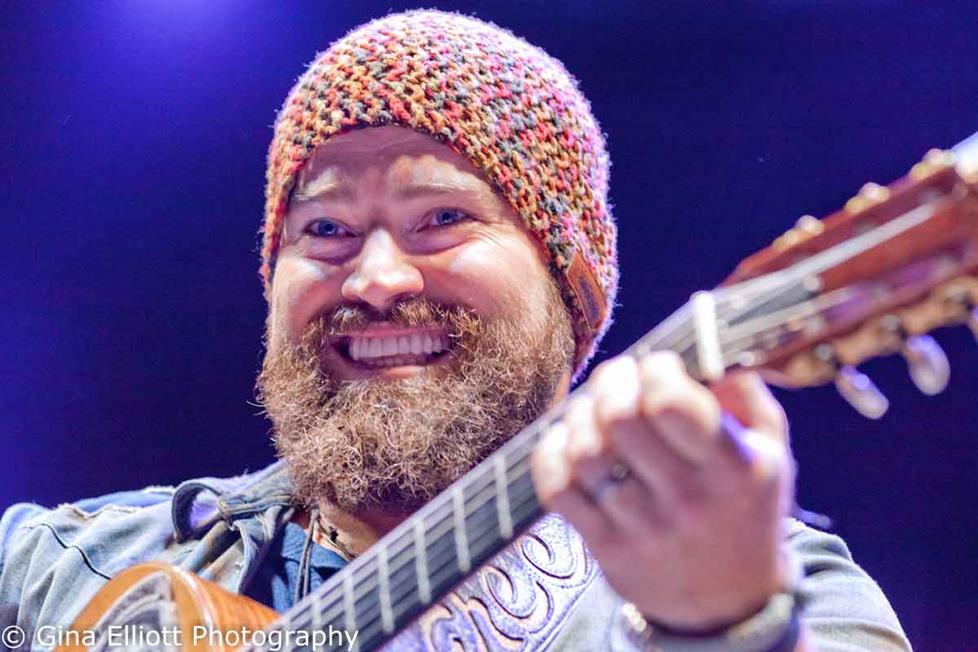 Zac Brown| Canon 5d MkIII, 200mm, f/2.8
I had been hoping to capture a clean framing of his face, mostly. [Clean as in face separate from the mic. Complete guitar stock. Good expression.]
Unfortunately mic stands got the better of me in the brief amount of time I had in the pit. And the loss of the end of his guitar head is also a problem for me.
Any tips on how to take a shot like this?
Try again, til you get it right. :)
What advice do you have for someone who wants to get better festival photos?
This for me is a great deal like sports shooting. If you don't know where the ball is going, you won't be primed for the shot. If you know where to put yourself in the pit, you can be in the right spot for capturing the eyes and other important features of your subject with less problems like mic stands and guitar stocks. Watch bits of performances on YouTube for this. For example, once I saw how physical The Avett Brothers were in concert, via YouTube, I was ready for them, and captured some great moments.
Access is the key to shooting bands, but it's not impossible. Start small, and shoot what you can. Free city festivals are a good way to start stage shooting. Street buskers, and other kinds of performers. Don't be afraid to try to photograph other kinds of performances, too. I learned a great deal from shooting burlesque. It taught me how to wait for moments, and get better at anticipating them. Evaluate venues and determine where the lights are. I use a slightly different setup of lenses at a medium sized venue than I would at a festival. Learn how your camera works. And then 'know where the ball is likely going,' with a performer until you get lucky — and are one step ahead and ready when something magical happens.
Gina's Lockn' shots on Facebook
---
Wiley:
Wiley's the least experienced photographer in this group. He started shooting a year ago with the goal of photographing subject matter for drawing and painting and to document the results. He quickly discovered that photography is an exciting art and a craft in itself. He now shoots as much as possible to learn from experience — landscapes, candid portraiture, head shots, bands, buskers, and art. All of that, plus being a long time musician, prepared him for Festival Shooting .
What equipment do you use?
I started out with the Nikon D3200 crop sensor camera because all I'd read was that it was the best introductory DSLR out there and had plenty of megapixels for picture density and cropping. I learned a lot from that camera, including what more I wanted that it didn't have. So, I stepped up to the Nikon D800E full frame and I couldn't be happier.
I shoot with a Sigma 70-200mm 2.8, along with a Sigma 2.0x teleconverter, and a Nikon 28 — 300mm 3.5 — 5.6.
I got the Sigma 70 – 200mm because I wanted a good telephoto that was fast (2.8) for shooting shows in low light and later discovered it's pretty much standard equipment for Festy and show shooters. The 2x teleconverter has been a great addition for getting those long shots from the audience — but the light has to be right, because it drops the aperture down by 2 full stops. Still, the clarity of that lens is unbeatable.
I got the 28 – 300mm because it's a great all-purpose lens that's great in most light and it's very versatile. It's easier to carry around than the 70 – 200 and is great for the spur of the moment shots I like to take. I've been really happy with it.
I also use a monopod, a tripod, UV filters, and a circular polarized filter. I added an extra battery grip for shooting perpendicular and have lots of memory cards and several batteries for back up. I carry it all in a Lowepro backpack, but use a modified mini messenger bag for toting while I'm shooting — it sits on the hip and is easy access when I need it.
The Shots:
Shot One: Backview of the stages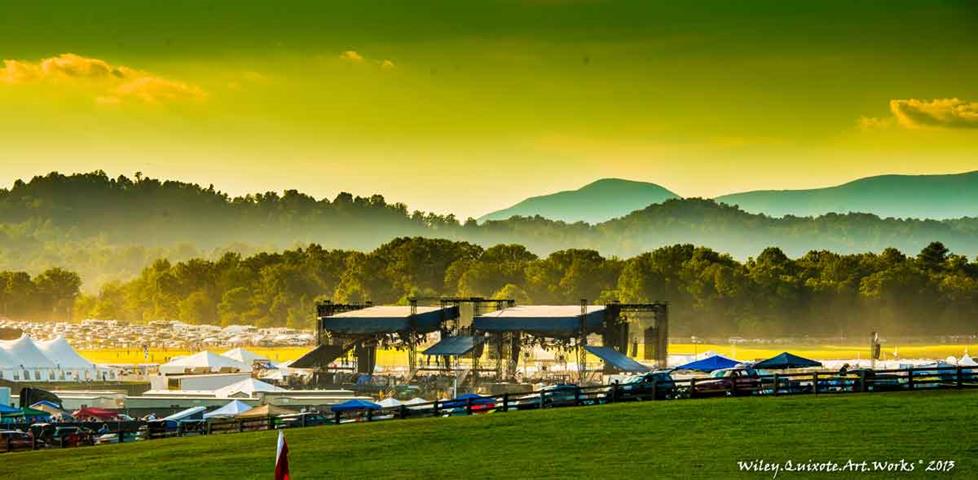 Stages| D800E, 28-300mm, f/11, ISO 400, 1/400th
I wanted to get a long shot with everything in focus so I choose f/11. It was pretty bright so I kept my ISO at 400. I shoot with auto white balance so that I can alter it in the digital darkroom where I warmed it up a bit on the yellow side. It turned the sky a little to the green side, but I'm not unhappy with that.
Any tips on how to take a shot like this?
Make sure you've got your depth of field set to get what you want.
Shot Two: Blue Sunset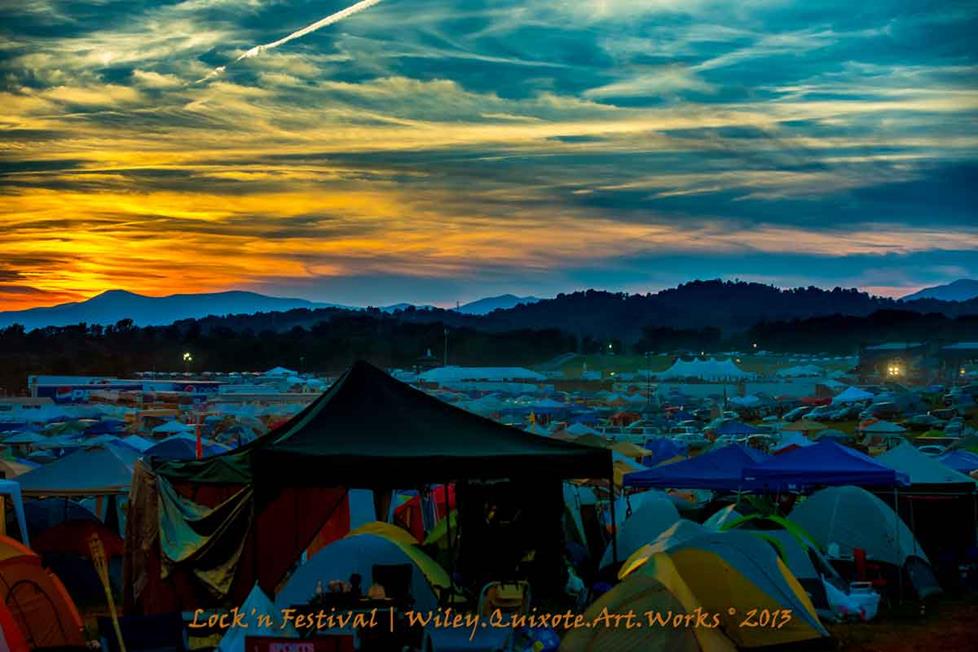 Blue Sunset | D800E, 70-200mm w/2.0X teleconverter, f/5.6, ISO 500, 1/400th
It was bright enough that I could shoot at f/5.6 and still shoot fast, but too dark to use a long f-stop without adding noise. Since I was using a fast f-stop I set my focus point on the far ground knowing the foreground would still be in focus. I dropped the exposure a little bit in Lightroom to deepen the darks and give the shot more contrast. I was pretty happy with this shot.
Any tips on how to take shots like this?
I tend to think cinematically when shooting shots like this. I look for the drama and shoot knowing that I'm going to edit it later to get what I want. So, shooting initially to get the cleanest shot with the most light is important so that later when you're editing you'll have more to work with to create drama with the exposure, clarity, and contrast. Don't be afraid to get strong highlights because later you'll want the clarity and drama they provide initially.
Shot Three: Tent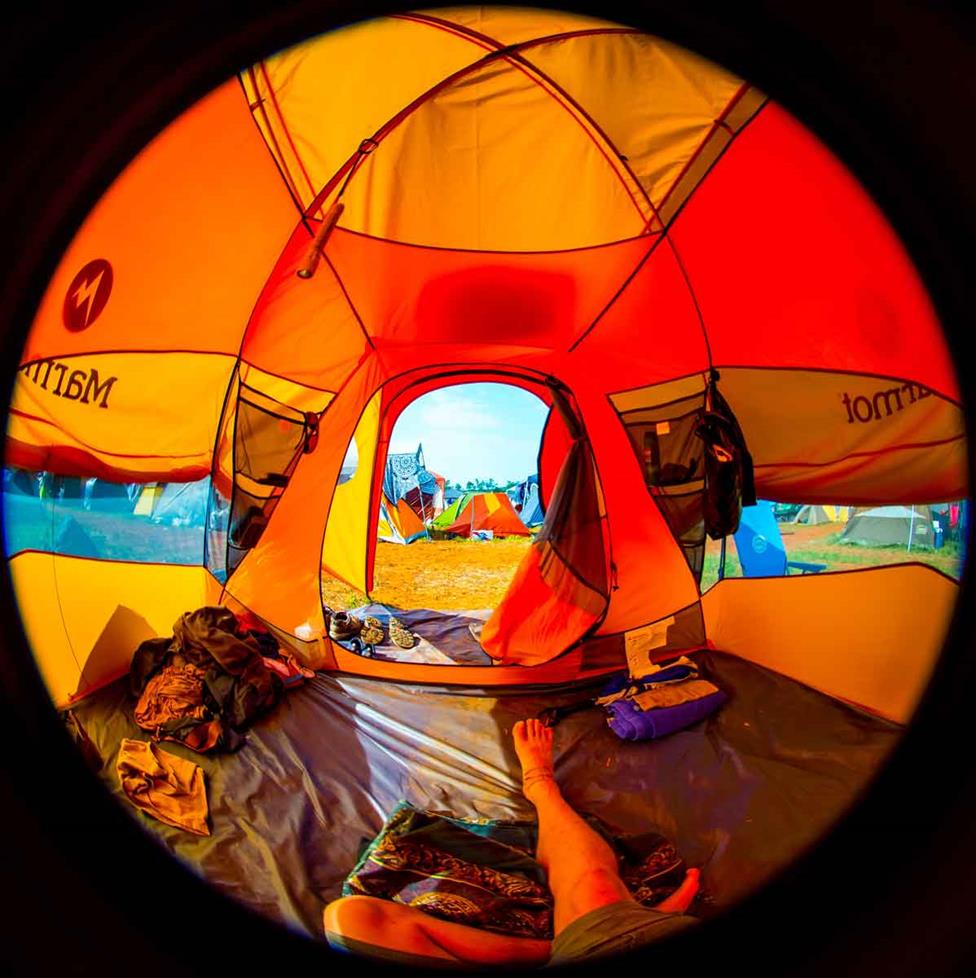 From inside my Tent | D800E, 8mm Fisheye, f/3.5, ISO 200, 1/1000th
This was a fun shot I conceptualized before I even got to the festival since I'd rented a fisheye. The light was really strong so I had to lower the ISO and shoot at a high shutter speed. Plus, the tent orange just glowed in the sunlight.
What program do you use for post-production and how invaluable do you find it for shooting shows?
I use Adobe Lightroom. The digital darkroom is really where all the work is once you've made your choices in the field. I discover most of my good shots there and always find some nice surprises in the frame to crop down to. And let's face it, the digital darkroom is a necessity in the digital age — not just because the camera's digital, but because you have a workflow for completion of any shoot. If you think about it, except for the mechanical aspects of shooting — aperture, lens, ISO and shutter speed — today's digital camera is essentially a computer and a set of programs that leaves a lot of opportunities for corrections and creativity after the shot.
What advice do you have for someone who wants to get better festival photos?
Shoot, shoot, shoot — I learn by doing and I end up throwing away a lot of shots. But, it's also important to shoot rapid fire to get that special shot when the subjects are moving and the light is changing. I typically expect to keep about 5 -7% of my shots. 10-12% as I get better. Being able to anticipate your subject is key — all those years playing in and watching other bands makes this intuitive on my part. But if it's not intuitive for you, you need to think about it to plan your shots. Knowing the songs helps, too. A lot of magic happens when anticipation becomes second nature.
For shooting non-band photos at festivals — crowd shots, candids, landscape — it's all about having a good eye, knowing your gear, and choosing the right settings and lenses for the interesting shots.
Find Wiley on Facebook, Flickr and SmugMug.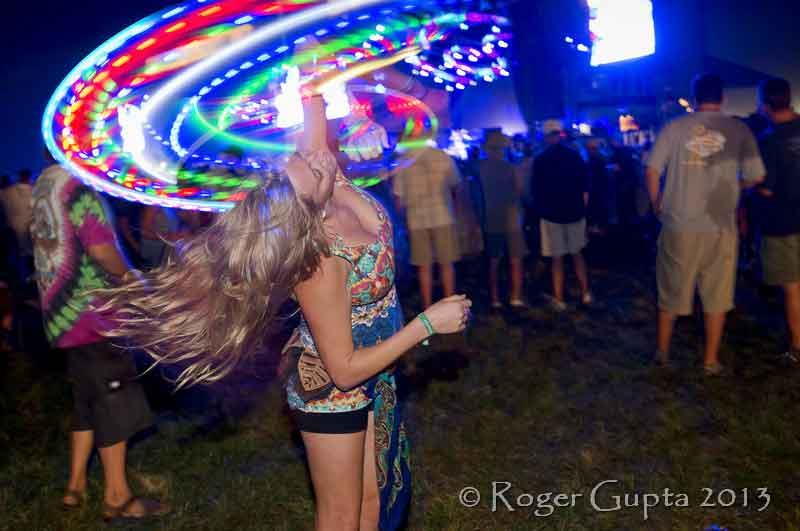 Hula Hoop Gal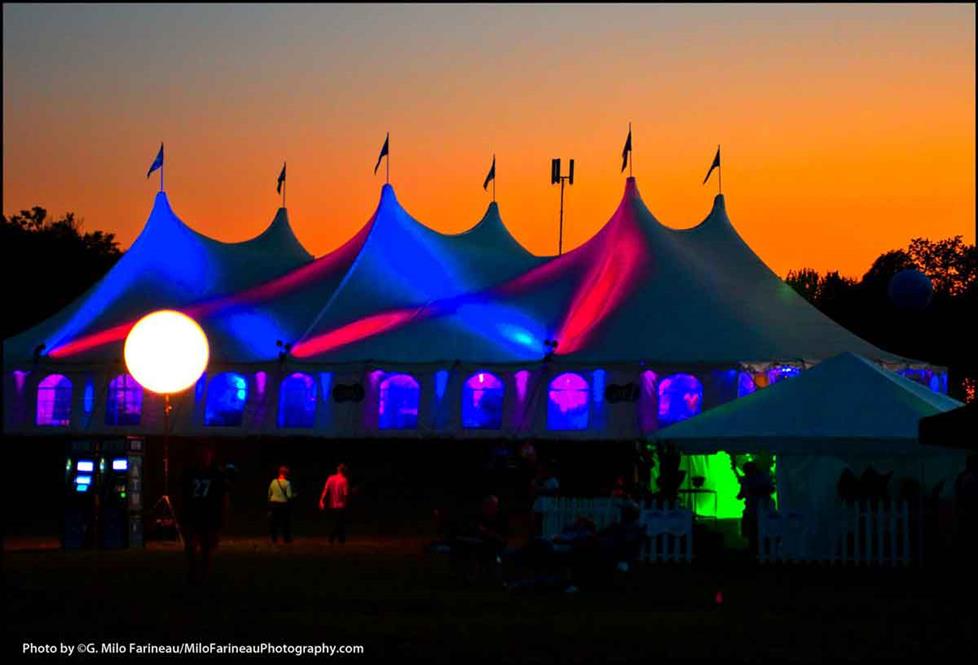 VIP Tent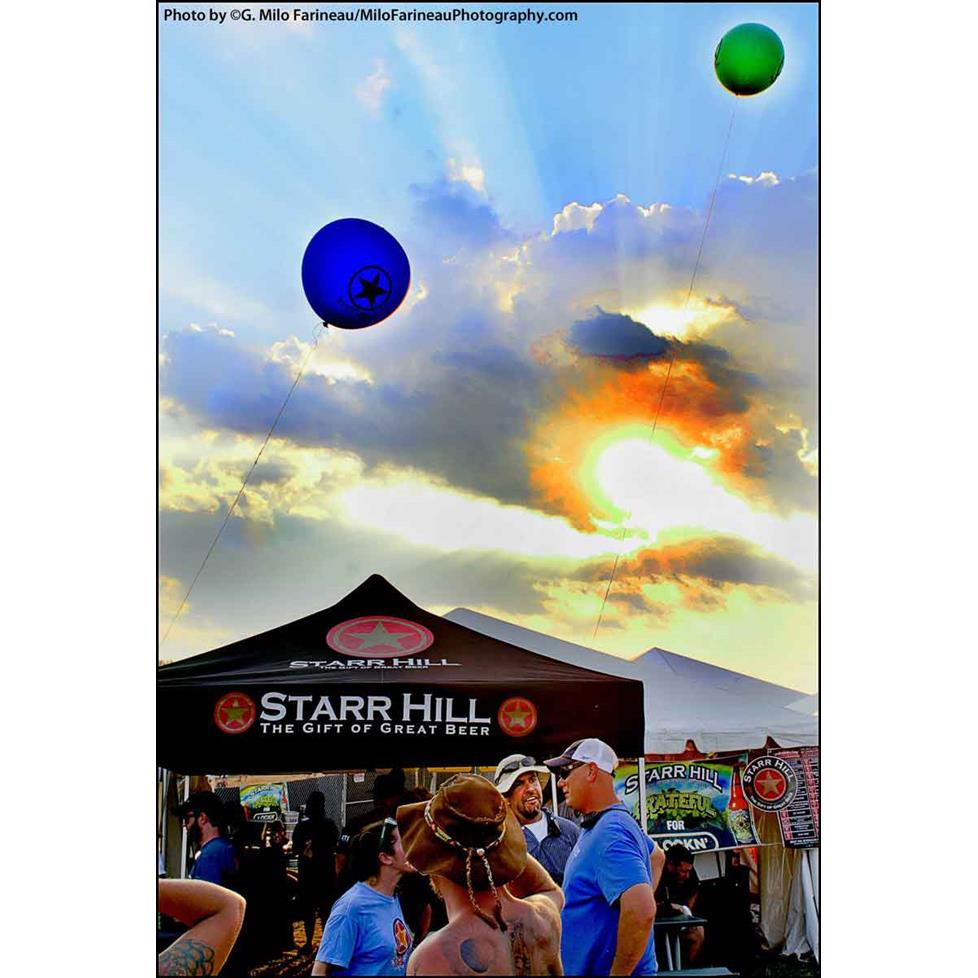 Sun Rays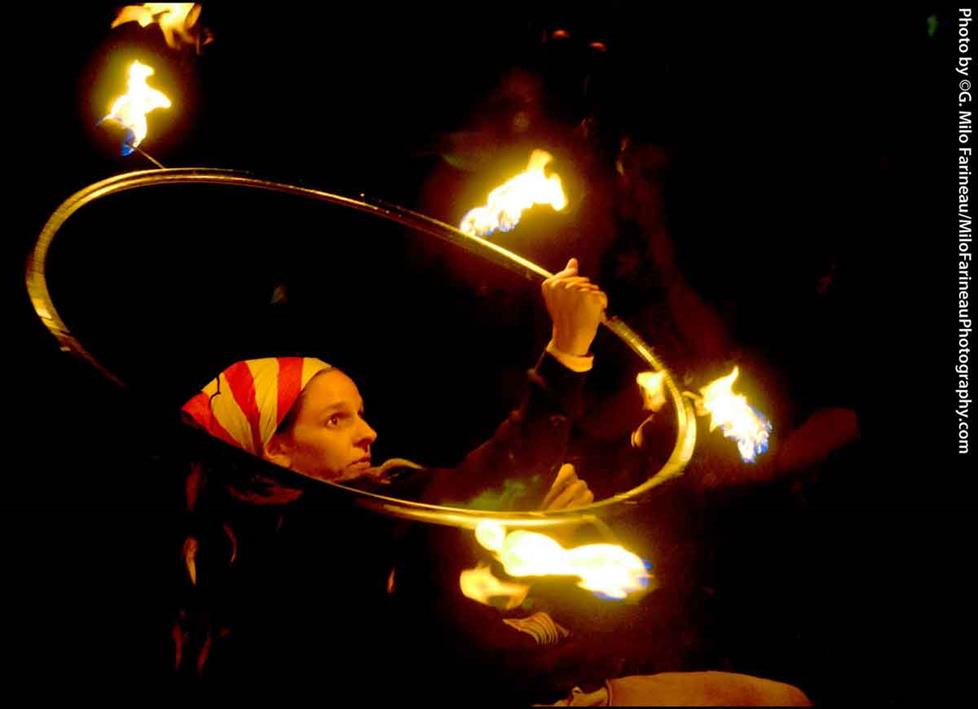 Fire Hoop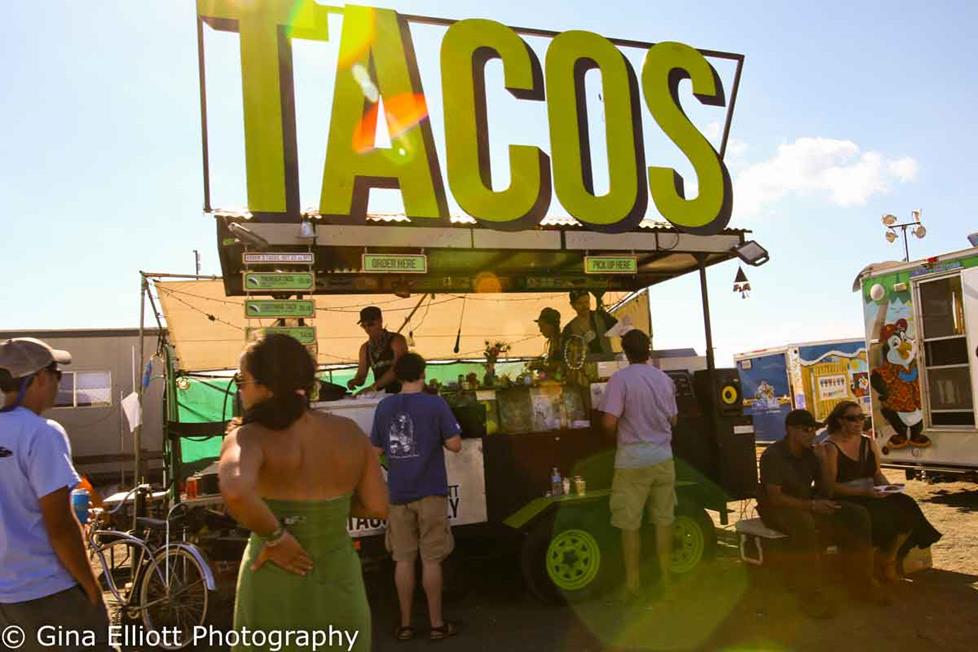 Taco Truck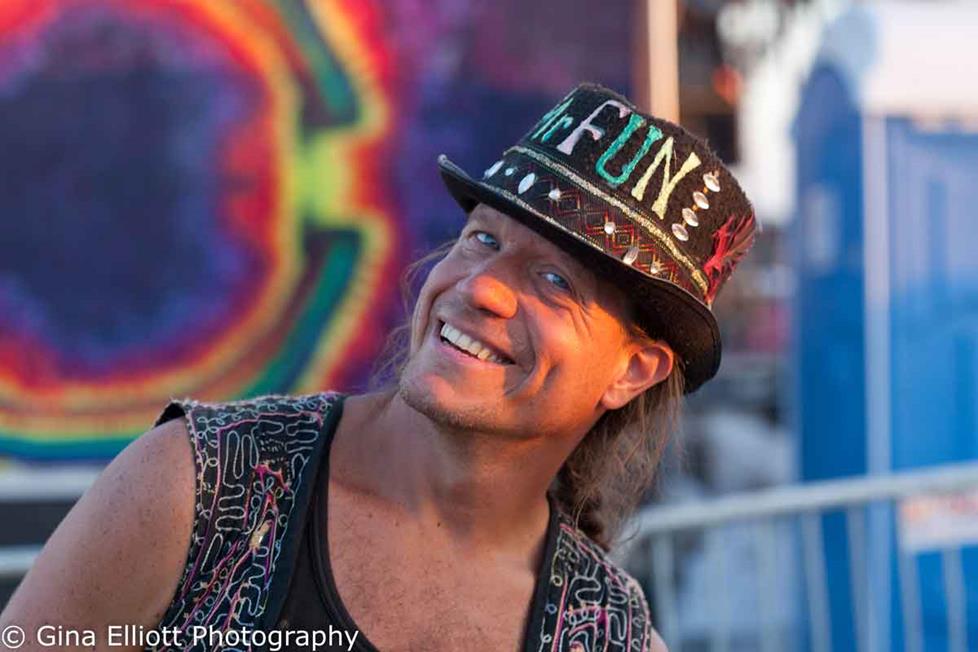 Mr. Fun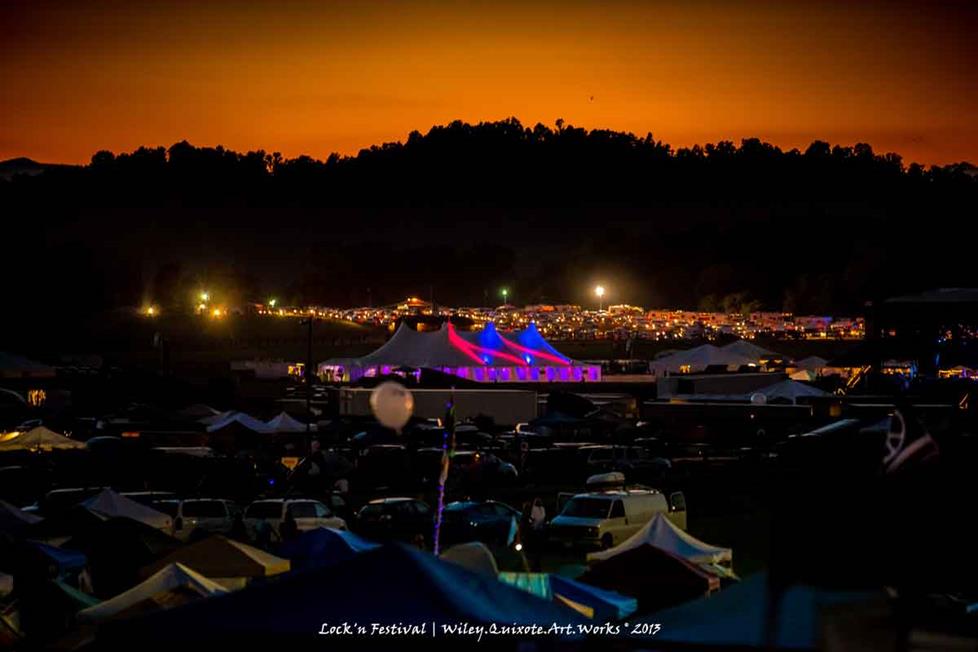 VIP Tent at sunset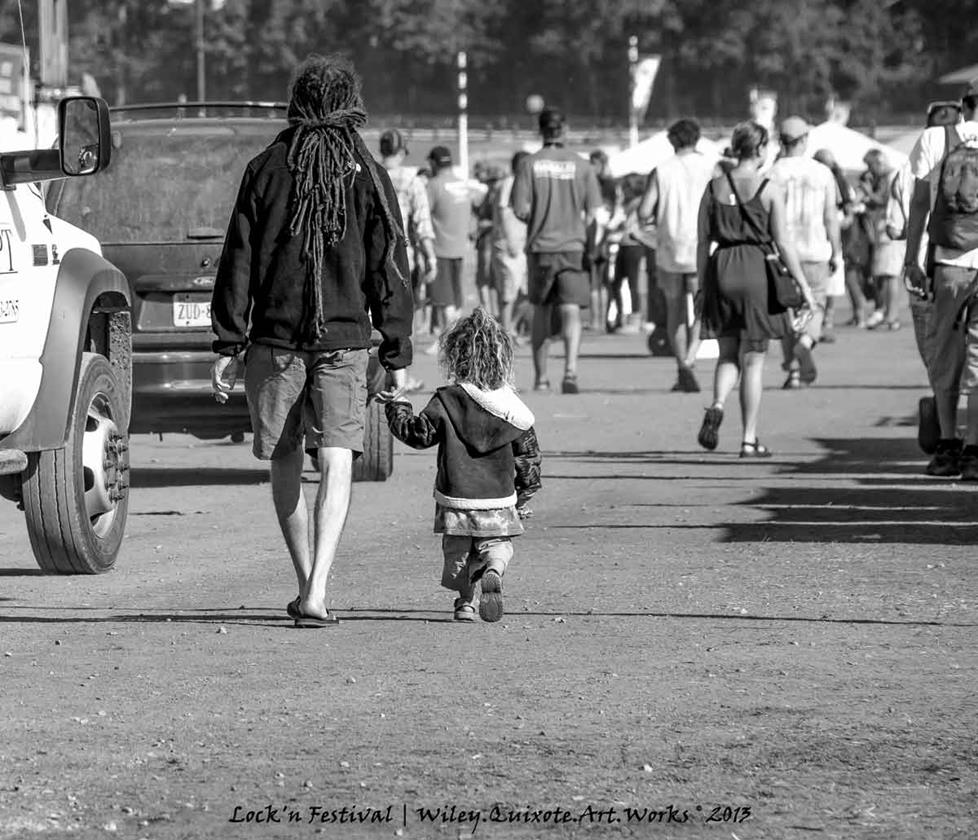 Father and Child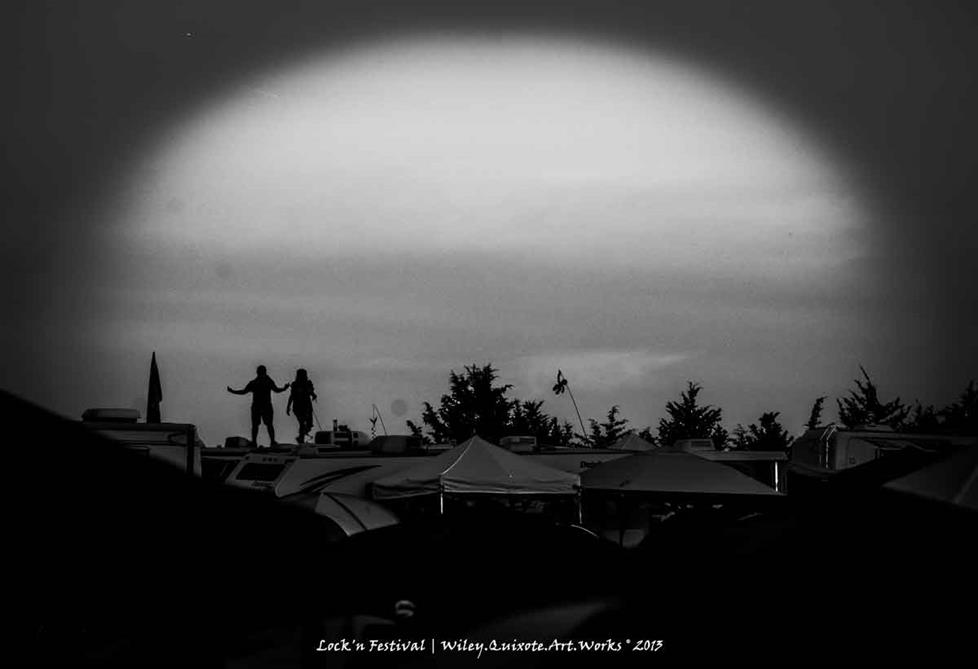 Dancers atop an RV