Savvy Traveling
Heads up!
Welcome to this article from the Crutchfield archives. Have fun reading it, but be aware that the information may be outdated and links may be broken.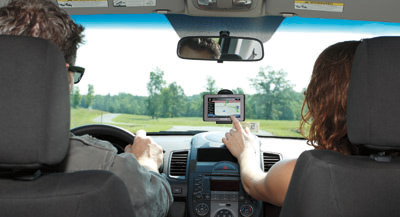 Smart tools make for smart travelers.
When you're out on the road, the number of tools you now have at your disposal to make your travels easier, safer, and more fun simply staggers the imagination. And it doesn't matter if "on the road" means running errands all around town or traveling from state to state: if you're behind the wheel, you can use these tools to make doing whatever you need to do that much easier — without acting as a major distraction.
Driving in a new town and need to find a restaurant that everyone will like? No problem. Want to avoid traffic jams on your way to work? Piece of cake. Accidentally leave the directions at home? You're covered. Flat tire? Out of gas? Accident? Help is easy to find. All it takes is the right tools.
Here are some great gear suggestions, and some handy tips for getting the most out of them.
OnStar® in any car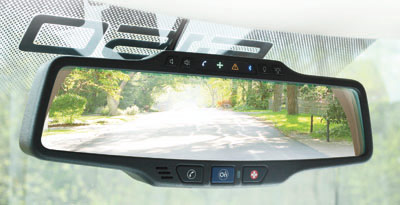 The OnStar FMV replacement mirror opens up the services of OnStar to drivers of just about any vehicle.
At this point, it's likely you've seen at least a few commercials for OnStar. It provides services like roadside assistance, crash response, and stolen vehicle assistance, and until now had only been available in GM cars and trucks. Thanks to the OnStar FMV add-on mirror, you can now get OnStar in most 1981 or newer vehicles.
Recently, we took the OnStar FMV for a spin, and came away pretty impressed. Check out our OnStar FMV video for a quick review. You can also get more details at our full OnStar FMV product presentation. We find that the system particularly excels in three areas that can help you wherever you're driving: emergencies, navigation, and daily driving aides.
Emergencies
Quite simply, it'll give you peace of mind to have someone on call should you find yourself with car problems like engine trouble, a flat tire, or an empty gas tank. An OnStar advisor will not only find you help, they can tell the local shop where you are, so you don't have to worry about figuring it out, which is nice if you're in unfamiliar territory.
In the case of an accident, it isn't always easy to get to or find your cell phone to call for help. This is where having OnStar is great. In many instances, the system will even automatically place the call for you.
Navigation
Your OnStar subscription lets you tap into OnStar navigation, too. With the press of a button and a quick conversation, you get spoken, turn-by-turn directions to wherever it is you want to go. Sure, you don't get maps to look at, but that's okay; there's something to be said for making your eyes your primary navigation tool. We really like that you can plot trips in advance using Google™ Maps, then send them wirelessly to your OnStar FMV. This way, you can familiarize yourself with the route a little bit before leaving the house, which makes it easier to anticipate spoken directions as you're driving.
Daily driving
Busy mornings often mean not being able to take the time to do some things before you run out the door, like checking the weather and traffic. The OnStar FMV has you covered there, too — it can give you a weather forecast and area traffic report as you're pulling out of the driveway.
The OnStar FMV system also offers Bluetooth® in two different ways. It can pair with your phone so you can make hands-free calls. You can also buy a package of minutes and use the mirror itself as your cell phone. That's great if, like me, you have a tendency to leave your phone sitting on the counter as you run out the door.
Smart GPS features
GPS devices keep getting smarter. They offer more and better search tools than ever before, which can be useful not only when you're on a trip and need to find places like restaurants and hotels, but when you're driving around your home town, too.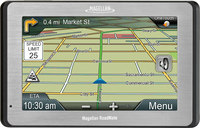 Smart search features and Magellan's TourDirector ratings directory make the Magellan RoadMate 5175T-LM Traveler an ideal way to find good restaurants and hotels when you're traveling.
Navigation
A good example of smart searching is the Magellan RoadMate 5175T-LM Traveler portable navigator. It offers two great features, Wi-Fi® and Magellan's TourDirector, that can help you find awesome points of interest wherever you're traveling.
The TourDirector feature offers descriptions and ratings of point-of-interest destinations like restaurants. It can help keep you from playing Find-a-Restaurant Roulette, or break out of the fast-food slump. You'll know if there's a standout place in town, so you won't have to waste time driving around, hoping to spot something good.
Like to get tips on places to go from the front desk at your hotel? The Traveler's Wi-Fi lets you look these suggestions up online, then add them to your points-of-interest database; there's no need to scribble down directions.
Lots of navigation devices, both in-dash and portable, offer similar tools; it's worth keeping an eye out for them as you shop.
Navigation
Sometimes our navigators can save us from ourselves. Case in point: not too long ago, I had an appointment with a doctor I'd never seen before. I got the address from the web, hopped in the car, and headed down the road. Which is about the time I discovered that the street I was looking for was in an entirely different part of town than I'd originally thought.
True to form, too, I had no cell phone with me. Normally, that would have meant a trip back to the office and a late arrival. Luckily, I did have my portable navigator with me. I popped the doctor's name in the device's Google search, got my directions, and was on my merry way.
Most navigators these days also offer some kind of traffic-monitoring service, which can be essential if you have a long commute to work, and don't particularly like spending most of it sitting around in traffic jams.
Your iPhone® as your best driving companion
We recently covered how the iPhone is changing the game when it comes to in-car entertainment and utility, and we're still excited about the GPS and Internet radio options the iPhone offers.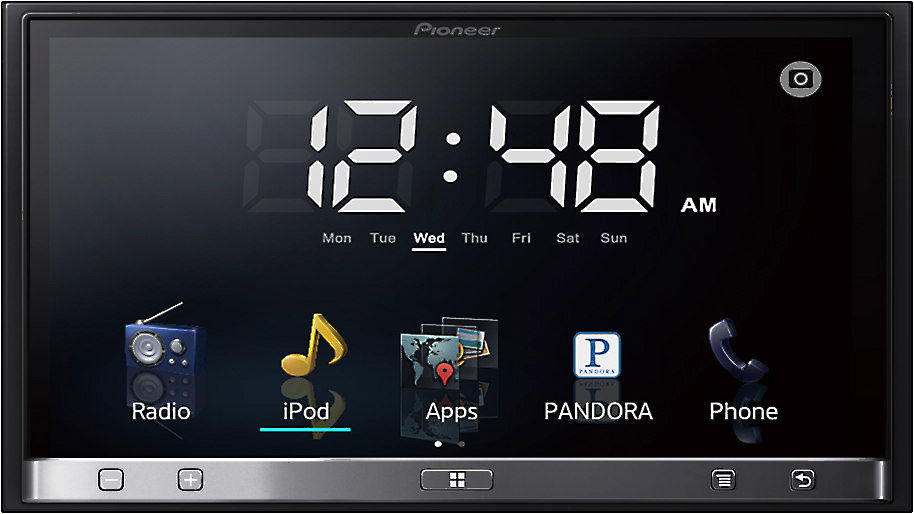 Pioneer designed the innovative AppRadio™ exclusively to run iPhone applications.
Since the publication of that article, we've added the new Pioneer AppRadio™ to our lineup. It's the world's first radio designed specifically to run nothing but iPhone apps. What we love is the set-and-forget nature of the receiver. If you're using it with the MotionX-GPS Drive app on your iPhone, you can have GPS engaged while listening to your iPhone's music library. Or, if you're not navigating, you can bring up music from the PANDORA® Internet radio or Rdio apps on your iPhone, put your hands back on the wheel, and enjoy the road. Either way, you'll get exactly the guidance and entertainment you want without having to do too much to get it.
Lots of other stereos offer plenty of iPhone interactivity, too. If you have a smartphone other than the iPhone, many stereos serve up USB inputs or wireless audio streaming via Bluetooth, so you can enjoy listening to stored songs and some of your favorite music apps.