Video: Nest thermostat installation
How-to video for installing a Nest wireless thermostat
Meet Eric A.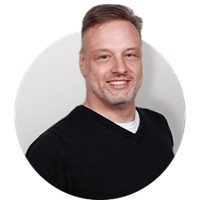 Favorite grammar rule: 'i' before 'e' except after Labor Day.
Music has always been a huge part of my life. My family is full of singers and instrumentalists, so I grew up listening to recitals, concerts, records, and radio. These days I get to write about turntables, stereo amps and preamps, speakers, and the fascinating world of commercial audio. It's challenging, rewarding, and fun!
When I went to college at the University of Kansas, I got a student job as a sound engineer and announcer at the on-campus radio station, and that got me hooked on great gear. I've continued to share great tunes with my local community, first as a professional, and then a volunteer radio announcer.
My role at Crutchfield has drawn all of my passions together into a job I love. I started as an Advisor, which gave me a chance to learn more about home, car, and commercial audio. Directly helping customers choose the gear that makes them happy was an enlightening and enjoyable experience. Becoming a copywriter let me flex the writing chops I've been honing over the past couple of decades - it's a perfect fit.
About Eric
Started at Crutchfield in 2012
Joined the Crutchfield writing team in 2014
Authored hundreds of product presentations and dozens of articles for the Crutchfield website and catalog
Interviewed top home audio designers and engineers to gain insight into high-end audio
Completed our thorough in-house Advisor training, learning the details of every type of product we sell
Author of "Hinkle Fieldhouse: Indiana's Basketball Cathedral"