Speaker-level inputs or line output converter (LOC)?
What to use when installing a new amplifier in a factory system
In this article, we'll explain why sometimes you can't use a new amplifier's speaker-level inputs with a car's factory stereo, and what to do if that's the case.
When adding an aftermarket amplifier to your factory stereo system, a big consideration will be how to correctly integrate the amp into your vehicle's audio system.
Speaker-level inputs
In the rare instances where the factory stereo system has no built-in amplifiers, and the radio's outputs are wired directly to the speakers, you can install almost any aftermarket amp featuring speaker-level inputs without needing a separate level-matching device.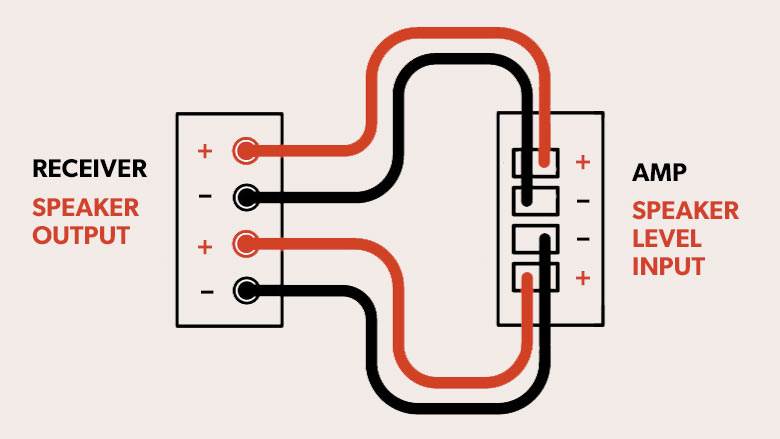 Unfortunately, in most cars today, the head unit digitally controls a built-in amplifier that powers different kinds of speakers with different signals in different situations. In order to use the factory amplifier's outputs for your aftermarket amp's inputs, retaining all the factory system's functions, the new amp's speaker-level inputs must be able to handle the amount of power the factory amp puts out.
If it can't handle that much input signal, the amp's speaker-level inputs will get over-loaded and distort. Smooth sounds will turn rough, hums start buzzing, and a smooth voice will develop a rasp. If this happens, you'll need an extra device — a line output converter — for a successful amplifier installation.
What's a line output converter?
A line output converter (or LOC) reduces amplified signals down to line level, so your aftermarket gear can handle them without adding noise or distortion. In fact, speaker-level inputs are LOCs (with limited capabilities) built into the amplifiers.
What a line output converter does
An LOC basically takes a high-level signal, usually from a factory source, and reduces it to a level that can be safely handled by your aftermarket gear's inputs. You will need an LOC, whether built into your aftermarket amp or as a separate device, whenever there's an amplifier in the factory system.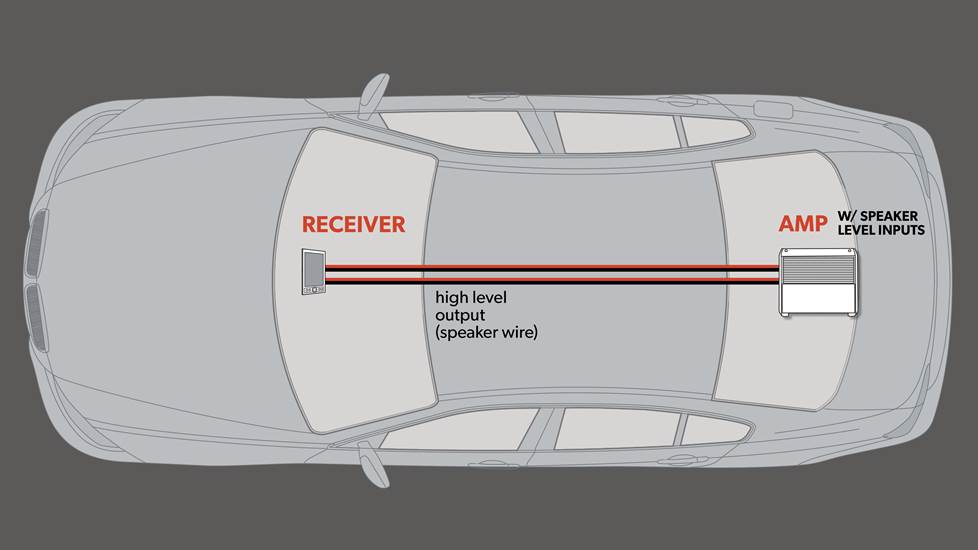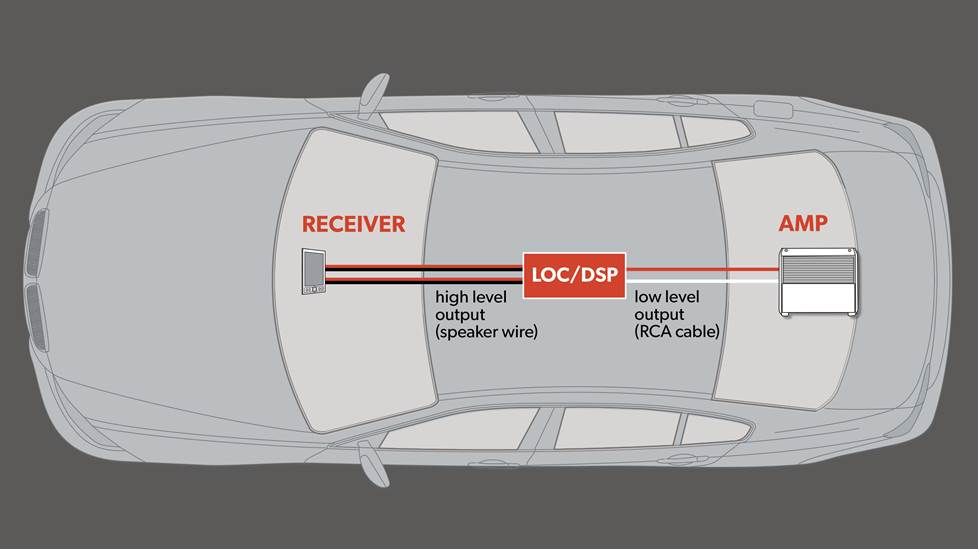 Besides level-matching, many LOC-type devices, like DSPs, can also mix, process, and distribute factory input signals for your aftermarket amplifier. (DSPs also feature extensive EQ and timing controls to fine-tune the sound.)
For more information about factory system integration of aftermarket amplifiers, check out Adding an amp to a premium factory system.
Also, read our article covering common questions about line output converters to learn more about them.
When speaker-level inputs alone will work
Vehicle manufacturers don't publish the exact specs of their factory stereo systems, but we can estimate that a typical factory amplifier will put out about 20 to 40 watts RMS per channel. Amplifier high-level input sensitivity, the amount of power a speaker-level input can handle, is rated in volts (Vrms).
Using a bit of Ohm's Law math*, we can figure that for an amplifier to handle most vehicles' factory system output wattage, the amp's high-level inputs should each be able to handle at least 11 volts.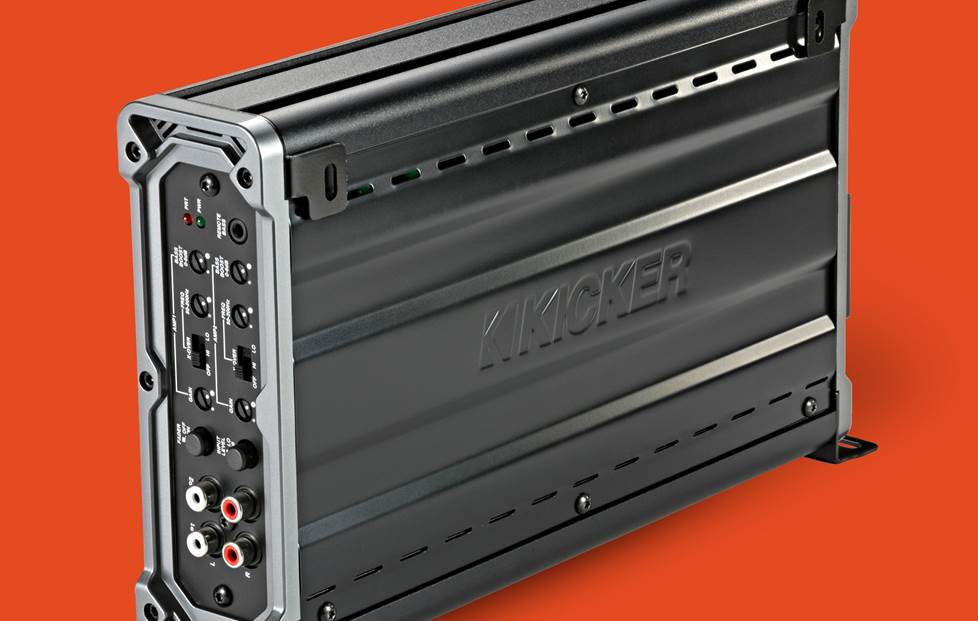 Kicker's CXA360.4 four-channel amp features inputs that can handle up to 40 volts (about 400 watts).
What amp spec to look for? Input sensitivity.
Manufacturers describe their amplifiers' input capabilities as input sensitivity. A typical amp specification might read: "Sensitivity range: preamp in 150mV-4V; Speaker in 450mV-12V." The maximum speaker-level input number is what we're looking for here. This example means that the amplifier's speaker-level inputs can each handle up to 12 volts, the equivalent of 36 watts, and will probably work even in premium factory amplified systems without needing a separate LOC device.
Crutchfield carries over twenty different brands of car amplifiers. About half of them feature speaker-level inputs rated between 5V and 10V. A few others have speaker-level inputs capable of handling hundreds of watts — 30V and 40V inputs.
On our site, you can filter your amplifier search by choosing the "High-voltage capable speaker inputs" filter on the left side of the page (or just click on this link), and we'll show you a list of only those amps having a sensitivity of 11 volts or higher.
If you can't find the input sensitivity, or voltage, specification for your amplifier on Crutchfield's product page (usually located in the "Details" tab), you should be able to find it on the amp manufacturer's website.
Speaker-level inputs or LOC?
In most cases, you will need to use an LOC or a DSP to integrate your aftermarket amplifier into your vehicle's factory system. And often, you can find vehicle-specific devices and harnesses that will simplify the installation and integration of your aftermarket amp. (Again, see the Adding an amp article for more details.) Speaker-level inputs — especially if they can handle factory amplified signals of at least 11 volts — allow you to add an amp without needing any other integration device.
A while back, we faced this problem when installing an amp and speakers in a friend's 2016 Kia. For her, we found the perfect amplifier to integrate into her factory system. Read about how we handled that installation.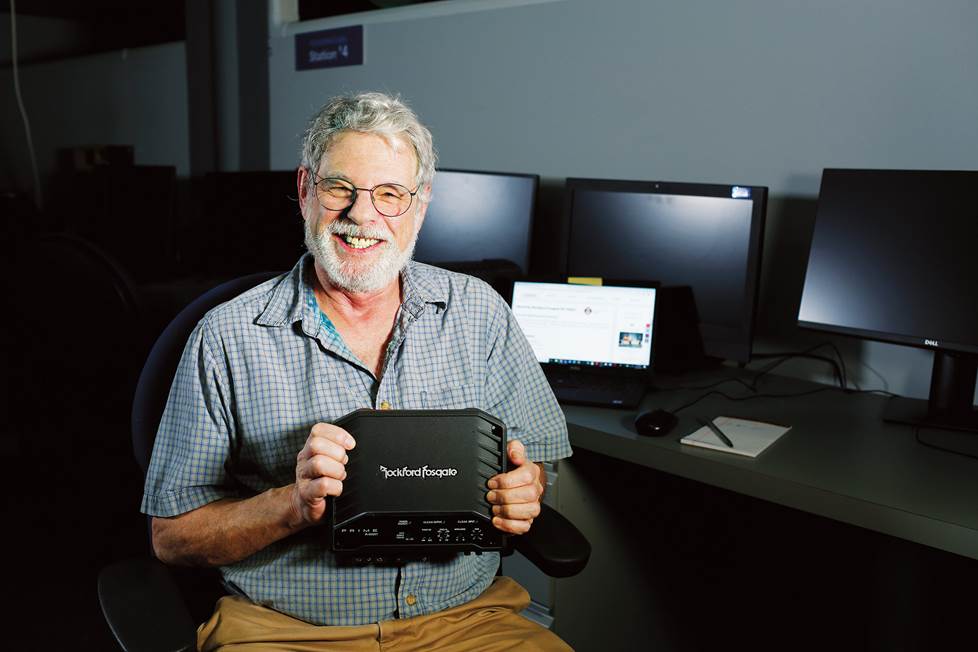 Buck, in the Crutchfield Labs, showing a Rockford Fosgate R2-500X1 amp with speaker-level inputs that'll work with most factory stereo systems.
Questions? You know who to call.
If you're putting together a system with an aftermarket amplifier, you'll need to know if and how it'll work in your vehicle. Crutchfield Advisors are trained to assess each situation, ask the right qualifying questions, refer to our extensive and proprietary vehicle database, and then come up with the right answers and the best products that will lead to a successful amplifier installation, and make you a happy customer.
*The example with math
Ford boasts that one of their late-model F-150s has a 1080-watt, 18-speaker sound system.
Assuming they're advertising a peak rating, twice the nominal RMS value, the 18 speakers share a total of 540 watts RMS, averaging 30 watts per channel. To produce 30 watts through a 4-ohm speaker takes 11 volts.
[Formula: Volts = SQRT(Watts x Ohms).]
Last updated 8/24/2022