A Subaru Forester owner learns the fun of DIY
Tackling car audio installation for the first time
In this article: A Crutchfield web designer wanted to improve the audio in her husband's car without replacing the factory radio. She opted to upgrade the factory speakers and add a powered subwoofer. Read below to find out how she did it.
ave you used "find what fits your car" to find the right gear for your vehicle? Helpful Crutchfield tools like that are the work of Rachel and her team. Rachel knows our website inside and out — but behind the dash of her family's 2016 Subaru Forester was a different story. With her husband's birthday on the horizon, she decided to take on her first-ever car audio installation and surprise him with an upgrade. Naturally, we wanted in on the fun...
Choosing car speakers and a powered sub
Rachel's husband, Ben, spends a lot of time in the car driving their two boys to school and to activities around town. Pro-level fun dad and serious music fan, Ben uses that drive time for music enrichment. The problem? Bad sound. "Our Subaru was notoriously loud," Rachel explains, "and having crummy speakers didn't help."
Since Ben had no problem with the factory radio, Rachel decided to replace the speakers to give the Subaru's system a boost, plus add two more improvements. Applying Dynamat was an obvious choice, given its reputation as a serious road-noise combatant. And when Rachel told us that Ben's not shy about his love of '90s hip-hop, we suggested the addition of a powered sub for a little extra low-end punch.
Here's what Rachel installed in her Subaru
Installing component woofers
Installing car audio gear for the first time usually elicits pangs of intimidation, but Rachel rolled up her sleeves and dove right in.
Planning is essential for any installation, but some challenges are unforseeable. Rachel took the right approach by proceeding thoughtfully, asking questions when she hit any snags, and brainstorming creative solutions. If you've been contemplating a component speaker system installation, check out Rachel's work for examples of installation steps and obstacles, starting with the woofers.
Step 1: Preparing the new speaker
Rachel secured her new 6-1/2" woofers to the installation brackets that fit her factory location; in this case, the front doors.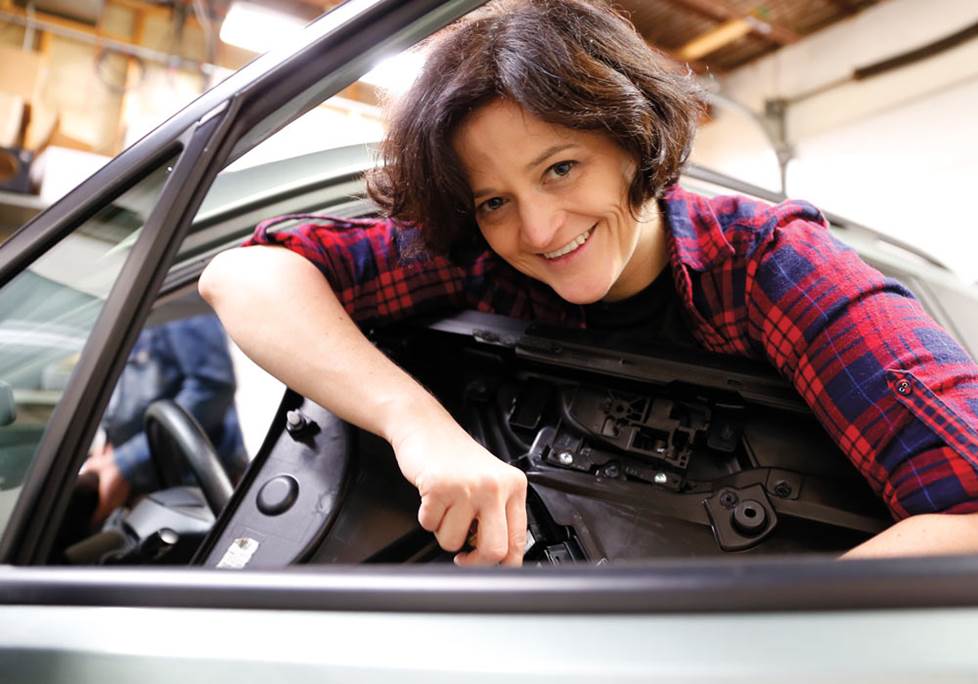 Step 2: Removing the door panel
The fun really got started when Rachel pried off her first Forester door panel. She had to remove a few screws, pry off the panel, and release some cables. It was all spelled out in her Crutchfield MasterSheet™.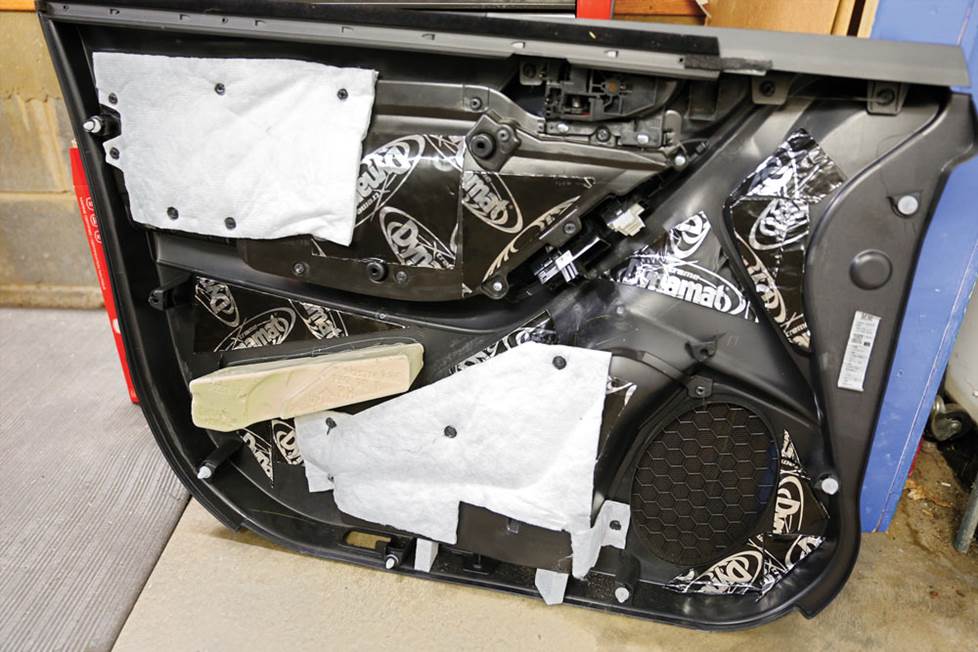 Step 3: Applying Dynamat
Rachel cut up strips of Dynamat to fit together on her doors and door panels. The sound-deadening material minimizes vibration and absorbs unwanted sound. Reflecting on her work, Rachel said, "I could apply Dynamat all day. That was strangely satisfying."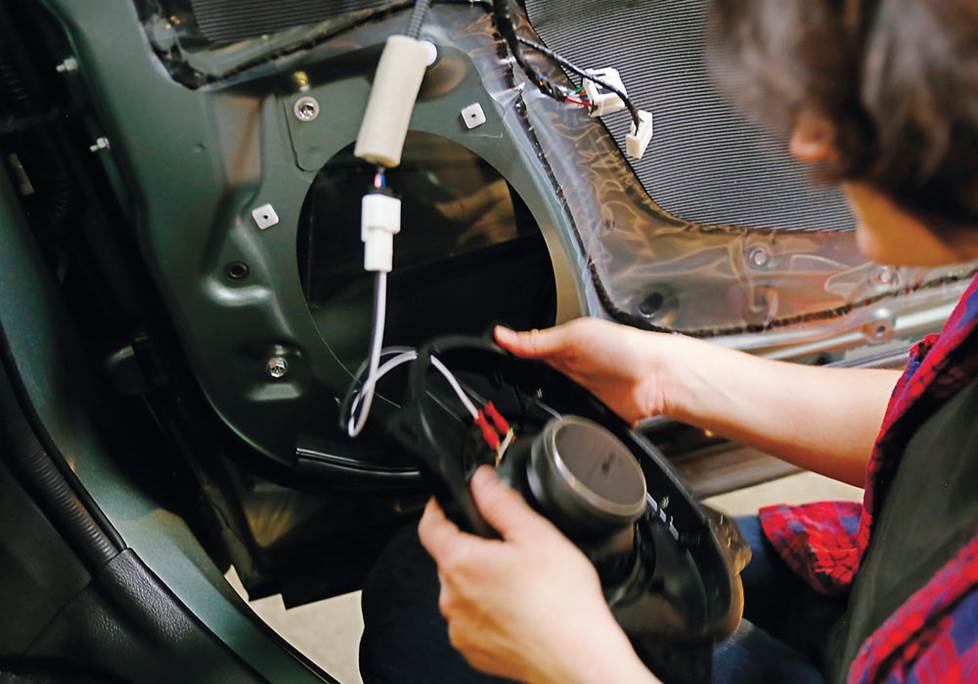 Step 4: Installing the woofers
Rachel hit her first fork in the road installing the component system's woofers. In the case of her Forester, installing a component speaker system would require running new speaker wire through the door grommets, an arduous process. Before diving into the challenging task, Rachel considered the time-saving idea described below.
Taking the time to test an idea
An inspection of the Forester's door grommets meant fishing new speaker wire through a series of impossibly tight angles — a job that would have to be done for each door. Contemplating the time-consuming task with no guarantee of successful passage, Rachel wondered: What if she used the existing factory wire to feed the woofers a full-range signal?
Her hope was that the speaker's natural high-frequency roll-off would allow the woofers to sound great without needing to channel the lower-frequencies through Polk's external crossovers. She decided that wiring up a listening test would be a little bit of time well spent.
Listening to a variety of different genres, Rachel discovered she was thrilled with the sound she'd have. She heard a huge jump up from what she and Ben had been enduring with factory sound. Plus, this preview in quality got her pumped for stage two of the installation.
Implications for installation steps to follow
After installing the woofers and consulting in-house experts, Rachel was reminded of the importance of high-pass filters as they relate to tweeters. While the woofers could perform while receiving a full-range signal, that same signal would damage the tweeters without the help of the essential crossovers. The job of a high-pass filter in a crossover is to prevent lower frequencies from playing through a tweeter, which is precision-built for frequencies around 1,000 Hz and above.
Installing component tweeters
Rachel wire-tapped the factory speaker wire inside the Forester and ran it to the external crossovers, which would be wired to the tweeters.
While her Forester didn't come with factory component speakers, it still had the same factory tweeter locations used by Foresters with a higher trim level. So, Rachel had the ideal spot to mount her new tweeters. But as expected, a little innovation and elbow grease was required for a perfect fit.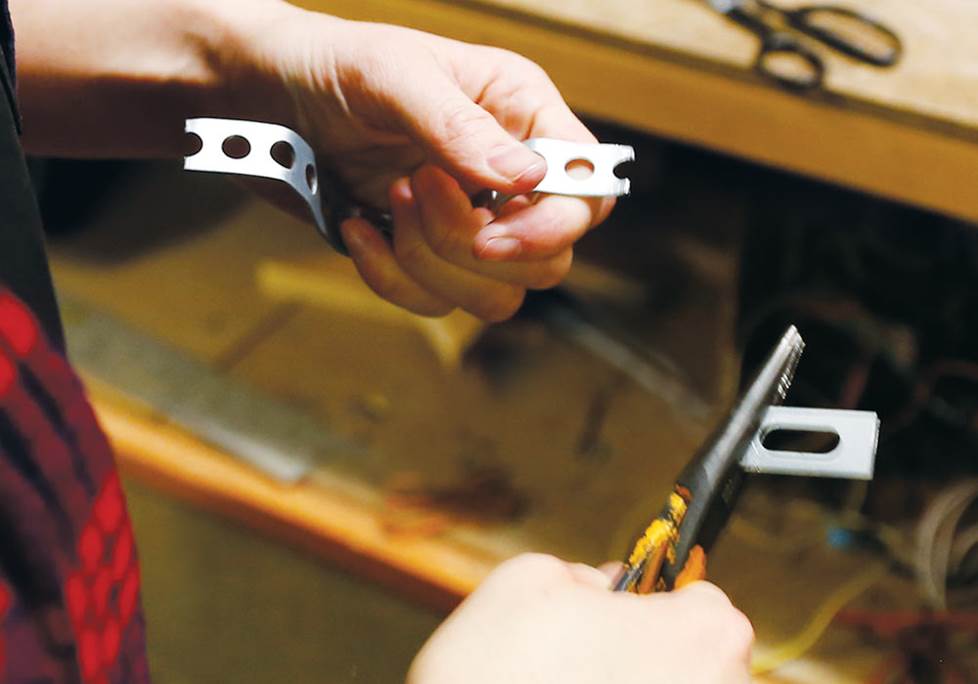 Step 1: Forming the brackets
A very (very) useful tool for most component speaker installations is a universal backstrap. A single strip of punched metal, its extreme pliability makes it easy to bend and shape for your needs. Seen here, Rachel's first step was to size the backstrap to fit her tweeter location.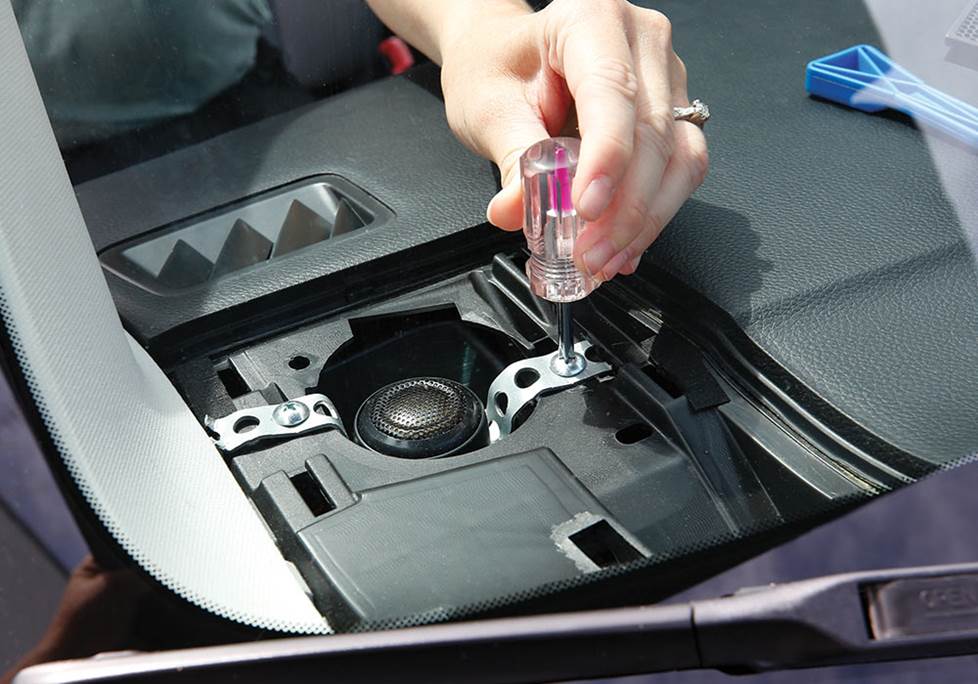 Step 2: Securing the tweeters
Once Rachel adjusted each backstrap for size and shape and ensured the factory screw holes lined up with the pre-punched backstrap holes, she could secure each tweeter to its fabricated mount.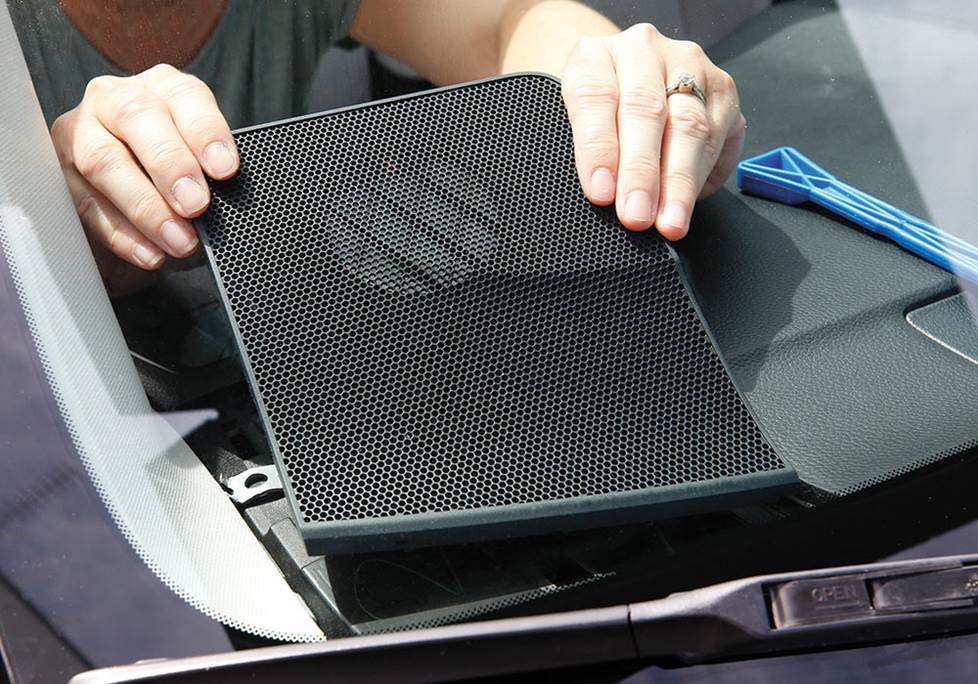 Step 3: finishing the installation
With the hard work done, Rachel secured her new, custom-fit tweeter assemblies, then popped the Forester's factory tweeter grilles back into place.
Installing the powered subwoofer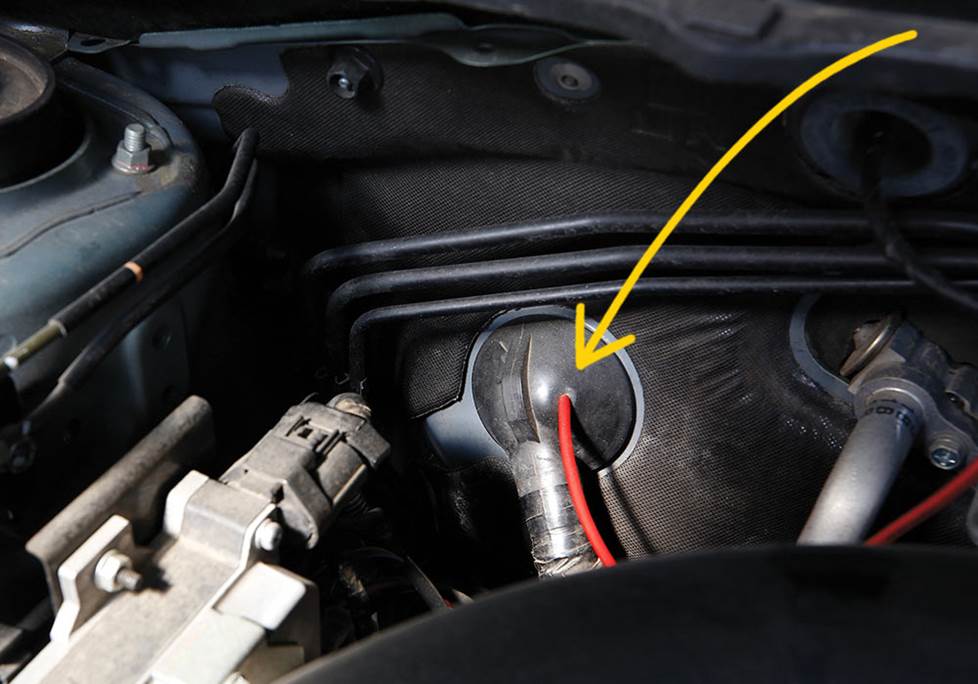 Running power wire from your car battery to a powered sub goes easier with company. In Rachel's case, it was a team effort with other Crutchfield folks on-hand to work the subwoofer's power wire into the Forester. Once that was through, the rest of the installation came together quickly.
Channeling wire through tough spots like the passage between the engine and the Forester cabin went a little smoother with a Pro.Fit Wire Worm.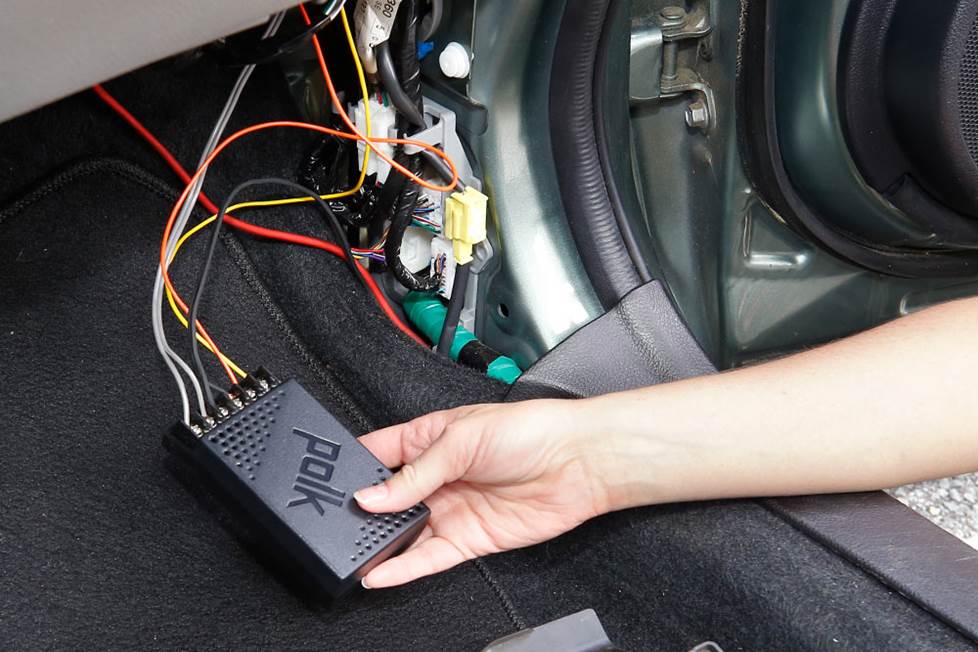 Remember Rachel's component speaker wiring workaround? After tapping into the factory wiring to incorporate the Polk crossovers and tweeters, the crossovers' outputs for the component woofers remained available. Since the powered sub's frequency range tops out at 120 Hz, Rachel could get all the audio signal she needed by easily tapping into one of the Polk crossover's woofer outputs.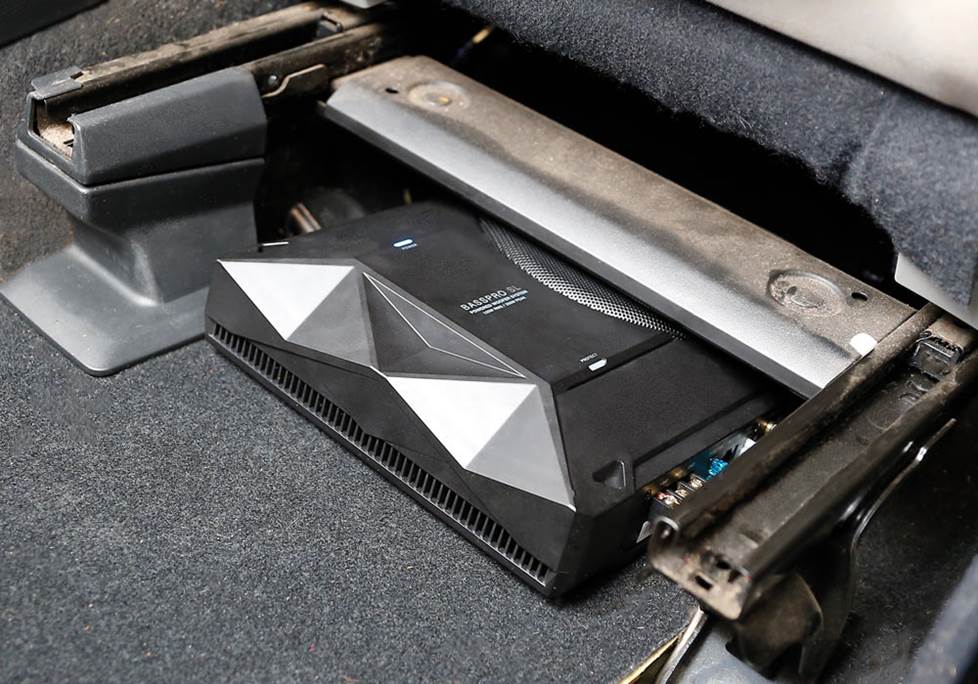 The low-profile enclosure of Rachel's new JBL powered sub made it a perfect fit under the front passenger seat.
A music lover's dream
Describing her husband's musical tastes, Rachel said, "Ben lives and breathes music, and more often than not, is making a playlist or reading Pitchfork. A child of the '80s and teen of the '90s, he loves new wave and grunge, but his favorite artists are the Beastie Boys, Led Zeppelin, and U2."
So, did this new system satisfy the dude who pays regular visits to his local record shop?
"He was actually skeptical at first! Then he got in and started playing around and his tune changed (pardon the pun). He felt so validated for still buying CDs in 2019 because the sound was noticeably better than listening to Spotify® over a Bluetooth® connection (I will still tease him for it, though)." That improved sound comes from the details brought out by the new Polk speakers and the addition of the powered subwoofer.
Check out Ben's favorite tracks to rock on his new system.
Who can ya call?
When Rachel was contemplating her woofer wiring plan, she wasn't shy about asking Crutchfield experts. They confirmed that Rachel's plan would work but that personal preference would be most important in evaluating the resulting sound quality. She loved what she heard, and best of all... Ben did too.
If you're stumped at any point in your installation or just want to run a creative solution past an expert, contact our Tech Support team. It's a free service with your purchase, for as long as you own your gear.
Room to grow — our gear recommendations for future upgrades
As Ben quickly discovered, the only problem with upgrading part of your car's audio system is that you start thinking about what else you can do to improve the sound in your car.
In Ben's case, we'd recom­mend these next steps for the Forester:
Sooner or later, the boys in the back will want to rock as hard as Dad. Upgrading the rear speakers is the way to go.
When it's time to upgrade his radio with smartphone integration like Apple CarPlay® and Android Auto,™ a touchscreen receiver makes a great addition.
With power-handling up to 100 watts RMS, Ben's new Polk speakers would do very well with a power boost from an amplifier. That would also be a good time to run new speaker wire if he was up for the task.
What's right for your vehicle?
The best place to start when shopping for car audio gear is our vehicle selector. With your vehicle information entered, you'll see what fits your ride. Need any advice? Just reach out to one of our Advisors for recommendations.