Crutchfield's pandemic playlist: the music plays on
Things sure are different...but our tunes (and audio gear) have helped
Heads up!
Welcome to this article from the Crutchfield archives. Have fun reading it, but be aware that the information may be outdated and links may be broken.
Music has always been at the center of our day-to-day lives at Crutchfield — even in more "normal" times. Yes, our livelihood depends on studying, appreciating, and communicating the value of good sound. But we also have several (former and current) musicians, studio engineers, music teachers, radio DJs, record store employees, and all-around music fans that work for us.
The walls of our Southwest and Central Virginia contact centers have often thumped from subwoofer demos in our training and listening rooms. And our halls have always buzzed with conversations about the latest gear, classic albums, or the new artist we caught on tour the night before.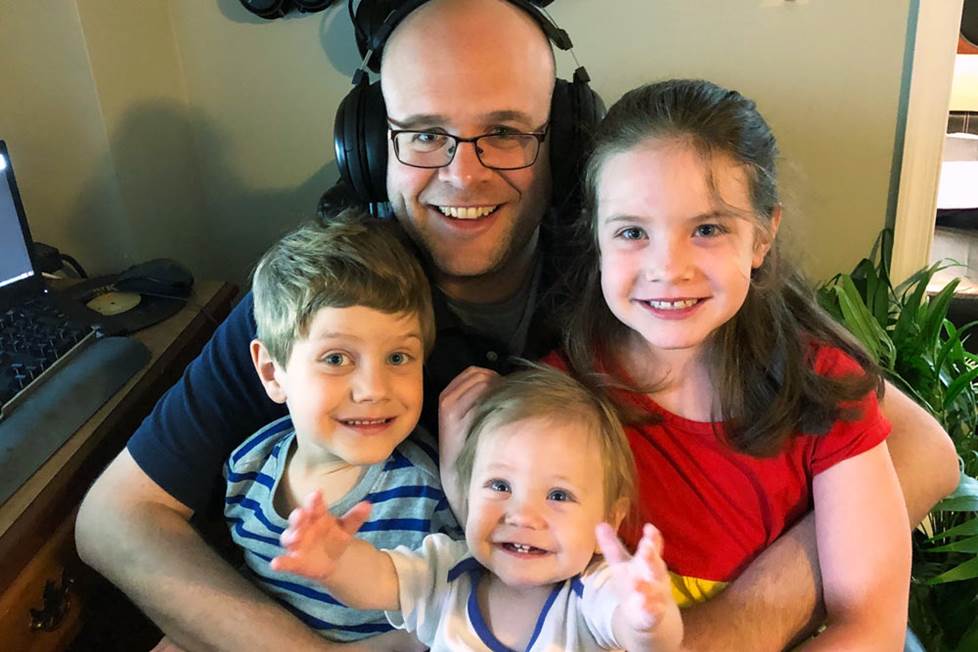 The faces around my "office" have changed a bit — but I'm still talking music with co-workers online.
Those buildings have been a lot quieter the last few months. The majority of us are working — and playing — at home more than we ever imagined. And our amazing Distribution and Returns Processing Center staff maintains social distancing protocols through staggered hours and increased spacing between workstations.
But don't worry — we haven't gone radio silent! In fact, we've turned to our tunes even more than usual. Oh, and those lively hallway discussions? They've moved to our Microsoft Teams chats, emails, and video meetings.
Music has made such an impact on us lately, that we'd like to share it all with you.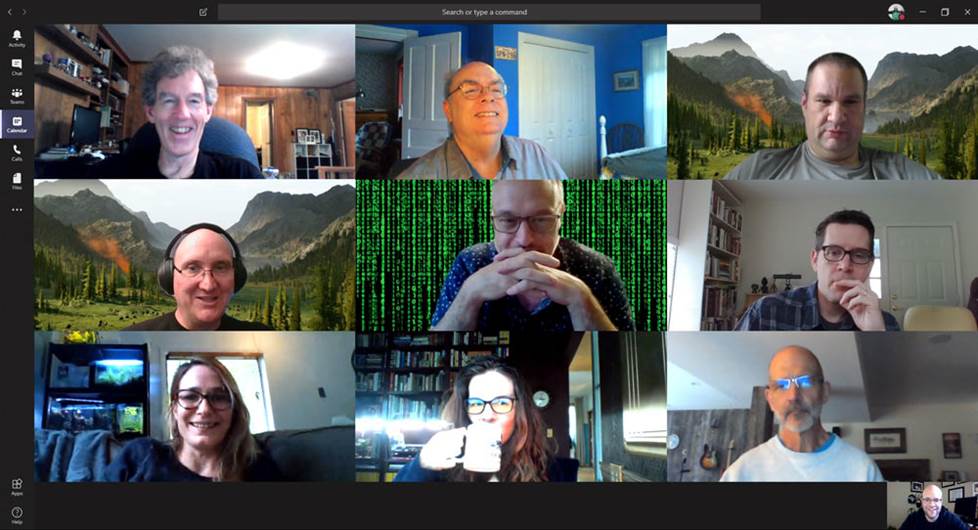 Our Microsoft Teams "business" meetings can quickly turn into broad-range music discussions — Shhh! Don't tell anyone.
The gear
Most of our discussions about what we're listening to start with how we're listening to it. After all, we want our tunes to sound as good as possible. (In fact, my buddy JR covers that topic every other week as the host of Crutchfield: The Podcast.)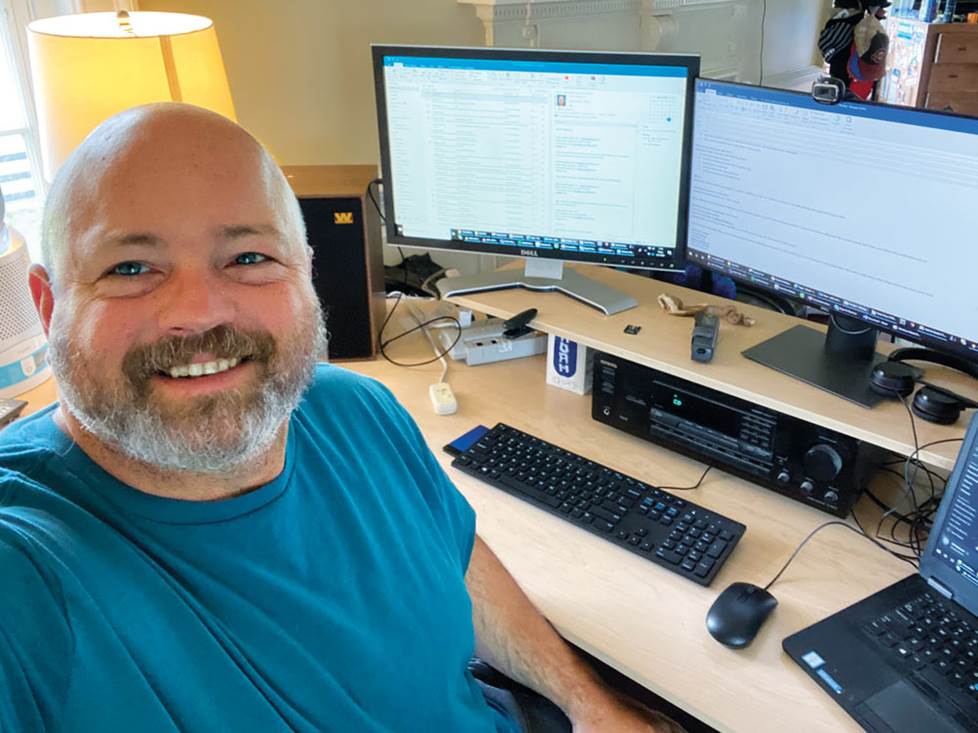 JR uses an old-school Onkyo stereo receiver to drive the Wharfedale Denton 85 speakers that flank his work computer. "I've been going back to some older Metallica stuff. I've always been a fan, but I've been leaning on them to get me going a little more lately."
When you work at Crutchfield, you tend to collect a good amount of audio gear over the years. And recently, we've had more time to use and appreciate it all. "My go-to home speakers have become even more important," said Home A/V writer Eric. "They're not doing anything new for me per se, but they've proven an excellent investment."
Our TV writer Emily added that she's rediscovered some hidden gems in her formidable vinyl collection — just by cleaning her records! "I use the MoFi record cleaning brush along with their super record wash," she said. "I have been taking the old records one at a time, cleaning them, listening to them, and placing them in a Mo-Fi sleeve if I want to keep them. I have a pretty good 'to-donate' box as well."
It's quite a process, but it has some nice perks. "I have been playing records every day now," she said, "whereas before I'd listen to a record maybe once a week."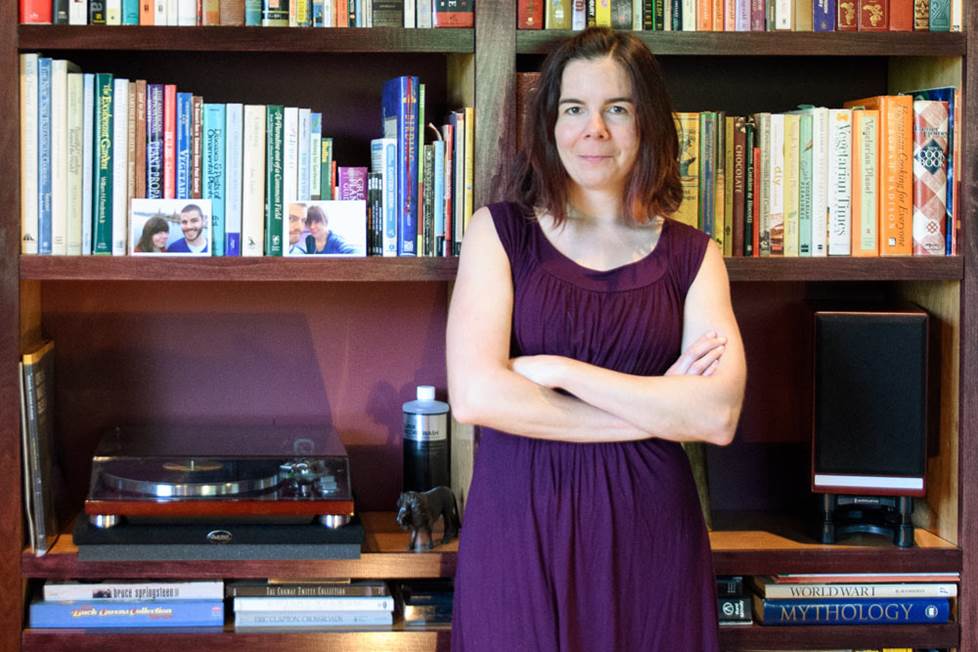 Emily spins her records on a TEAC turntable connected to a set of Audioengine powered stereo speakers.
The ritual was especially rewarding when she unearthed some of her dad's old records. Back before our stay-at-home reality, he would bring over some of his favorite classic and outlaw country albums. She found Mama Tried by Merle Haggard, and it felt like the perfect thing to listen to on vinyl. "Plus it reminds me of my dad," said Emily. "Which is nice with current circumstances keeping us far apart."
Improving our listening setups
Some of us have taken this time to finally tackle some DIY projects we've put off. And judging from the customer calls to our Advisors and Tech Support team, we're not alone. Seems like a lot of folks are finally getting around to wall-mounting the TV, tweaking home theater settings , and installing that car stereo out in the garage.
Senior editor Steve K. has one of the more enviable home audio setups, and would regularly host listening parties for our whole department. While the guest list has shrunk, he says it hasn't stopped him from dialing in his sound even further. "I recently upgraded the subwoofer in my basement rig to the SVS SB300," said Steve.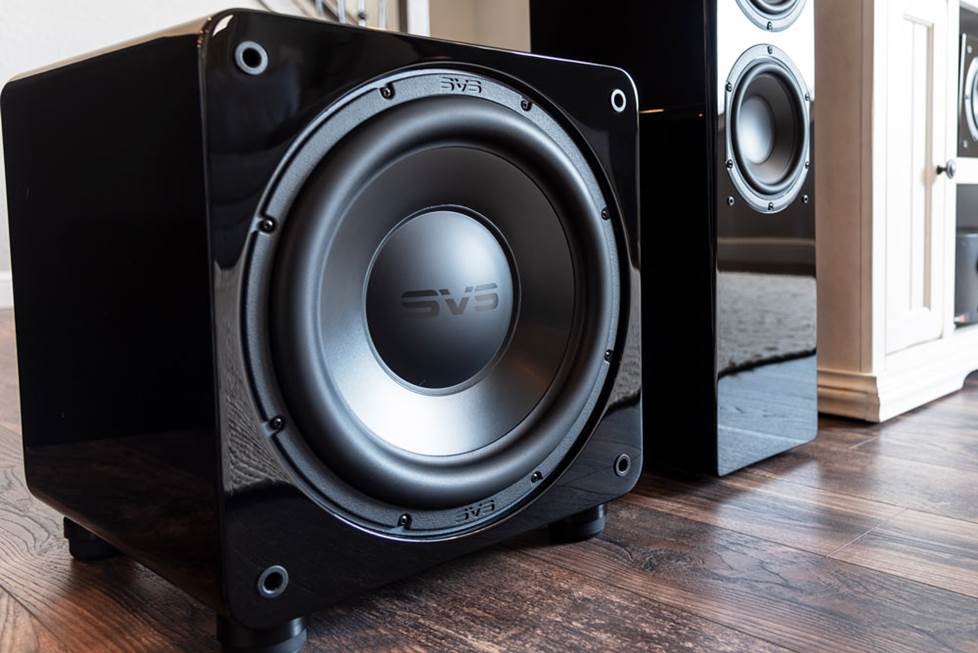 Steve's quarantine project has been dialing in bass on his new SVS subwoofer — hopefully he'll have it just right whenever we can do listening parties again.
"Straight out of the box I can hear its potential for greatness," he continued. "But I still need to make adjustments. This is the first sub I've used with real EQ capabilities, so I've downloaded some software and ordered a USB mic."
Car editor and local music legend Charlie Pastorfield enhanced his already impressive turntable setup (see how he scored a custom vintage Linn Sondek table in the video below). In March, he added an ELAC Alchemy phono preamp and some high-end speaker cables.
"I have been spending a freakish amount of time listening to records," Charlie said. "The sound of my system has taken a dramatic step up in resolution and the bass has gotten so much tighter and punchier."
As a result, he's been digging out more of his old reggae albums. "The Maytals, The Ethiopians, Justin Hinds and the Dominoes," he said. "Long Shot by The Pioneers might be my favorite reggae record ever. They were the biggest band on Jamaica from the mid-60s until they were eclipsed by the Wailers in the mid-70s. And on this album there is no weak cut."
Work vs play
Many of my co-workers told me they listen to classical or instrumental music while they work. They say songs with lyrics can mix them up, and they want something that keeps them focused — or fades into the background.
I'm kind of the opposite. With three kids under the age of eight, I don't always get to choose the songs I want to hear. So when we play tunes on the the living room sound bar, the Frozen 2 and Trolls: World Tour soundtracks are in heavy rotation. During work, I can dive into album recommendations from my colleagues and Questlove's epic nightly DJ sets.
Fortunately for me, I spend much of my work day evaluating headphones. And I made one really clutch move back in mid-March. On my way out of the office, I grabbed the Audio-Technica ATH-AWKT over-ear headphones. These premium audiophile cans have large, handmade earcups made of rare Japanese kokutan striped ebony wood.
I've been driving them with the solidly built iFi Zen DAC/headphone amp. It is a super-nice combo that delivers an enormous soundstage with incredible depth and detail. And iFi's "Truebass" boost button provides some extra oomph that really rounds the sound out.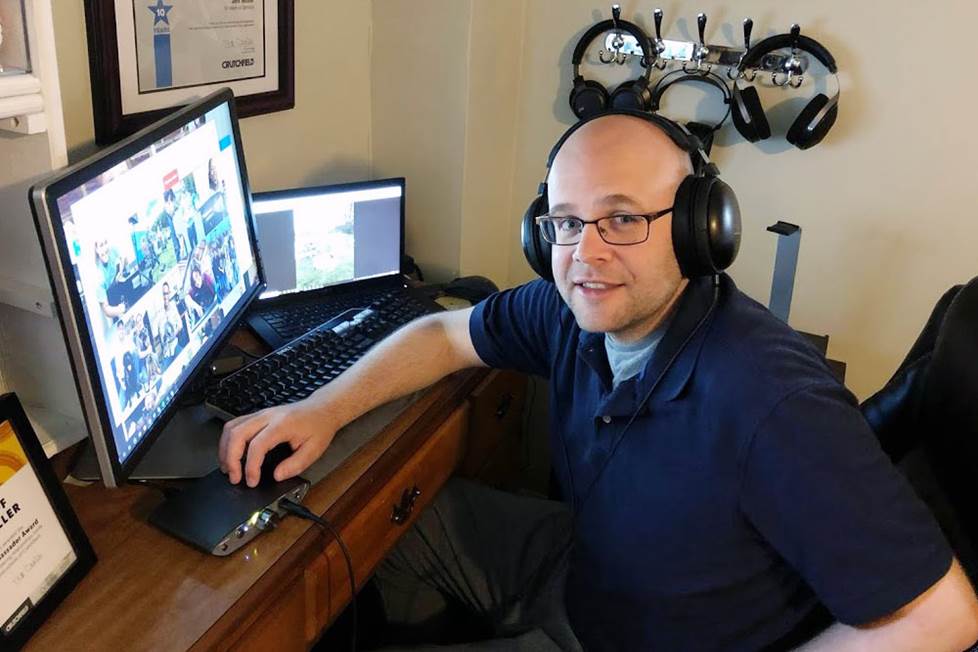 The Audio-Technica ATH-AWKT's wood earcups lend a refreshing, realistic timbre that helps brings out the best in well-recorded tracks, especially when driven by the iFi Zen DAC.
Product Advisor Antonio kind of splits the difference. When he's fielding phone calls, he's typically thumping something mellow: some lo-fi hip hop beats with jazz-infused samples. Bill Withers has also been in heavy rotation since he passed. "'Lovely Day' just puts you in the right mood," said Antonio.
But when he's answering customer email, he plays something harder and heavier — "Hip-hop or some techno," he said, "Monstercat and Daft Punk get the bass going so I get the productivity up."
Antonio built a gaming computer system — complete with racing LED lights — that is also killer for music. "I've got these Polk RTi A7 tower speakers powered by a receiver hidden in the closet," he said. "I bi-amped the speakers, because they are power-hungry, but it makes a HUGE difference. They produce a lot of bass — I had an 8 inch sub in here, but I no longer need it — the speakers provide enough."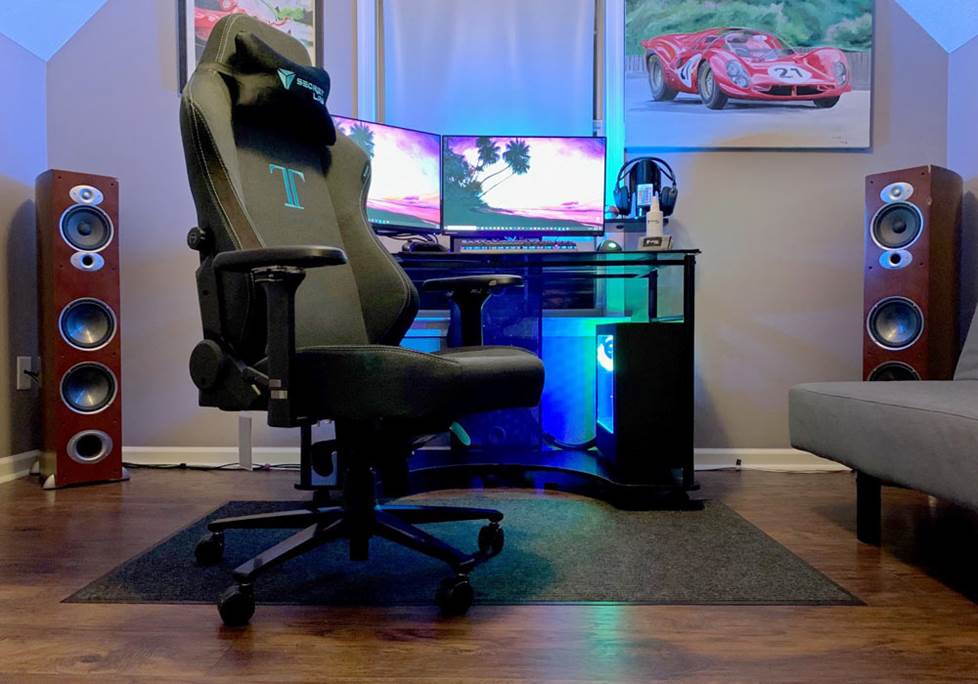 "The highs are nice and smooth, not too sharp and not too low," said Antonio of his Polk RTi A7 tower speakers.
"I'm using a seven-channel home theater receiver, and I'm sacrificing a couple channels to bi-amp the A7s," said Antonio, "but all I need for the office is two-channel for music."
Case in point — during one high-energy email shift, he received a call from his neighbor. "These houses are pretty close together," Antonio said with a grin. "I just appreciate that she called me directly, and not the cops!"
Listening outdoors
Those of us able to venture out into the yard have found adding tunes — and other audio — to the mix really helps the vibe.
Creative manager Amy took family time up a notch by setting up a fire pit. "We realized we would all be home together for a while and wanted an additional space," she said. "What we've most enjoyed are the impromptu moments where it's like 'hey you guys wanna go sit outside for a bit?'"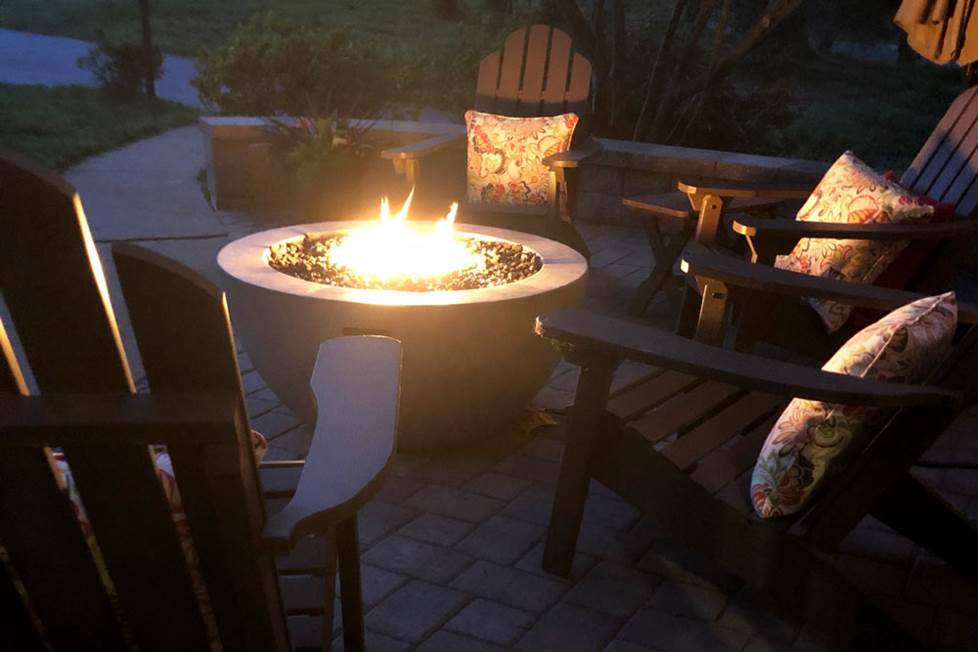 "More often than not, we are out there with the music going — even when the fire is not," said Amy.
One night Amy, her husband, and their two teenage kids were relaxing out there with the dogs — cooler within arm's reach. And she remembered she had a portable Bluetooth speaker. "I connected my phone and put on a Pandora playlist of live Springsteen," she said. "Immediately, my husband goes 'Wow. This makes this space perfect — I'm never leaving this spot.'"
I've heard from several colleagues who've been using Bluetooth speakers out in the yard or balcony. But others have more permanent outdoor speaker setups.
Tara, our video and social media manager, has been relaxing, and even working, more often in her decked-out treehouse. Earlier this year, we detailed how she and her husband installed a Sonos speaker system into this unique hangout.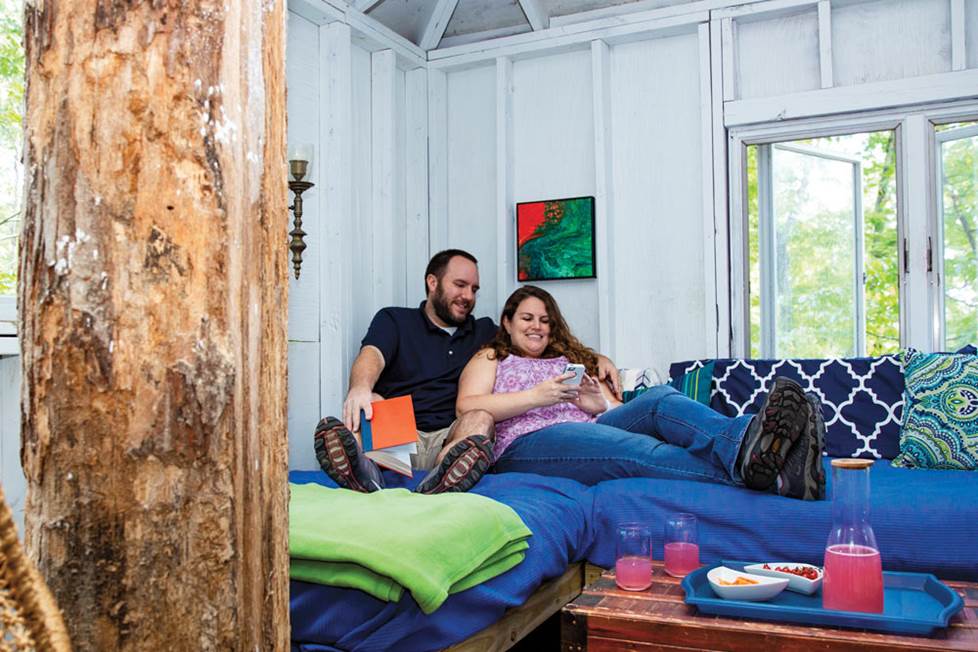 Tara and Rob installed a pair of Sonos Outdoor Speakers in the main room of her treehouse and a pair on the balcony — all powered by a single Sonos Amp.
The streaming services
Most of us seem to be streaming music via services like Spotify and Apple music. Qobuz offers lossless streaming which delivers far more data, meaning you can really hear those important musical nuances through the right setup.
Catalog editor Dave B. often streams CD-quality Qobuz on his Sonos Move wireless speaker around the house and on his deck. "I used it religiously early on, when I was working at the dining room table," he said.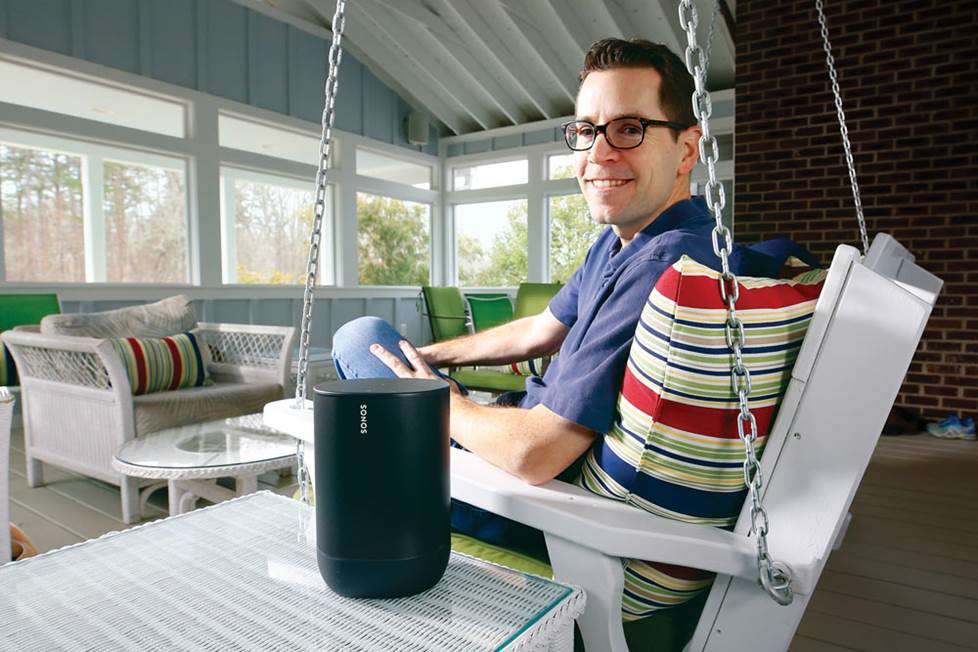 Dave picks up his Sonos Move and carries his CD-quality Qobuz playlists and albums with him all over the house — even out on the porch.
But when he got a more permanent work setup, he grabbed a pair of professional JBL desktop monitors from his basement, and placed them on either side of his computer. This way he can take full advantage of Qobuz's high-res streaming options.
"It's more of a pro audio-style setup," he said. "But it works great for music listening. And there have been some great new albums — Thundercat, Soccer Mommy, Onipa, Caroline Rose. I've been listening to a lot of Fela since we lost [legendary drummer] Tony Allen. Just masterful, mood-setting drumming."
Sonos users got a treat in April, when the new, free Sonos radio appeared. "I'm enjoying the 'indie' station," said Art Director Josh.
Home editor Jim also uses Spotify and Qobuz to play music on his own basement Sonos 2.1 system. But he's found great value in his collection of downloaded tunes. "I have a decent-sized music library of uncompressed files on a standalone NAS drive," he said. "And this local source has been particularly nice to rely on when our household internet usage spikes."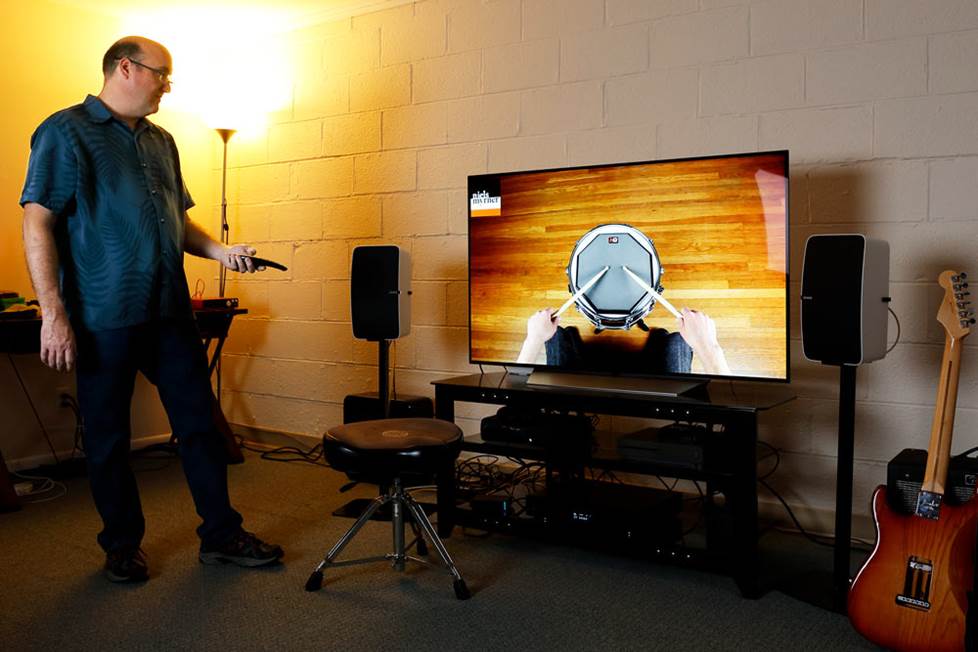 Jim also uses his Sonos speakers as TV sound system. From time to time, he'll throw on concert discs or YouTube music videos and play along to keep up his drumming chops.
Jim is a well-respected drummer who gigs with several area bands. One weekend off is rare, so several in a row has been really strange. So how has he been passing the time? Among other musical choices, "Porcupine Tree — the entire back catalog," he said. "Sometimes it croons, sometimes it shreds, sometimes it dresses up and disguises itself as pop music. Modern art rock that's as English as the day is long."
Albums and playlists
Jim isn't the only one looking back. According to the Billboard charts and Spotify streaming numbers, Americans have been listening to older music more and more over the last few months. Perhaps the same comfort-food mentality that has people binge-watching Golden Girls has us rediscovering (and ranking) all of Willie Nelson's 143 albums.
That trend has certainly hit us here at Crutchfield, too. Senior Advisor Rex was on a recent episode of Crutchfield: The Podcast, and said that in these uncertain times he's gone back to the classics. "I've been listening to a wide-range [of music], from old-school jazz all the way through DC post-punk," he said.
Rex streams music wirelessly from his phone through a pair of Klipsch powered speakers. But those speakers also have a phono input, so he's been putting his Pro-ject turntable — "with the acrylic platter" — to great use. Lately he's been spinning the double live album The Name of This Band is Talking Heads. "One side is like a bedroom recording," said Rex. "So it's almost like you're at a small house party with the Talking Heads."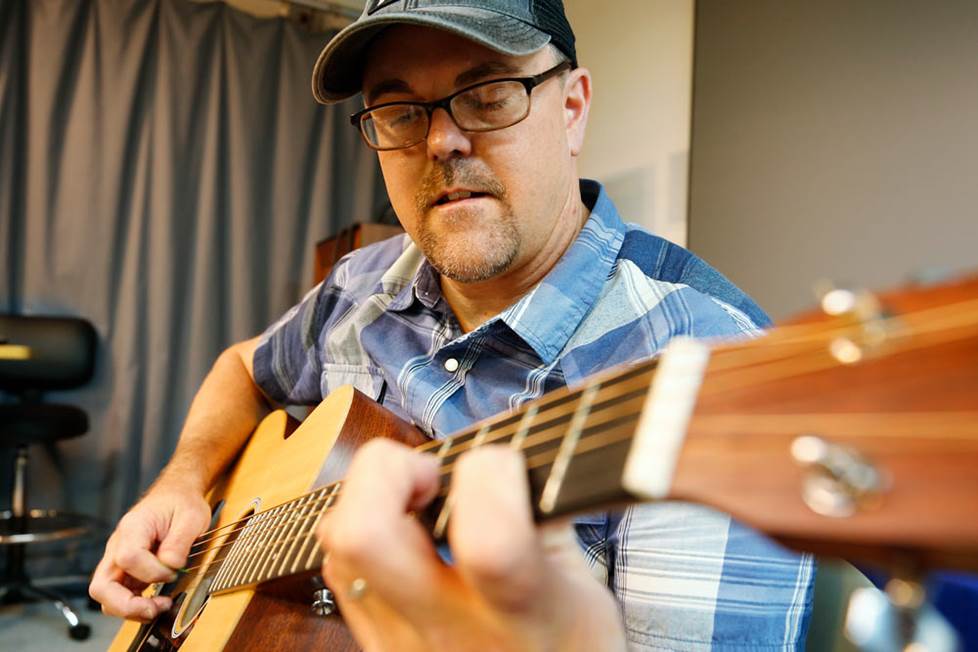 Rex says there's a certain lyric stuck in his head these days, too. It comes from the album Unbecoming, the latest from former Jawbox and Burning Airlines frontman J. Robbins. "Robbins is one of my favorite songwriters," said Rex. "And he has this line — 'Become what you are.' To me that means that there's no time like the present to do what you want to do.
"And if there were ever a time to do what you want to do creatively, what you want to do with your life…conversations that you haven't had…you should go ahead and do that. Or as Bob Marley said, 'Wake up and live.'"
That Marley lyric comes from the album titled Survival, which Rex points out is also very pertinent right now.
The epic "Album of the Day" email thread
I've long relied on my co-workers' expert music recommendations, so I was stoked to be added to the already legendary "Album of the Day" (AOTD) email thread. Car audio writer Ken recently started collecting picks and sending them to members of his team. The recipient list quickly grew to include departments from all walks of Crutchfield life.
The criteria? Well, it has to be an album — but other than that, there aren't many rules. It doesn't even necessarily go out every day. "If you like an album, just send it along," said Ken. "I prefer that people don't think too hard about it."
Want a sample? I had so many great selections and descriptions to choose from. But here are a few good ones:
May 6 Album of the Day
Suggested by: Rayna, web and print designer
Album: Fishing for Fishies
Artist: King Gizzard and the Wizard Lizard
Description: "These seven guys have a crazy name and a cult following. Since 2010 they've released about 14 albums. Some might say that this album is their most accessible and easiest to listen to. If low-fi, garage band jams and wacky lyrics are your thing, then this is your band."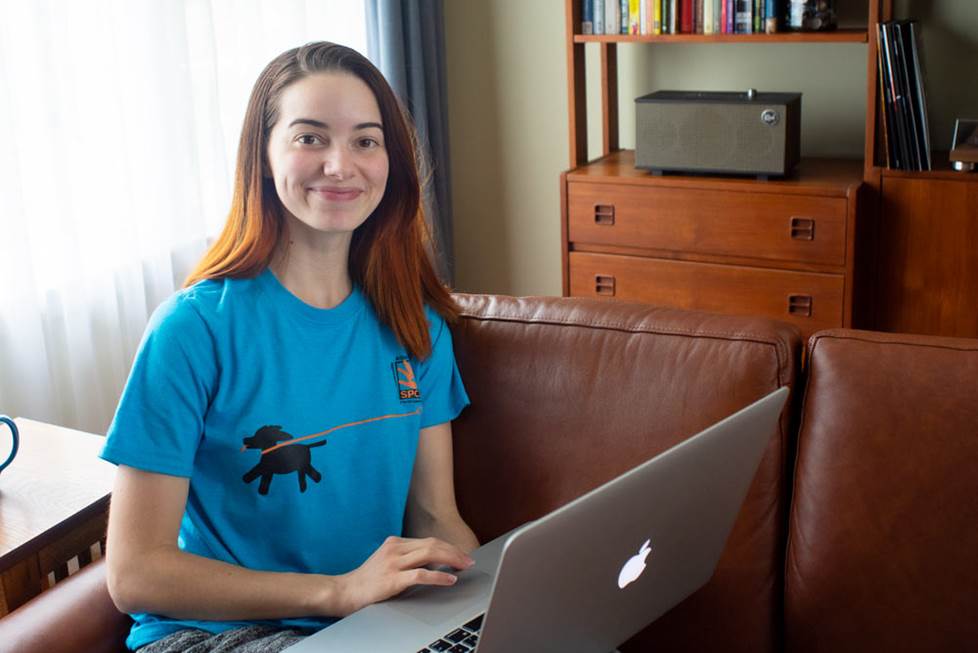 Rayna works half the day at her desk and half from her couch, where she calls out AOTD requests by voice through her Klipsch "The Three" wireless speaker with Google Assistant.
April 2 Album of the Day
Suggested by: Ralph, Crutchfield home A/V writer
Album: Cold Blood
Artist: Cold Blood
Description: "This 1969 debut album is what San Franscisco-based Cold Blood is all about — tight horns, funky rhythms, and a lead singer that will rip your heart out."
April 24 Album of the Day
Suggested by: Lex H., Crutchfield car A/V writer
Album: Room 41
Artist: Paul Cauthen
Description: "Johnny Cash vocals with a Waylon Jennings party spirit. This album conjures up all the fun of ending up in a hole-in-the-wall club at 3AM. When live music is finally back in full swing, look for me in Nashville… after hours!"
We put together a Spotify playlist with some choice cuts from each album:
Getting our live music fix
Shows and concerts have always been such a major part of our lives — whether we were performing or attending. So it was really tough to stop cold turkey. Luckily, many rare, classic, and legendary shows have popped up online. Big acts, like Pink Floyd, for example, have been posting full concerts on YouTube and other social media channels.
Another phenomenon that we've taken great notice of? With live concerts out, musicians have taken to social media with stripped-down performances from their homes. You can catch professional artists pretty much every night, often for charity. And we've also seen nice Zoom concerts from school bands and worship choirs, with group members each safely in their own home.
There's a certain charm to seeing people, including megastars like Paul McCartney, just kind of jamming in their living room or garage. Going back to the basics.
Vulture keeps a thorough, up-to-date list of recurring and upcoming live concerts.
A couple highlights for me: the sweet, soulful acoustic tracks that H.E.R. has posted to her Instagram account (including a lovely remote-video duet with Sheryl Crow), and the IG Live "Verzus" battle between DJ Premier and RZA. That actually turned into more of a delightful celebration of the two hip-hop icons than a true battle.
My current musical obsession: Questlove's epic DJ sets
Just about every night, Questlove has been spinning 4-5 hour DJ sets on YouTube. It's been part houseparty, part masterclass in music. He's done themed shows for Stevie Wonder's 70th birthday, A Tribe Called Quest and Native Tongue influences, Brazilian Funk, Janet Jackson's birthday, the samples and breakbeats of the Beastie Boys, and much more. The music is accompanied by his insider stories, history, and deep-dive commentary that only he could provide with his knowledge and connections.
I've listened to many of them through those premium Audio-Technica wooden headphones I'm auditioning (Questlove also happens to be using what looks to be the legendary Audio-Technica ATH-M50x headphones).
The peak was an epic four-night stretch of Prince music, specifically night three which was all live music. The headphones' huge, wide-open soundstage had me smack dab in the middle of the crowd hearing the band perform. It was extra trippy when members of the Revolution actually "joined" Quest in the YouTube comments section and provide some insight.
It was one of those moments where I stopped evaluating the headphones, stopped thinking about it as work, and just took a breath and enjoyed.
Why we keep listening
At Crutchfield, we've always said that enjoying music is good for the mind, body, and soul. This is backed up by several scientific studies on the benefits of music. The act of singing in particular is credited for reducing stress hormones and improving memory. It's even a great cardio and respiratory workout when done correctly.
And since the beginning of time, humans have used music to get through tough times — or simply get through the day.
What I personally value most about music is how it can be so many things at once. There's as much beauty in its simplicity as its complexity. It can provide a much-needed escape or keep you more present and focused. It can lighten your mood while somehow simultaneously reinforcing and amplifying your current feelings.
All of us are going through a lot right now, a strange mix of emotions. Certainly some of us have it worse than others. At some point in the future, we'll be able to get back together and use music to sort through it all...to go see our favorite band or to hangout in our favorite spot to sing, dance, and let loose.
But for now, I think we all still need — and deserve — those moments to stop and let the music take us where we need to be.
Contact us
If there's anything we can do to help you better enjoy your tunes, please give us a shout. We'd also like to know what you've been listening to. Leave us your recommendations in the comments.