A review of the Pioneer Smart Sync app
Integrating your phone with your car stereo
Heads up!
Welcome to this article from the Crutchfield archives. Have fun reading it, but be aware that the information may be outdated and links may be broken.
Editor's note: The content of this article does not reflect the November 2020 app update to version 3.0.0.
In this article... Pioneer's Smart Sync app works hand-in-glove with new Pioneer CD receivers to add a multi-media experience to your car audio system. Let's take a look at this exciting new app.
rely on my smartphone for music, messaging, and a whole lot more – it's probably the same with you. When you're driving, your car stereo might not accommodate the reality of how you use your phone. New multimedia touchscreen car stereos and factory systems typically offer lots of ways to integrate your phone into your car's A/V system.
But what if you don't have the room in your dash or budget for an aftermarket touchscreen car stereo? Pioneer says that their new single-DIN car stereos – compatible with the Smart Sync app – offer a solution.
(Editor's note: When looking at our selection of Pioneer stereos, please make sure that the stereo mentions "Smart Sync" in the description. We still have some older models that don't have this new feature.)
Enter Pioneer Smart Sync
Smartphone apps produced by car stereo manufacturers that are designed to work with their in-dash car stereos aren't new. Unfortunately, my experience has been pretty disappointing with some of these. Most often I've encountered limited feature sets, and worse, poorly designed apps that I can't even get to work.
My experience with Smart Sync has been a breath of fresh air. It installed easily on my phone, and did everything it promised to do without a hiccup.
So what exactly does Smart Sync do? Let's take a look — here's a quick demo of the Smart Sync app in action:
The Smart Sync pitch
Pioneer's marketing pitch promises that the combination of Smart Sync and a compatible receiver will "bring your smartphone's maps, messages, and music together in the car." Let's drill down into each of those promises.
Maps and navigation with Smart Sync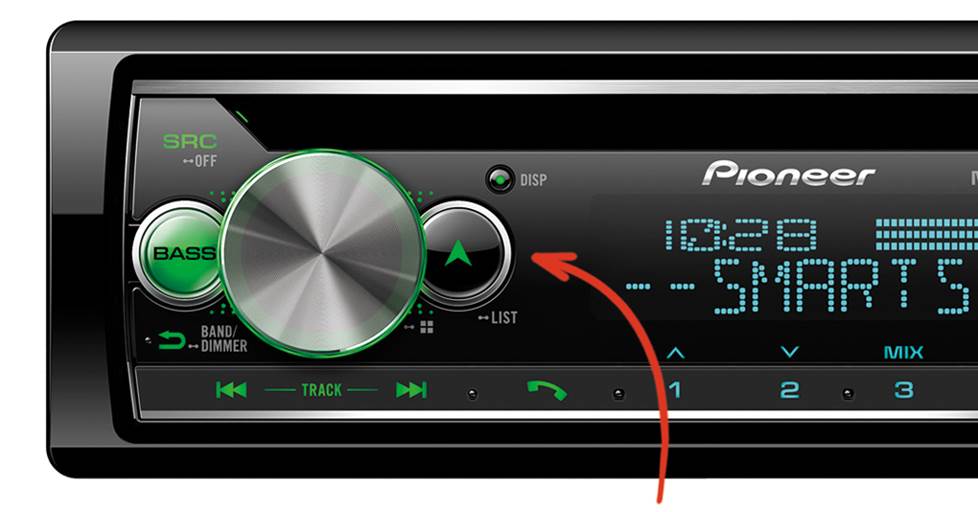 You can access your favorite nav app with the push of a button.
We're all used to using our smartphone for navigation in the car. In most cases, that means picking up our phone, opening our favorite navigation app, and inputting our destination information. That's distracting if you're behind the wheel – and not recommended.
Smart Sync compatible receivers feature an easily located shortcut button that immediately launches the navigation app of your choice on your phone – Waze, Google maps, and others. Once your app is open, tell it where you'd like to go through the receiver's voice control and you're all set. It's truly a one-touch solution.
Text messages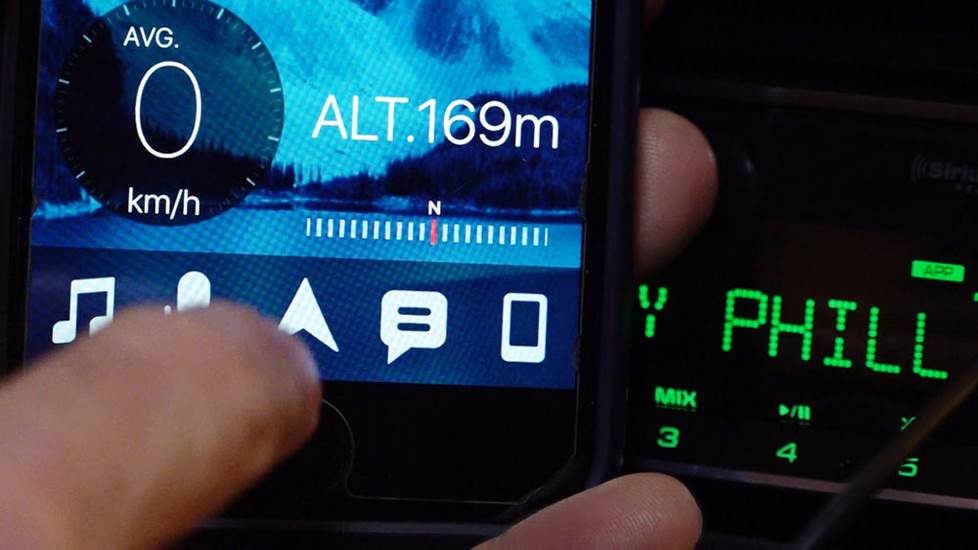 Listen to your messages while you're in the car — no fumbling for your phone required!
The Smart Sync app lets you listen to messages over your car stereo. Once again, Smart Sync lets your smartphone's display work hand in glove with your Pioneer car stereo. When you receive a message notification, just tap the message icon at the bottom of the app display and the message will be read out to you while you drive. The message feature supports a variety of messaging apps as well, including Facebook Messenger and Google Hangouts.
Using Smart Sync to listen to music
Access music sources from your phone's screen.
Music control begins with source selection. With Smart Sync, you can quickly swipe up or down a list of your sources and select the one you'd like to listen to with a touch of the screen. You'll have access to all the music apps on your phone, and you can use the smartphone's screen to access them as you normally would.
Mount your phone in a convenient location and it'll be easier to access your music and all of the other things Smart Sync can do. See our full selection of phone mounts.
Other Smart Sync features
If Smart Sync only did what we've talked about so far, it would be a very useful app. To me, though, it's the features we'll now examine that make it even more attractive.
Sound tuning and customization
Smart Sync boasts a slew of sound-shaping controls that are accessed from your phone's screen, providing an intuitive way to control your system's audio.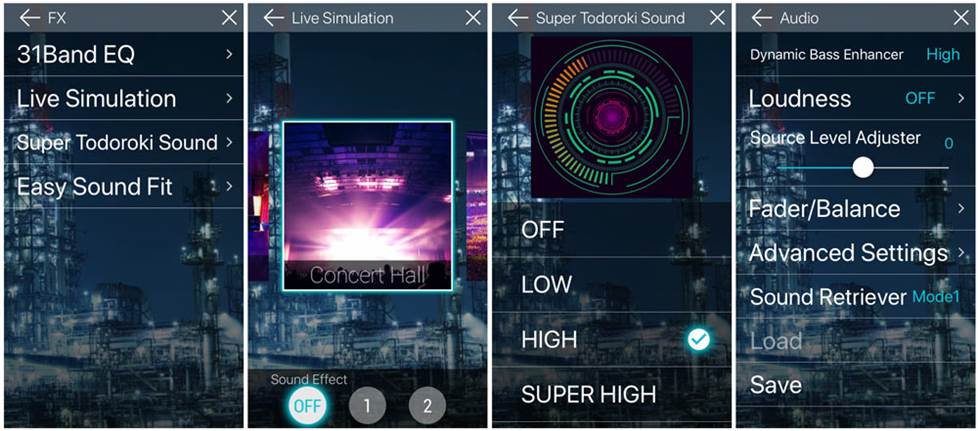 Smart Sync boasts an array of sound-shaping tools linked to your stereo.

My three favorites are the 31-band EQ, simulated sound fields, and Easy Sound Fit. I could spend all day sitting in the driveway tweaking the sound with the 31-band equalizer, while the simulated sound fields offer a nice way to add a little ambiance to what you're listening to by replicating different performance venues (outside, concert hall, etc.). Easy Sound Fit? A set of presets that tune the sound to match the size of your car.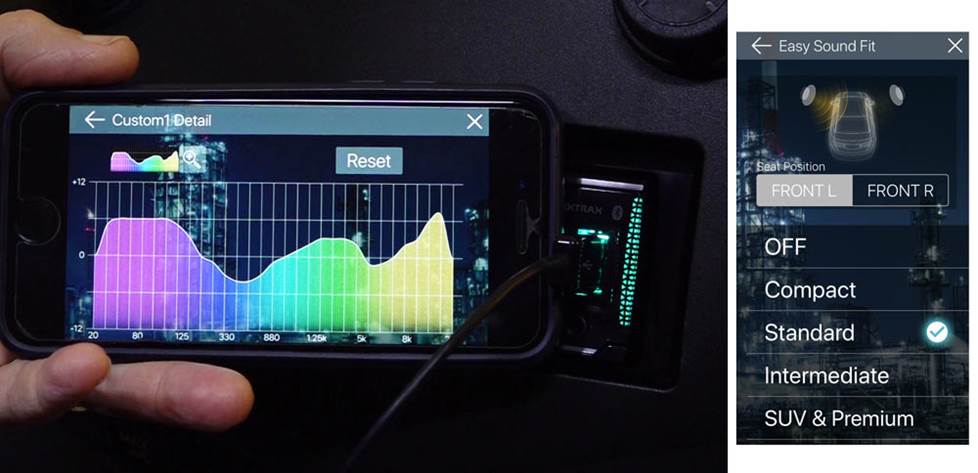 Tweak the sound all day with the 31-band EQ.
Themes and color schemes
Most of the Pioneer receivers that are compatible with Smart Sync boast variable-color, dual-zone illumination – you can choose one color for the display and another for the buttons. That's a nice feature to have since it lets you match your new stereo's display to the existing lighting scheme of your car. While you can control this from the receiver, Smart Sync allows you to set the colors from your phone, a somewhat easier process.
You can also select from a variety of different themes for the Smart Sync interface on your phone. If you like, the colors of your car stereo will automatically match with the theme. It's a nice effect.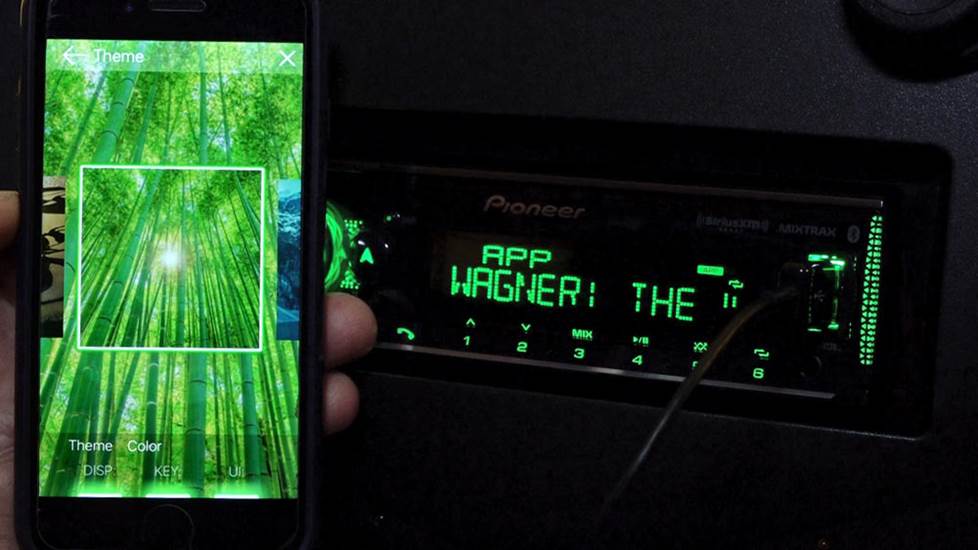 Color schemes match the stereo to the app's display screen.
Safety features
It's hard to find a new car that doesn't have a variety of safety sensors built in. Smart Sync lets you retrofit your car with a parking sensor that will display proximity warnings on your phone – a great way to avoid fender dings in a crowded parking lot. And you can enable impact detection as well. It will send notifications to those you choose if the app detects an impact to the car when it's operating.
My take on Smart Sync
With Smart Sync, Pioneer has set a new bar for integrated smartphone car stereo apps. Not only does it offer some really useful features, but it's also easy to use and has worked flawlessly for me. Learning how to use the app is easy since tutorials and videos are built right into the app.
Smart Sync is not only a great addition to a car stereo, it's also a lot of fun to play with. If you're like me, you'll find yourself happily playing with all of its features long after you've installed your new radio.
Give Smart Sync a test drive
Smart Sync works with the new generation of Pioneer single-DIN car stereos. To find the right one for you, or to find out more, contact our advisors via chat, email, or on the phone.