Intro to planar magnetic headphones
Learn the basics about planar magnetics and find out if they're right for you
My relationship with headphones started when I was just a kid. It wasn't uncommon for me to be proudly rocking a set of cheap earbuds (shame on me) while on my way to school. Coming from a family of musicians, I could tell something wasn't right with how things sounded through any of the headphones I owned, but I couldn't quite put my finger on what it was. It wasn't until I started at Crutchfield that I began to chase the level of detail and clarity in headphones that I was missing many years ago.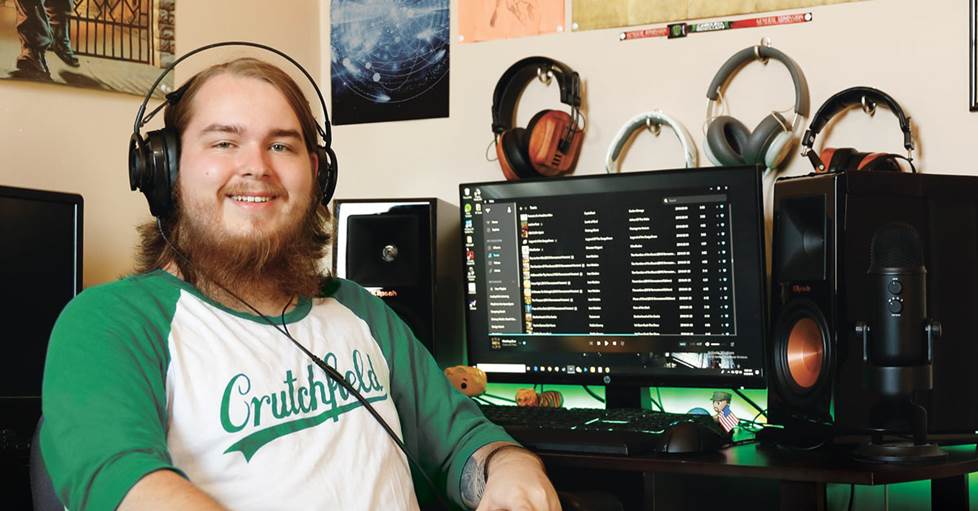 Me in my home office, surrounded by headphones I own.
It's been an arduous journey. After all, there are so many headphone options out there you could drown in the sea of products. Planar magnetic headphones have been growing in popularity, but how do they stack up against other headphones? The difference is in the drivers.
What's this about drivers?
Think of headphone drivers like speakers that are housed next to your ears in an enclosure. Much like speakers, headphone drivers have an impedance, a minimum and maximum input power, and distortion ratings.
Most 'phones out there use dynamic drivers. These work the most like the speakers we're all familiar with, using an internal motor structure to move the driver back and forth and generate sound.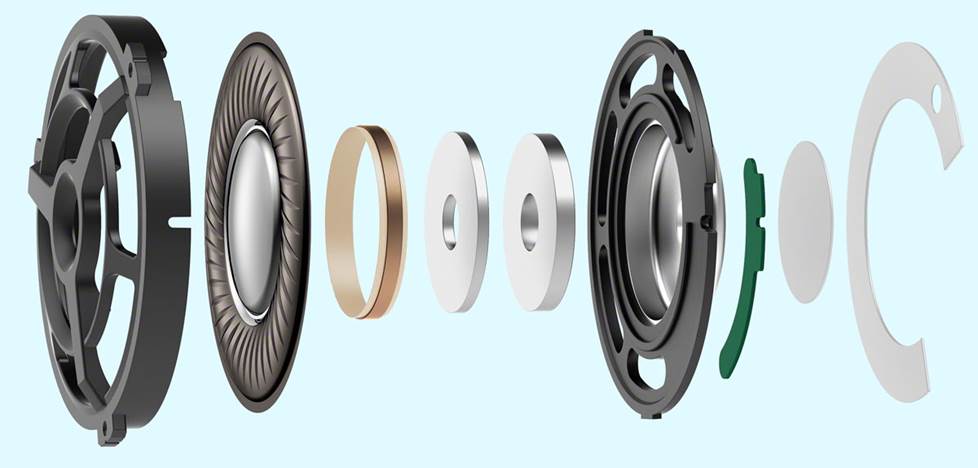 Expanded view of a dynamic driver. Second from the left is the driver itself with the voice coil, former, and magnets behind it.
They can move some air during that linear travel, and that helps to add some rumble and impact to the bass. Just like a speaker, driver sizes are everything. The most common driver size for dynamic headphones is 40mm, but you'll run across sizes ranging from 10mm in some in-ear models all the way up to 100mm or more on larger over-ear models.
Planar magnetics, on the other hand, use large driver sizes due to the nature of how they operate. This doesn't affect the bass as much as it does with dynamic headphones, but it does affect the overall sound you'll get. The more surface area you have, the more detail and clarity you'll have.
Planar magnetic vs dynamic headphone drivers
Planar Magnetics work differently than most people are accustomed to. Rather than using a cone, they have a thin diaphragm with a conductor running through it, either placed in front of a single magnet or sandwiched between two large magnets. Once electrical current is applied, that diaphragm moves back and forth thousands of times per second to generate sound. It's not uncommon to find 75 to 120mm or oblong drivers housed inside their ear cups.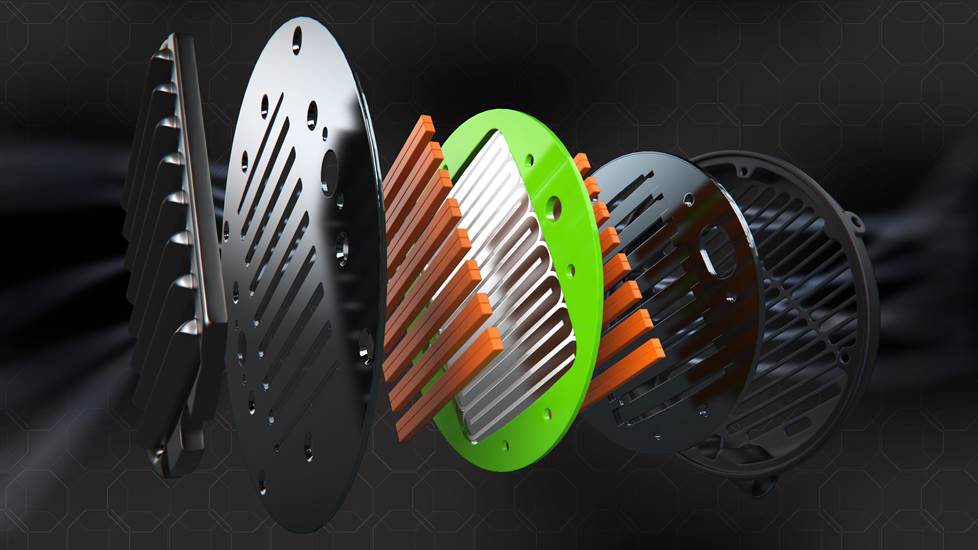 Expanded view of a planar magnetic driver. Third from the left is the first magnet, followed by the diaphragm and second magnet.
There are a multitude of benefits to using that kind of design. There's no traditional motor structure (like a former and voice coil) behind the driver itself. That lets the diaphragm of planar magnetics move more evenly within the magnetic field. Because of that, there's virtually no distortion and an extremely low chance of the diaphragm "wobbling" like a speaker cone or dynamic driver could.
Since there's almost no chance of distortion, don't be afraid to throw the most bass-heavy tracks you have at planars. You can expect the bass to be extremely crisp down to the lowest frequencies.
Planar magnetic headphones have a unique sound that I've come to prefer. It's astoundingly clear and precise thanks to that thin diaphragm I mentioned earlier. The movement is lighting quick, so expect an accurate, lifelike attack and decay. Soundstage separation is equally as impressive. It's easy to pick out where instruments are when everything has its own "place" in the soundfield.
On the other hand, dynamic headphones are more versatile. They don't have a specific "sound". They come in all kinds of flavors and each one uses a slightly different driver material and magnet size. Some dynamic headphones have a rich, warm sound while others have a notable sharpness and quickness to them. While planar magnetic headphones may not have as much warmth or versatility as some dynamics, they more than make up for it with the concert-like sonic experiences they're capable of.
Do you need a headphone amp?
Don't leave your planar magnetic headphones hurting for power. Much like a regular speaker, if your headphones aren't being powered properly, you'll be missing out on what they're capable of.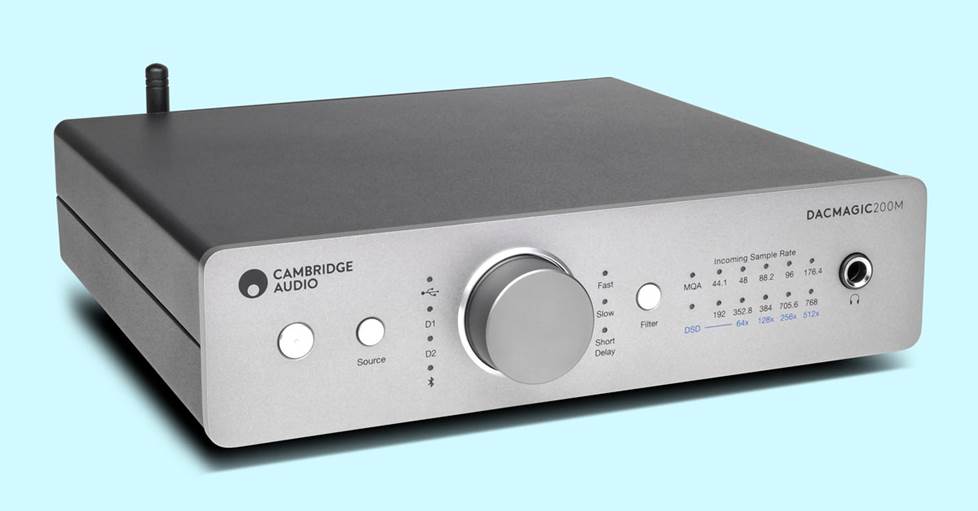 Cambridge Audio's DacMagic 200M can power most headphones with ease.
Understanding impedance and sensitivity
Impedance, measured in ohms, describes how much resistance a circuit has. Another way to think about it is how power hungry the headphones are. The higher the impedance, the more power you're going to need.
Sensitivity is a measure of how loud a pair of headphones can get at a given volume level. The higher the sensitivity (also called efficiency), the louder you can expect the headphones to be and the less you'll have to crank the volume knob. Anything over 90dB can be considered highly efficient, although it's not uncommon to see headphones well over 100dB.

So, you might look at the specs on a pair of Meze Empyreans and think, "I really like these. Since they have a 130dB sensitivity and a 31-ohm impedance I can totally run these off of my phone." That's not entirely correct, though.
Planar magnetics are tricky to drive and may seem confusing at first. The best way to think about planars is that they require a high power output at a low impedance — way more than what your smartphone, tablet, or pc can handle. They'll run off of your device, but you won't be getting the most out of them. The bass will be shy, the mids lacking, and the highs not clear enough.
If you'd like to do a deep dive on headphone amps and learn how to pick the right one, my buddy Jeff wrote a killer article that has all you'll need to know in it.
My top planar picks
Now that we've hammered out the primary differences between planar magnetics and "regular" headphones, it's a good time to talk about some cans I've tried out and enjoyed.
You might notice there are a lot of Audeze products on the list. That's because Audeze has been an innovator in the planar magnetic realm since its inception in 2009. They also captivated my heart nine years later when I picked up a set of their LCD-2s.
The company has focused on keeping the bar for sound quality high while making their planar magnetic headphones easier to carry around when you're on the go and less bulky when they're on your head.
Their patented Fluxor magnet array is the company's pride and joy and helped make modern-day planar magnetics what they are. Audeze chose to develop them because they create a stronger magnetic field than traditional magnets for the same weight. That means the magnets can more efficiently push the driver and have more control over how the diaphragm moves.
It also means they can use thinner conductors throughout the diaphragm, giving the headphones faster and more accurate movement. As they put it, the magnets "help harness the lightning so you can hear the thunder."
I'd say that's being humble.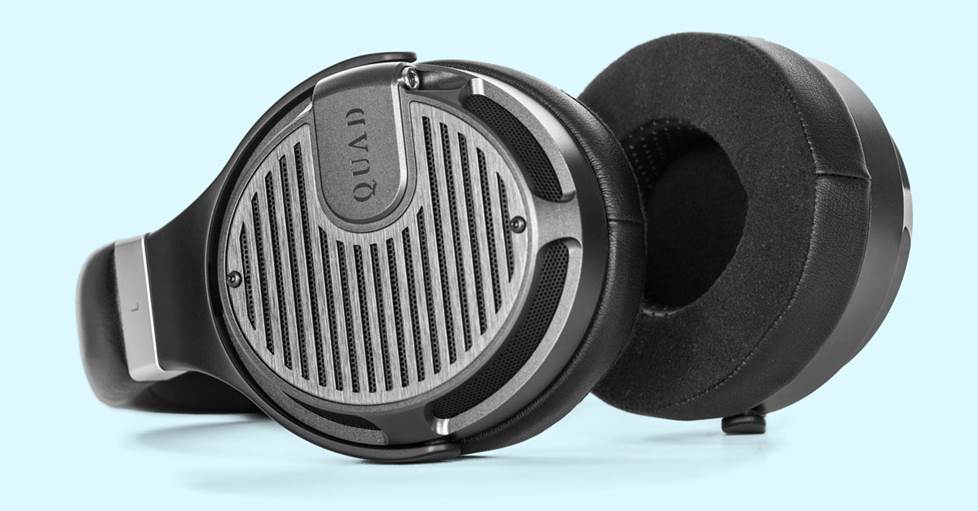 Best under $1,000 — Quad ERA-1
British hi-fi legends Quad blew me away with their ERA-1 headphones. They're some of the most engaging and detailed headphones you can get for under $1,000. When I demoed them, I played everything from Daft Punk to Immortal and everything in between. I never wanted to take them off.
The ERA-1s almost have a traditional "British" sound to them. You still get the extreme accuracy and detail retrieval of the planar magnetic drivers, but with a sprinkle of inviting warmth on the top end.
These headphones are comfy, too. The sheepskin earpads rest lightly over your ears and are well-ventillated to keep your ears from getting hot. The headband offers ample support and evenly distributes the overall weight of the headphones across the apex of your skull. I wore them for an entire shift once and had absolutely no complaints.
Details
Impedance: 20 ohms
Sensitivity: 100dB
Frequency response: 10-40,000Hz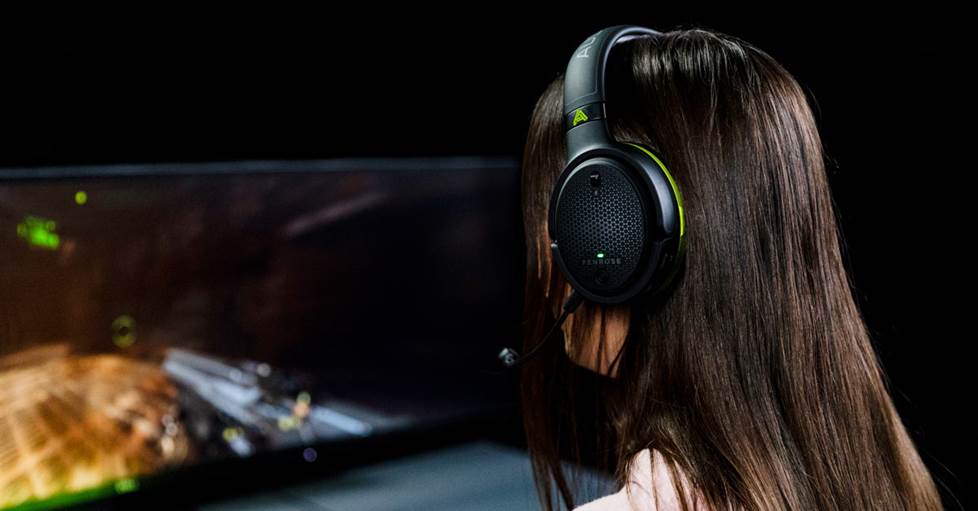 Best for gaming — Audeze Penrose X
The Penrose X isn't Audeze's first gaming headset, but they're certainly my first choice. They take all the things their predecessors did right and add to them, delivering a sound quality that's sure to step up your game.
If you're creeping around corridors as an attacker in Rainbow Six® Siege trying not to get taken out by that pesky Jäger player, these give you a sense of spaciousness and depth that'll give you an advantage when you breach.
They're also Bluetooth so you can say goodbye to troublesome wires getting in the way of your game. The boom mic that extends out from the left ear cup has an impressive built-in noise filter that can drop outside noise by 20dB. Your teammates will be able to hear you loud and clear as you coordinate to push objectives together.
Details
Self-powered — no need for a headphone amp
Built-in battery rated for up to 15 hours of wireless use
Frequency response: 10-50,000Hz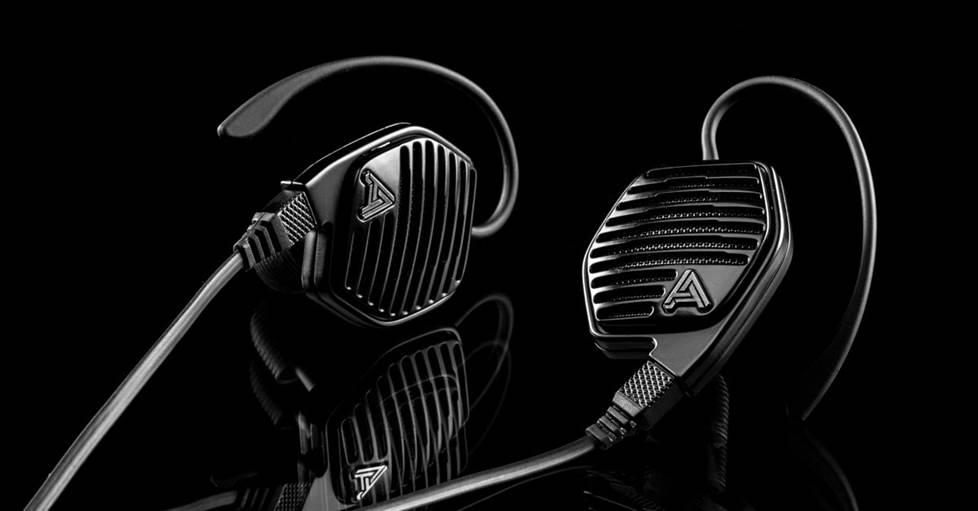 Best planar magnetic in-ear monitors — Audeze LCDi3
Hand-made by Audeze in their Southern California headquarters, these in-ears are heavy hitters. The LCDi3s are the first Bluetooth in-ear montiors (IEMS) and the company spared no expense to ensure they capture Audeze's signature sound.
I found them to be a great alternative to the larger over-ear planar magnetic models out there. They're comfortable and easy to pair to your phone or tablet. There's a cable with them too, which I used when I tried them out. Just make sure to use a small headphone amp with them if you're going the wired route to get the best sound.
I'm a sucker for live performances, so naturally, the first track I tried on these was "Creep" by Scott Bradlee's Postmodern Jukebox. On the opening line, my jaw was introduced to the floor. There was a sense of airiness and presence about the track that I'd not heard before.
The stand-up bass and drumkit were firmly in behind the accompanying brass ensemble and piano, and the singer, Haley Reinhart, was front and center. Haley gets up high in her vocal range during the song, and the LCDi3s handled those notes flawlessly without being overly sharp. The bass was punchy and natural. I mention all this because it wowed me that I was able to discern every instrument in its proper place and how cohesively good everything sounded.
Details
Impedance: 20 ohms
Sensitivity: 110dB
Frequency response: 10-50,000 Hz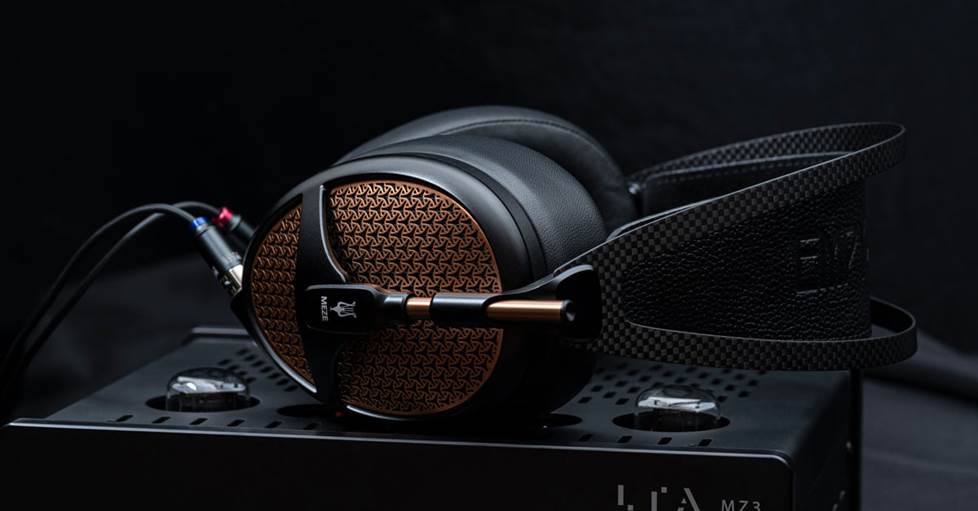 Best high-performance planar magnetics — Meze Empyrean
I obsessively followed the development of the Empyreans. Every social media and website post Antonio Meze and his crew made, I ate up and geeked out over.
The Empyreans were designed to breathe new life into your favorite tracks and I believe they succeeded. They've got a smooth overall response, which is typical of Meze, and in my opinion, the best bass response of any planar magnetic headphone. They're not afraid to dig in deep and stay there.
The accuracy, dynamics, and imaging of the Empyreans is fantastic. If you've got an orchestral track playing, you might notice how well the headphones handle the swells and dips in volume and intensity. On acoustic tracks, the body resonance of guitars is lifelike and rich.
Details
Impedance: 31 ohms
Sensitivity: 130dB
Frequency response: 4-110,000 Hz
Need some assistance?
Don't hesitate to reach out to any of our advisors. They're extremely knowledgeable and get hands-on with a lot of the gear we carry.