Adding great sound and cool cameras to a Polaris RZR
A Crutchfield employee upgrades his off-roader
In a nutshell: With a rooftop stereo system and two rugged off-road cameras, this Polaris RZR is ready for a season of adventure.
For Butch, a 35-year veteran of Crutchfield's Distribution Center, there's nothing better than getting together with friends and family and hitting the trail in his Polaris RZR.
This UTV had a lot of custom touches already, but by adding speakers, a camera system, and some other gear, we made this awesome ride even more fun. Better still, between Butch and a couple of our Marine/ATV advisors, we learned a lot about the ins and outs of installing gear like this.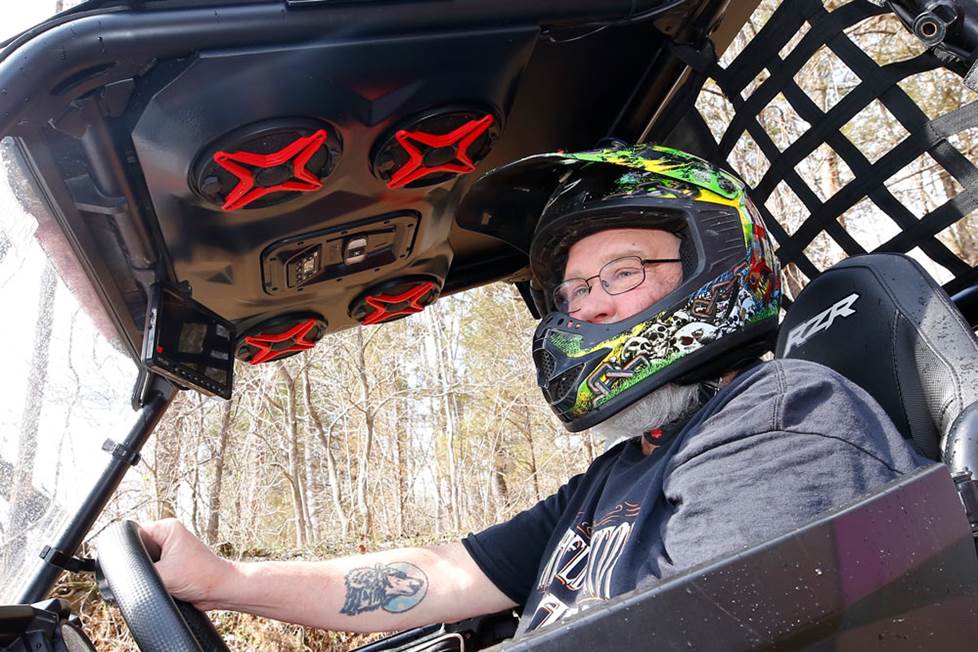 Butch gets ready for a ride in his RZR.
Cranking up the sound
Butch installed the SSV Works overhead stereo system himself. It's a really clever system that brings big sound and handy light to the RZR. Made from durable fiberglass, it attaches securely to the overhead the roll bar and holds a 2-piece digital media receiver, four 6-3/4" SSV Works speakers, and a super-bright dome light.
The enclosure features weatherproof connectors, stainless-steel mounting hardware, and step-by-step installation instructions. You can order speaker grilles in various colors, like the red ones Butch chose, but if you want a more exact match for your ride, they're paintable.
"The installation took about half an hour," Butch said. "It was very simple, really, and it sounds great."
---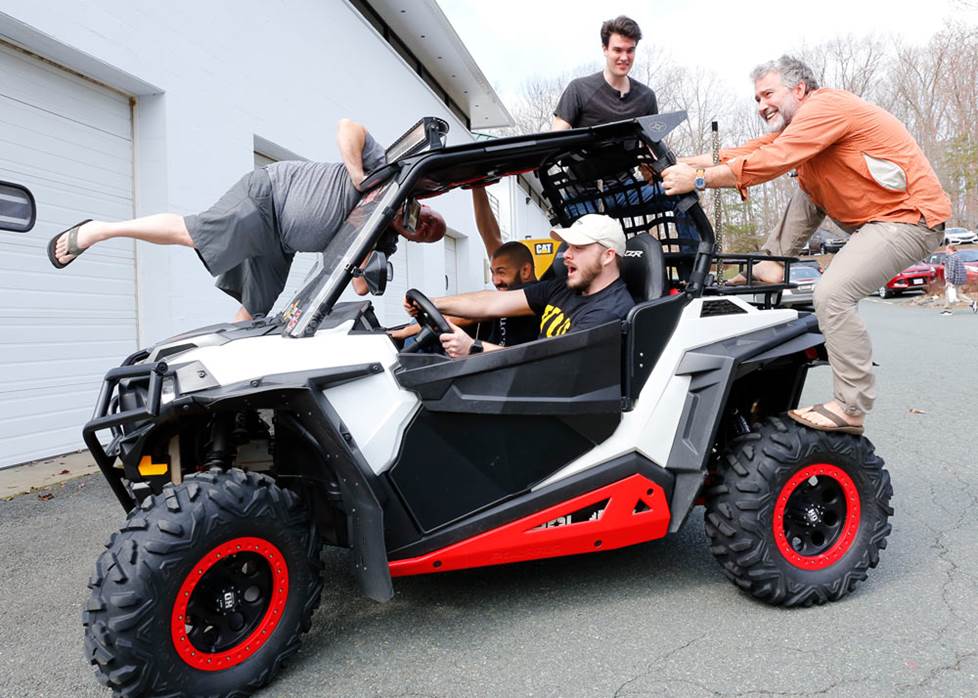 (Clockwise from top) Francis, Curtis, Woody, Carlos, and Ziggy, all members of our dedicated ATV advisor team, have a little fun with the parked RZR.
Our ATV team gets hands-on training
All of our advisors get plenty of hands-on training with the gear they sell, so when you call Crutchfield to order marine and ATV audio gear, you'll talk to someone who knows their stuff and also knows how to install it.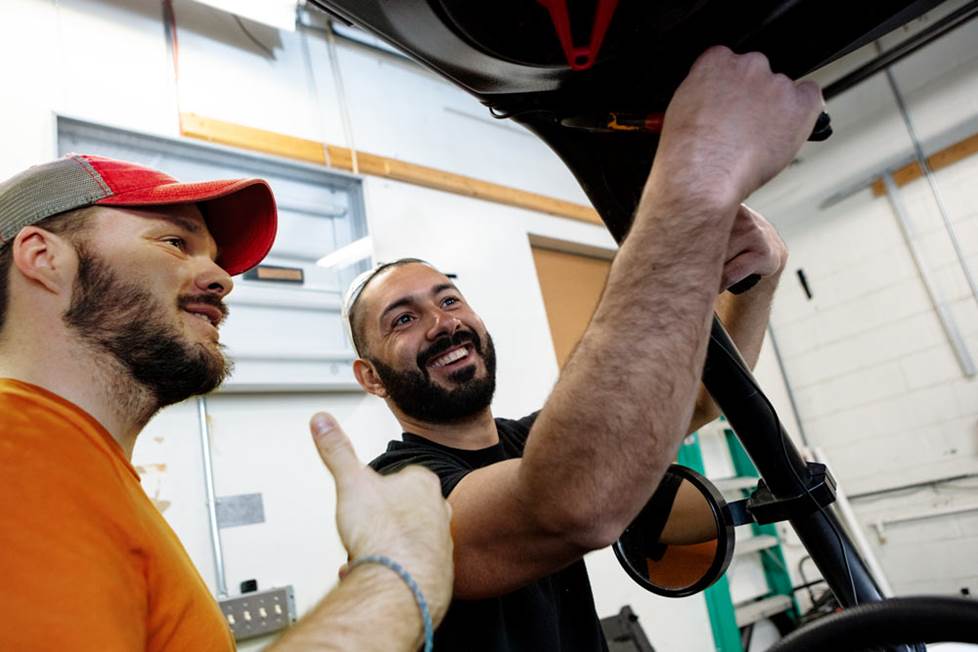 Woody and Carlos size up the camera and monitor installation
When it was time to install the Brandmotion dual camera/ DVR/ monitor combo, we turned to Carlos and Woody, two of our Marine/ATV experts. The job presented a few challenges, but overall, they found the installation to be pretty straightforward. They used a rotary tool to create a safe run for the wiring, but that's about it for the custom work.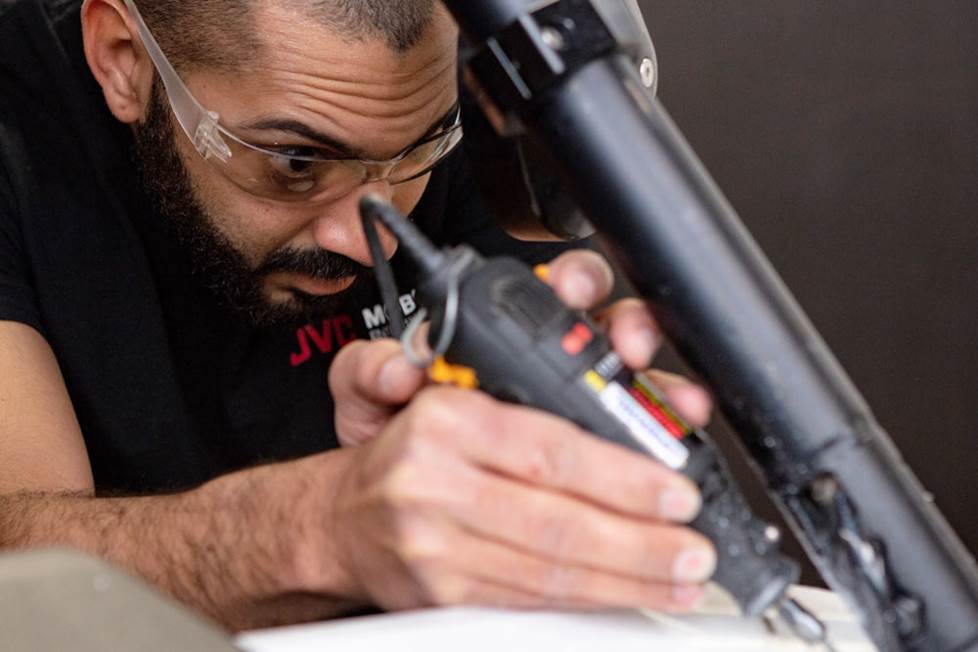 Carlos' skills with a rotary tool came in handy for creating some much-needed room for the wires
"The hardest part of the install is making sure you run the camera wires in areas where they have no chance of getting hung on anything," Woody said. "You also have to worry about keeping them away from anywhere they could get pinched by the frame or the shocks when you're tearing down the trail."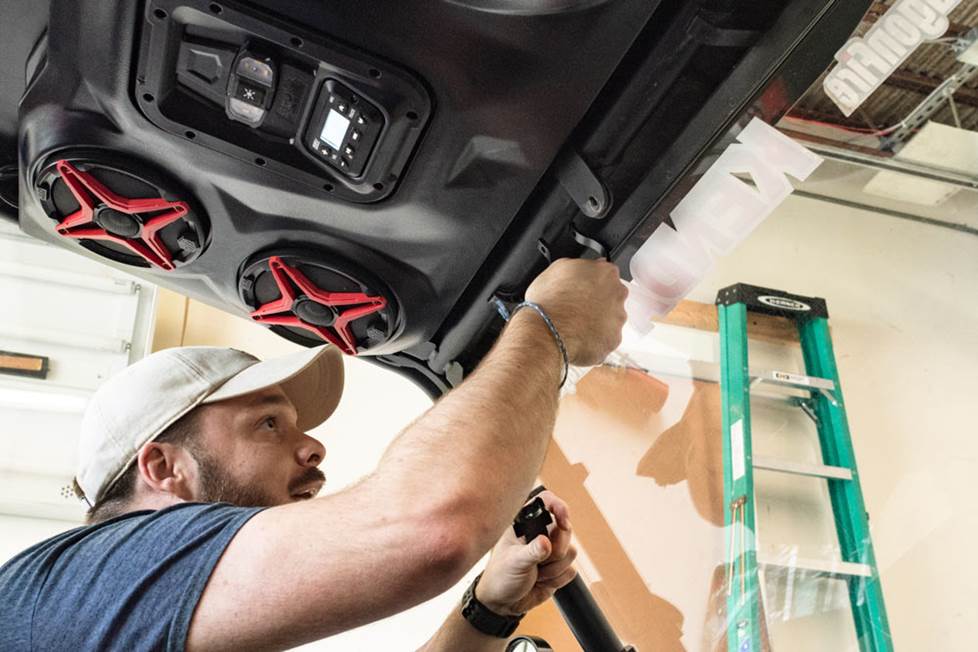 Woody gets ready to install the 7" display monitor on the front of the cage
We chose the two-camera model for this ATV, and the guys installed the cameras on the front and rear of the vehicle. The included bracket made it easy to mount the 7" LCD display monitor to the roll cage, where Butch can get a quick look at what's ahead or behind.
The included remote control is used to complete the set-up, but as the guys discovered, a battery is not included. You'll need a CR2032 battery for the remote, so make sure you have one before you start your installation.
If your off-roading gets you into tight spaces, there's also a four-camera version that's especially handy in close quarters. As Woody told us, a camera system like this one could be one of the most important aftermarket pieces you add to your ATV or UTV, because the more you know about what's around you, the less likely you are to damage the vehicle.
These cameras were installed on the front and rear of the RZR, but that's not the only installation option for a vehicle like this one. It all depends on what kind of off-roading you're into.
"This set-up is mostly for recording the drive, but if you just want to record yourself having fun in the mud, I'd recommend putting the cameras on the roof," Carlos explained. "You'll get a better view and the cameras won't get as dirty."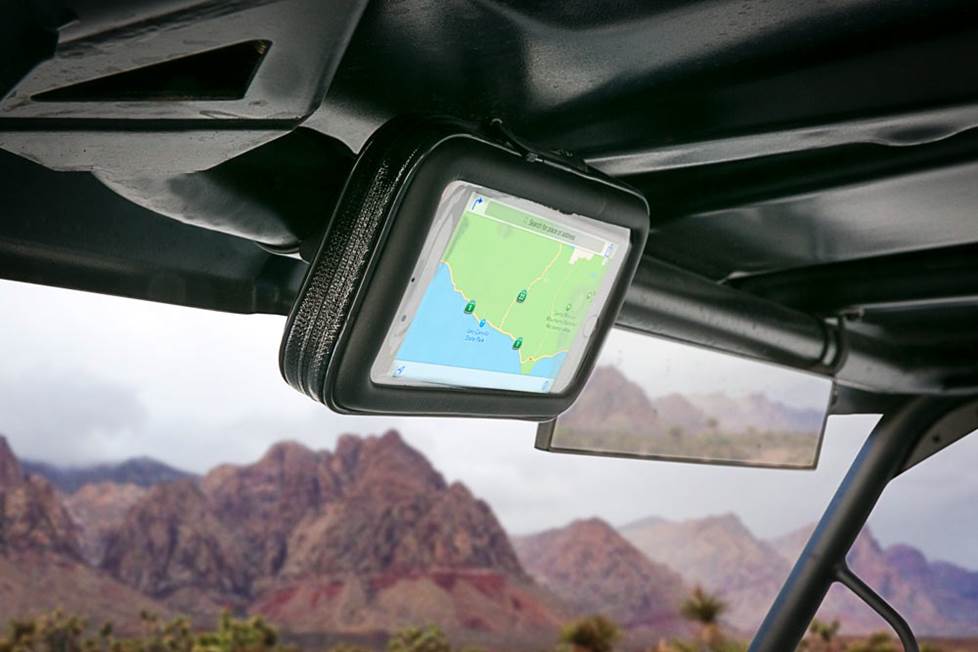 Keep your phone safe while you're rocketing through the wilderness (photo from Scosche)
When you're out on the trail and using your phone as a music source, you need to make sure that phone is safe, secure, and protected from the elements. Scosche's weatherproof phone holder attaches to almost any roll cage with a BaseClamp (sold separately) and keeps your phone handy and healthy, no matter what you're driving through.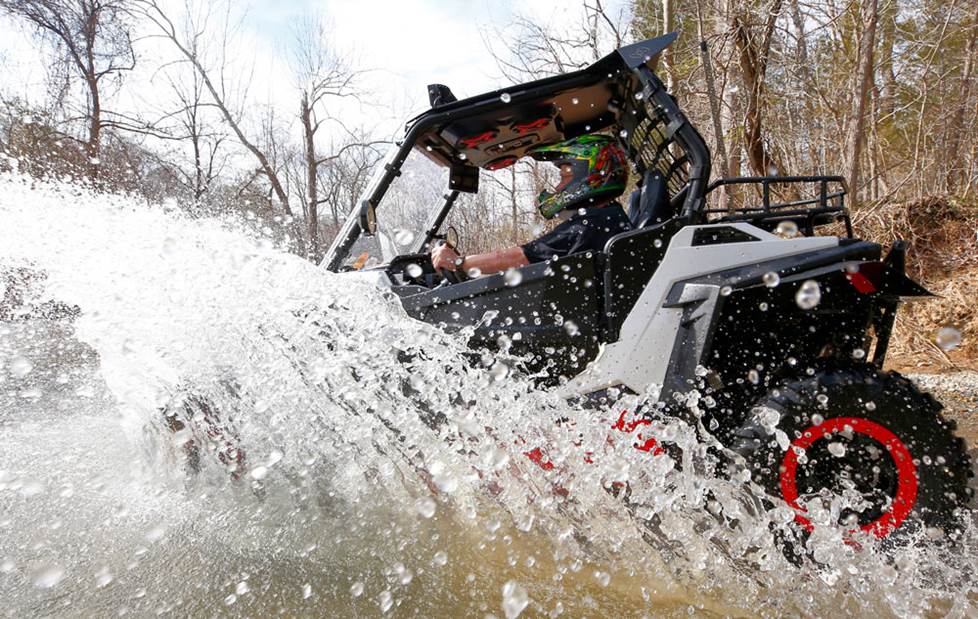 If this looks like fun, that's because it is — just ask Butch!
---
Planning your own ATV or UTV upgrade? Don't hesitate to reach out to our Marine/ATV advisors. They'll help you create a great-sounding system.