Taking Portable Navigation for a Test Drive
Comparing the performance of three brands of portable navigators
Heads up!
Welcome to this article from the Crutchfield archives. Have fun reading it, but be aware that the information may be outdated and links may be broken.
Remember the old days of getting lost on the road? Your options were pretty much limited to consulting an unwieldy map, stopping and asking for directions, or just hoping to find a familiar landmark or road name. These days, we don't have time for all that, and modern GPS technology has enabled us to find our way with electronic navigation on our phones, in-dash stereos, or by simply printing out specific directions before we even get in the car.
With so many options available, why should you invest in a portable GPS navigator for your car? We took a drive with four portable GPS navigators to demonstrate how their extra features make them a better choice for staying on track. We also brought an Apple iPhone® 4 along for comparison.
We chose to drive to Richmond, which can offer many of the potential travel problems and circumstances for which a dedicated GPS device can offer convenient solutions. We anticipated encoutering traffic, toll roads, road closings, and more — scenarios that would prove more than a map or smartphone app could handle. Richmond's also home to some amenities we were looking forward to discovering.
Meet the portable navigators
We hit the road on a blustery, grey day with the following portable GPS devices leading the way, as seen in the picture at the top of this article (from left to right):
A. Garmin nüvi® 2555LMT (no longer available; the new version is the Garmin nüvi® 2557LMT)
B. Magellan RoadMate 5175T-LM Traveler (no longer available—here are our other Magellan navigators)
C. TomTom GO LIVE 1535 M (no longer available; the new version is the TomTom VIA 1535 TM)
D. Garmin nüvi 3490LMT (no longer available; here are our other Garmin navigators)
We chose these four because they each offer more features than simple door-to-door guidance, and we felt that they were different enough to warrant further inspection. For example, they offered different types of traffic updates. You can get traffic updates on most smartphone mapping applications, but we wanted to see how well the portable navigators did in comparison. We also looked at extra features such as voice-activated navigation, Internet connectivity, multi-touch capacitive screens, and realisitic or 3D graphics to see how the navigators would offer a more friendly navigation experience than a phone.
Setting the route and checking for traffic
We set our route for the Richmond International Airport, then checked in on traffic conditions. All four navigators indicated no major delays before our arrival, though the TomTom GO LIVE 1535 M provided a very detailed overview of the route with one minor incident shown. We weren't too surprised to see no traffic at mid-morning on a weekday, but we hoped to see some once we got to Richmond and had a chance to drive around a bit.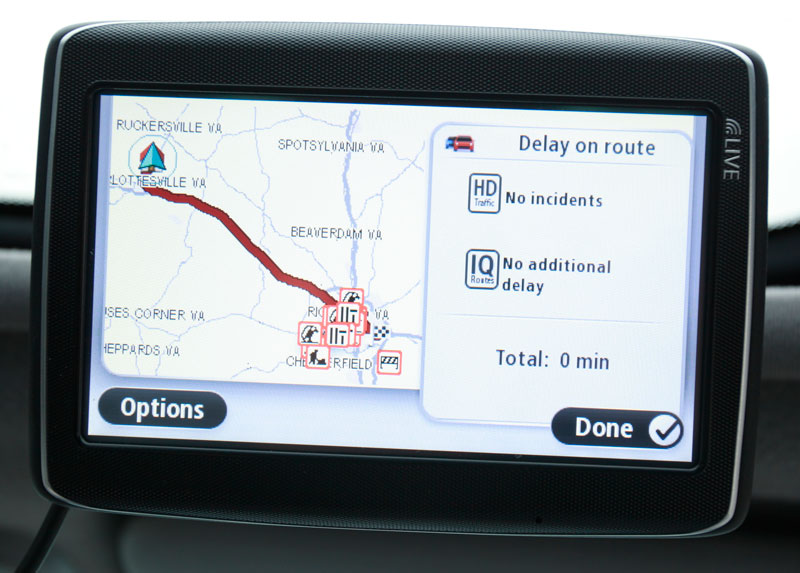 The TomTom GO LIVE 1535 showed us there were no delays on the route to Richmond
Initial impressions
Once we hit the road, we studied the screens of each navigator to find differences. The TomTom and both Garmin nüvis had very user-friendly displays, with vehicle icons to indicate where we were on the map. The Magellan's display simply showed a blue triangle, and the iPhone 4 used a small blue dot. The nüvi 3490LMT and TomTom GO LIVE 1535 M also both showed non-roadway areas with eye-pleasing greens, browns, and blues, whereas the other two used basic gray with blue to show water. Each of the four portable navigators also showed the posted speed limit and our actual speed, which was a big help in keeping our lead-footed driver in check.
The phone's fields of gray and beige were not totally unhelpful, but the facts that it showed only one perspective (directly above) and that the map orientation could suddenly change with the movements of the phone and car made it rather unwieldy. The much smaller screen also made it harder to see.
Checking for traffic again
Once we figured we were within range of Richmond's traffic-information services, we checked again to see if there might be any potential delays on the route. Here's what we saw: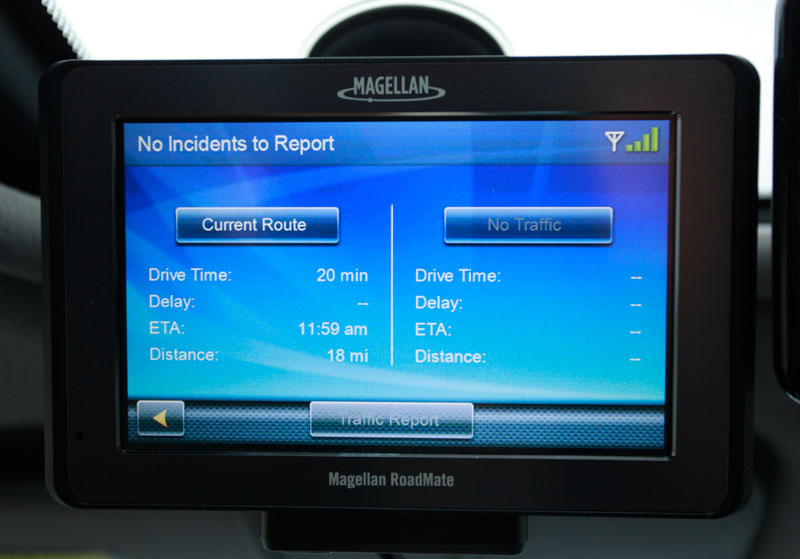 The Magellan RoadMate didn't give us a map, but it did provide a nice text-based summary.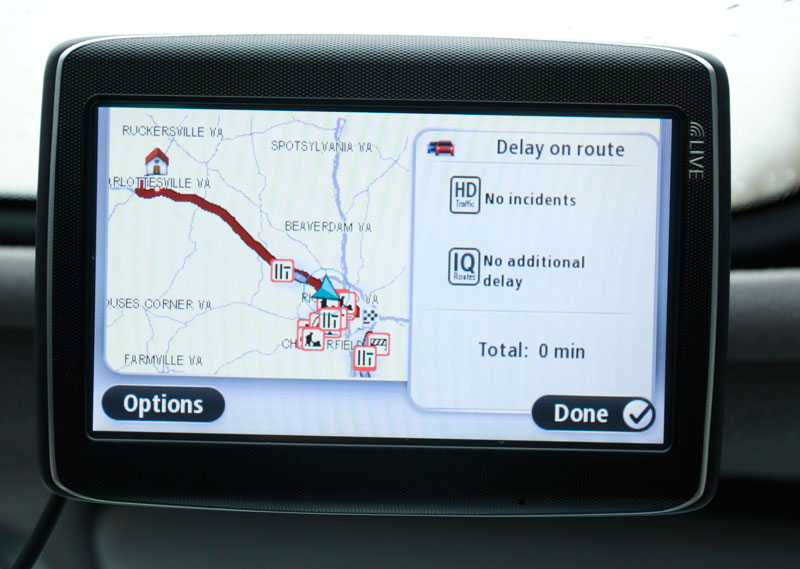 The GO LIVE 1535 M showed the entire route again so all the incident icons around Richmond were a little crowded.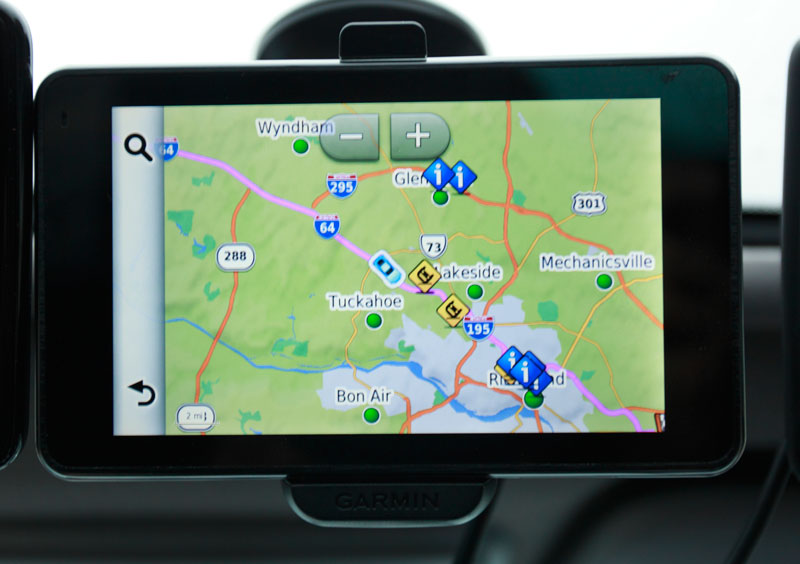 The nuvi 3490LMT offered a nice view of the nearby area with incidents on the screen that were individually selectable for more information.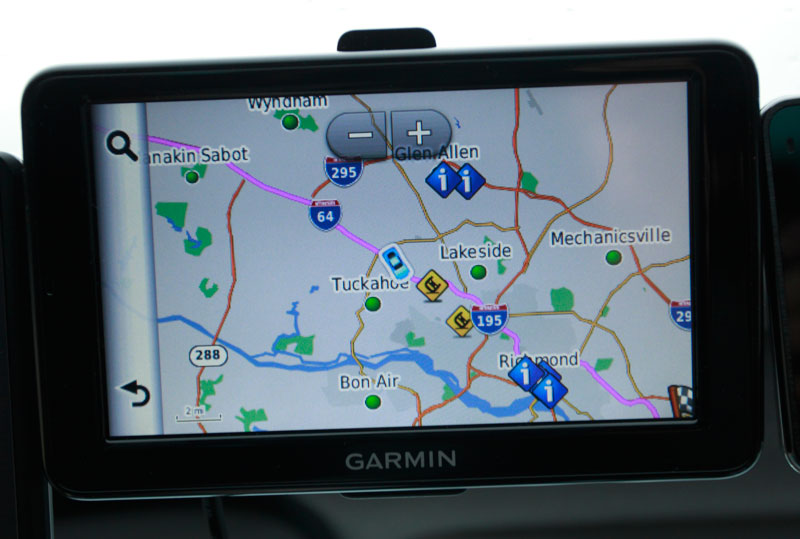 The nuvi 2555LMT gave us a similar graphic, but with slightly less detail.
Again, no delays were reported, but each navigator had its own way of showing us. The iPhone 4 provided traffic conditions with color-coded roads but no further information on the location or nature of the delays.
Split-screen views
As we approached Richmond, both Garmin models gave us helpful split-screen views at interchanges that showed the bird's-eye view on the left and detailed views of the upcoming highway splits on the right.
The Magellan provided its own helpful lane guidance
As we got even closer to the airport, the roads got more complicated but the Garmins really came through with the split-screen views.
The TomTom didn't deliver split-screen views, but it did offer very realistic views of our exit ramps when it was time to get off the interstate.
Time to fuel up
We made our final turns near the Richmond International Airport entrance and parked nearby to plan our next move. Finding gasoline was the first order of business, followed by locating lunch. We checked with each navigator to see where it would lead us for gas. Here are the results for the Magellan and the Garmin nüvi 2555LMT:
| | |
| --- | --- |
| The Magellan fuel search | The Garmin fuel search |
We used the voice-activated navigation feature of the Garmin nüvi 3490LMT and here's what it gave us:
The TomTom GO LIVE 1535 M's connectivity allows it to search for gas prices as well as gas stations, so we selected the cheapest one nearby:
And here's our intrepid driver filling up the tank:
Beyond ordinary mapping
As we explored downtown Richmond, we decided to check out some of the advanced features the Garmin nüvi 3490LMToffered beyond its voice recognition. Its 4.3" glass multi-touch screen allowed us to zoom and maneuver the maps to our liking, which certainly made it feel a lot like our iPhone 4, but with much greater map detail:
| | |
| --- | --- |
| The "un-zoomed" map display of downtown Richmond on the nüvi 3490LMT. | With one quick flick of the fingers, we've zoomed the map! How easy is that? |
The nüvi 3490LMT also gave us 3D views of some buildings in downtown Richmond to help set them apart from the normal urban landscape — a truly invaluable feature whether driving or walking in an unfamiliar area, since the graphics made it even easier to figure out where we were.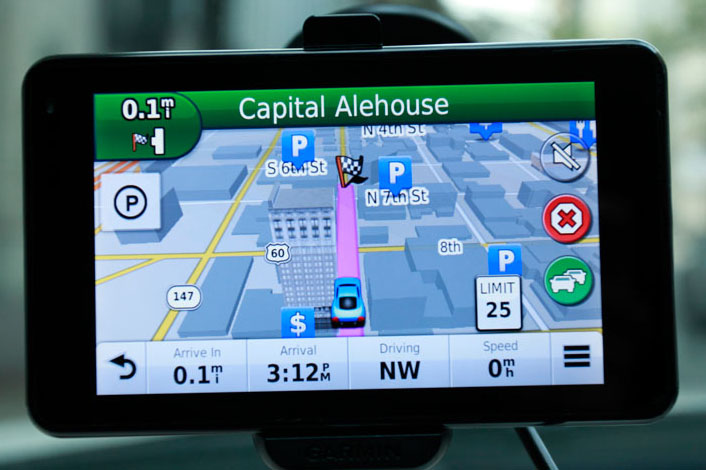 Notice the details of the 3D building graphic, from the differing windows to the engraving along the top.
Locating lunch
Our video editor had heard about a restaurant in Richmond named Station 2, but we knew very little about it otherwise. Unfortunately, a search in three of the navigators came up empty in both the restaurants listing and search, as well as a general search for locations with that name. The TomTom GO LIVE 1535 M's connectivity saved the day by allowing us to do a Local Search powered by Google™. With the name of the restaurant entered, The TomTom scoured the Google database for information about Station 2 and gave us the information we needed: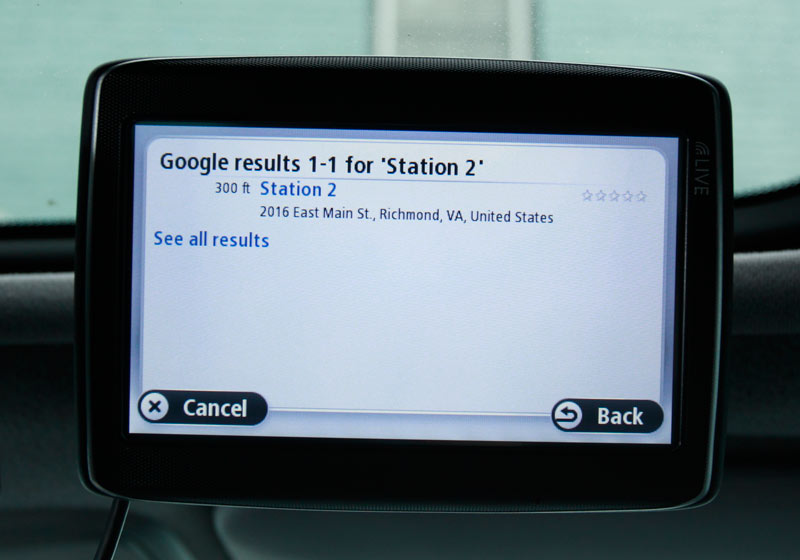 It turns out the restaurant had only been open for three months prior to our visit, and since the units we had brought were about that old and had not had their maps updated yet, the maps did not reflect the existence of the restaurant. Many navigators — including the two Garmins and the Magellan here — include free lifetime map updates that you can download to the unit from the manfuacturer's website up to four times a year for the life of the navigator, making missed locations like this restaurant much less of a concern if you take advantage of the upates.
With Station 2's address found, we set a course and headed there. Upon our arrival, we were greeted with a great meal that was topped off with a deep-fried Moon Pie: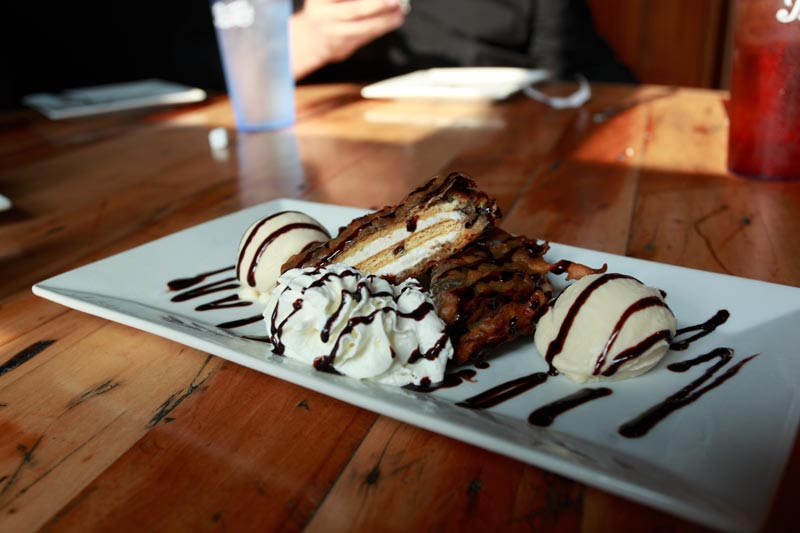 Deep-fried Moon Pie plus ice cream plus whipped cream plus chocolate syurp equals crazy delicious.
Time to head home
After lunch, it was time to return to Charlottesville. There was still no traffic to report around Richmond that day, according to our navigators.
What we learned
A portable GPS navigator can be used for a lot more than just "not getting lost." Today's higher-end models offer a wealth of features that can help you commute more efficiently, take care of errands more quickly, save a few bucks, and stay connected. We found that while the four navigators we chose were not necessarily equal in terms of performance and features offered, they certainly all worked better than the navigation application on our iPhone in terms of information offered, speed of response, and safety of operation. There's nothing that says a smartphone can't be an invaluable asset on the road, but it seems obvious that using a portable navigator in conjunction with your phone's apps can make your travels easier and more enjoyable.
To join us on the day's adventure, watch our GPS Shootout video.
Shop for portable navigation.