Powered PA speakers buying guide
How to choose a simple, easy-to-use PA system
Crowds will happen (when it's safe again). And when they do, your music, announcements, and speeches must be clearly heard by all.
You'll need to get a public address system and learn how to use it.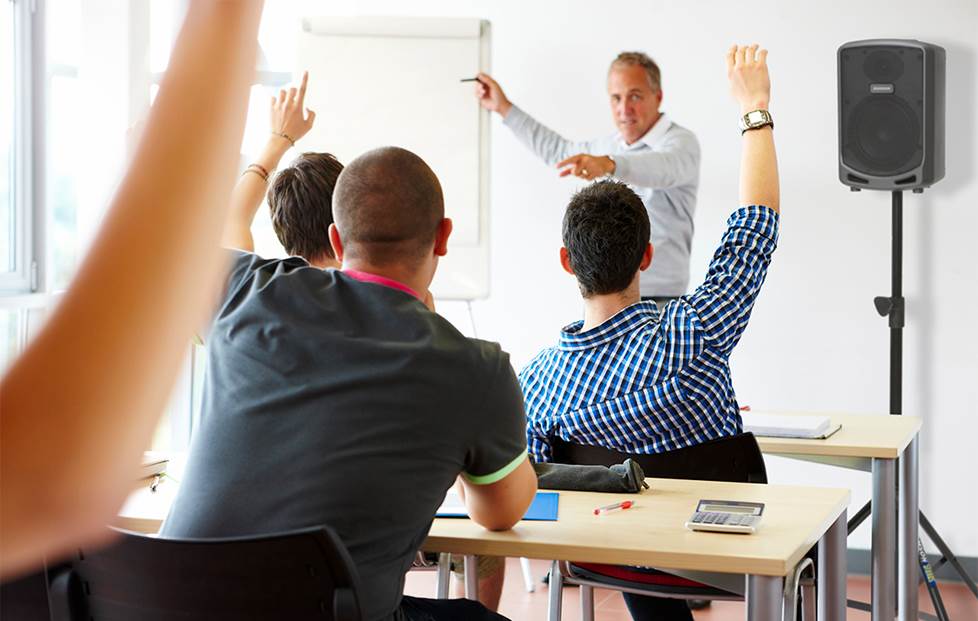 Lightweight, self-powered speakers are easy to transport and set up. They provide plenty of volume for small-scale events.
Frightened? Don't be. Today's small PA systems are totally DIY-friendly.
Let's assume you don't need to entertain huge crowds or provide enough microphones for a full band. Instead, let's talk about backyard parties, company picnics, family reunions, exercise classes, small charity events, and solo musical performances.
For events like these, you don't need a complicated professional rig. A single self-amplified speaker (also known as an "active" speaker) may be just the ticket. Add a microphone, a speaker stand, and a cable or two. You'll have a complete system that's super-easy to transport, set up, and operate.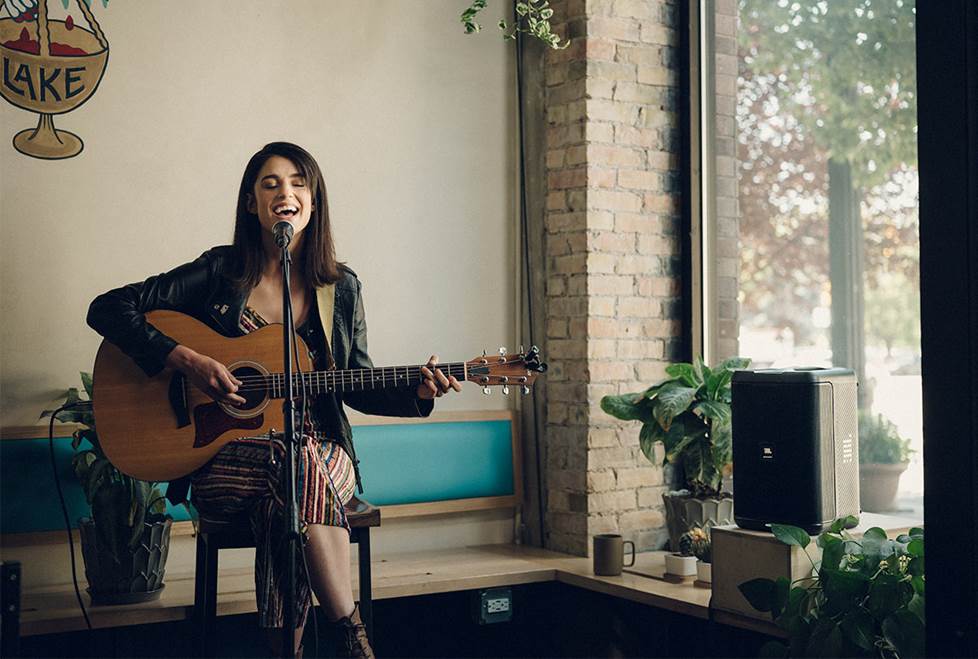 You don't need a complicated sound system for a solo gig at a coffee joint. Just plug your guitar and microphone into a powered speaker. Everything you need fits easily in the trunk of your car.
This article will show you how to choose the right speaker and microphone for your events. To make your shopping even easier, we'll show you our best picks for beginners and suggest some packaged systems that include the stand, microphone, and cables. Finally, we'll give you some tips on how to set up and operate your new gear.
Will one speaker really get loud enough?
Today's powered PA speakers can get surprisingly loud. That's because amps with hundreds of watts are now small enough (and run cool enough) to comfortably fit inside the speaker enclosure.
So the short answer is yes! In many situations, one speaker will suffice. In the video below, J.R. shows you how loud a small powered speaker can get.
Unfortunately, wattage specs for powered speakers are not measured in a consistent way. The SPL output specs are somewhat more useful when comparing one speaker to another. Rest assured that most models are plenty loud enough for the types of uses we mentioned above.
You can easily connect a second speaker to the first one. You'll get more volume, but you'll also disperse the sound more evenly throughout a wide area.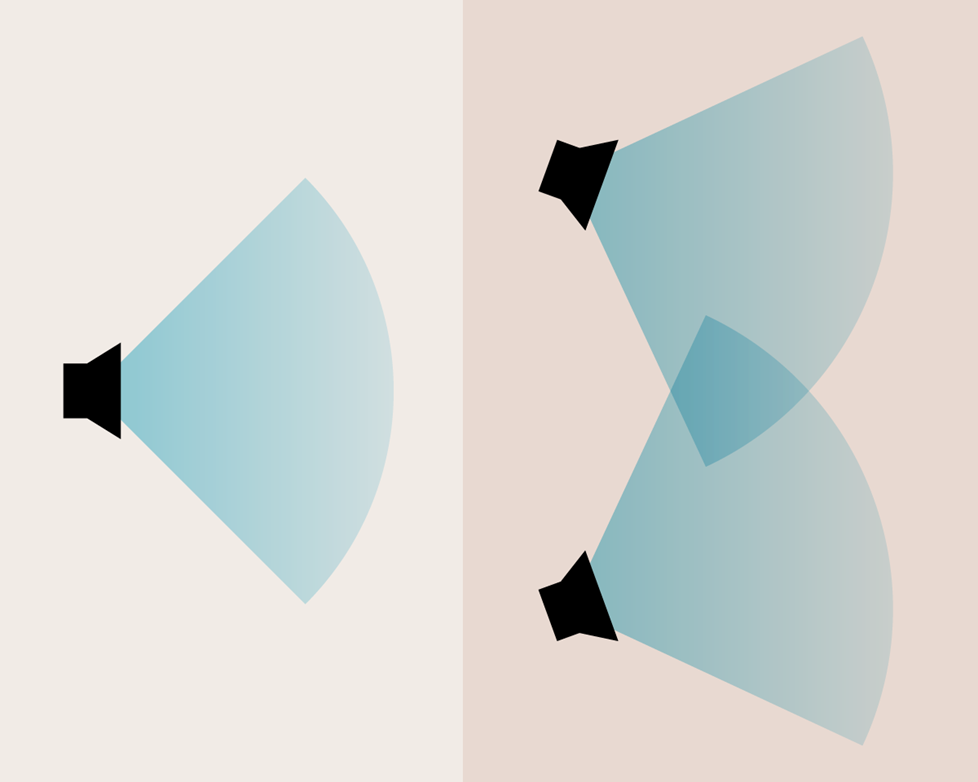 Most speakers have a 90-degree horizontal coverage angle. People standing outside of the coverage area may have a hard time hearing what you have to say. When the coverage patterns of two speakers overlap, you can adequately cover most of a room with sound.
What size should you choose?
The larger the speaker, the more bass you'll get. If you're going to be playing a lot of dance music (and you don't mind size and weight), look at speakers with 15" woofers.
If you're buying a speaker mostly for speeches or announcements, look at models with 8" or 10" woofers. Some smaller speakers, like the QSC K8.2, have a wider dispersion pattern. That means you're less likely to need two of them to adequately cover your space. The flip side of this is that a tighter dispersion pattern will project clear audio further.
How much does a powered speaker weigh?
The smaller ones weigh in around 20 pounds. Larger models tip the scales around 30-35 pounds. Built-in handles make them fairly easy to tote around.
Are they battery powered?
There are a few models that come with built-in rechargeable batteries. Most models require AC power. A short power cord is included. Don't forget to take an extension cord to your event.
Won't I need a mixing board?
Amplified PA speakers typically have a couple of inputs for music sources, instruments, or microphones. The types of input jacks may vary. Look for the following:
XLR jacks for microphone cables
¼" jacks for musical instrument cables
"Combo" jacks that accept either XLR or instrument cables
RCA stereo jacks for CD players, Karaoke machines, and other music sources
1/8" stereo mini-jacks for portable music players, computers, or smartphones that have headphone output jacks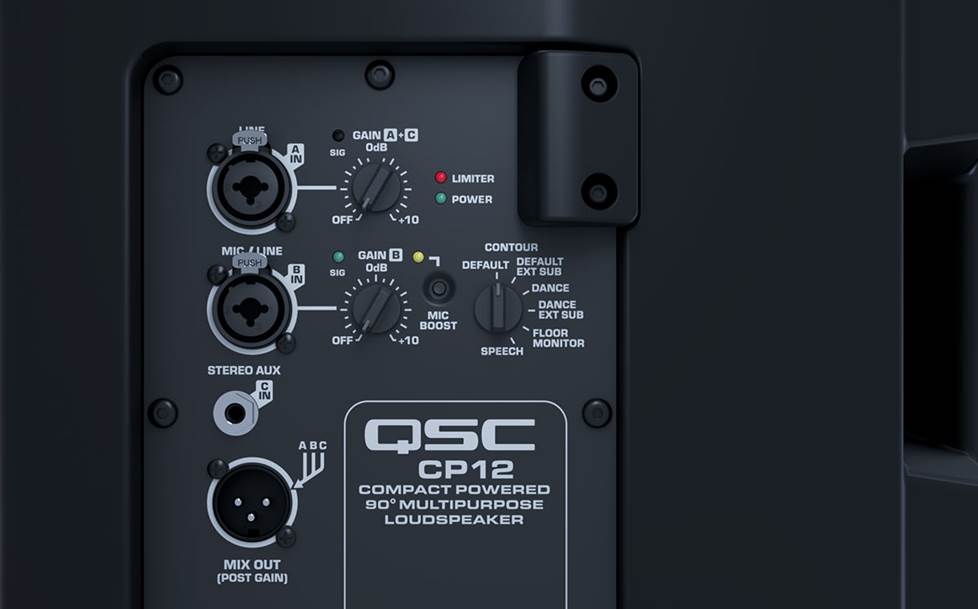 This powered speaker has two mic/line inputs for microphones or musical instruments. There's also a stereo/aux input for a music player. You can select a preset EQ curve to suit your use case. Connect a second speaker via the "mix out" jack.
In most cases, you can use two inputs at the same time and adjust their output levels independently. It's like having a rudimentary mixing board built right in.
That said, there are a few good reasons to get a separate mixer. You may well find that you need to adjust the volume during a performance. And you probably won't want to hop up on stage to do this while the performer is speaking or singing.
A few powered speakers, like Mackie's Thump Boosted series and some of JBL's EON models, can be controlled with a smartphone app. But for most other powered speakers, you'll need a mixer to control the volume during the show. Of course, a mixer also gives you the option of connecting more mics or music sources.
Bluetooth PA speakers
Looking for an easy way to play music from a phone or laptop? Look at PA speakers with built-in Bluetooth.
Bluetooth PA speakers are perfect for backyard parties. Connect a microphone and fire up the Karaoke app on your phone or tablet. Watch the fun begin.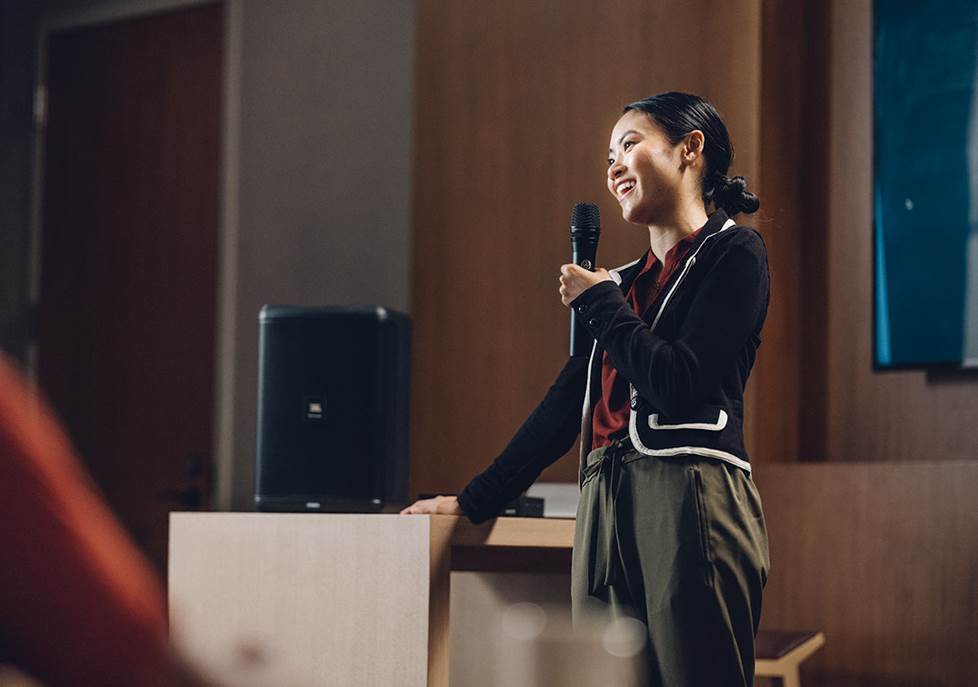 Do a lot of public speaking in places that don't have a house PA system? Get your own portable sound system.
What kind of microphone should you get?
Will you need to move around a lot while using the mic? If not, go for a handheld dynamic microphone. (Avoid condenser mics that require a phantom power source.)
How to choose a wireless mic
If you do need to move around while speaking or performing, look at wireless mics.
Shopping for a wireless mic can be daunting. There is a bewildering array of choices. And you need to make sure you get one that operates in the right frequency band for your area. So I strongly recommend that you consult with a Crutchfield advisor. With that in mind, I'll show you a few of the popular entry-level options.
Wireless mics have a radio transmitter that's either built-in or contained in a clip-on body pack. They send a signal to a receiver that you connect to your powered speaker. The mics and receivers can be purchased separately or as a package deal.
Choose the type of microphone that best suits your performance style. The options include handheld, headset (great for fitness instructors), and clip-on (also known as lavalier).
Samson's Expedition XP310w system makes going wireless as easy and foolproof as possible. The speaker comes with and handheld wireless mic. A wireless receiver is built into the speaker. You can even install a second (optional) receiver/mic kit. You can get an optional Concert 88a kit with a headset mic, a clip-on mic, or a handheld mic.
Another fairly simple option is to choose a wireless-ready Behringer speaker. The Eurolive B112W and B115W, both have a USB port on the rear for the Behringer UltraLink ULM wireless microphone system. Just plug the ULM's receiver dongle into the speaker, and you're ready to go. There's no bulky wireless receiver box to contend with.
For more info about wireless mics, read our in-depth buying guide.
Packaged systems
To make your shopping easier, we've assembled some live sound bundles. You'll get one or two powered speakers. Some systems come with a microphone. Some also include speaker stands, cables, and other accessories.
Setup
Position speakers on stands
Plug them into AC power
Plug in your microphone and/or music source. If there's a "mic/line" switch or a "mic boost" setting," choose the position that matches your source. (When in doubt, refer to your manual.)
To avoid annoying and potentially damaging "pops," turn the volume all the way down before you switch the power on. (When it's time to turn the system off, turn the volume controls all the way down before switching off the power.)
After you power up the speaker, turn on a music source, or speak into the microphone while slowly turning up the volume to the desired level.
How to avoid feedback
Feedback is that loud howling noise that occurs when the sound from a speaker gets picked by the microphone that's creating the sound in the first place.
To avoid feedback, always keep your microphones positioned behind your powered speaker. Don't hold your hand around the mic's capsule (grille).
If you plan to move around a lot while using a mic, consider getting a speaker that has a built-in feedback suppression circuit or a speech contour setting.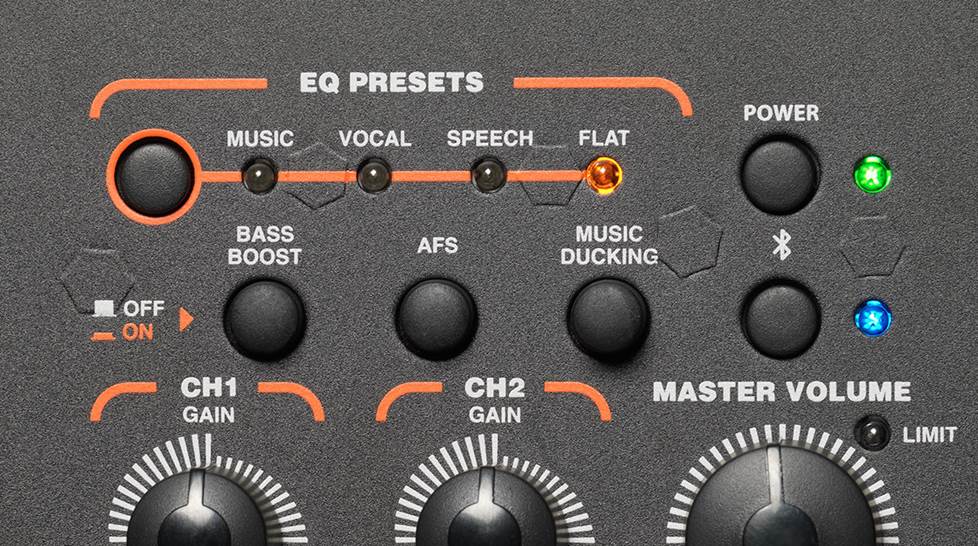 This powered speaker include a Bluetooth connection for your phone. The AFS button engages an anti-feedback circuit.
EQ presets
A speech contour setting is one of several EQ presets you may find on a powered speaker. Others include:
A "Sub" setting, which rolls off deep bass. Use this setting when you pair your speaker with an optional powered subwoofer. When the subwoofer handles all the deep bass, you'll be able to play your powered speaker even louder before you start to hear any distortion.
A music mode or "DJ" setting that boosts the lows and highs while slightly cutting the midrange. This mode may also be called "FOH" (front of house).
A "monitor" setting for bands who use powered speakers as floor monitors.
Choose the setting that best suits your situation. Bear in mind that it might sound best to select no EQ setting.
The show must go on
A new professional-grade speaker is not likely to fail. However, if you're running sound for an important event, be prepared to cope with unexpected problems.
If your budget allows, buy a second speaker. If one does go down, you can keep the show going with the other one.
In that same vein, consider buying backups for every link in your audio chain.
Spare microphone
Spare cables
A backup music source
Phone charger
Spare batteries for your wireless mic or music player
For safety's sake, you might also add the following to your kit:
Plastic trash bags to quickly cover a speaker if it suddenly starts to rain and you can't pack up fast enough
A power protection unit like the Furman SS-6B
Gaffer tape or cord covers to keep people from tripping over the cables?
To stay organized and ease your setup chores, get a plastic storage tub or a carrying bag for your cables, mics, and other accessories. Spring for a stand bag to carry your speaker stands and mic stands. You'll be glad you did.
Questions?
Need expert help choosing powered speakers for your PA system? Give us a call at 1-800-555-9369.