Putting JL Audio's TüNing software to the test
A Crutchfied Tech performs the ultimate audio tune-up
When Jayce, a Crutchfield Technical Support Specialist, heard that the new JL Audio VXi amps were going to feature digital signal proces­sing, he was really interested in checking them out. When he was offered the chance to install one in his car, along with JL Audio speakers and a sub, he jumped at the oppor­tunity, hoping that the tuning software could fix his sound.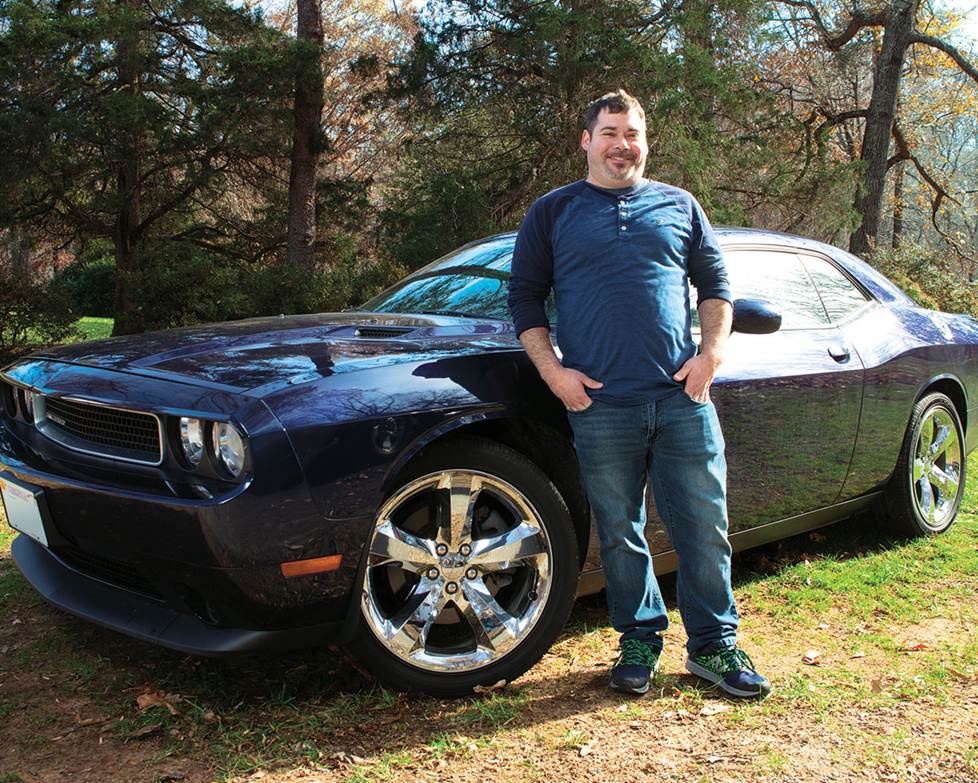 Jayce, Tech Support
The factory system
His factory system actually had decent mid-bass and midrange. But the low end was really lacking, especially on rap songs. And the tweeters weren't very crisp, they were shrill. JL Audio came to the rescue!
A complete JL Audio system
The star of the show is the VX700/5i 5-channel amplifier with a built-in digital signal processor (DSP). To get the most out of the VXi amp, we had to make sure that the speakers could handle the extra power and really show off the DSP. So Jayce installed JL Audio C5 components in the front and 2-ways in the rear deck. [Since this article was first published, JL Audio has upgraded this line of speakers to their C7 Series.]
For bass, he went with the awesome JL Audio Stealthbox made for his 2013 Dodge Challenger. A VXi-BTC Bluetooth® Communicator was also included in the system, for wirelss control of the DSP app by phone or tablet.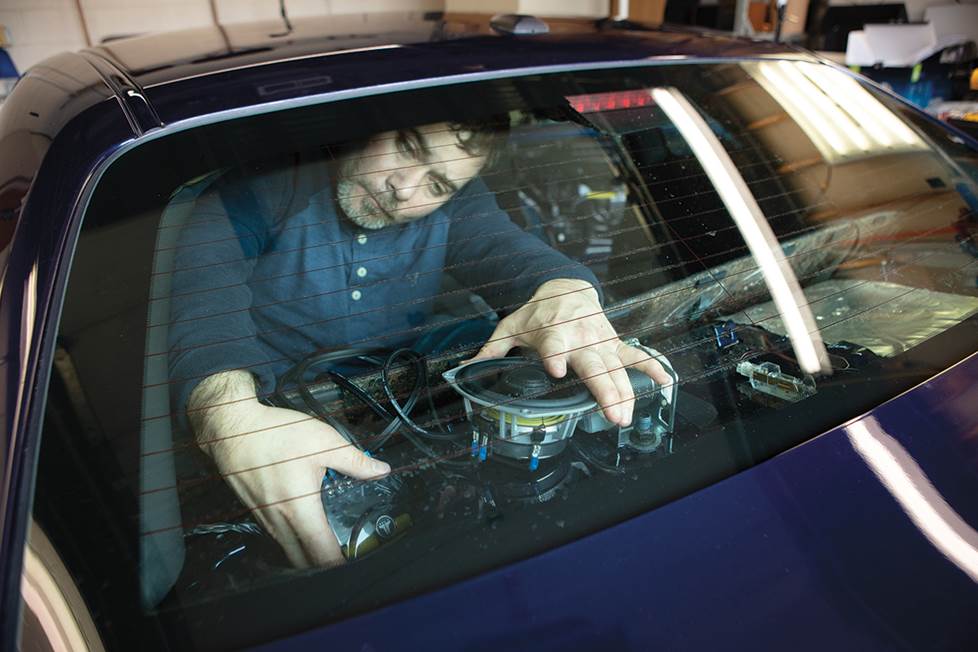 JL Audio's 2-way C5s feature external crossovers. That's super cool, because it helps the speakers play clean.
JL Audio's TüN DSP software
The only way to access the amp's DSP functions is via JL Audio's apps. JL Audio offers three tuning apps, and Jayce downloaded all three:
TüN Express works on his smartphone and is great for doing basic setups.
TüN Mobile for his tablet has a parametric equalizer that he can adjust to suit his needs.
And the full TüN app on his laptop lets him adjust for speaker placement, among other things.
The first two (the smartphone and tablet apps) require a Bluetooth connection to the amp, so you'll need that optional VXi-BTC Bluetooth® Communicator that we mentioned earlier. The laptop app can be used with a USB connection to the amp — JL Audio includes a USB cable with the amp.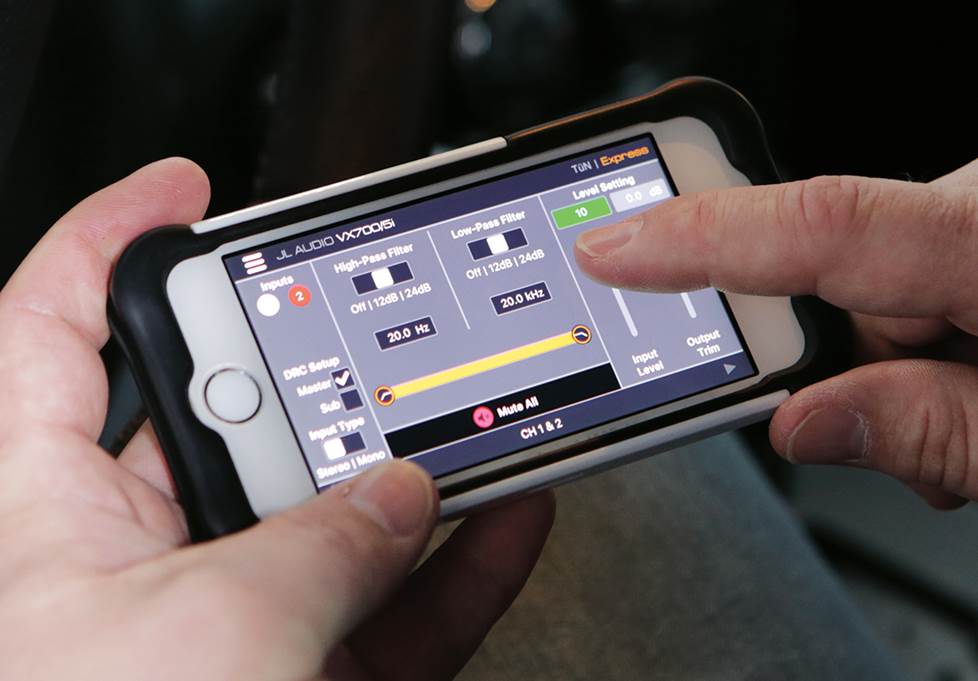 TüN Express for his smartphone lets Jayce make quick and simple adjustments to the sound.
How he did it — and the results
Jayce gave me a quick rundown on how he tuned his new system:
"I ran pink noise through my phone into the stereo and used an RTA (real-time analyzer) app to see what my speakers were doing. Then, I used the TüN app and the amp's DSP to boost wherever there was a trough in the frequencies, and cut where there was a peak, and got a nice response.
It sounds great — really great stereo separation. I definitely get better highs and bass. It feels like there's a stage on my dashboard and all the band is there playing. I can feel the full power of the bass in my gut, even from the front seat, and that's great. And I really enjoy the highs now — Mariah Carey sounds better than ever."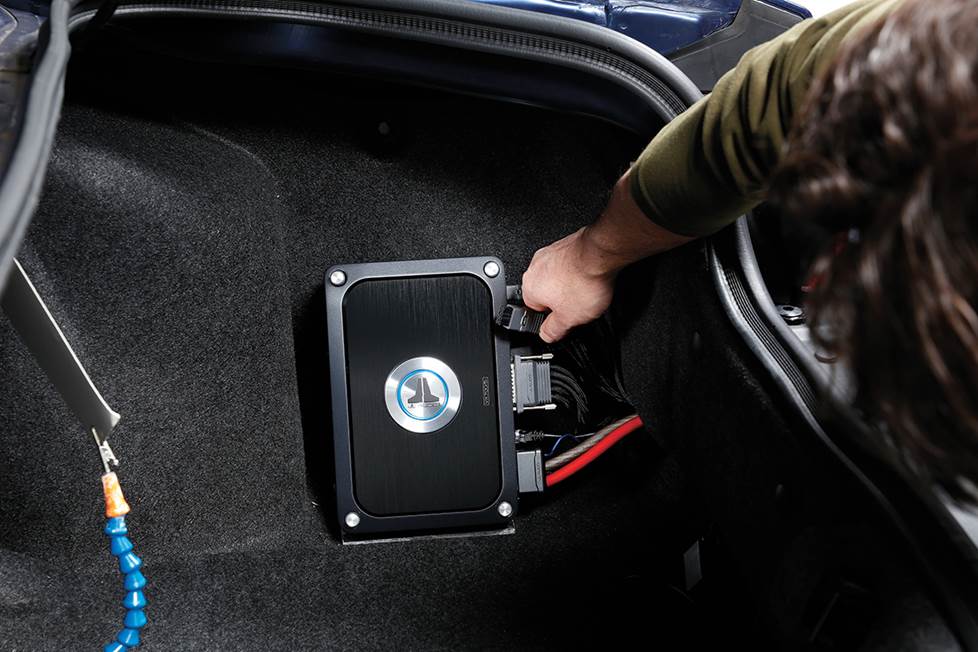 Quick-connect plugs make installation simple and neat.
The JL Audio VXi amp
Jayce loves his VX700/5i amplifier. It puts out a bunch of power — 4 channels of 75 watts RMS, plus 300 watts RMS for his sub. Its DSP is easy to dial in with the TüN software. And he really loves how easy it was to do a clean installation — all the wires connect to harnesses that plug into the amp. That makes it easy to keep it all nice and neat. Plus, the quick connections make removal easy — he can take the amp out in less than two minutes, when he needs the space for cargo.
Want more information?
If you want to know more about the JL Audio VX700/5i 5-channel amp and DSP, contact us by chat or phone. Our friendly and knowledgeable advisors will be glad to help.