A Review of the Garmin nuvi 3597LMTHD portable navigator
How luxurious can a GPS navigator be?
Heads up!
Welcome to this article from the Crutchfield archives. Have fun reading it, but be aware that the information may be outdated and links may be broken.
There are a number of ways to think about a portable GPS naviagator, but is "Rolls Royce" one of them? I don't know about you, but if there was ever going to be a luxury standard-bearer for portable navigators, the Garmin nuvi® 3597LMTHD seems like the most likely candidate right now. Not only does it have a lot of options and a slick look, it also performs in a way that should make all other GPS owners just a little bit jealous.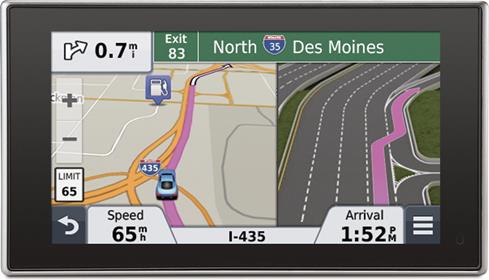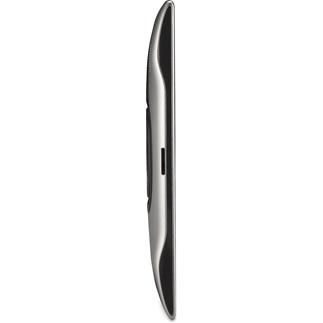 See how skinny this thing is?
Portability and looks
If you're the kind of person who packs an oversized smartphone like the Samsung Note II or the LG Opitmus Pro G in your pocket, the nuvi 3597LMTHD shouldn't feel too much different. It has a 5" screen and a bezel that could use a little trimming, but it's not terribly ostenatious. And this thing is much thinner than the stuff Garmin was putting out years ago — in fact, it's just over a half-inch thick. So carrying it in your pocket shouldn't be too much of an issue if you need to move it out of your car when you get home.
But then again, with a screen like this, why would you want to hide it? The nuvi 3597LMTHD's display is simply gorgeous. I really dig the multi-touch glass surface that feels really similar to my iPhone® 5's face, so I can zoom into and out of maps in a hurry if I need to. More importantly, the graphics are truly spectacular, with a realistic feel for terrain and buildings. And if you prefer to have a narrower view of your surroundings, the navigator can show you the maps in portrait mode in addition to the default landscape setting, which is not something I tried behind the wheel but worked fine and automatically outside of the car.
And then there's the mount, which is a marvel in itself. Most windshield mounts are completely unremarkable, but this one is actually exciting. The part that adheres to the windshield is appropriately sticky and employs an additional lever to ensure a nice, tight seal. That's attached to one of Garmin's trademark ball-tip brackets, which gives the nuvi a full range of motion. Then that's attached to a powered mount which has a magnet in it. I plugged the 3597LMT's power/traffic cord into the rear of the mount so the navigator can charge and receive traffic data, but even if it's not plugged in, the magnet works just the same. And the way that it works ensured that it took me no time at all to mount the nuvi in place, and that it won't fall off once it's on there. It just slaps right on as the magnet in the mount attracts to the navigator's back and positions it perfectly in place. And when it was time for me to move it out of the car, a gentle but firm tug on the navigator popped it right off, with no worries about taking the mount with it. Seriouslly, this mount rules.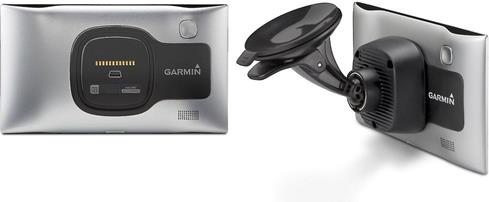 The nuvi 3597LMTHD's magnetic mount makes it so easy to securely attach and remove the navigator from your windshield.
So many features
There's a lot the nuvi 3597LMTHD can do, but I only wanted to confirm a few things that really make it convenient. The Bluetooth® pairing with my iPhone 5 was quick and painless. I didn't download the Garmin Smartphone Link app, which would've allowed me to get some cool live updated information to the navigator through my phone, but the calling process was easy as the navigator gave me quick access to my entire phonebook, and even allows voice dialing.
But the two things I wanted to really check out were the voice-activated guidance and how well the navigator got me from one place to another. I can say that while it wasn't 100% reliable all the time, the voice-activated guidance really surprised me with how useful it was. Just by saying "voice command," I was able to pull up a menu with great options, including "find place," "find category," "find intersection," "find address," and "find city." My main challenge to the navigator was in finding specific with my voice, and I was generally successful, but not always. It's interesting that certain national retail chains like Burger King, Starbucks, and Krispy Kreme Donuts are part of Garmin's search profile, but others that are more regional haven't been added yet. Of course, I also had to learn to keep my speaking voice loud, clear, and slow so the nuvi could understand me. It's important to note that wind noise and music from the car's stereo should be completely eliminated to take the most advantage of the voice command function.

I was also disappointed to find a couple of businesses that had opened in Charlottesville and Richmond within the past 18 months or so still were not in the nuvi 3597LMTHD's points-of-interest database. I don't know when the last time the maps on my particular navigator were updated, but it's a good thing Garmin offers free lifetime map updates with the purchase of many of their portable navigators. In any event, after not being able to find the specific destinations I was looking for through the Garmin, I was able to find their exact street addresses through my smartphone and then enter those into the navigator and be on my way.
Jolly good guidance
The nuvi 3597LMTHD's maps were easy to follow, and the voice guidance could not have been more clear. There were a couple of things about the maps that really stood out to me. First was how it would let me know at the top of the map screen the name of each upcoming cross street, so i could tell before I arrived at an intersection which street was going to be next. I found that particularly helpful when traveling through a city I'm only passingly familiar with, such as Richmond.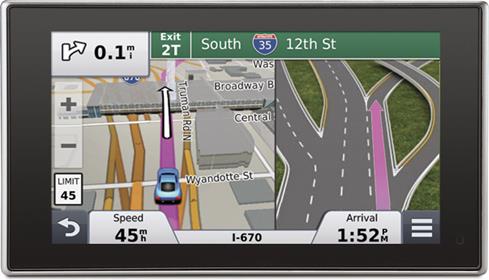 The nuvi 3597LMTHD's lane guidance feature gives you split-screen closeups of intersections.
Another cool feature was the speed limit indicator, which was a little sign in the lower left-hand corner. As I drove, the indicator kept up with posted speed limit changes quite well, and more importantly, it would indicate to me when I was going over the posted speed limit by turning a gentle shade of red. It wasn't an obnoxious, off-putting warning that would drive me crazy after a few hours of driving, but a subtle reminder to keep it safe.
The navigator's 3D building graphics in metropolitan areas really helped to keep me oriented correctly when driving through downtown Richmond, which I'm not that familiar with. Again, the sleek display made it easy to recognize landmarks and follow along.
I don't spend a ton of time traveling to places I'm not familiar with, but if I did Garmin's nuvi 3597LMTHD portable navigator would be my hands-down first choice for a guide. It is elegant, easy to use, and reliable, and offers a lot of cool extras that make it worth the price tag.