A review of the iHome iDL100 dock
A great way to enjoy your Apple device around the house
Heads up!
Welcome to this article from the Crutchfield archives. Have fun reading it, but be aware that the information may be outdated and links may be broken.
For most of my life as a consumer (since I was able to earn my own money), I've been a fan of physical formats for music, whether they've been records, tapes, or CDs. And I've cherished having a good-sounding stereo system to play my media — including local radio stations. And while I've always thought it'd be wonderful to have a clock radio that played my favorite songs or stations to wake me up, I've had the exact same alarm clock for at least twenty years until very recently. And I always had it set to the loudest, most annoying beeping sound possible to make sure I got out of bed.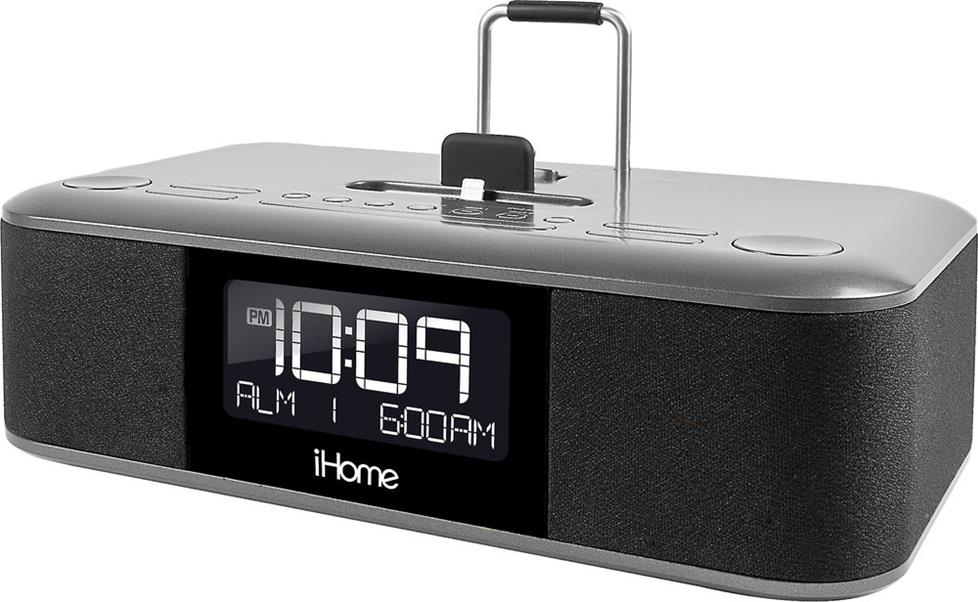 The iHome iDL100 dock offers mutliple ways to charge and listen to your Apple and non-Apple devices.
While the iHome iDL100 speaker dock doesn't exactly make me want to give up my normal stereo system, I've found it to be a convenient standalone solution to adding music from an Apple® product like an iPhone®, iPad®, or iPod® to just about any room. And it works especially well in the bedroom.
It's small, but the sound isn't
Let's get the cosmetics of the iDL100 out of the way first. The dock measures just over 10 inches wide and just over 6 inches deep, so it'll fit easily on most nightstands or end tables. It sports a pleasing modern black-and-charcoal color scheme, with a big digital LCD screen that can easily be seen across the room. The time shows in white and — this is important — the screen can be dimmed all the way down to fully dark for those who can't stand any light sources when they're trying to sleep.
The iDL100 dock is specifically designed to work with newer Apple products with the Lightning™ connectors. The iDL100 features a pair of Lightning ports on its top side, each with a rest that can hold up an iPad or iPhone without having them fall on each other. The connectors each provide 2.1 amps of power, so they'll charge devices quickly.
There's also a USB port on the back next to the AC power input, so you can plug in an older Apple device (you'll have to provide your own 30-pin connector cable) or other USB-powered device.
There's also an auxiliary input on the back panel, plus a 3-foot length of thin FM antenna wire that allows the dock to receive radio signals.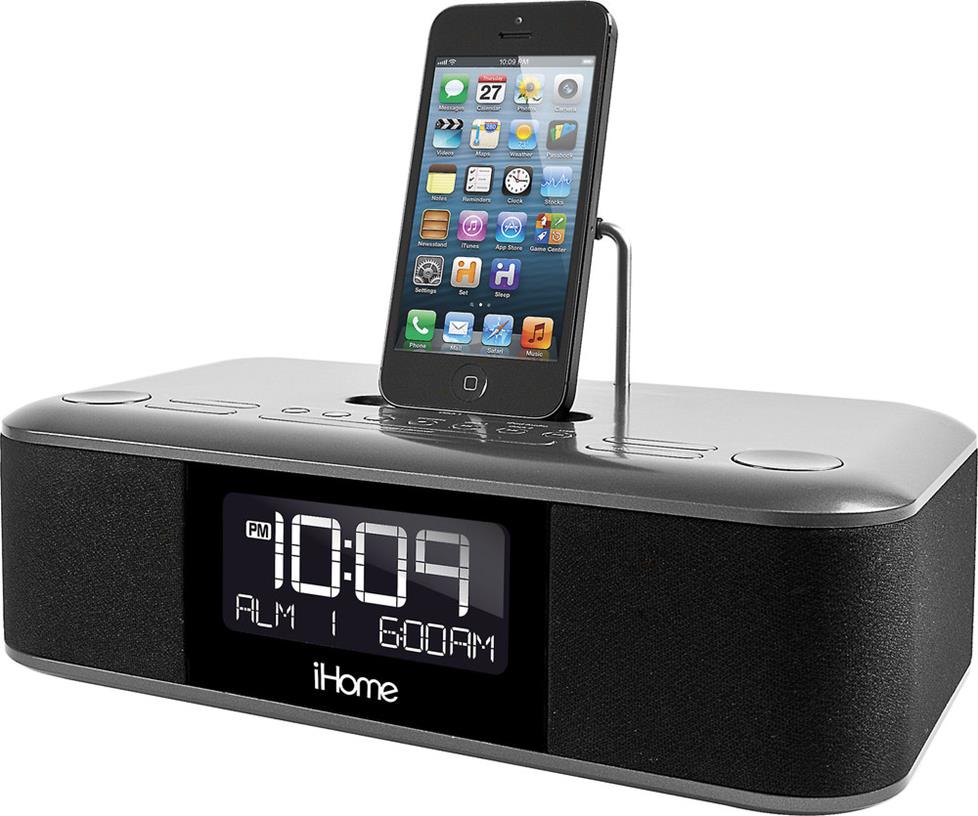 iHome iDL100 dock with an iPhone 5 mounted on the front charging connector.
For such a compact device, the iDL100 sounds just fine. The speakers deliver crisp, clear sound that only hints at breaking up at maximum volume. There are even EQ adjustments for bass and treble, balance controls, and a nifty effect called "3D sound," which really does broaden the soundstage an appreciable amount when turned on.
Plays well with Apple devices
I don't have an iPad just yet, but I do have an iPhone 5 and an old iPhone 3G that I use as a music player. The dock detected my iPhone 5 when I set it on the Lightning connector, and automatically adjusted its date and time to match my phone. This is a real time-saver when the power goes out or if I move the dock from one room to another.
When I dock my iPhone 5 atop the iDL100, things couldn't be much easier. I can control the dock's volume with a simple button push, and another button lets me change the tracks on the iPhone 5. There are clearly marked buttons for changing sources (dock 1/dock 2/USB), as well as a "Mode" button that includes the FM tuner and the dock's auxiliary input. I can still fiddle around with my iPhone while it's on the dock in case I want to change the playlist or send a text. I guess the only thing it's missing is a remote, really.
When the iPhone 3G's connected through the USB port, I still have the ability to play, pause, and skip tracks backward or forward, which is really nice. iHome offers some free apps that allow some settings to be made from your Apple device that I wasn't able to take advantage of with my iPhone 3G, but besides that it's pretty much the same experience as with my iPhone 5.
I can't comment on the iDL100's capability as an iPad speaker dock, but with a built-in charger and stand, it seems like a no-brainer to use the iDL100 to watch movies and videos on your iPad. The stereo speakers mean you can let others watch with you.
Works great as an alarm clock, too
Programming the iDL100 to work as an alarm clock is simple. I usually choose to have it play from the radio to wake me up, and I can set the timer, station, and alarm volume (no more remembering to turn it up before I turn in) easily through the buttons on top of the dock. It even gives me the option of the alarm going off every day, weekdays only, or weekend days only, which is miles beyond my old clock radio.
To mix things up, I can have it play from my docked iPhone 5, and I can create a custom playlist just for wake-up songs. I haven't explored that option yet, but it's nice to know it's there. And remember what I said about the dimmer for the clock? That's a major plus at night.
A solid performer
There are a lot of docks out there with Apple compatibility, but a lot of them have neglected the FM radio band. The solid FM reception and sound is one of my favorite things about the iDL100. The iPad compatibility taps into a growing market as well. So if you're in a household with a plethora of Apple devices and you want to get sound and alarm capabilities out of them without taking up a ton of space, the iDL100 might be the right dock for you.