Review of the Sony XS-GS1720 and XS-GS1720S speakers
Heads up!
Welcome to this article from the Crutchfield archives. Have fun reading it, but be aware that the information may be outdated and links may be broken.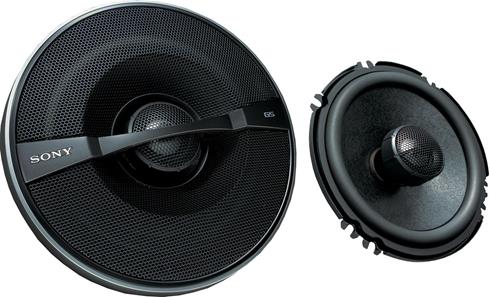 Sony XS-GS1720 coaxial speakers
Recently, I took a pair of Sony 6-1/2" GS 2-way coaxial speakers, the XS-GS1720, and a set of GS components, the XS-GS1720S, into the Crutchfield Labs and gave them a listen. I played four different songs, in their entirety, switching back and forth between the coaxials and components, and took notes on how well I thought they handled the highs, mids, lows, staging, and imaging of the music.
Listening in the Crutchfield Labs
Over all, these speakers performed very well, reproducing the music clearly with no glaring defects in the sound. In fact, I thought both the components and the coaxial speakers exhibited a remarkable coordination and smoothness in the midrange to mid-bass region, where the vocals and guitars play. The musical imagery, the characteristics of each instrument, was precise and clear. The staging, or the aural illusion of each instrument's relative position on a stage, was excellent and wide for both the components and the coaxial speakers.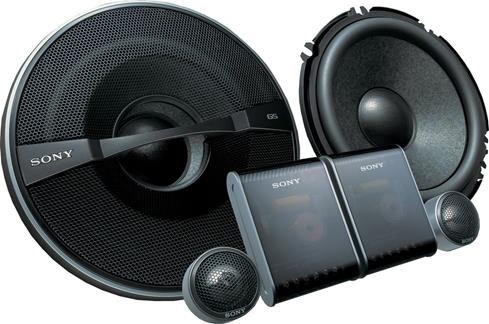 Sony XS-GS1720S component speakers
The component set seemed a bit fuller in the vocal range than the coaxials, because the component tweeters sounded brighter than the coaxial tweeters and that brought the vocals out front better, especially on the female voice on the Country ballad I played. On both that song and the percussive Rock instrumental I played, the acoustic and electric guitars stood out crystal-clear with pleasing timbre, and no harshness.
I didn't expect much bass from 6-1/2" woofers, but I was pleasantly surprised by the hints of bass that did emerge in the Afro Beat and Chicago Blues songs I listened to. It's not bad, really, but if you're a serious bass-head, you'll want to add a subwoofer along with these speakers. All the drumming and percussion on the recordings sounded crisp and clear.
These 2-way coaxial and the component speakers, both rated for 75 watts RMS, will sound their best when powered by an aftermarket amplifier rather than a receiver alone, due to their relatively low sensitivity. But once set singing, these speakers play smoothly, and with good definition.
Check out these Sony GS speakers and use our vehicle selector to see if they'll fit your car.