The Buzz at SIRIUS
Heads up!
Welcome to this article from the Crutchfield archives. Have fun reading it, but be aware that the information may be outdated and links may be broken.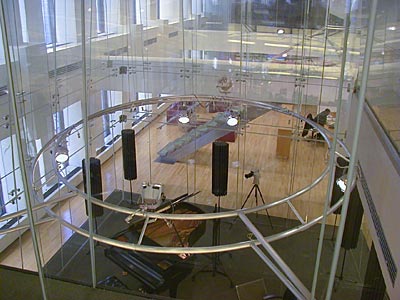 An overhead shot of SIRIUS' Studio A, the main performance studio.
SIRIUS Headquarters are located in the heart of New York City, across the street from Radio City Music Hall, and just blocks from Broadway, David Letterman, The Today Show, and Saturday Night Live. Their state-of-the-art broadcast facilities attract a virtually non-stop parade of artists who come in to give on-air interviews and perform live in one of SIRIUS' three performance studios.
Mark Kalman, Vice President of the SIRIUS National Broadcast Studios, gave us the lowdown on the construction elements and technologies that make the Main Performance Studio a prime place to perform.
The Main Performance Studio at SIRIUS flanks the left side of the entry hall. Glass dominates the architectural layout: an outer layer of glass traps dead air between it and the interior glass wall, providing a neutral acoustic barrier that eliminates any sonic bleed-through into the reception area or the surrounding studios. The interior glass wall is canted at a 15? angle to minimize direct sonic reflection. Visitors and employees can watch artists performing live shows from the waiting room.
"The main performance space walls," Mark said, "are constructed with 3/4" laminate Pilkington glass imported from England. [Pilkington is a worldwide leader in glass technology.] The walls are structurally as well as acoustically dead. The seams between the panes are sealed with a silicon caulk. The walls are isolated from the building structure with spring isolators to eliminate building vibration."
The floor and ceiling "float" — like the walls, they're isolated from the building structure to minimize vibration. It's basically a "room within a room." RPG diffusers and a sound "cloud" that hang over the performance space help minimize reflected sound.
The studio is large enough to hold a grand piano, a drum kit, and 10 to 12 people with their instruments.
To record the artists who perform there, SIRIUS uses a 56-input mixing console, a full range of sensitive, high-quality microphones, 24-channel digital recorders, and Pro Tools digital audio workstations. Inside the studio, the musicians monitor themselves with top-of-the-line Genelec 1031 and other speakers.
With these kinds of facilities, it's no wonder that SIRIUS has begun to attract a wide range of artists to perform there! Recent guest to the SIRIUS studios have included: Lil' Kim, Jackyl, Linkin Park, The Allman Brothers Band, and Iluxion. To see who's coming next, check out
What's Happening at SIRIUS.