Choosing a Subwoofer Box
Prefabricated and custom subwoofer enclosures
Heads up!
Welcome to this article from the Crutchfield archives. Have fun reading it, but be aware that the information may be outdated and links may be broken.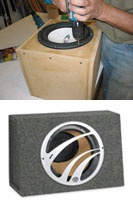 Use a hand-made or a pre-made box? That is the question all subwoofer owners must answer.
You probably spent hours agonizing over different subwoofers before you chose the one you really wanted. And you probably devoted a fraction of the same attention to the box in which your bass engine will be housed.
It shouldn't be that way, of course. Every component subwoofer needs an enclosure to sound its best. In short, the box can be just as important to the way your system sounds as the sub of your dreams.
You have a couple of choices when it comes to selecting a subwoofer enclosure — you can purchase a ready-made box, mount your sub, and crank out the bass. Or you can construct your own enclosure and enjoy great bass after mapping out your plans and applying a little elbow grease.
Either way can work — but which is best for you? Here are some key advantages and disadvantages of both approaches.
Your experience level
Box-building can be a fun and rewarding hobby, but it's not for novices. If you lack basic woodworking skills or are uninterested in things like box volume formulas, you're probably better off buying a ready-made box. It's easier and sure to look more professional than an amateur's first effort.
On the other hand, if you are handy with tools, have the time, and really want optimum sound quality, you might consider
building your own enclosure.
Many manufacturers include box-building information with the specifications for their subs, and some have subwoofer box plans online.
Take a good look at books written on the topic, as well — they'll give you an idea of whether you're up to the task. Two of the best are
The Car Stereo Cookbook
by Mark Rumreich and (for the more advanced builder)
The Loudspeaker Design Book
by Vance Dickason.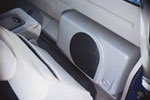 Q-Customs custom-fit enclosures give you factory fit and finish for your subs, without sacrificing any space.
Your cargo space needs
Building your own box gives you the flexibility to match your enclosure to your available cargo space. For instance, if you have limited space in your trunk, or an odd-shaped cargo area, you'll want to make your own sub box.
"Doing it yourself" means you can create an enclosure of any shape or size (being mindful of your sub's characteristics), and thus make best use of your available space. If you want to leave the heavy lifting to others, some prefabricated custom enclosures, such as Q-Customs, are designed to blend into your vehicle's interior scheme, and don't require custom work.
Sound quality
Most professionally made boxes do a great job energizing your ride with bass, but you do have to match the sub to the appropriate box with care. A "one-size-fits-all" approach might not be appropriate for the most discriminating listener. Most sub manufacturers provide a range of recommended box volumes, and there's no question that the quality of your bass can vary even within these recommended ranges.
With the right know-how, building your own box ensures the sound quality you want — you can construct a box with exactly the volume you want for the kind of bass you prefer.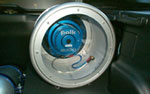 James Turner used 1/4"-thick air craft aluminum to encase his Polk GNX 12" sub.
A custom look
If you're into the custom car scene, you might want to build you own enclosure to help your ride stand out. In our
Road Tests
section, you'll find lots of examples of car aficionados who create unique enclosures that enhance their installations, rather than purchasing standard, prefabricated sub boxes. For example, take a look at the sealed aluminum enclosure in James Turner's
Honda CRX.
Custom construction might be required if you have an odd-shaped woofer that won't fit into a round-shaped mount (such as a square or triangle-shaped cone).
Save money
There's no question that you can save money when you construct your own enclosure. A standard, high-quality, prefabricated enclosure for a single woofer is likely to cost at least $65, and you'll be well into the triple digits if you need a box that holds two subwoofers.

If you're building your own sub box, don't forget to purchase a terminal cup and box brackets.
You can find medium-density fiberboard (the preferred, non-resonant housing) in many home improvement stores. Invest in a few accessories like terminal cups and brackets, and you can take pride in your own work and save some bucks to boot.
Again, though, if you are less skilled (or less patient!), you might be better off with a pre-made box. That way, you can be up-and-running quickly, and won't have to keep track of the small accessories needed to complete the job.
Box type
If you are building a box, it's a little easier to build a sealed version (for tighter bass) than a ported or bandpass box, which entails a little more work and more cutting.
If you decide to buy a pre-made box, you'll be able to choose from different box types. Some Q-Logic boxes have special plugs that make it easy to convert from a ported box to a sealed box, and vice-versa.
Sense of satisfaction
It's not for everybody, but many folks get a lot of satisfaction knowing that they constructed their subwoofer enclosure from scratch.
Ultimately, though, the only "satisfaction" that truly matters is whether you are satisfied with your bass output. Whether you buy or build a box, that's the key point to keep in mind.