10 CDs to Crank in Your Car
Heads up!
Welcome to this article from the Crutchfield archives. Have fun reading it, but be aware that the information may be outdated and links may be broken.
It's a classic combination: a CD wallet loaded with your favorite tunes, and the open road. For me, two weeks in Colorado and nearby territories with an SUV, in-dash CD player, roadmap, and no set itinerary was the ultimate summer vacation. I had my tent and sleeping bag ready for nights under the stars, and nothing to do on the road but to crank up the stereo and enjoy the awesome scenery. For such a special drive, I brought along some very special music.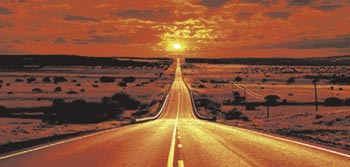 The setting sun on a stretch of blacktop and a car full of your favorite tunes — this is how summer should be.
Jack Johnson, On and On
(Universal)
Nothing says "summer" quite like a guy with an acoustic guitar. Jack Johnson's second release,
On and On
, makes it clear that this surfer from Hawaii has a lot more going for him than a wicked way with a board. "Times Like These" sums up the feel of this album — laid back, simple, reflective, and ultimately perfect for a hot summer day. Joined by Adam Topol on percussion and Merlo Podlewski providing bass support, Johnson's vocals and acoustic guitar are recorded with a very clean sound. Simple recordings are sometimes the best to check the clarity and accuracy of speakers. The very last line of this song has the vocals, guitar, and bass all playing the same line — with a good playback system you should be able to hear each instrument's distinctive sound in the overall mix. "The Horizon Has Been Defeated" is another cool summer hit, with a subtle reggae feel that features Podlewski's bass. The sound has a soft attack, but your subwoofer shouldn't turn it to mush either. Topol switches to a full drum kit on this tune, and his hi-hat work has a sharp tone, mixed up front. A bad system might cause that to sound "splatty," but my SUV kept the sound crisp and sharp.
Train, My Private Nation
(Columbia)
The latest release from Train brings a fresh array of songs, similar to previous releases, but with an edge and maturity that makes
My Private Nation
an entertaining and enjoyable disc to take for a long ride. While some cuts show similarities to the Beatles' Sgt. Pepper's days, many expose emotions and feelings that are very much modern. "Calling All Angels" is a beautiful song with dangerous undertones, referring to the troubles of today with a timeless theme. Pat Monahan's distinctive lead vocals play against the simple beginning of the tune, with a piano featured over the rhythm bed. The full passion of the song kicks in halfway through the first verse though, with Charlie Colin's powerful bass guitar. If your ride doesn't have a subwoofer, a bass line like this might make you reconsider your options. The chorus of this song is incredibly catchy, so you'll definitely want to crank up the volume — make sure your amp is up for the challenge.
"When I Look to the Sky" is a heartfelt song that starts with restraint — just lead vocals and a very wide stereo piano — but then gently builds, adding a subtle organ sound, then acoustic guitar before the entire bands kicks in with a vengeance in the chorus. This is a gorgeous arrangement, with an inspirational key change and massive sound stage — find a straight stretch of a scenic highway, and let this song fly.
Annie Lennox, Bare
(J-Records)
While other singers eagerly claim the title of "diva," Annie Lennox seems to do everything to stay out of the spotlight. But in reality, her expressive voice and raw passions make most other female pop stars seem like bad studio creations with more imitation than inspiration.
Bare
, Lennox's first release in years, is a great collection of songs featuring her own bared emotions. All the songs were written by Lennox, although almost all the tracks were produced by programmer/musician Stephen Lipson. "A Thousand Beautiful Things" starts the mood of the album with an introspective yet hopeful song about remembering what truly matters. Her own background vocals almost outperform her lead vocals, weaving a thick tapestry against the simple backing track. "Loneliness" begins appropriately with a solo electric guitar under a solo vocal. Here, the echo on Lennox's voice is used almost as another instrument, coming in and out on specific words and phrases such as 'loneliness' and 'distance between us.' This song just keeps building, as the writer's loneliness grows, adding instruments and background vocals with each verse and chorus. When the rhythm track comes in on the second verse, the sound system conveys the deep round synthesized bass track perfectly. The power guitar in the third verse is bright and clear. The dynamics of the choruses could have had a compressed sound — this is a very full, complex mix, but each layer of the mix is audible and distinct in this excellent recording. This is a great one for a long evening of putting away the miles.
Coldplay, A Rush of Blood to the Head
(Capitol)
Coldplay hasn't enjoyed a meteoric rise to stardom, but instead, through a slow and steady ride, it has become one of the hottest bands in today's scene.
A Rush of Blood to the Head
might be their most popular album yet. This music has tremendous diversity of style, mood, and tempo, and that makes it wonderful for a long trip — the constant shift keeps it from ever getting old. "Politik" demonstrates incredible diversity within one song. It starts with a pounding full-band assault, then continues with fascinating doubled vocal effects throughout the verses with particularly discordant harmonies on the words 'heart' and 'soul.' "Clocks" brings the refreshing sound of an acoustic piano, giving vocalist/pianist Chris Martin a chance to shine — although the musicality of Guy Berryman's bass might challenge the piano as my favorite part. Their superb musicianship is finely accentuated by a wonderfully crafted, complex mix. In fact, the intricacies of all the tracks on
A Rush of Blood to the Head
guarantee that this disc is going to be a road trip regular.
Luther Vandross, Dance With My Father
(J-Records)
In mid-April, 2003, the R&B world, in fact, the entire music world was saddened. Silky-smooth, ultra-romantic Luther Vandross suffered a massive stroke, just months before the release of his new album,
Dance With My Father
. While his condition is unsure, there is no doubt that this album will continue to inspire many, many hot and steamy nights. Bringing in powerhouse duet partners adds variety to Vandross' mellow tone, including appearances by Foxy Brown, Busta Rhymes, Queen Latifah, Beyonce Knowles, and a harmonica solo by Stevie Wonder, with background vocals anchored by Cissy Houston (Whitney's mom) — quite a round-up! Beyonce Knowles shows that she's not just a fabricated pop creation on the cover of "The Closer I Get to You." The song features an awesome bass line and real strings, but what is most impressive is the way that the two vocalists work their vocals and, more impressively, their improvisations around each other's performance. Each one leaves room for the other — you get a real sense that they were recorded at the same time, working off each other's melodies, which is pretty rare in these days of overdubs and remote recording options. While tried and true Vandross fans might not dig the cuts featuring raps by Queen Latifah and Busta Rhymes, with their heavy rhythm tracks (which really tested the bass response of my sound system) the variety is fresh, and there are enough ballads to keep the steam rising — Luther knows love songs, that's for sure. Luther, our thoughts and best wishes are with you.
Miles Davis, Sketches of Spain
(Columbia Records)
On a hot, dusty stretch of highway heading into Taos, New Mexico, when the sun is sinking low in the sky, you can almost see conquistadors in the distant haze of heat waves rising from the desert. While there are other Miles Davis cuts that are usually in my standard road kit, this scene ached for
Sketches of Spain
. Without a doubt the best jazz trumpeter (okay, in my humble opinion) who ever graced a recording studio, this album showcases his grasp of music that extends far beyond the boundaries of jazz. Joaquim Rodrigo's "Concierto De Aranjuez" was originally composed for guitar and orchestra, but the soaring trumpet lead will make you believe it was written with Davis's horn in mind. The melody, shifting in focus throughout the mix, has a sad loneliness that grows ever more interesting the softer it is played. Recorded in 1959, the album's sound is completely current with sharp highs accented by percussion and a harp. Davis' trumpet occasionally teeters on the verge of distortion, but there is so much emotion behind it, that it is easily overlooked. The full orchestra backing is superb, complete with castanets. The plucked upright bass that plays underneath ties the orchestral sections to the jazz-infused soloing — it is a fabulous transitioning tool. Every instrument occupies a distinct place in the orchestration, and the live mix of instruments provides a natural tonal balance.
Sketches of Spain
is certainly not your typical jazz recording, but the styling and intonations of jazz master Miles Davis cross the boundaries of all types of music.
Dave Matthews Band, Live in Chicago 12.18.98 at the United Center
(RCA Records)
In 1998, the number of Dave Matthews Band fans was still relatively small. But they were devoted. For those diehard fans, a Dave Matthews concert made for a terrific night out. Thank goodness they all turned out on the evening of December 18, because this concert recording has become the mainstream introduction for the rest of us. This is just one of a rather long string of live recordings — apparently, the band would rather release versions that they can control (and fine-tune with remixes and overdubs) rather than have a series of bad bootleg recordings flying through cyberspace.
Live in Chicago
is filled with what has become radio hit after hit — "What Would You Say," "Stay (Wasting Time)," and one of my all-time favs, "Crash Into Me." This mix is fuller and more complex than other versions of this song, with a quiet intensity that gives the vocal styling of Matthew's voice equal footing. The band's rendition of Jimi Hendrix's "All Along the Watchtower" (written by Bob Dylan) is worth the price of admission alone. Again, Matthew's unique voice is perfectly showcased against the solo guitar through the first verses. Of course, when the entire band kicks in, that quiet intensity erupts into a firestorm, although an interesting saxophone solo tempers it. All is all, this is a great two-disc set backed by an energetic audience that makes it especially fun to cruise to.
Peter Gabriel, Shaking the Tree: 16 Golden Greats
(Geffen)
There is one disc that comes with me every time, on every trip. It's a disc that I use for sound quality checks and to get accustomed to a new listening room or speakers. That disc is Peter Gabriel's compilation album,
Shaking the Tree: 16 Golden Greats
. Originally released in 1990, this isn't a 'greatest hits' per se, because, with the exception of "Sledgehammer," most of these songs haven't had mass, popular appeal, and for emotional reasons it leaves out "In Your Eyes," which did have mass appeal (he wrote it for his wife, who he since bitterly divorced). That doesn't change its place in my playlist — it has favorite songs from all my favorite discs, along with mixes that stress every system. The aforementioned "Sledgehammer" is a powerhouse that is great for heating up amplifiers. The precise stereo panning of "Mercy Street" is terrific for checking the imaging and soundstage of a system. Tony Levin's bass performance on the only original recording here, the title track "Shaking the Tree," is perfect for checking a subwoofer's performance. This bass has a very sharp attack that tends to get smeared by some subs. Finally, Kate Bush's breathy guest vocal appearance on "Don't Give Up" is ideal for checking high-frequency response. When you're done checking your system, you can just crank up the volume on "Solsbury Hill," "Red Rain," and "Big Time."
Delta Moon, Live
(independent release — unsigned at this moment)
Winners of the 2003 International Blues Challenge in Memphis, Delta Moon is an Atlanta band poised for national recognition. Touring across North America, (yes Canada, we know you're up there),
Live
was recorded in The Cave at Tree Sound Studios, before a small, enthusiastic, sold out crowd. And it totally kicks butt. Right now, only available online, (check Deltamoon.com or Amazon) this is a fantastic disc to bring along on the road. The songs have a raw energy, with Gina Leigh's dusty voice bringing down the house on tunes like "Any-Kinda-A-Man." However, her voice is possibly overshadowed by the exceptional musicality of Mark Johnson's bottleneck guitar on "Put Your Arms Around Me." The rest of the band consists of Tom Gray on vocals, steel guitar and piano, Jon Schwenke on bass, and Johnny McKnight driving the beat on the drums. The variety of feels and rhythms is what makes
Live
a disc to crank — listen to the Roy Orbison feel of "Tilt-A-Whirl" and the raucous beat of "Do The Do," where Leigh takes a vocal backseat while Tom Gray's expressive and rich vocals take on the lead. Perhaps the best track is the cover of Johnny Winter's "Mean Town Blues" that gives everyone in the band a chance to shine, with dueling guitar solos, followed by a killer bass solo by Schwenke. Although this is a live recording, it still sounds great — just enough audience is mixed in to capture the energy of the crowd, and the band's performance has just the right amount of 'air' for this style of music. This disc will spend more than a day or two in the CD player on future road trips!
Genesis, A Trick of the Tail
(Atlantic Records)
Most of us have one group, one disc that captured you and forever changed how you feel about music. For me, the first time I heard the massive bass presence and incredible drumming on Genesis'
A Trick of the Tail
, I was hooked. This was the band's first album following the departure of front man Peter Gabriel, and the boys had some pretty big shoes to fill. However, this progressive rock powerhouse doesn't miss a beat. In fact, the changing time signatures and shifting moods are part of what makes
A Trick of the Tail
so captivating. The very first cut, "Dance on a Volcano," is a drummer's dream, with complicated rhythms and a synthesized bass sound that will make a subwoofer quake. "Entangled" showcases the musicianship of Steve Hackett and Tony Banks, in a gentle acoustic song with very interesting phasing effects that create a very wide and spacious soundstage. "Squonk," many a fan's favorite track and a concert crowd-pleaser, is a powerhouse, with a solid bass and kick combining for a big, round low-end response, underpinning a good clean electric guitar and synth on top. "Los Endos" is a great way to end an album — a kind of overview of all the tracks. Written by the entire band, again featuring massively big sounds and ever-shifting time signatures, this is an epic track that just screams to be cranked up. Phil Collin's drum performance here is masterful — it makes you forget that he's better known today as a singer. Obviously, this disc is on board for every road trip — whether a Colorado hiking tour or the everyday commute to work.
Leslie Shapiro is an audio engineer and has been behind the mixing console for over 16 years. She is also a freelance technical writer and consultant for A/V magazines and websites, including
Mobile Entertainment
and
Sound & Vision.