Travelin' music!
10 CDs to show off your car audio system
Heads up!
Welcome to this article from the Crutchfield archives. Have fun reading it, but be aware that the information may be outdated and links may be broken.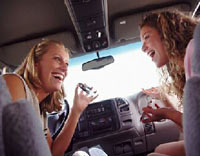 Some CDs seem to rock a little harder in the close confines of a car interior.
If you've installed a nice sound system in your vehicle, you've probably noticed that your favorite traveling CDs are not necessarily the same ones you listen to at home. Some CDs were just made for the road — there's something about the music and the recording that really shines on a car system. When you show off your car's system to friends, it's great to have some of those discs on hand to make things sound their best.
Here are ten great road trip discs that might have escaped your notice — each one guaranteed to keep you and your passengers totally entertained, while showing off your system to the max.
Fela Anikulapo-Kuti, The Best Best of Fela Kuti
(MCA, 2000)
Storming out of Nigeria in the late '60s like some kind of Bizarro-world James Brown, Fela Anikulapo-Kuti (AKA Fela Ransome-Kuti) ruled the world of African music until his death in 1997. His music, a powerful blend of African rhythms, American funk (with a heavy nod to JB), and free jazz, sounds as vibrant and powerful today as it did when it was first created.
The Best Best of Fela Kuti
is aptly named — two discs of heavy Afro-beat without a weak cut in the bunch. Fela's super-charged vocals front an orchestra of guitars, keyboards, and horns which weaves complex rhythmic figures against funky underpinnings of electric bass, drums, and percussion. Throbbing electric bass parts are mixed loud on this recording, and heavy horn lines constantly extend way down into the lower registers — a true test of your system's ability to reproduce bass and midbass frequencies cleanly and accurately.
Various Artists, James Brown's Original Funky Divas
(Polygram, 1998)
This 2-disc set features a collection of white hot performances from women who performed and recorded with James Brown's band in the late 1960s and early 1970s, including Yvonne Fair, Vicki Anderson, Marva Whitney, and Lyn Collins. The material ranges from 60's style R&B to super-heavy 70's funk, and (with a couple of mellow exceptions) it rocks so hard from beginning to end that you'll need to rest for a few minutes in between discs. The band is, of course, totally smokin' on all cuts, and there's plenty of fat bottom end to make your system sound cool. In addition, you get a built-in reality check for your tweeters — these women sing so far into the upper registers that any weaknesses in your high frequency reproduction will be unmercifully exposed.
Robert Bradley's Blackwater Surprise, Time to Discover
(RCA Victor, 2000)
This Detroit-based group did not receive the attention they deserved for this undeniable masterpiece. The songs are first-rate, the recording is magnificent, and Robert Bradley's husky voice is as smooth and complex as fine old whiskey.
Time to Discover
features soulful vocals with fat organ sounds, powerful guitars, and modern production — just imagine a sonic blend of early 1970's Temptations, classic Booker T and the MGs, and hard rockin' Black Crowes. This disc reveals new facets with each listening, almost like rediscovering a great old record that you forgot you owned. The electric bass is recorded with a fat, round, old-style Motown sound, but, if your subwoofer is jacked up too high, it'll sound overly boomy. The guitars and keyboards are extremely warm and well-defined in this stereo mix; if you're not hearing that, you need to readjust your system.
Redd Kross, Show World
(Polygram, 1997)
Several years ago, I bought this CD for a buck because I'd heard "Lady in the Front Row" on the local college station and remembered the name Redd Kross. Is it just me, or is this one of the greatest rock'n'roll records ever made? Sure, there are flaws — singer Jeff McDonald mimics John Lennon a little too much, and the lyrics range from strange to shallow — but these are merely flaws in fine leather.
Show World
is a collection of 4-minute power pop portraits for the ages, framed by massively distorted guitars, pounding drums, and to-die-for vocal harmonies. Slap this disc in your car's CD player, and all conversation will stop. Ornate vocal arrangements compete against thick guitar parts and a massive rhythm section in a brilliant, complex mix. But, if your system's upper midrange and high frequency reproduction isn't up to snuff, you'll be missing all the details in a sea of sonic sludge.
Buddy Guy, Heavy Love
(Jive, 1998)
Maybe it's not Buddy Guy's absolute best album, but
Heavy Love
is definitely his most well-recorded CD. Buddy throws a couple of old-style classics (Al Green's "Are You Lonely For Me, Baby" and Louis Jordan's "Saturday Night Fish Fry") into the mix, but the majority of the music is heavy, hard-hitting modern blues. The thick, techno drum/bass sound nicely complements Guy's savage, stuttering guitar leads and explosive vocal work. Crank up the title cut on your car system and check out the mammoth low end of the 5-string bass — guaranteed to make your subwoofer system sound like a million bucks! And you can bet that Buddy's signature razor-sharp guitar work will let you know quickly if your system's tweeters are a little too hot.
The Maytals, Monkey Man & From the Roots
(Trojan, 2001)
The Maytals have been in the forefront of Jamaican music since their ska and rock steady recordings of the mid-1960s. This Trojan CD contains the Maytals' first two reggae albums,
Monkey Man
and
From the Roots
, recorded from 1969-70. If you think reggae music is too laid back for you, think again. This is not the introspective, spiritual reggae music of Burning Spear or the politically-charged world beat of Bob Marley's Wailers. On the contrary, this CD burns from beginning to end with high-octane, uptempo dance music that combines an ultra-tight recording band (drums, bass, two guitars, and keyboards), Leslie Kong's production savvy, and the world-class vocal work of Toots Hibbert (think Otis Redding with a Jamaican accent). Here's what's fun about playing this CD in your car — Leslie Kong was famous for getting every bit of low-frequency information possible onto vinyl, so these recordings boast massively-swampy electric bass parts that will put your subwoofers to the ultimate test. Party on.
Aimee Mann, Bachelor No. 2 (Or The Last Remains of the Dodo)
(Superego, 2000)
This woman can do no wrong — buy any one of her CDs and you'll hear well-crafted songs, intelligent lyrics, great musicians, and one of the coolest voices in the business.
Bachelor No. 2
, her first self-produced album, combines all of Mann's pop influences (Beatles, Big Star, etc.) into 13 coherent, original, powerful tunes with a 60's tinge. Jon Brion (The Grays) contributes stunning guitar work, with an understated, Harrison-esque quality that adds to the timeless sound of this CD. This is not a party disc, nor will it blow you away with heavy bass content — but it's a superb recording, with lots of layered guitars (electric and acoustic) and a clean, shimmering sound that sounds absolutely fantastic on a well-tuned car audio system.
Rage Against The Machine, Rage Against the Machine
(Sony, 1992)
OK, I can't tell you how much I hated this disc the first time I heard it — too much anger and too unrelenting for my taste. But I've come to my senses. The intensity of Zack de la Rocha's vocals joins with the storm and fury created by one of the tightest bands in existence to make
Rage Against the Machine
one of the great debut albums of all time. Guitarist Tom Morello employs amazing technique and absolutely killin' tone in a 6-string onslaught that never resorts to heavy metal cliches. This CD is all about impact — the drums, bass, and guitar pound out ultra-heavy riffs with stop-on-a-dime precision. And, in the confines of a vehicle with a well-tuned, high-power system, you can experience the cataclysmic power of this disc in a way that you'll never know in your home. (And it's also a real "wake up" call when you're getting a little drowsy behind the wheel!)
Flaming Lips, Yoshimi Battles the Pink Robots
(Warner Brothers, 2002)
Flaming Lips, an Oklahoma band that has been producing very good recordings for many years, kicked their game up a notch in 2002, delivering this quiet masterpiece. At first listen,
Yoshimi Battles the Pink Robots
sounds like a bizarre, disjointed amalgam of influences ranging from The Beach Boys to Pink Floyd to Radiohead. Play it again, and Yoshimi snaps into startling focus as a totally original piece of work. Real instruments blend with electronically altered sounds, drum loops, synthesized bass, sound effects, and hauntingly beautiful vocals in a breathtaking collection of songs/soundscapes. If your car's system is properly set up, the exceptionally strong stereo image on this CD will just about split your head open. You'll notice some sounds and instruments positioned way out on your extreme right and left, and you should experience a very strong sense of where the various instruments are located in the stereo mix.
The Mooney Suzuki, Electric Sweat
(Columbia, 2002)
In this day of high-tech recording studios, it's a miracle to hear a recording that contains all the murkiness, magic, and musical mojo of a great 60's rock'n'roll album. Take some very cool songs, and add a heavy helping of MC5, some Jimi Hendrix, a touch of Blue Cheer, and a little early Who. Mix in a few tablespoons of echo, a cup of reverb, and some nasty fuzz-tone guitar, and you've got The Mooney Suzuki's major label debut,
Electric Sweat
. The music explodes out of your speakers, full of attitude, joy, and even a few mistakes (remember them?). How long has it been since you heard a band that sounded like they were having this much fun? Crank this CD up in your car, and let your stereo do its thing. Life is good.