Bose® Free Space® 51 environmental speakers
Outdoor music gets its moment in the sun
Heads up!
Welcome to this article from the Crutchfield archives. Have fun reading it, but be aware that the information may be outdated and links may be broken.
When it came to providing outdoor sound for parties, the good old days weren't really that good. In college, I used to prop my massive stereo speakers side by side against my dorm room window, facing out. With enough volume, I got kind of a mono blast that I could hear only if I stood in line with the window and ignored the sounds from every one of my dorm mates who were doing exactly the same thing!
Fast forward to the present. With my own house and sprawling back yard, my outdoor sound system no longer has to compete with those from the next window. It's still a major effort to get sound outside for entertaining, though; I have to horse my old stereo speakers out to the back porch, run cables back into the house though a window, and hope it doesn't rain. The sound hasn't improved that much since my college days — depending on which speaker my guests are closest to, they hear either one channel of music or the other (but seldom both).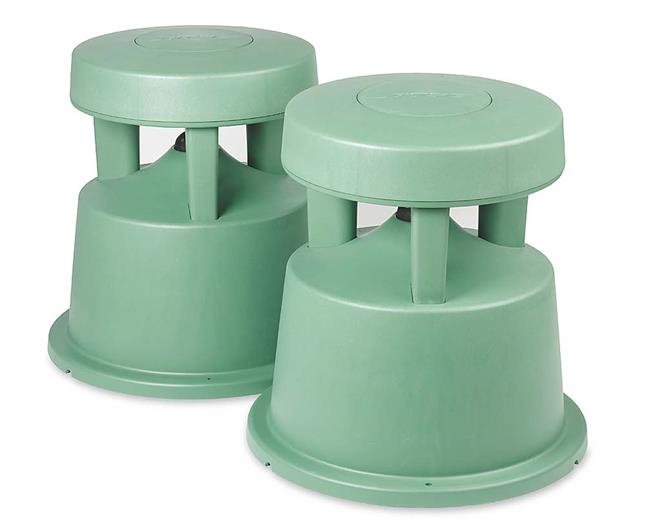 Bose® Free Space® 51 environmental speakers
By taking home the Bose® Free Space® outdoor speakers to try out, I brought home a sane solution to my outdoor sound problems.
The green solution
Unlike my old stereo speakers, the Bose® Free Space® 51 environmental speakers are designed for permanent outdoor installation. Their green casings are a hardened outdoor material that can withstand temperatures from 40° to 158°F, and (according to the owner's guide) are also salt fog resistant (so they can be used for marine installations, such as large boats or beach houses).
The speakers have screw holes, for secure mounting onto a deck. They also have a small opening in the bottom of the rim — important if you're installing the speakers on a brick or concrete surface rather than wood. This opening allows the wires to run out without having the speaker resting on them. That way, the speakers sit flat on the surface, and prevent premature wear to the wires' coating.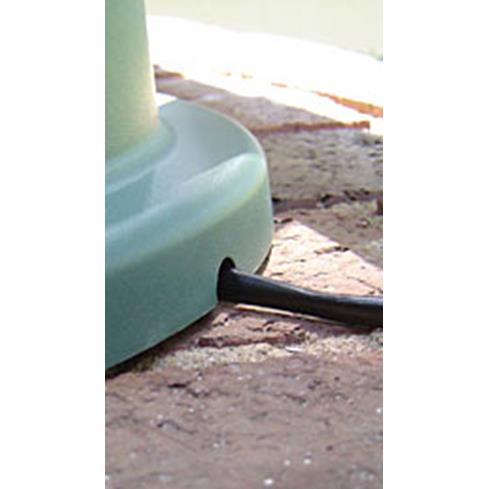 This opening allows the speake rto sit flush onthe surface without damaging the wire.
Getting outdoor sound — the right way
Both my college and home setups delivered poor outdoor sound for a simple reason — they were sending highly directional sound into a non-directional environment (both in the sense of space and use).
In a room, the sound from my stereo speakers bounced off walls and was redirected back, increasing the sonic intensity. The listening area was proscribed by the size of the room and the furniture in it. When we entertained, people might momentarily pass through the "sweet spot" as they circulated, but because the room contained the sound, everyone could hear what was coming out of both speakers, albeit not always perfectly balanced.
Outdoors, there was nothing for the sound to bounce off of — it dissipated into the air, losing most of its impact a short distance from the speaker. In the yard, my guests also had a much larger area to move around in. The end result was that most people heard a muddied and unbalanced sound, regardless of where they were.
These speakers, unlike my indoor speakers, are designed for 360° sound dispersion — non-directional sound for non-directional outdoor spaces. The speakers have a domed port grille that reflects high-frequency tones out into a circular listening area. According to the owner's manual, each speaker has an optimal circular listening area of about 6-1/2 to 10 feet. Setting the speakers about 13-17 feet apart gave me a nice large area where the sound from the two speakers overlapped.
Free Space® setup
Although setting up outdoor speakers involves running wire underground, getting the Free Space® 51 environmental speakers hooked up turned out to be much less involved than I thought it would be. As the manual says, it's important to do all the prep work properly. The manual not only showed me what tools to use, but gave cable recommendations and some practical installation tips as well (such as "place speakers and run cord before digging holes or burying cord").
I also had a wide choice of options for installation. I could screw the speakers onto a wooden deck, place them on a hard-surfaced porch, or even nestle them among the plants in the garden. Although the 14-7/8" height wasn't especially intrusive, I could have buried the speakers in a hole down to about 7-1/4" deep to really hide the sound source.
Since the Free Space® 51 environmental speakers are permanent outdoor speakers, you need to use either moisture-resistant or direct-burial rated cable to connect them to your indoor receiver. The weakest link is usually the point where the wires from the system connect with those from the speakers — where the bare wire is exposed to the elements. To help seal these connections, Bose® includes four wire nuts with built-in sealant. When I pushed the two wires I wanted to connect into the nut, all I had to do was twist to secure the connection. In the process, the nut wound the wires together and coated them with sealant, making them resistant to corrosion.
Some installation considerations
Compared to how I used to get outdoor sound, changing to the Bose® Free Space® 51 environmental speakers was a big step; if you're thinking about a similar change, keep in mind there's a little bit of work involved. These speakers are designed for permanent outside installation, rather than hauling in and out of the house.
These speakers should be fastened onto a flat surface (such as a deck or porch), partially buried, or otherwise be secured to the ground. They're too light to leave freestanding in a major storm. You may also want to secure them to discourage theft.
The wire nuts that seal the connections are intended to be used once, and the connections they make, while weatherproof, should remain stationary to be secure. They're not intended to stand the strain of repeated setup and tear down.
The wires that are permanently attached to the speakers only extend a foot or so — no matter how close your A/V gear is, you will have to run some additional wire to connect it to your system. Whether the speaker wires are buried or run along the outside of the house, at some point they'll need to enter your home. That means you (or an installer) will need to drill a hole (through either wood or masonry) to run the cable inside. The hole will need to be sealed properly to keep out bugs and moisture.
If you're properly prepared with the right tools, actual installation can go pretty smoothly.
The sound of Bose®
The big question, of course, was: how did they sound? Was it worth the investment in time and money to install the Free Space® 51 environmental speakers? As you might expect, the answer was a resounding yes. The first thing I noticed was that the sound had real presence and spaciousness. The highs coming through the domed grilles were surprisingly clear, and I could actually hear some sonic detail I could never get outdoors before.
While the best place to listen was an equal distance between the two speakers, the sound didn't significantly suffer as I moved about the yard. Walking around the edge of our property, I did notice a balance change when one speaker was significantly farther from me than the other. Unlike with my stereo speakers, though, one channel may have been more prominent at times, but I could always hear both channels no matter where I was.
Music for all seasons
Because we host different kinds of outdoor parties (as well as just wanting some music when we work in the yard), I tried a variety of music to test the Free Space® 51 environmental speakers' performance. The speakers handled all the radio stations from my tuner well, as I expected. The compressed sound of most radio stations works well in an outdoor environment. The same was true with the various pop CDs I tried. The Donnas' Spend the Night sounded appropriately crunchy. The downward-firing drivers give bass-heavy songs weight without overpowering the highs.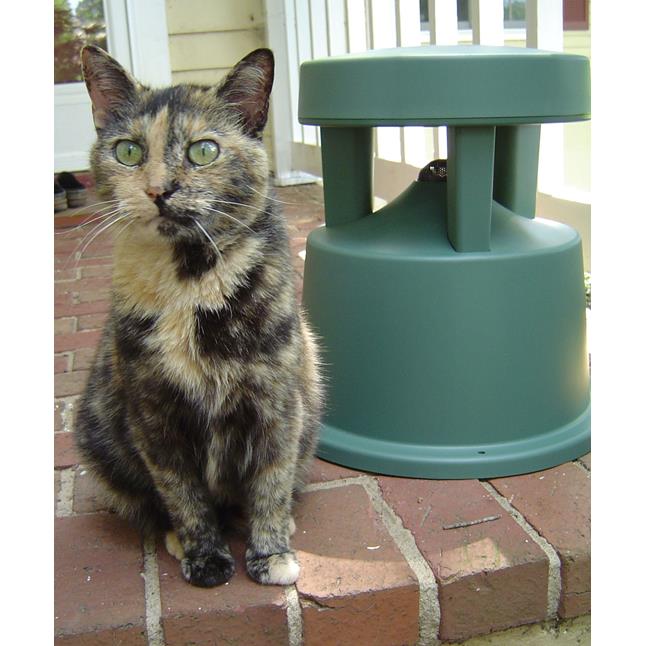 My photographer's assistant shows how compact a Free Space® 51 environmental speaker really is.
As Heard on Radio Soulwax, Pt. 2 by 2 Many DJs features a dizzying array of dance remixes and mashups that completely change about every minute or so. The speakers handled the changes with ease, and this disc, too, sounded vivid in both highs and lows.
I then trotted out one of my favorite test discs: Vaughan Williams' "Sea Symphony" (10 Great Classical Discs). They did an excellent job reproducing the sound of the large orchestra and chorus this work opens up with. The music was convincingly massive, with enough detail to make out individual instruments from the ensemble.
I tried some acoustic selections that were a little more intimate in nature, beginning with Murray Perahia's Chopin recital disc. Overall it was a very natural pianistic sound, although the highs sounded a little dull. I clearly heard every note, and while some of the details I could hear on headphones weren't readily apparent, it was still a marked improvement over what my indoor speakers could do outside.
I then sampled some of jazz singer Rene Marie's How Can I Keep from Singing? and a few cuts from Bebel Gilberto's new self-titled bossa-nova album. Both CDs sounded better outdoors than they did on my previous "outdoor" setups, with a spacious acoustic feel appropriate for the music.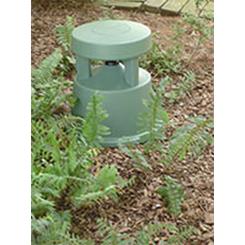 The speaker's casing complements most outdoor settings.
Accompaniment
alfresco
With my old setups, it was always a challenge to find that point where the sound was loud enough to hear, but not so loud as to overdrive the speakers (or shred their cones). It was a challenge I often failed. With the Bose® Free Space® 51 environmental speakers, no matter what volume level I set, I still heard the separation and detail that made the music come alive.
Yes, that meant I could turn it up as loud as I wanted (or rather, as loud as the neighbors would allow). Most importantly, it also meant I could turn the music way down without sacrificing sound quality. At last I could entertain and have background music that would complement conversation rather than overpower it.
Of course, if you live in a townhouse, want to get music just on your screened-in porch, or otherwise want outdoor music only in a specific area, these speakers may not be the best choice. Small directional outdoor speakers mounted in the eaves of your house work better for those situations. In my case, though, I needed omnidirectional speakers to effectively cover my backyard, so they were a perfect solution.
The Free Space® 51 environmental speakers are another example of what Bose® does best. While they're masters of applied acoustical science, Bose® applies equal consideration to how people use their products in the real world. Whether you entertain a lot, or just occasionally want some pleasant music to garden by, the Free Space® 51 environmental speakers can deliver the sound, and do so in two small, unobtrusive packages. After giving them a try, I'm ready to put the "good old days" behind me!