Point, Zoom, and Shoot — A Review of Canon's PowerShot S2 IS
Heads up!
Welcome to this article from the Crutchfield archives. Have fun reading it, but be aware that the information may be outdated and links may be broken.
If you've ever had a digital camera with long-range optical zoom, you may not want to give up that feature when it's time to buy your next camera. A high-powered zoom (or "telephoto") lens lets you shoot close-ups of faraway subjects, like a hawk circling in the sky or a child on a soccer field. It's also handy for taking candid photos at parties or family gatherings, since you can shoot from a distance without disturbing the natural ebb and flow of the action.
Canon's latest digital camera with long-range telephoto capability is the PowerShot S2 IS. Along with its impressive 12X optical zoom lens, it boasts a 5-megapixel image sensor which provides ample photographic detail for most people's needs. Full-auto shooting is supplemented with an array of hands-on manual adjustments for advanced users.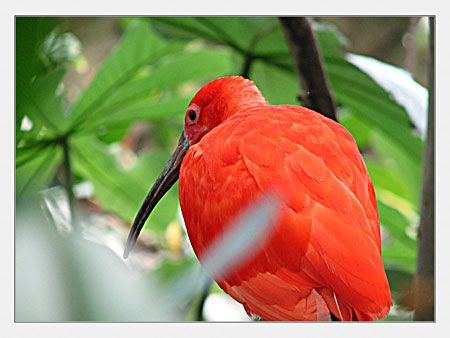 Inside the rainforest exhibit at Baltimore's National Aquarium,I used the PowerShot S2 IS's high-powered zoom to catch this shot of a shy scarlet ibis.
The S2 replaces an earlier model in Canon's digicam lineup, the S1. The newer model's overall design is similar to that of its predecessor, but there are some important differences. The S2 features a longer zoom, higher resolution, and a newer, faster image processor (called the "DIGIC II" chip) said to improve the camera's responsiveness and color reproduction.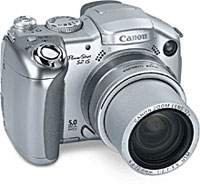 Though a bit larger than your average digital camera, the S2 IS has a solid, comfortable feel.
Size and body style
Digital cameras with high-powered telephoto zoom tend to be bigger than average because of the size of their lenses, and the S2 is no exception. If you're looking for a model you can carry around in your pocket, this isn't the one for you. It's got a comfortable molded hand grip and a substantial look and feel not unlike that of an SLR (single-lens reflex) camera.
Turning to the back, the camera has an LCD viewscreen that flips and swivels — a nice perk I'd never had the opportunity to use before. Tilting the screen downward, you can hold the camera up over your head to avoid eye-level obstructions, and still get a view of your subject. I found this very helpful when capturing shots of a crowded exhibit in Baltimore's National Aquarium. Or you can turn the LCD screen completely around to shoot a self-portrait. And when you're stowing the S2 in a bag, you can swivel the LCD around so that it closes inward and stays protected.
New technology onboard
In a lot of ways, the S2 is similar to a digital camera I bought a few years ago, an Olympus C-750UZ, so I was interested to see how they'd stack up against one another. My camera's built-in image processing is a couple of years older than Canon's DIGIC II system, so I fully expected the S2 IS to be quite a bit speedier. And indeed it was, in all phases of its operation.
Most importantly, the quicker processing reduces shutter lag — the S2 took less time to record a picture after I pressed the button than my camera does. For example, trying to catch a shot of a three-year-old in motion, you're more likely to end up with a tot in the frame, when all is said and done.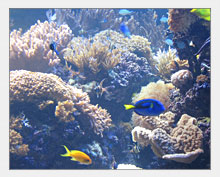 The S2 did a nice job capturing this colorful tropical marine exhibit, even shooting right through the glass in fully automatic mode.
Plus, I was impressed with the quickness and quietness of the S2's zoom lens; it was a definite improvement over that of my Olympus. It allowed for nearly instantaneous adjustments, even when extending to the far end of the telephoto range. That speed and smoothness comes from the ultrasonic motor (USM) Canon built into this camera's lens.
Some small-but-important add-ons
The S2 uses 4 "AA" batteries, and Canon includes a set of alkalines in the box. However, I recommend picking up a set of NiMH (nickel metal hydride) rechargeables and a charger if you don't want to continually shell out for new batteries. An extra benefit of this camera's newer processing is efficient use of power, and I was able to shoot pretty heavily for several days on my own rechargeables without needing to refresh them. The included 16MB SD™ memory card holds only about five shots at the camera's top resolution, so you'll want to pick up a larger card, too.
Image stabilization for steady shots
Another feature of the S2 IS that I was happy to try out was its acclaimed image stabilization, which is what the "IS" in the model name stands for. From using my own camera, I'm acutely aware that minor hand vibrations can turn a good photo into a useless blur, and that's especially true when you're magnifying your subject with a long-range zoom lens.
Canon's answer to this problem is an optical stabilization system that mechanically counteracts hand movements without degrading image quality. The effect of the S2's image stabilization is most notable when shooting in dim conditions. With low light levels, a camera's shutter needs to stay open longer in order to achieve a fully exposed shot, so any lens movement gets recorded in the picture. With the S2's image stabilization, I was able to shoot better indoor photography without resorting to using the built-in flash.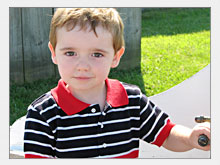 Young guest at a picturesque dockside wedding in St. Michaels, Maryland.
Cruising on auto-pilot
The S2 has plenty of advanced controls, like manual aperture and shutter speed settings, "scene" modes designed to help out with specific types of shots (like portraits or landscapes), and more. But there's no need to fret if you'd rather just set it and forget it. This camera consistently turned out reliable results for me in "full-auto" mode. In fact, I took this camera with me on a weekend wedding trip without even cracking open the owner's manual.
The proof is in the pictures
Canon's PowerShot S2 IS has plenty to offer beginning and experienced photographers. I loved what this camera did with colors — blue skies and waters, crisp vibrant greens, and punchy reds. In the National Aquarium's rainforest exhibit, I was able to zoom way in on a beautiful scarlet ibis perched amidst the man-made jungle canopy. Shooting right through thick tank glass, I captured some pretty shots of rainbow-hued tropical fish.
In a nutshell, the S2 is sure to make lots of digital photography fans into happy campers. As long as you don't need a camera that fits in your pocket, it's hard to see how you could go wrong with this one. And if you want a camera you can grow into as a photographer, the S2's manual settings make a nice alternative to more complicated and more expensive digital SLRs.