Crutchfield's Guide to Tailgating Essentials
Heads up!
Welcome to this article from the Crutchfield archives. Have fun reading it, but be aware that the information may be outdated and links may be broken.
Tailgating — that uniquely American pastime of cooking, eating, drinking, and talking football in a parking lot outside of a stadium — has always centered around food. Texans smoke ribs and brisket on the grills before University of Texas games, West Virginia fans in Morgantown gobble down burgers, hot dogs, and pepperoni rolls before the Mountaineers take the field, and the University of Virginia faithful tackle buckets of fried chicken, ham biscuits, potato salad, and cole slaw before cheering on the Wahoos.
But these days, having the right gear at your tailgate can be almost as important as feeding your fellow fans. So the football fanatics here at Crutchfield have pulled together a list of gear that'll ensure that your tailgate is the most happening space in the lot. (Of course, a "happening" tailgate is also a safe and respectful tailgate. Please remember to tailgate responsibly.)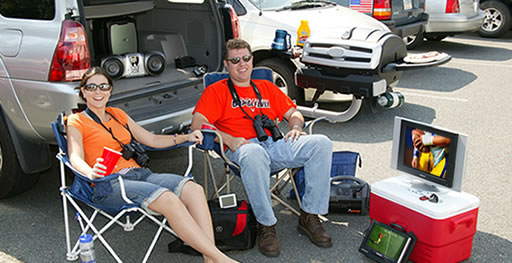 Crutchfield Advisors Krissy and Bryce, tailgating in style, with a variety of products from Crutchfield in use.
Digital Camera
Capture all the action on and off the field with a digital camera. Compact models like the Canon pictured above are easy to stow in a pocket, while larger, DSLR models like the Nikon typically offer increased resolution and greater zoom capability. Don't forget a carrying case — not only will it protect your camera, but you can pack your cell phone and satellite radio as well.
Car Stereo System
Whether it's grooving to tunes or catching the pregame radio reports, tailgaters rely on their car stereo systems. Most factory systems, however, struggle to pump out enough sound for a tailgate without breaking up and distorting. Fortunately, fixing up your stereo system isn't hard to do.
Start by replacing your car speakers. Dollar for dollar, this is the single most effective upgrade you can make to your car's sound. A new car stereo will give you a stronger internal amplifier, for louder and cleaner sound. And adding a powered subwoofer will round out the lows without taking up a lot of space.
Power Inverter
Few products are more practical at a tailgate than an AC/DC power inverter. These handy devices can power small TVs, boomboxes, laptop computers, or a variety of other small electronic devices. The Duracell Powerpack® 600 even includes built-in jumper cables, an air compressor, a flashlight, and an AM/FM radio for catching the pregame show.
TV
For many football fans, the pre- and postgame analyses on TV are just as important as watching the game live. Slim flat-panel TVs, like the Samsung LN19A330 19" LCD, transfer easily from the house to the car. With a built-in tuner and sturdy base, you can set this TV up on a card table, hook up an antenna, and tune in to interviews with the players and coaches in the shadow of the stadium.
Those loyalists who make long roadtrips for away games will appreciate a truly portable video system, like the iLive IP908. This player has a built-in DVD player, a 9" screen, and an input for your iPod. You can even use the included DC power adapter to run off your car's cigarette lighter.
Satellite Radio
For serious sports fans, satellite radio is a must-have. Both services offer an extensive array of sports programming. XM's sports programming includes exclusive coverage of Major League Baseball®, plus coverage of ACC, PAC 10, and Big 10 college football and basketball games; SIRIUS airs every NFL® game, plus play-by-play coverage of more than 150 college teams.
Plug-and-play satellite radios often work with portable boomboxes, like the SIRIUS SUBX1 portable boombox pictured above. Dock-and-play models, such as the SIRIUS Sportster work in a car or on the SUBX1 boombox, while portable models like the Pioneer Inno receive live reception on the go, so you can continue to listen inside the stadium.
The Freedom Grill
Based on an award-winning design, the cast-aluminum Freedom Grill attaches to any 2" trailer hitch receiver, locking into place on a heavy-gauge steel swing arm. When you get to the game, just swing the grill out away from your vehicle, and fire up the 12,000 BTU stainless-steel burner. Fold-out the side tables and condiment tray for food prep. You can even detach the grill from the arm to use it on table-top surfaces. Best of all, you save interior cargo space for everything else you need to bring. Of course, for your safety, please be sure to read the owner's manual prior to operating the Freedom Grill.
GPS Navigation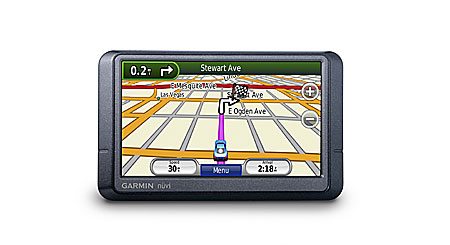 Traveling to an away game? A portable GPS receiver like the Garmin nuvi 255W (pictured) will get you to the game in time for kickoff.
Few things are more frustrating than driving 4 or 5 hours to watch your team play a big game, then getting lost on the way to the stadium, and arriving too late to set up your tailgate. A portable GPS receiver can clip easily to the windshield and guide you to the stadium with voice prompts and real-time traffic updates. And if you need to make a pit stop on the way, the GPS receiver will help you find a restaurant, gas station, public restroom, or even an ATM.