RIVA S portable Bluetooth speaker review
A compact speaker that's big on sound and features
Heads up!
Welcome to this article from the Crutchfield archives. Have fun reading it, but be aware that the information may be outdated and links may be broken.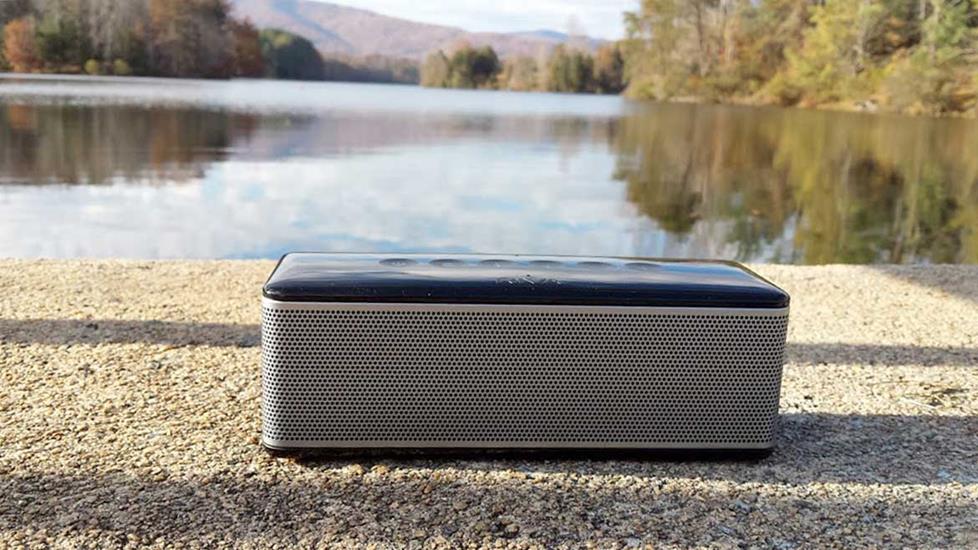 Designers of portable Bluetooth® speakers don't have an easy job. They need to create a speaker that plays loud and sounds great, while still making it small enough to take anywhere. The team at RIVA audio has found a nice sweet spot with their new RIVA S compact powered speaker.
The RIVA S was designed to meet the high standards of company chairman Rikki Farr, a legendary promoter who has worked with everyone from Led Zeppelin to The Who. I got to try out the RIVA S and see if it would meet my expectations.
Tale of the tape
The RIVA S is the smaller sibling to the customer-favorite RIVA Turbo X, sporting the same elegant, no-nonsense look in a smaller design. It plays music wirelessly via Bluetooth with your smartphone or tablet. There are also physical connections for when you want to kick it old school — you can plug in an iPod® or even a turntable with a built-in preamp. It includes two connection cables and a heavy-duty carrying case and carabiner clip.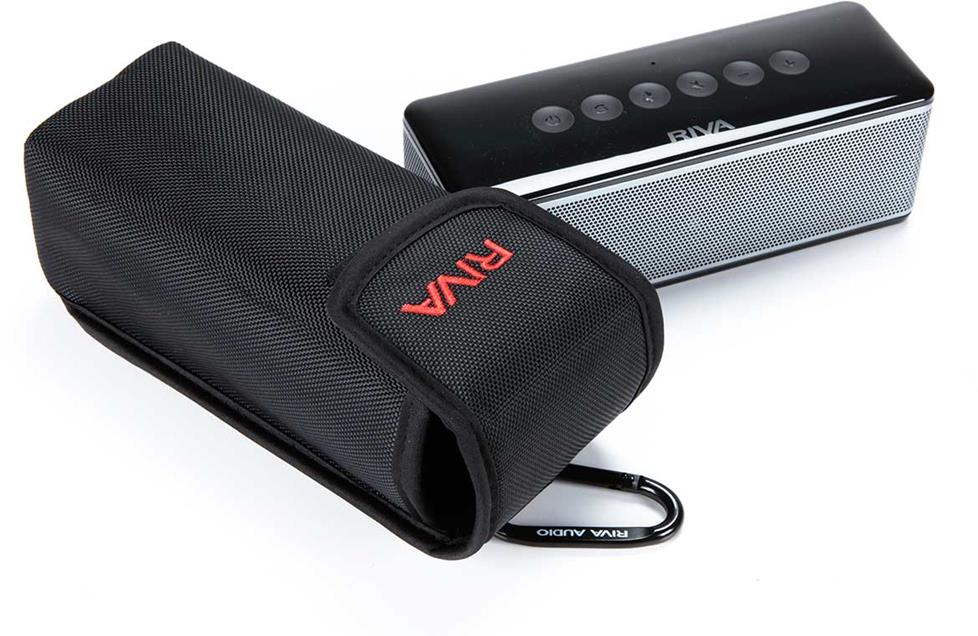 The RIVA S comes with a tough nylon carrying case lined inside with plush velvet. The speaker is available in three different colors.
The compact speaker is easy to grip with one hand and is a bit heftier than other similarly sized speakers. Weighing 1.4 pounds, it's hardly a heavyweight. But that added weight gives it a solid feel and bodes well for how much power the RIVA S can put behind my music.
Resists water and charges your phone
The RIVA S is splash-proof, so it'll shrug off some spills. A small piece of rubber can detach from the bottom to be applied over the inputs and outputs, creating a water-resistant seal.
A built-in rechargeable battery lets you get up to 13 hours of playback. You can even borrow some of that power to charge your phone, thanks to the USB port.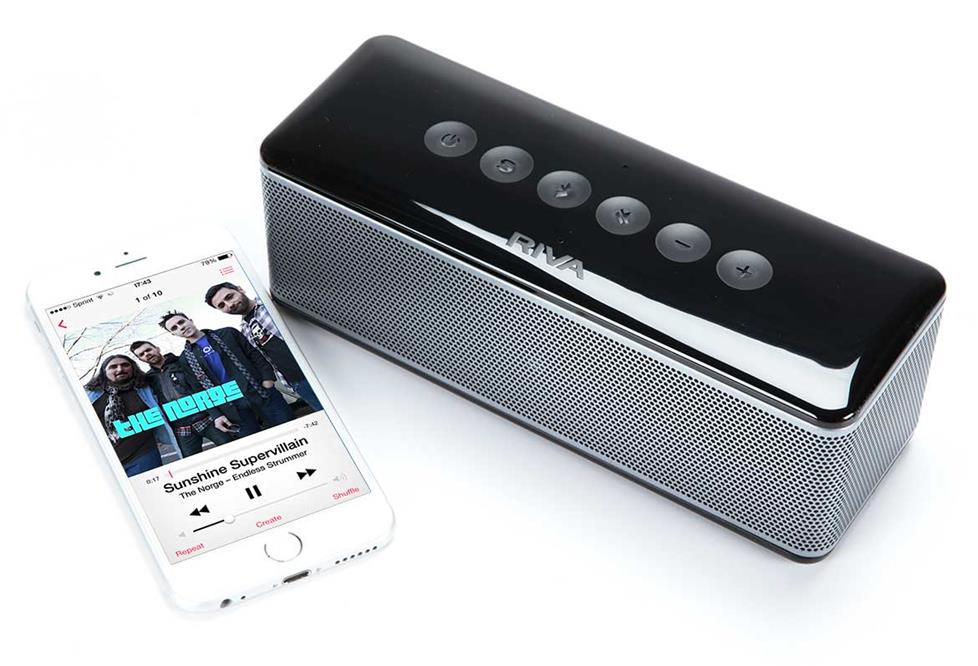 Pair the RIVA S with your smartphone or tablet for up to 13 hours of wireless playback. Or plug in the power adapter and go even longer.
Listening at home
The first thing I noticed when powering on the RIVA S was the how the capacitive control buttons lit up when my hand hovered above them — a neat touch. A futuristic tone indicated the speaker was on, and it synced up easily with my Samsung Galaxy S4. I listened to a sports podcast at first, and the back-and-forth banter came in so clearly my dog started barking. He thought someone was in the other room talking. He doesn't even do that with the TV!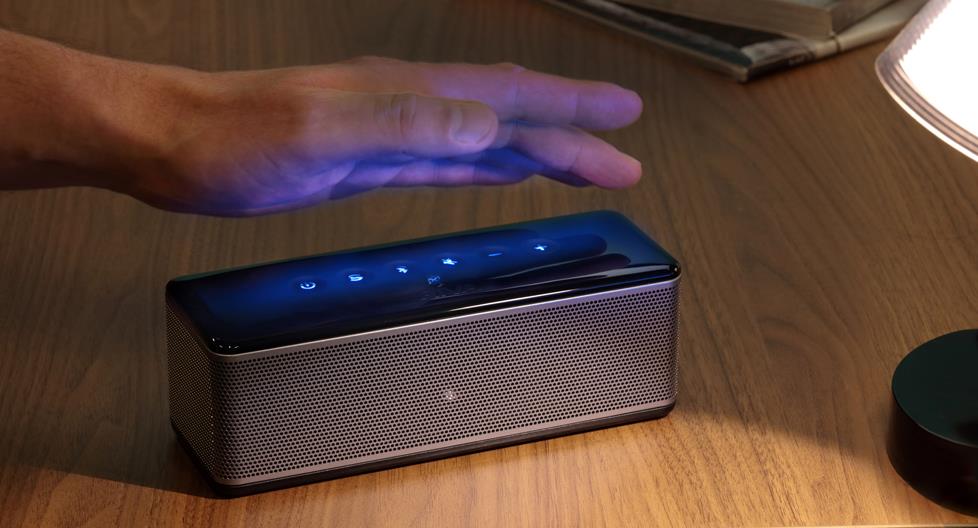 When I moved my hand above the RIVA S, the top buttons lit up.
Switching over to music, I threw on The Who album Live at the Isle of Wight Festival 1970 (perhaps as a tribute to RIVA's Rikki Farr, who put on the legendary concert). On some smaller speakers, live rock music can become a muddled mess. Not so with the RIVA S. The energy on the set-closing "Magic Bus" came through and filled up my living room. The speaker handled Keith Moon's drumming deftly — both his freight-train, out-of-control fury along with his sudden, screeching halts.
Doubling down on tracks driven by distinct percussion, I played Stanley Clarke's "Funk Is Its Own Reward." The bassline was tight and punchy, and the twangy guitar licks sounded coconut-oil smooth. Even when I cranked it a bit, the song was quite satisfying.
I also wanted to see how modern pop music would hold up. At the time of this review, The Weeknd was inescapable — I listened to his Beauty behind the Madness album through the RIVA S. On hits like "I Can't Feel My Face" and "The Hills," the singer's high tenor voice juxtaposed with the deep, hard hitting bass can be tough on smaller speakers. But the RIVA S handled it splendidly, never straining on either extreme.
Taking it on the go
But where the RIVA S will ultimately be judged will be how it performs "out in the wild." I took it along with me to meet my wife and two kids for lunch at Beaver Creek Lake, near Crutchfield's Central Virginia headquarters. A kid-friendly playlist set the scene — Pharrell's "Happy" was in heavy rotation. My 6-month old giggled along to the tunes while my 3-year-old used them as a soundtrack to her new game: the appropriately-titled "Run Down the Hill."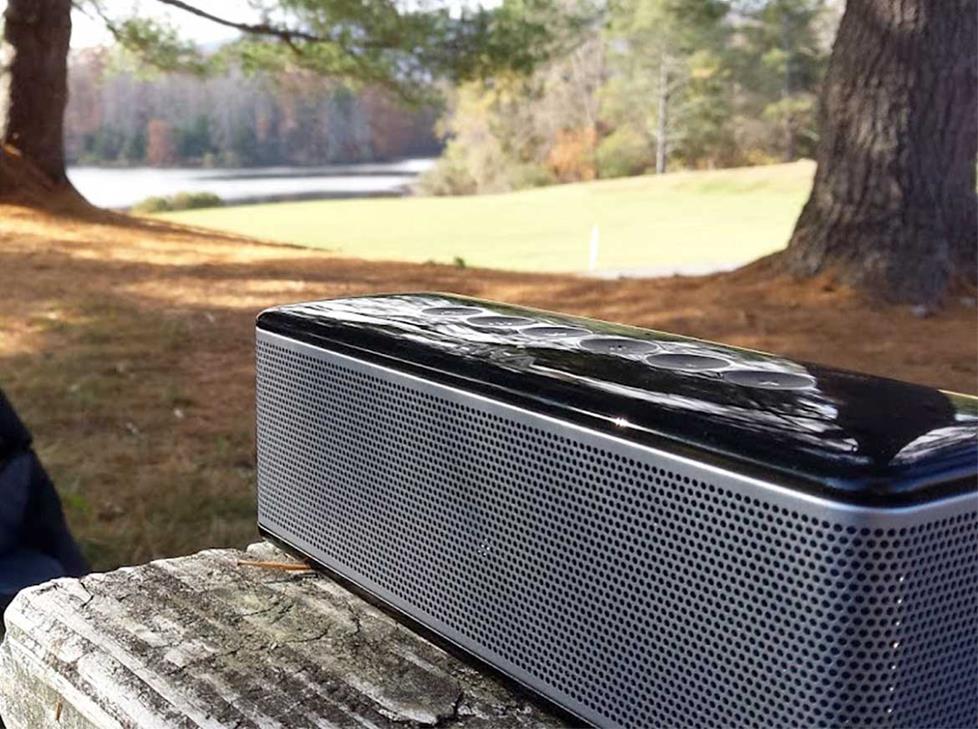 My family and I enjoyed music from the RIVA S portable Bluetooth speaker while we ate and played.
As I watched her run, care-free and laughing, I realized the RIVA S helped deliver a much needed break from day-to-day stress. I'm thinking that's what Rikki Farr and his team hoped to offer — a bit of an escape. When life, work, and all the rest has your brain spinning like a rotisserie chicken, nothing clears your head like fresh air, loved ones, and sweet-sounding tunes. The RIVA S certainly held up its end of the bargain.