Battery-powered PA systems come on strong
The Samson Expedition series
Heads up!
Welcome to this article from the Crutchfield archives. Have fun reading it, but be aware that the information may be outdated and links may be broken.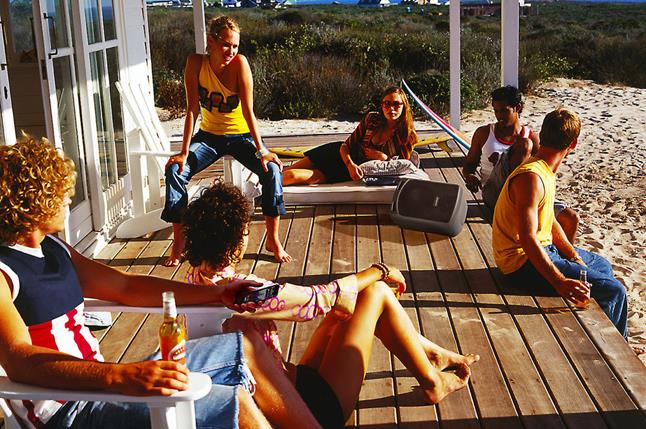 An Expedition Express can be the life of the party
What's a battery powered PA system good for? Any situation in which you need to amplify a voice or music performance, but you don't want to lug a lot of heavy gear, and you may not have ready access to a power outlet. For example:
A poolside karaoke party
Playing music at the beach
Announcements at an outdoor event, such as a race, swim meet, or charity walk
Street performances (also known as busking)
Music and speeches at a family reunion, wedding reception, corporate picnic, or small political rally
Sales pitches at trade shows or small auctions
Dance or exercise studio
Classroom presentations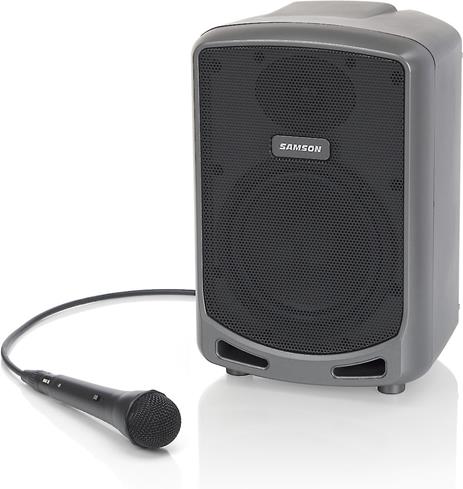 Expedition Express
Recently we auditioned a Samson Expedition Express PA system in the Crutchfield Labs. Using an iPad® for the music source and a microphone we found in the Labs, we had a little karaoke party, making lots of noise and thoroughly enjoying ourselves.
The Expedition Express is a portable battery-powered PA system featuring Bluetooth® connectivity so we could wirelessly stream music to it from the iPad.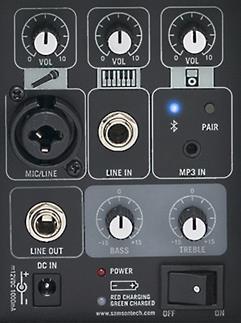 The Expedition Express has three input channels, each with a volume control so you can mix the sounds together. One channel is for wireless connection of a phone or tablet. This channel also has a minijack input, so you can still connect a music player even if you don't have a wireless device.
There's also a ¼" line-level input suitable for a guitar or keyboard. The third channel is a microphone input that features a combination ¼"/XLR jack for whichever kind of microphone connection you have.
Bass and treble tone controls allowed us to adjust the sound for clarity, and we were pleasantly surprised at how loud and clear the lightweight 30-watt powered speaker played.
Everything you need to party
For our test drive, we streamed a music track from a karaoke website to the Bluetooth input. Then we connected a microphone and sang along, reading the lyrics from the iPad screen. Add a mic stand, speaker stand, and an iPad holder, and you'd have a complete party system.
Totally portable
This PA package performed excellently, combining ease of use with good vocal fidelity. You could carry it around and play music streaming from your Bluetooth enabled phone like it was a boombox, but the 10-pound weight would make it a little awkward after a few minutes. Rolling it around on a kid's little red wagon, however, could be very cool.
The 30-watt Expedition Express comes with a dynamic microphone and battery charger, so you get everything you need to start rocking right out of the box. The Express can play music for up to 8 hours before its battery needs recharging.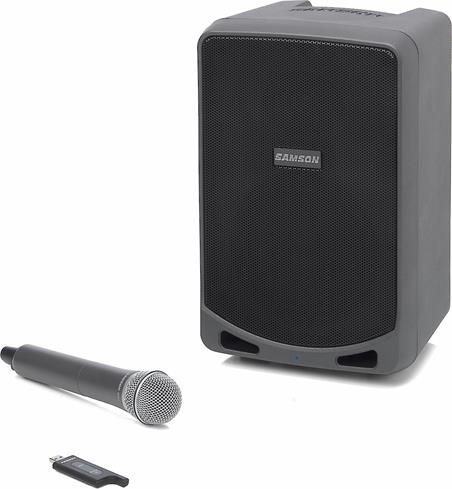 Expedition XP106w with wireless microphone
The Expedition XP106w sports a 100-watt amplifier, so it can do service in larger rooms, auditoriums, and even outside.
The XP106w comes with a wireless microphone and receiver — just plug the receiver into the wireless USB input channel and you're set for vocals. The battery is good for up to 20 hours of play between charges.
The XP106w has a sound contour switch for when you're broadcasting mainly speech or music. There are four input channels in all — the other three are an XLR/¼" input for another microphone or a line-level instrument, a ¼"/1/8" for either an instrument or an MP3 player, and a Bluetooth channel for wireless streaming.
In conclusion
Each of these Samson powered speakers have a built-in handle for easy transport and a speaker stand mounting socket so you can elevate one for better sound coverage. Any one of these compact portable PA systems will work great for amplifying speech and music in a classroom, dance studio, business meeting, coffeehouse, sidewalk, or just for having some loud fun with your family and friends.