Samsung DA-E750 powered speaker system review
A singular solution for digital music
Heads up!
Welcome to this article from the Crutchfield archives. Have fun reading it, but be aware that the information may be outdated and links may be broken.
A feast for the eyes
I've reviewed quite a few high-end powered speaker systems, but nothing quite like the Samsung DA-E750. First off, it's the system that looks — and feels — most like an audio component. The E750 has a solid feel to it, and even has pointed rubberized feet to minimize vibration.
It's a very handsome unit. The cabinet has a rich, polished wood finish, and the shining metal speaker bezels provide dramatic decorative accents.
And the raised dome above the vacuum tubes adds to the visuals. When the tubes warm up, there's a soft, orange glow that's visible even when you look at the unit straight on.
Versatile connection options
One thing I liked about the E750 was how many different ways I could use it. Sometimes with powered speaker systems there are compatibility issues. A built-in iPod® dock doesn't help much if you have an Android™ phone. And if your computer uses iTunes®, a non-AirPlay® system won't let you take advantage of all the features iTunes offers.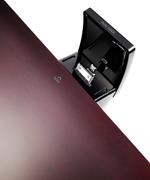 The retractable dock accomodates both iPhones and Galaxy S smartphones
Not so the DA-E750. First, its dock was compatible with both Apple devices and Samsung Android phones. So I could dock an iPod classic®, iPod touch®, iPhone®, or iPad®;. Or I could dock a Galaxy S™ smartphone.
I also had the option of connecting just about any portable with a headphone jack to the unit via its stereo minijack input. Or I could use the E750's USB port to plug in a flash drive filled with tunes.
And if I chose to go wireless, I could pretty much use any type of wireless portable player. I could connect via Wi-Fi®, Bluetooth®, or Apple AirPlay.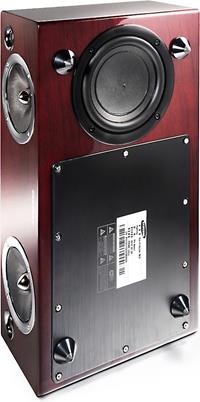 You might not see the down-firing sub, but you'll know it's there.
What about the sound?
As I mentioned earlier, the E750 has the appearance and feel of a premium high-performance audio system. And when it comes to sound, it delivers on that promise.
The system features two midrange drivers and two tweeters. It also has a down-firing sub that really does the job. With 100 watts total system power, the E750 had no trouble driving those speakers, either.
I cycled through a wide playlist of audition tracks, which included bluegrass, classical, Celtic, classic rock, funk, hip hop, current Top 40, techno, and jazz.
The thing that immediately struck me was the presence of the bass. That down-firing sub delivered the low tones with real authority. I had the system set up on my kitchen counter, and when I put my hand on the counter's surface, I could feel it vibrate (and that was even during a Vivaldi selection). It's not to say that everything sounded like it had thumping bass. However the low end was presented in the mix, that's how the E750 played it — accurately and cleanly.
For a classical orchestra, the bass was subtle and conveyed a sense of depth. For rap, it was hard-hitting thumps. For jazz, it was reverberant stand-up bass, and so on. Always appropriate to the music, but always present.
The sound field the E750 put out was quite spacious. This is a system that can easily fill a room with sound – and sound good doing it, too. One of my selections was a psychedelic track from the 1960s which featured the lead guitar bouncing back and forth between the channels. Although the speakers were only about 16 inches apart, I could hear the separation, and the guitar did indeed seem to change location as it moved back and forth.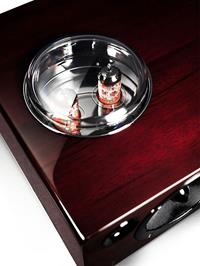 The vacuum tube preamp section features a built-in Class D amplifier
The warming effect of the tubes
Although the system reproduced my music with a great deal of fidelity, it did color the sound somewhat. The tube preamps gave everything a slightly warm and smooth sound. This was especially effective in the acoustic selections, such as singer/songwriters with guitars, classical music, bluegrass bands, and authentic world music ensembles.
But that warmth didn't take away much from the electronic genres. Rap tracks still sounded ultra-crisp, pop tunes crackled, and Pete Townshend's windmilled power chords lost none of their intensity.
Bottom Line
I evaluated the simpler version of this unit, the Samsung DA-E670. In my review of that piece, I said it would be a great choice as the main audio system for a loft apartment. I think the DA-E750 goes even further. It can play music from just about any source you have — wired or wireless. And the accuracy and detail of the sound ensures you will hear a difference between your low-res and high-res digital audio files. If you're ready to make the move into high-end audio, and the majority of your music is digital, the Samsung DA-E750 powered speaker system is worthy of your consideration.