Security camera installation tips
How to set up your own surveillance system
Heads up!
Welcome to this article from the Crutchfield archives. Have fun reading it, but be aware that the information may be outdated and links may be broken.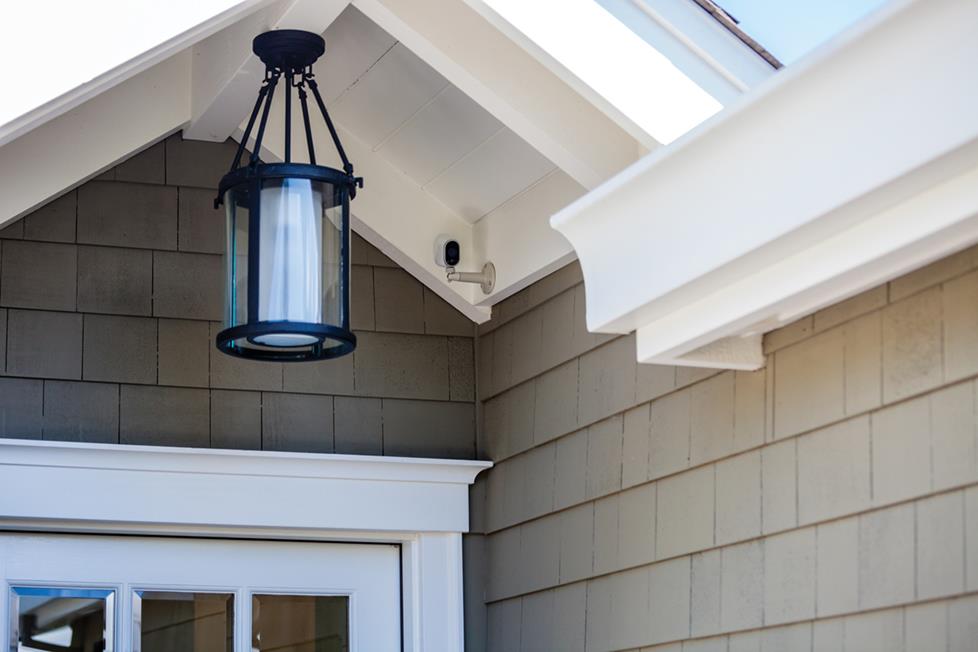 Save money by installing your own surveillance system. These tips will help you get it done right the first time.
You want to make sure your family, friends, employees, and property are safe. A good surveillance system helps.
This article offers handy DIY tips and tricks from our experienced installers, and gives you an idea of how products like these work best:
The easiest way to get started is with an all-in-one security system like this Spyclops 8x8 system. It includes eight cameras, a network video recorder, and plenty of cable.
A wireless option like the popular Nest Cam lets you keep an eye on your home without drilling holes and running cables.
If you need help choosing a camera, read the Security camera buying guide. Otherwise, let's get started!
Plan ahead
Installing a security system is something you want to do right the first time. You can make small adjustments in placement and monitoring, or add more cameras later. But you don't want to find out your camera has a bad viewing angle after you've already drilled holes in several walls.
Don't skimp on the number of cameras, length of cable, or megabytes of storage — you will need more than you think.
"Sometimes you don't notice something's missing or damaged for a couple of days," says Crutchfield A/V designer Norm. "So you want to be able to go back and look."
Having enough storage — via a digital video recorder or a cloud-based service — gives you that flexibility.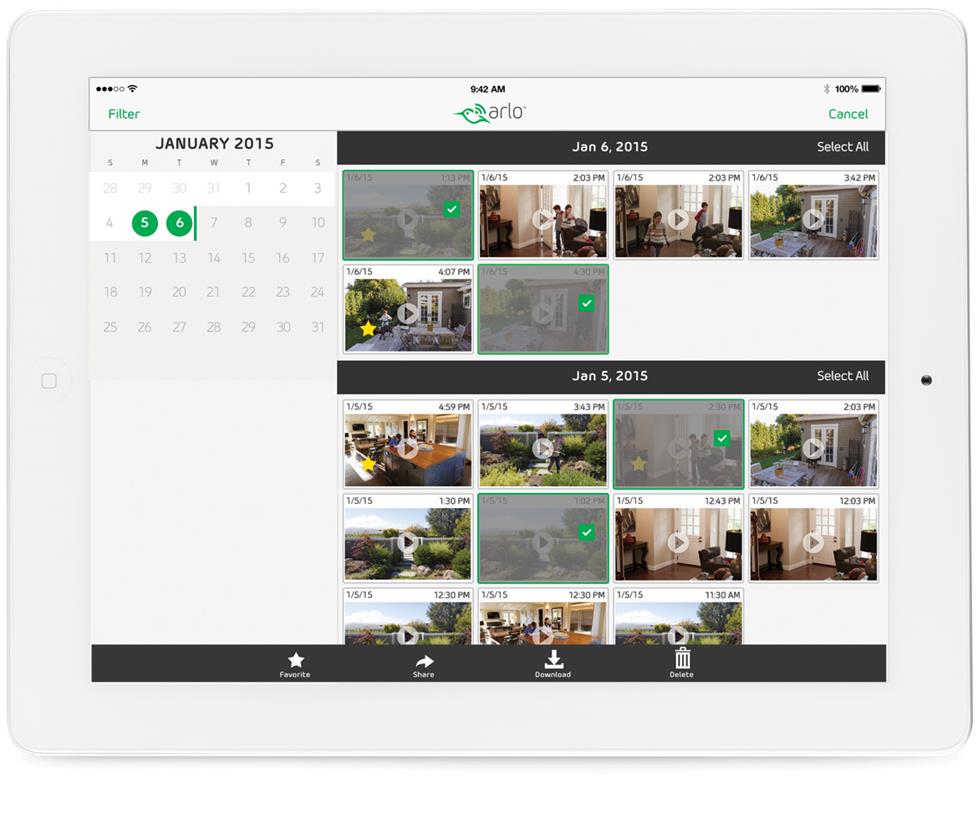 Make sure you have plenty of hard drive or cloud-based storage, so you can go back and review past footage.
Get close-up views of all entry points on the ground floor
The ground floor of your residence is the most vulnerable, so you'll want to buy enough cameras to cover each entry point, at bare minimum.
"Think of every entrance," says Norm. "The garage and basement doors count."
It can be tempting to try to cover a door and a couple of windows with one camera. But a distant view robs the image of detail, and detail is crucial when you're trying to figure out exactly who's at your door.
Norm — an experienced security system installer — recommends that you double-cover the front door.
"I suggest two cameras – one above the door looking down so you can see faces, and one with a longer view so you can see what that person is doing."
Also, invest in night vision. Night-time is obviously when you're most vulnerable. Make sure you know how far away your camera can see in the dark.
Power affects placement
Even wireless cameras require a power source. Battery-powered cameras, like Rings's Stick Up Cam, can be placed away from wall sockets, but something like the Nest Cam will have to be plugged into an existing outlet.
Cameras that draw power through an analog connection, Ethernet, or USB cable can be installed anywhere you are willing to run wires.
Cable types
Wireless cameras are very popular, but there are good reasons to go with a wired system. Cables create a more stable transmission system that does not depend upon your router.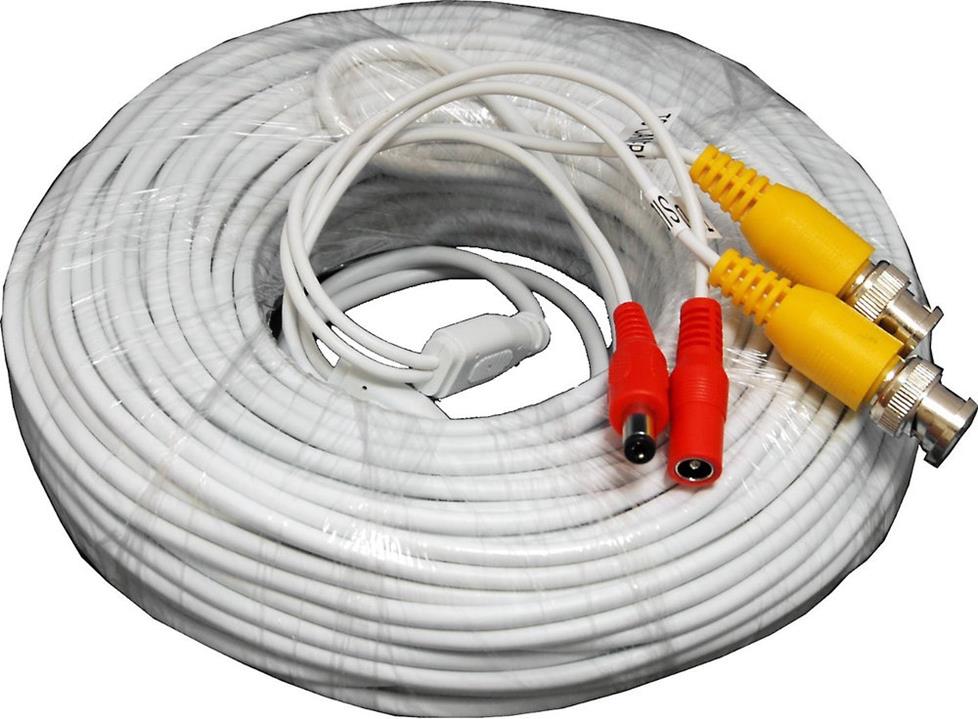 Analog cameras use coaxial cables with BNC "barrel" connectors on one end. One lead transmits signal, and the other handles power.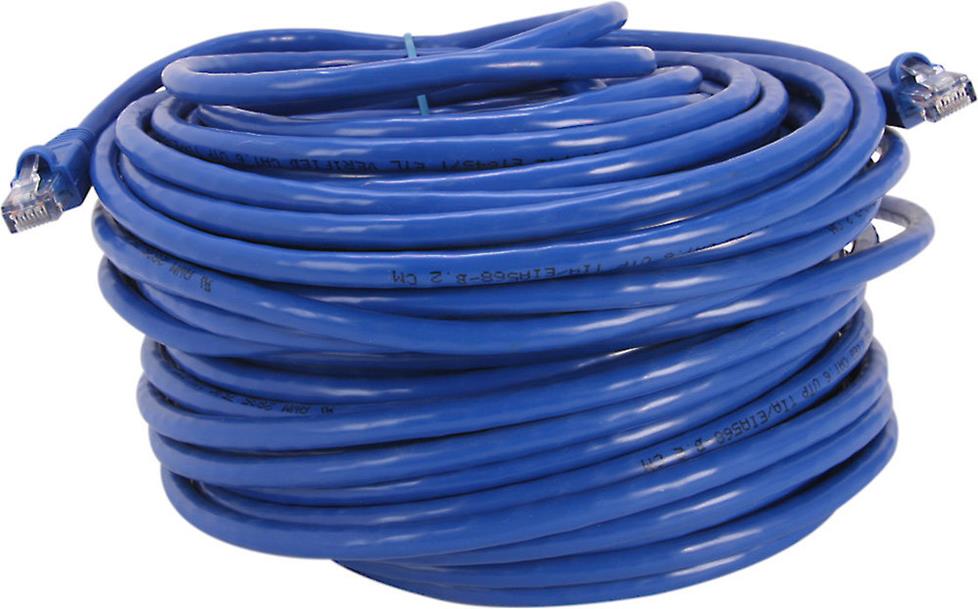 Digital cameras use Power over Ethernet (PoE) cables that transmit both signal and power.
With battery-operated cameras, proximity to the router must be considered.
"A weak Wi-Fi signal actually makes it expend more energy trying to get the signal back to the hub, which kills batteries faster," Norm advises.
If you need coverage somewhere on the fringes, consider upgrading your home network.
Mounting your cameras
Many indoor cameras are designed to simply sit on a shelf or tabletop, so mounting is not a labor-intensive process. Others, including most outdoor cameras, require some more permanent mounting.
A dome camera like the Metra Spyclops Mini Dome Camera generally hangs from the ceiling. You'll need to mount a round base plate with screws — making sure you've drilled a hole and routed cable first — then make your connections and attach the camera to the plate.
Bullet cameras tend to come with a baseplate that connects to a wall or ceiling. The base plate usually has an "elbow" that allows you to point the camera higher or lower. In some cases, there's also a swivel that lets you rotate the entire camera in a horizontal arc, so you have the ability to make fine adjustments in your coverage.
Placing your digital video recorder
Most kits include 60 feet of cable for each camera, which may not be enough. If you can find a central location for your DVR, you may be able to avoid purchasing additional wire.
Many systems use a wireless network video recorder (NVR) as a hub (example: Spyclops SPY-NVR4720W Wireless Camera System). While there may not be wires to run, a central location will still help ensure smooth, glitch-free video feeds from the wireless cameras.
Since the DVR usually provides power to the individual cameras as well, Norm recommends connecting it to an uninterruptable power supply (UPS), which is essentially a super-secure battery. When the power goes out — by accident or by design — your system stays up and running.
So you've got to drill a hole (or three)
If you feel confident in your DIY abilities, you may not mind — or may even enjoy — running your own wires. Here are a few tips to keep in mind as you work:
Always inspect as much as possible before making a hole. Try to detect which way joists run and where empty wall space between studs might be.
By inspecting from your crawlspace or attic, you can identify which wall locations do not carry water pipes and electrical wires.
You can safely run security system cable in the same bundle as audio/video, phone, data, and other low-voltage wire.
Drill your holes in the center of each stud or joist. The diameter of the holes shouldn't exceed 40% of the stud's width. A standard 2" x 4" stud is actually about 3.5" wide, so they shouldn't be more than 1-3/8" in diameter.
Insulation is most commonly found on exterior walls, but you might run into it when fishing wire through interior walls too. Try not to fish the wire through the insulation, but around it.
Be sure to shut off power in the area where you'll be drilling and use caution so you don't plunge your bit into a pipe or electrical conduit.
Make sure you know where your main water shut-off valve is located, just in case you do puncture a water pipe.
For a more comprehensive overview, read our In-wall wiring guide for home A/V.
Setup Tips
Once you have everything installed, you'll still need to spend some time configuring the system to your needs. Most systems now offer remote viewing through your smartphone, tablet, or a webpage, so you can monitor and respond even when you're away.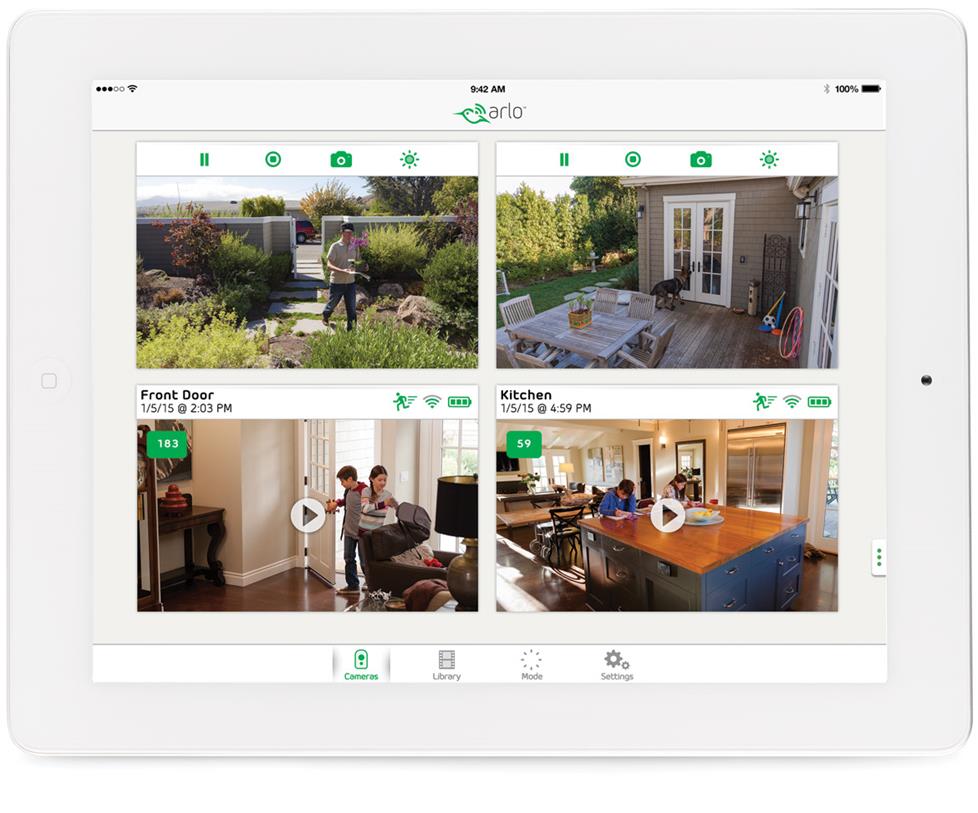 Remote viewing apps require you to set up a static IP address, which may require a little help from Tech Support.
For remote viewing apps, you have to set up something called a static IP address.
"It's simple to do if you have a basic understanding of networking principles," says Jason Puckett from Crutchfield's Tech Support department. "But if you don't, it can be daunting."
Don't be afraid to lean on tech support (Crutchfield's or the manufacturer's), so this process doesn't become a time-consuming headache.
If you're setting up motion alerts, make sure the camera is only looking at the important area – you'll get false alarms from tree limbs waving in the breeze and cars driving by unless you use the masking feature to make it "ignore" other areas of the image.
Most other questions you have will be answered by reading the manual that comes with your cameras.
Get a little help when you need it
If you want help with all or part of your installation, we can do that. Call our A/V Design group at 1-800-555-9407 for free planning help. If you need a helping hand with the installation, check out these options.