Sennheiser HD380 Pro headphones
Clean, accurate sound for pro and amateur listening
Heads up!
Welcome to this article from the Crutchfield archives. Have fun reading it, but be aware that the information may be outdated and links may be broken.
I have to admit I'm a little skeptical whenever I see the word "Pro" attached to a product (not as skeptical as I am by the words "collector's item" but we'll let that pass for now). After reviewing headphones for a few years, I've come to respect the Sennheiser brand, so I know it's not a term they apply lightly.
And all in all, after using the Sennheiser HD380 Pro headphones for a while, it's an accurate description of what these 'phones can do.
Clear, transparent sound for pro use
Since they were "pro" headphones, I first tried them out in a pro setting — my home studio (OK, semi-pro setting). The long coil cord is a definite plus in studio situations. I tend to move around a lot when I'm wearing cans, and the cord stretched when it needed to and coiled tightly to keep out of the way when I moved in close.
Coiled cords are nothing new. What mattered was the sound. And the sound was exactly what I expected from a studio pair of headphones. It was clear, dry, and completely unadorned. And it was amazingly accurate. When I listened to the voice tracks I recorded for my podcasts, I heard exactly what the mic picked up. Even the blemishes.
I make sure to take any intakes of breath away from the mic. And through my normal monitoring headphones, that's sufficient to make them inaudible. With the HD380 Pros, I heard them.
I use a wind screen to minimize plosives. And according to my regular headphones, it does a good job. With the HD380 Pros, I could hear all the juiciness the screen didn't filter.
I record close to the mic to compensate for a less-than-ideal recording space. And through my monitoring headphones, it seems to work. But with the HD380 Pros, I heard the ambient sound bouncing around the room in the background.
In other words, I heard everything, which told me what I needed to do to adjust the sound the way I wanted it. Headphones that color the sound can hide the blemishes — which you try to fix in the mixdown. The HD380 Pros were exactly what I needed to do the job at hand.
Pro, indeed!
Clean, accurate sound for after-hours use
Because the HD380 Pros were so accurate, I was a little worried about how they would do with my recorded music. Would they show the shortcomings of some of my digital sources? Well, the answer was yes and no.
The NuForce Icon 2 DAC — an essential part of my office audio system.
The Icon 2 DAC and headphone amp — my favorite accessory.
Most of my casual listening was done with my standard office setup. Most of my digital music files are in Apple Lossless format, ripped from CDs, so they have a fair amount of detail. I use a NuForce Icon 2 digital-to-analog converter (DAC) with a built-in headphone amp. Via a USB connection, the Icon 2 bypasses my computer's sound card and uses its own high-performance DAC to create the analog signal for the headphones.
The built-in amp gives the headphones enough juice so their drivers can operate efficiently. So I get a superior signal feeding into the headphones with enough power to reproduce it accurately — if the headphones are up to it.
Does well with DAC...
The HD380 Pros were indeed up to it. I heard plenty of detail in my music, something that was true across all genres. Ensembles — especially acoustic ones — tended to sound a little dry compared to other headphones, but that was fine.
The headphones have a frequency response of 8-27,000 Hz. That wide range was why I heard all the disturbing room transients in my voice tracks. But it also meant I heard some really deep bass. And for my electronic and hiphop tracks, that really made a positive difference.
It's hard to describe, but the bass seemed fuller, and more reverbrerant listening through the HD380 Pros. Over all, the headphones performed very well, and I experienced many long hours of enjoyable listening.
...And also with portables
The HD380 Pro headphones have a stereo minijack with a quarter-inch adapter that screws on over top of it. For the studio and headphone amp auditions, I used the quarter-inch adapter. But since it had a minijack, I figured it was deisnged to work with a portable device — so into my iPod® classic it went.
Because the sound was so accurate, I could immediately hear a difference between a song played through my office setup, and the same song played through my iPod. The sound was softer around the edges, and the details a little blurred. That deep bass response was still there, but a lot of the reverb was missing. That isn't a knock against the headphones — just the inferior quality of the sound source. But it was a difference I could hear because the HD380 Pros were so accurate.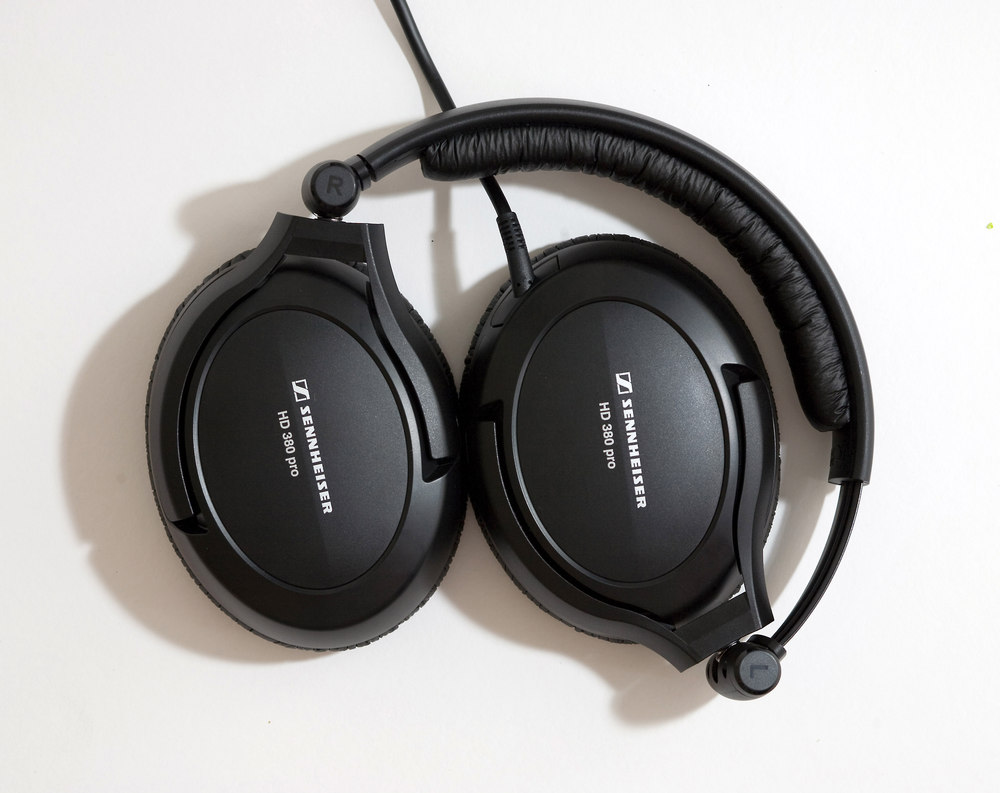 The earcups swivel for singel-ear monitoring, and fold flat for storage.
Comfort level: Pro
Although the HD380 Pros did fine with my iPod classic, it's not likely I'd use them for portable listening. The long coiled cord is somewhat heavy, and not really designed for jogging or other on-the-go listening situations. I would definitely use them for studio or in-home listening.
The earcups created a tight yet comfortable seal around my ears, significantly reducing ambient noise. The headphones are solidly built, but not really that heavy. With the generous padding, I could wear them for hours without discomfort. The earcups swivel, so you can listen with just one, DJ-style.
Good choice for serious listening or audio work
In conclusion, the name says it. The Sennheiser HD380 Pros were made for studio use. But they also did well for my amateur listening sessions, too! These headphones reproduce sound with a high degree of accuracy and no coloration. If you want to hear what your music really sounds like, I recommend trying the Sennheiser HD 380 Pro headphones.