Sennheiser IE 300 review
Hands-on with Sennheiser's new wired in-ear monitor headphones
Quick warning: when you listen to the Sennheiser IE 300 wired in-ear headphones, there may be moments when it's hard to get work done. Well, at least that was my experience.
These premium earbuds fit neatly and deliver even sound. And there were times when that sound practically begged me to pause, lean back in my chair, and just listen. (But please don't tell my editors.)
Designed for versatility
Sennheiser designed the IE 300s to work with a portable music player — and even a phone or laptop. A detachable cable snaps into each earbud using an MMCX connection and plugs into to your gear with a standard 3.5mm stereo miniplug.
To be clear, these are wired headphones that are purpose-built to deliver top-notch sound. So there's no in-line remote or microphone. If you're looking for great-sounding Bluetooth earbuds that you can pop in and also make or take phone calls, Sennheiser's Momentum True Wireless 2 earbuds have a similarly tuned sound signature.
But even those high-grade wireless 'phones can't match the level of audio performance here. And to hear the IE 300s at their absolute best, I suggest using a separate headphone amp.
Some suggested headphone amp/DAC combos
You can check out my full list of the "best headphone amps for 2021," but I have two go-to recommendations for powering earbuds. If you want something compact and portable, the AudioQuest DragonFly plug-in USB DAC/amps work really well. I actually used my DragonFly Cobalt with the IE 300s, and it made for an easy-to-grab high-end listening rig I could use with my laptop anywhere in the house.
If you don't move your listening area around a lot, the stationary iFi ZEN DAC desktop DAC/amp offers a little more control and power.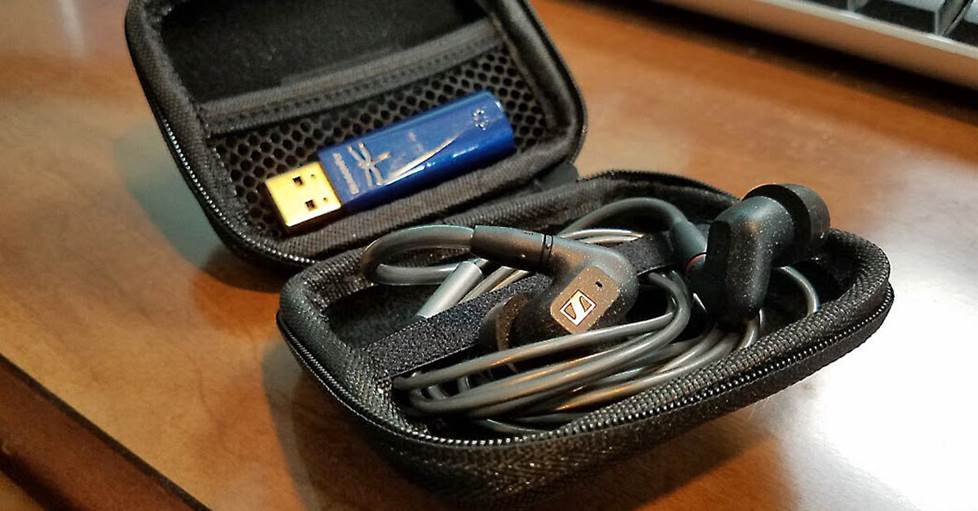 My AudioQuest DragonFly Cobalt fit right into the case that came with the IE 300s.
Balanced, detailed sound
I credit the IE 300's smooth, effortless delivery to the single driver found in each earbud. That design can lead to more cohesiveness than multiple driver, multiple crossover earbuds. But I find the tradeoff is often less detail or distinction between frequencies. That's simply not the case here — the IE 300s sounded full, dynamic, and layered.
Sennheiser included their 7mm "extra wide band" (XWB) dynamic drivers, originally developed for their top-of-the-line IE 800 S in-ear monitors. These tiny full-range transducers are able to cover a wide frequency range with clarity. And they create a nicely sized, just-outside-the-head soundstage that you don't often get from in-ear headphones.
Smooth, yet detailed highs
I've spoken to Sennheiser engineers in the past, and I know they are particularly concerned with avoiding high-end harshness — even frequencies above the range of human hearing. As they've explained to me, those super-high frequencies can create gnarly resonances that creep into what we hear. So they've added new damping materials inside each driver and a dual "chamber within a chamber" behind them to control airflow.
As a result, I heard plenty of high-end detail, but the treble never sounded grating or uncomfortable over a long period of time. That's one of those balancing acts that can have an effect on both sound and comfort. It doesn't always get a lot of attention, but when it's done this well, it really pays off.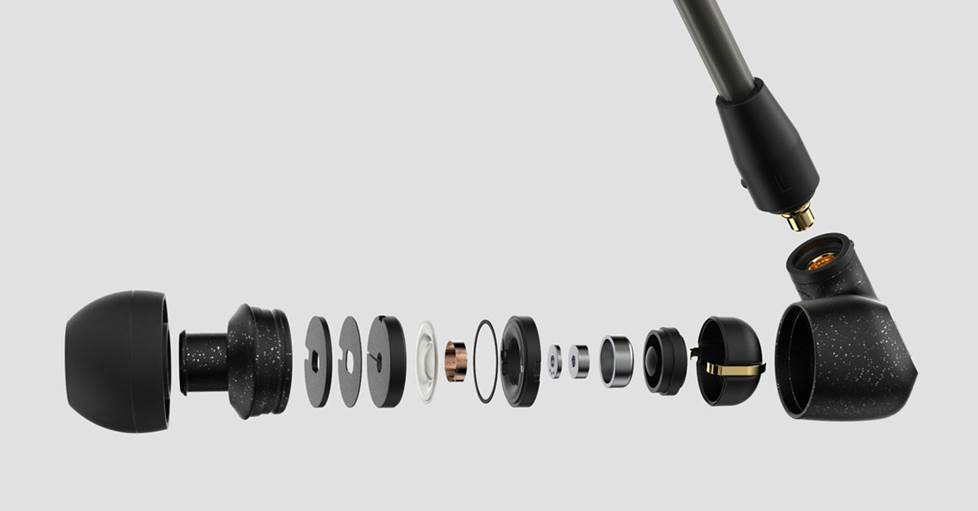 The IE 300s use an intricately designed series of filters and air chambers to curb unwanted resonances.
Fit and feel
The IE 300s come with six pairs of ear tips — three sizes of silicone tips, and three sizes of foam tips. For my ears, the largest foam tips squeezed right into place and didn't move. They expanded to create a noise-isolating seal that avoided in-ear pressure points — and aligned the drivers correctly with my ears.
IEM-style headphones wrap behind your ear — you've probably seen performers and musicians wear them onstage. If the earbuds themselves are too bulky or oddly shaped, I've noticed it can cause some serious strain. But Sennheiser has streamlined the design here, so the IE 300s contoured nicely to my ear.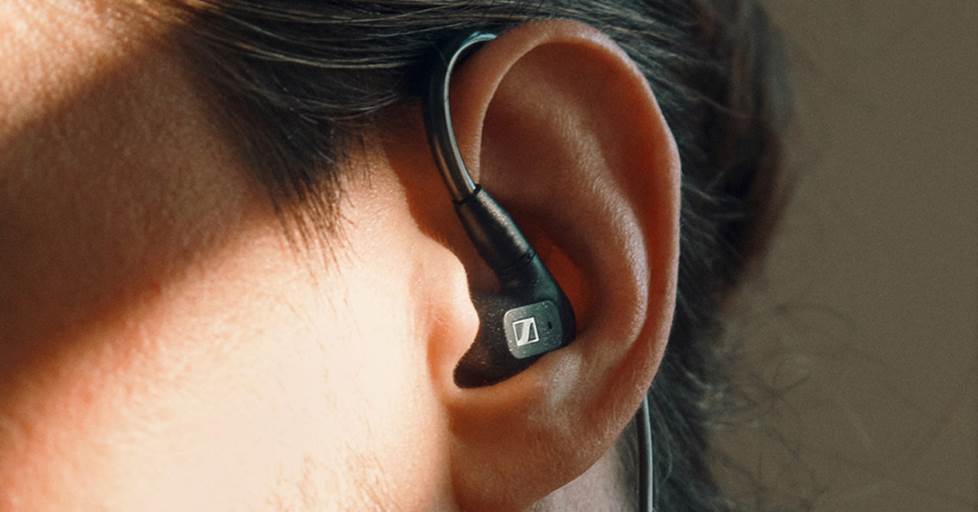 The earbud design routes the cord in such a way that I often forgot it was there. Not an easy task when the cable is competing with one's glasses for space!
My listening impressions
As I noted, these earbuds have a musical presentation that's best enjoyed when reclined — and sipping on a beverage of choice. For me, it was often the first morning cup of strong coffee, which opened my senses and allowed me to sink into the spacious soundstage. It isn't huge, but it is sizeable enough to showcase the pinpoint imaging.
Imaging and separation
In my home office, I have the iFi ZEN DAC and ZEN CAN stacked together as an amp/DAC combo. I keep the volume pretty low because I have headphones on a lot. But even at those lower levels, everything sounded distinct and like it was right where it should be. There was plenty of breathing room between instruments and vocals.
On the Qobuz music service, a 24-bit/192kHz high-res remix of The Band's 1970 album Stage Fright popped up recently. It sounded like it was tailor-made for these in-ear headphones. The title track especially put their smooth musicality on display. On "The Rumor," there's a particularly interesting mix of the three lead vocals, with each having its own distinct place in the presentation. In fact, I heard Levon Helm and some of the instruments to the side and even behind me.
Sound characteristics — bass, mids, and highs
Sennheiser says these are tuned for flat, accurate sound, but I found that they had a slight bass emphasis. Not a bad thing — I like some extra low-end when it's executed correctly. Hip-hop producer Madlib's latest instrumental tape, Sound Ancestors (CD-quality on Qobuz), features some bass knock for sure. But to appreciate the texture of the album, you need to hear the full breadth of the jazz and vocal samples he uses. The IE 300s deliver a quick, deep bass that doesn't overwhelm the other frequencies.
If forced to choose a "weakness," I could say that the mids are not as pronounced as the highs and bass. But I wouldn't call them recessed either. I found that vocals had a nice presence, percussion had bite, and the timbre altogether felt true and accurate.
Finally, I played Sturgill Simpson's Bluegrass version of "Railroad of Sin" from his Cuttin' Grass, Vol. 1 album (24-bit/96kHz on Qobuz). The biting twang of fiddle and banjo mixed with mandolin really put those smooth highs to the test. Especially juxtaposed with the thump of the upright bass. But the special drivers kept their cool, and I didn't hear any harshness. No high-end roll-off either. Instead each instrument came through distinctly and entirely in sync.
Product highlights
high-performance wired in-ear headphones (inspired by professional in-ear monitors)
specially designed extra wide-band (XWB) 7mm dynamic driver in each earbud
tuned for detailed, cohesive sound across a wide frequency range
lightweight, streamlined earbud housings for a comfortable fit
detachable 48" cable with 3.5mm stereo miniplug (gold-plated MMCX earpiece connectors)
we recommend a separate headphone amplifier or portable high-res music player for optimum sound quality
frequency response: 6-20,000Hz
sensitivity: 125 dB
impedance: 16 ohms
warranty: 2 years
Need more help? Contact us!
Have questions about how the Sennheiser IE 300 in-ear headphones compare to other earbuds? Contact us today.
Our expert Advisors know headphones inside and out. Your Advisor can send specific Crutchfield pages to your screen, saving you a lot of browsing time. You'll get a shopping cart loaded up with everything you need.
Free lifetime tech support is included with your Crutchfield purchase.