Eric G's 2006 Pontiac Grand Prix GXP
Taking the time to get the sound just right
We could tell from the first minute we saw the Custom Car Showroom submission and accompanying photos from Eric G. that he's a big believer in do-it-yourself car audio. The 2006 Pontiac Grand Prix GXP he sports around Williamsville, NY, is a versatile mid-size sedan with some cool factory features, including a Heads Up display he really wanted to keep.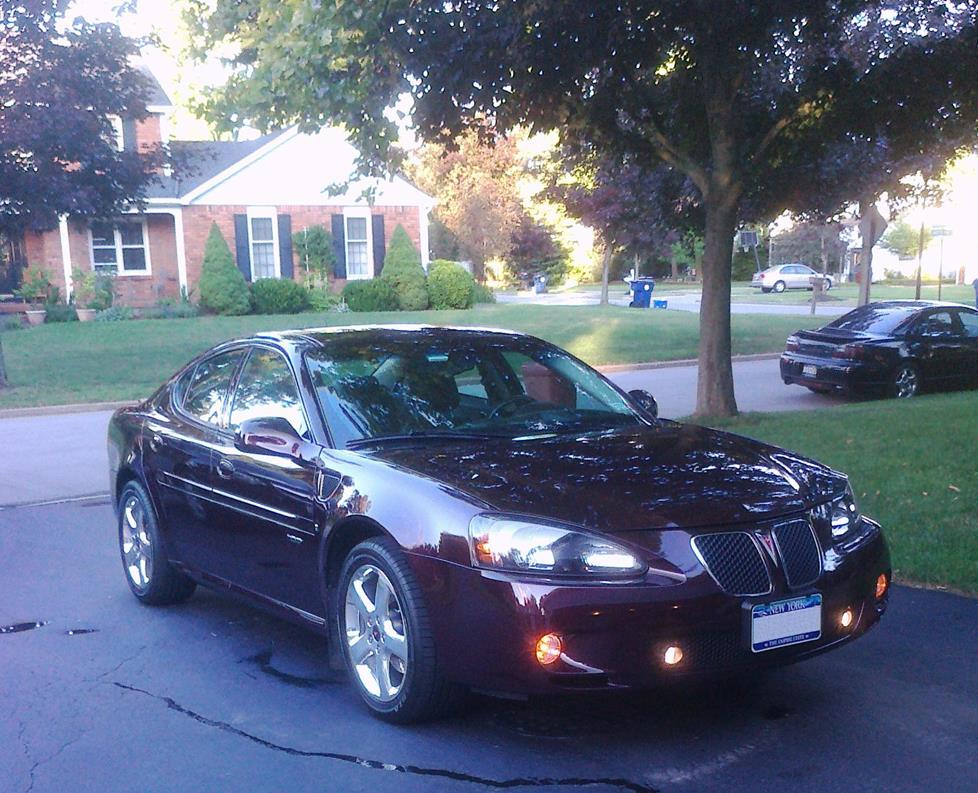 A DIY-er on a mission
However, the stock Monsoon sound system really bummed him out so he tried a number of paths to improve things, namely by integrating some older gear with new purchases from Crutchfield. To really hammer home his dedication, he let us know that this process has taken him approximately three years in total so far.
Items installed (early rounds):
MTX re-Q signal processor
A pair of Orion XTR-Pro 10" subs in a Q-Logic enclosure
Orion HCCA-225 amplifier
JL Audio C2-650 Evolution C2 Series 6-1/2"/6-3/4" component speaker system
Alpine PXE-H660 IMPRINT sound processor
If at first you don't succeed...
So, how did Eric feel about his Pontiac Grand Prix GXP's sound system at first? "Originally I wanted to try and save the OEM head unit due its integration into the Grand Prix's Heads Up display. My big problems with the stock GM Monsoon system were one, the front sound stage speakers were very harsh and two, bass was, well lets just say okay at lower listening levels."
Eric tried a couple of solutions retaining the factory receiver, starting with the re-Q, subs, and Orion amplifier. "This actually worked really well to my surprise, but I still had the harshness problem in the front sound stage," he tells us. When it came time for new speakers, he turned to JL Audio. "I have always been a big fan of JL Audio speakers and I loved the ZR series component set I had in my old Grand Prix."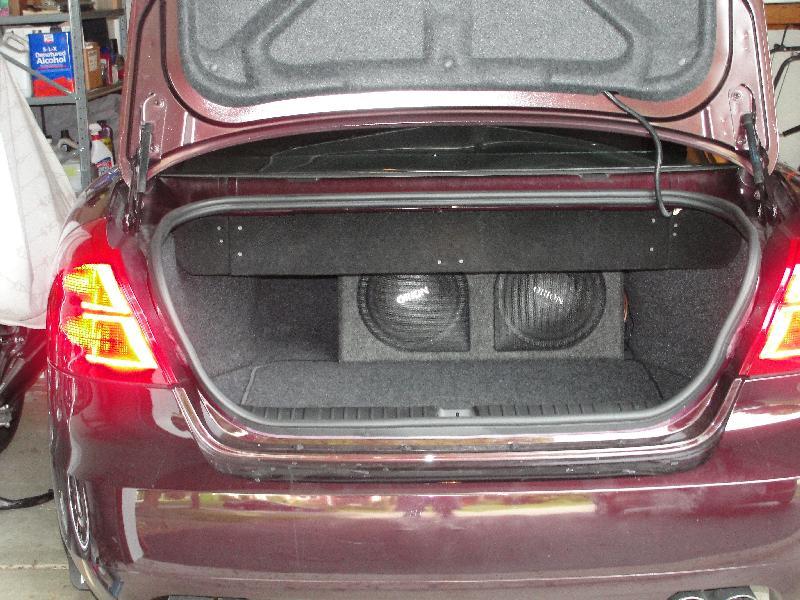 Eric's Orion 10" subs in their trunk enclosure, still booming after several installations.

So he incorporated the JL Audio component system, but ran into an issue with the factory Monsoon amp, which is set up to work with the factory midbass drivers, which are wired at 2 ohms. Since the JL Audio drivers are 4 ohms, Eric had to use the crossovers to run the JL Audio tweeters, and let the midbass drivers run wide open. The results were "improved highs, but less midbass and an overall unbalanced sound."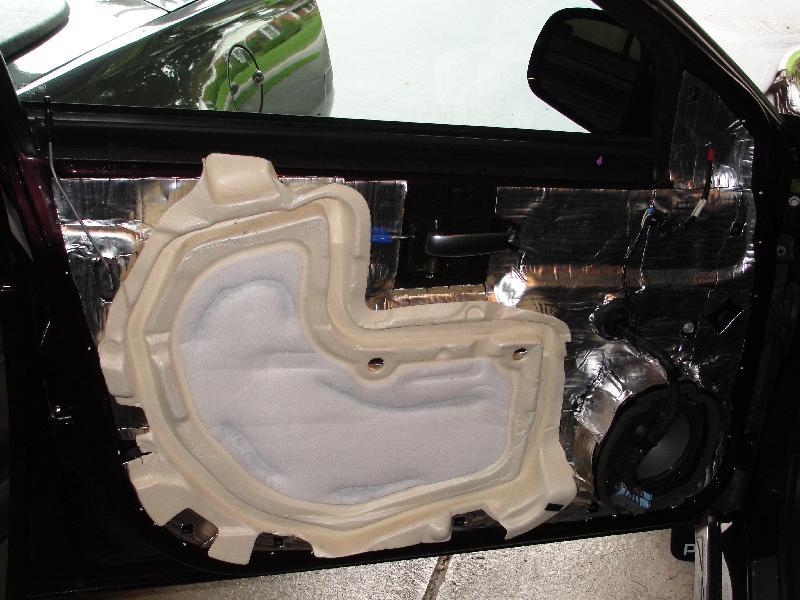 Eric's front door speaker installation in progress.

Enter the Alpine PXE-H660 sound processor. Eric spent a great deal of time trying to get the sound just right, as the factory head unit presented an "inherent loudness" problem, according to our do-it-yourselfer. "The really cool thing about the Alpine PXE-H660 was the time alignment, which gave an amazing sound stage. Fair results, but not as good as previous systems I had built. I just could not achieve balanced sound between low volume levels and high ones."
A touch of ingenuity
Eric tells us about how he was able to make adjustments without driving himself crazy. He used an electronic "breadboard" installation base which let him modify settings quickly without committing to a particular time-consuming setup involving soldered wires. With a breadboard and knowledge of electronics guiding him, Eric was able to work his way through many different settings on his original installation before coming to the conclusion that it wouldn't work without some different gear.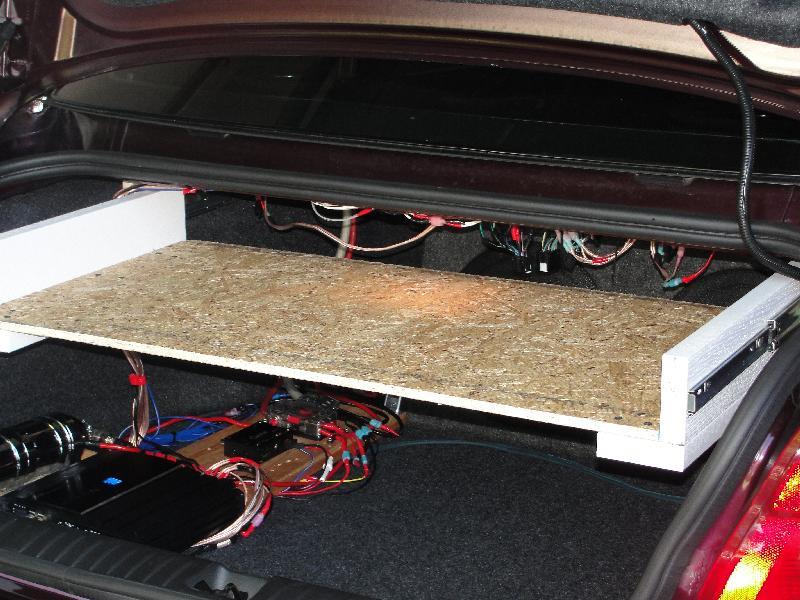 Another cool shortcut Eric used was a sliding board in the trunk for "mule car" installations that could easily be swapped out.

Most recent items installed:
Three years later
After a lengthy process, Eric finally "gave up on the whole 'keep the stock head unit thing' and finished the system off with a Pioneer AVH-P3400BH head unit which is nearly perfect." His one complaint about the Pioneer was the lack of power in its 2-volt line outputs, so he added the Audio Control Matrix Plus line driver, which upped the signal from the receiver to the amplifier without increasing the noise level.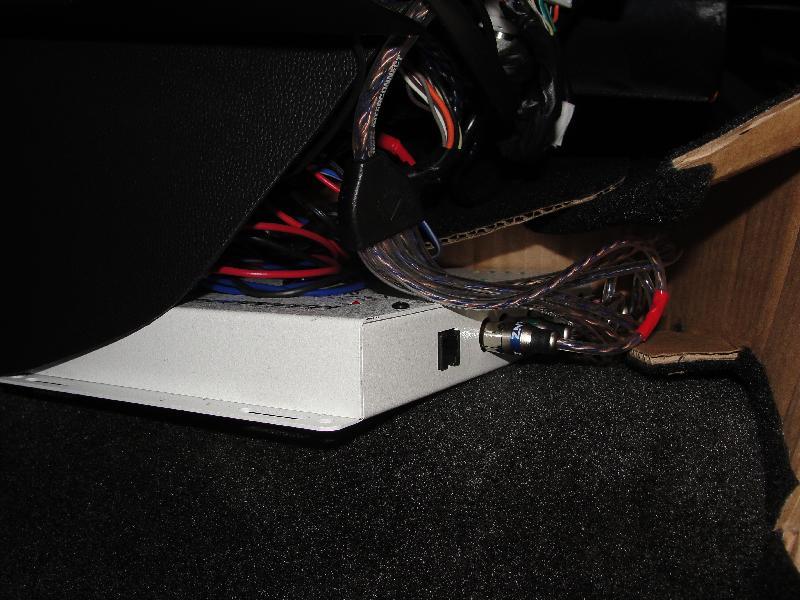 The Audio Control Matrix Plus line driver feeds Eric's amps the signal they deserve.
Eric's final installation still uses the subs and sub box from the early days, plus the midbass drivers only from the JL Audio C2 speakers up front. Now he's added two amplifiers — an Alpine and Hifonics — to the mix after ditching the old Orion amp, and he's put some vintage Polk Audio tweeters in the rear deck to increase the highs in the back of the car (Eric descirbes the Polk MM speakers as "great stuff"). He also swapped out the C2 tweeters up front for some ZR tweeters, also by JL Audio. Eric also kept the factory options in his Grand Prix GXP (besides the Monsoon system) by adding a Metra GMOS adapter and Axxess steering wheel control adapter.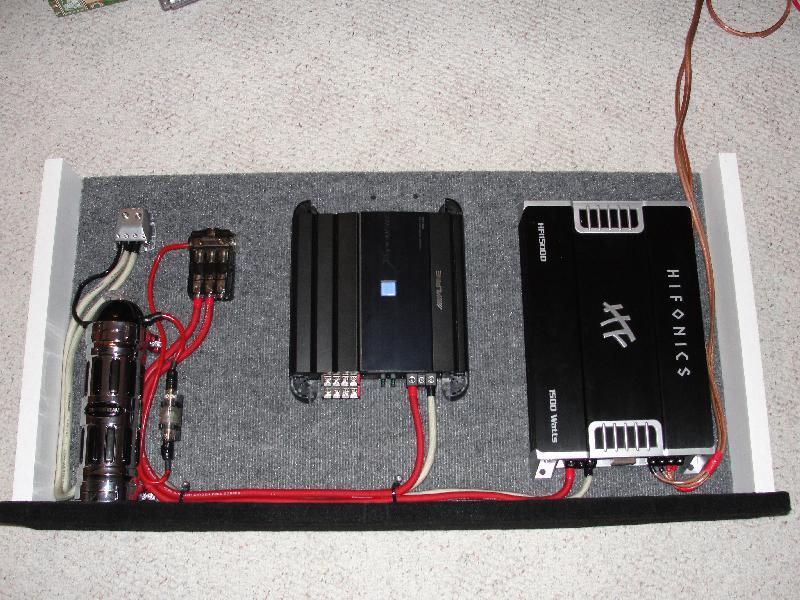 Eric's Alpine and Hifonics amps: Out of the vehicle and on the sliding board for testing.

Mission accomplished, for now
Eric tells us that he's "very pleased with the results. The sound is very clean and very balanced. I still have some cleanup work to do and am considering doing the full JL Audio ZR setup in the front doors." And so, as we at Crutchfield have learned over the years, a perfectionist's work is never truly done. Congrats on getting this far Eric, and we look forward to helping you in the future.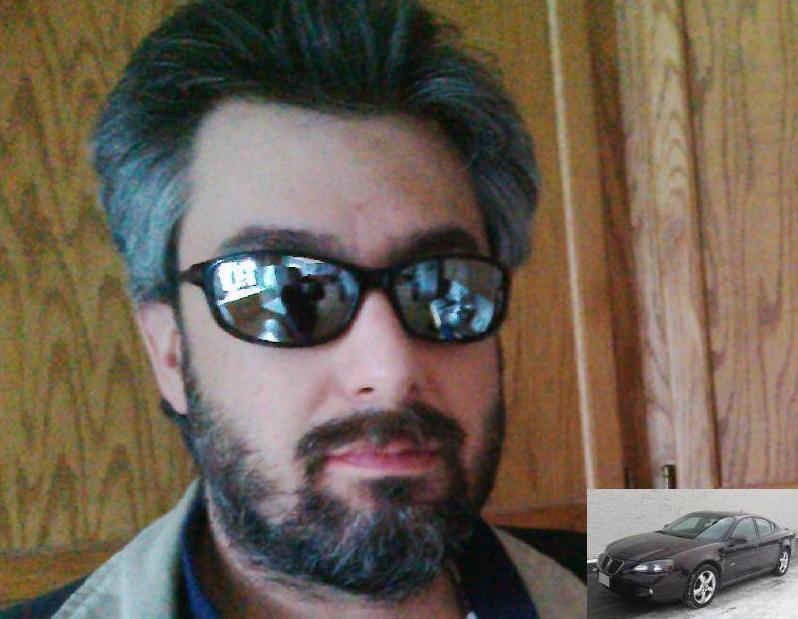 ---
Vehicles in the Custom Car Showroom are submitted by customers and fans, and edited by Crutchfield writing staff. You can find more of these articles on the Showroom main page.