Tracy K's 2003 Dodge Dakota Club Cab
Beautifully hidden sound
Tracy K. from Inver Grove Heights, MN, has always wanted more from his car stereos. "I am never satisfied with factory sound systems," he tells us. But just as importantly, he wanted something stealthy for his 2003 Dodge Daktoa Club Cab. "I wanted all aspects of the system to be visibly concealed from view — to the best extent possible — so as not to attract would-be thieves." He looked to Crutchfield to help him outfit his vehicle with something that could fill his ears with great sound, without filling prying eyes with some bad ideas.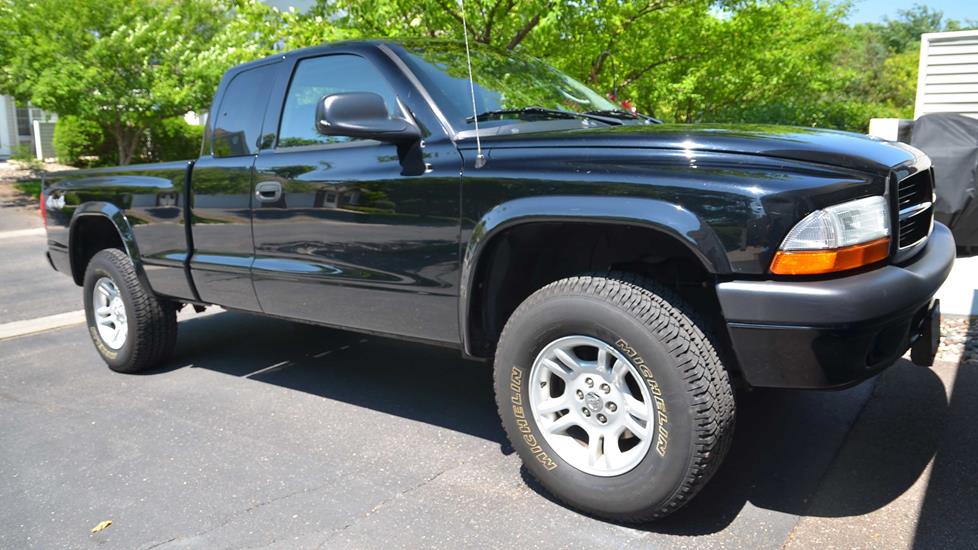 Items installed:
It's all in how it fits
Tracy picked his new gear based on how well it fit and could be hidden from view, and then provided us with some valuable feedback on how everything fell into place within his Dodge Dakota: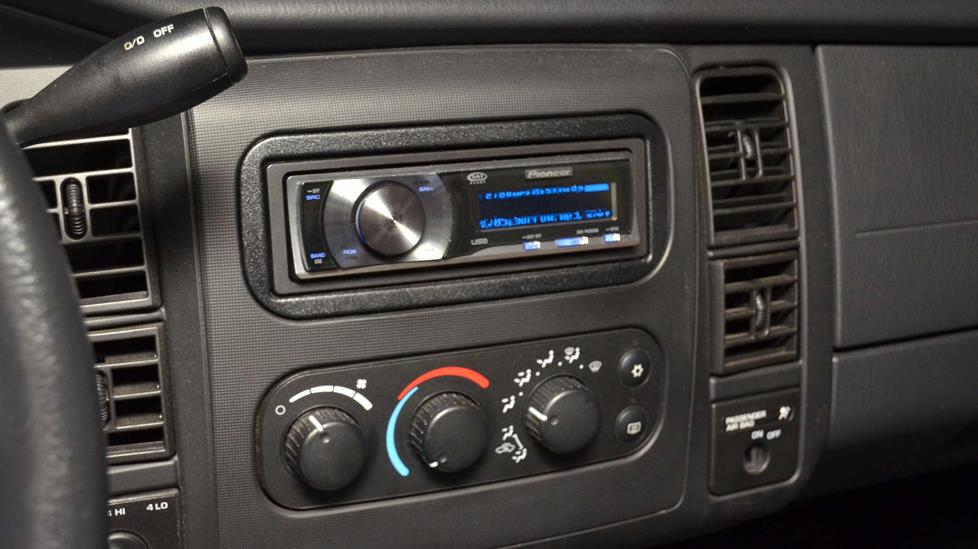 "The Pioneer head unit fit perfect with Crutchfield's adapter and wiring harness. Installing the wiring behind the head unit was the most difficult part of the installation, but that goes with the territory."
The Pioneer's fold-down, detachable face makes it a great solution for Tracy's security concerns.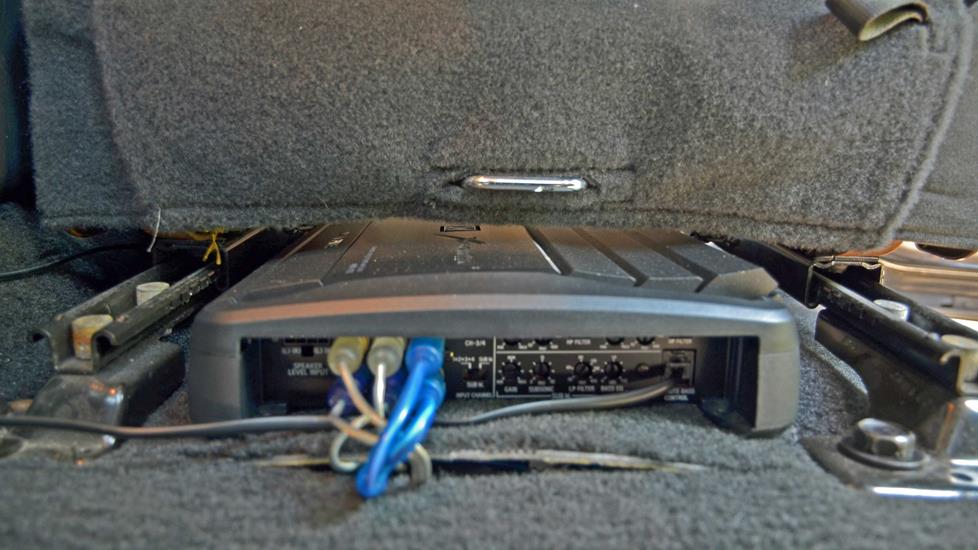 "The Alpine amp fits nicely under passenger seat with room to spare. I used 4-gauge wiring per Crutchfield's recommendation."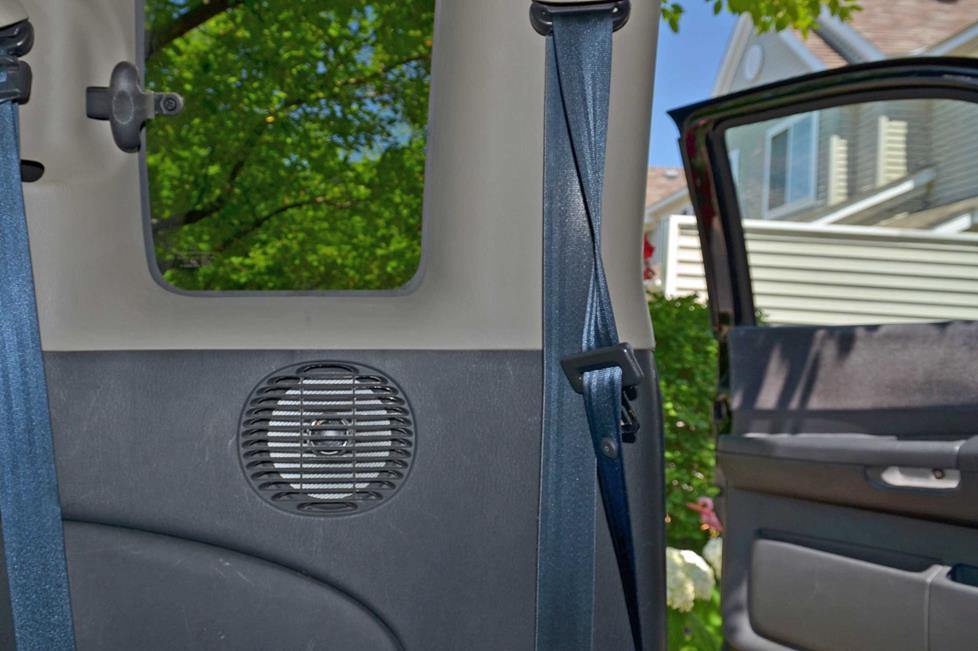 The Polk Audio db650 mounted in the rear side panel.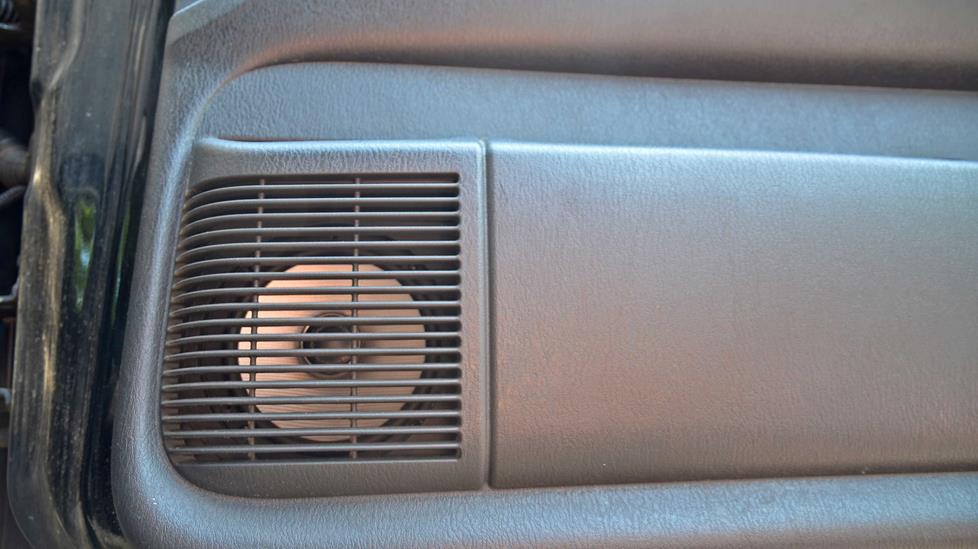 Tracy's Polk Audio front door speakers fit after he removed the factory bracket.
Tracy tells us: "The Polk Audio db650s in the rear side panel were a perfect fit. The front door speakers supposedly did not fit per Crutchfield's guide, but if you take out the factory speaker bracket, they fit just fine."
Bass that's heard and felt rather than seen
The big benefit of a factory-fit subwoofer enclosure is that it lets you add important low end without taking up valuable space, which is especially important in a truck. Tracy went with the Q Customs by Q-Logic sub enclosure specially designed to go under the rear driver's side seat of his Dakota Club Cab. "It fits very nicely," Tracy tells us, and as you can see it hides out of the way when the seat is down.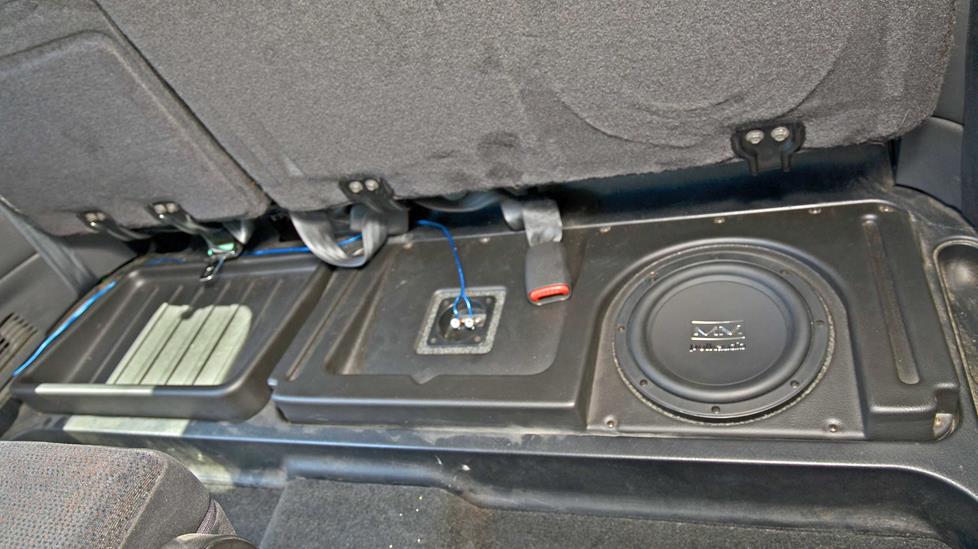 Q-Logic sub enclosure with the Polk Audio 8" sub installed under the driver's side rear seat. "The accessory tray on the left was nice so both seat cushions stay at the same height."
One minor issue with the Polk Audio Mobile Monitor 8" sub is that it was a tight fit within the enclosure, but Tracy tells us that there are no problems with the sound. However, he does inform us that he wishes he had added some Dynamat throughout the cab to reduce road noise. In order to hear his music over the din at highway speeds, he has to crank up his system, which does cause some distortion on his speakers and sub.
Ready for the road
Tracy seems to be pretty happy with his installation, but there's always room for improvement: "It would be nice to try a component set of speakers in the front and drill bigger holes in the rear side panels to accommodate 6"x9" speakers. Also, MTX makes a vehicle-specific sub enclosure that will hold two 10" subs. That would be neat to try.
---
Vehicles in the Custom Car Showroom are submitted by customers and fans, and edited by Crutchfield writing staff. You can find more of these articles on the Showroom main page.