Tyler R's 2007 Subaru Impreza
Great sound and trunk space
Tyler R. from Standish, ME, thought it was very important to have an abundance of trunk space in his 2007 Subaru Impreza. But he also wanted powerful sound, which brought him to Crutchfield. First he pulled out the floor of his trunk, then designed a fiberglass enclosure to hold two 12" subwoofers, an amplifier, and a capacitor that would fit in the space.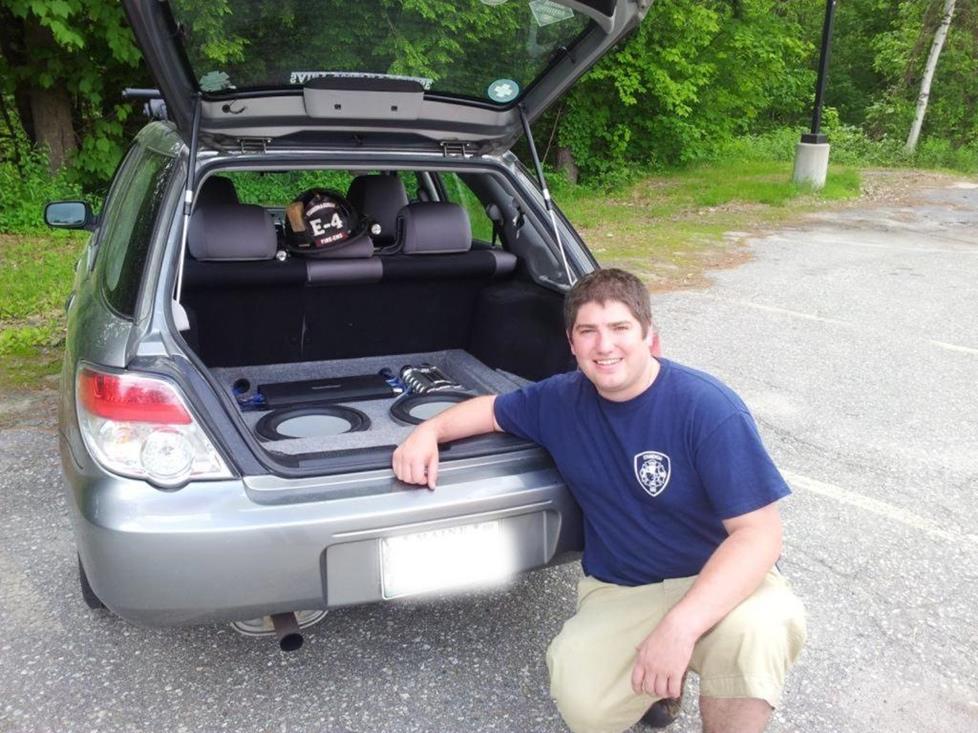 Tyler and his 2007 Subaru Impreza with a boomin' new system that fits in his trunk without sacrificing valuable real estate.
"I enjoy the challenge of rewiring and upgrading my car," says Tyler, and he had a big job in front of him, with two pairs of speakers, two subs, an amp, a capacitor, and a portable GPS unit to install. He's always been a Kenwood fan (they've "never let me down," he says), so he went with Kenwood speakers for the front and rear doors, plus a pair Kenwood 12" shallow-mount subs that would fit into his custom box, but still allow for plenty of accurate bass.
Items installed:
Adding the subs
Tyler built the fiberglass sub box to fit perfectly in the floor of his Impreza's trunk and sit flush with the seats when folded down. He used some speaker accessories from Crutchfield, like the box speaker terminals and polyester fiber stuffing to help round out his project.
After adding some carpet from Crutchfield to match his trunk's interior, Tyler was able to install his subs, amp, and capacitor. He went with a 5-channel amplifier to save on space since he was also adding two sets of speakers. The placement of the box would allow the heat from the amp to vent into the spare tire well.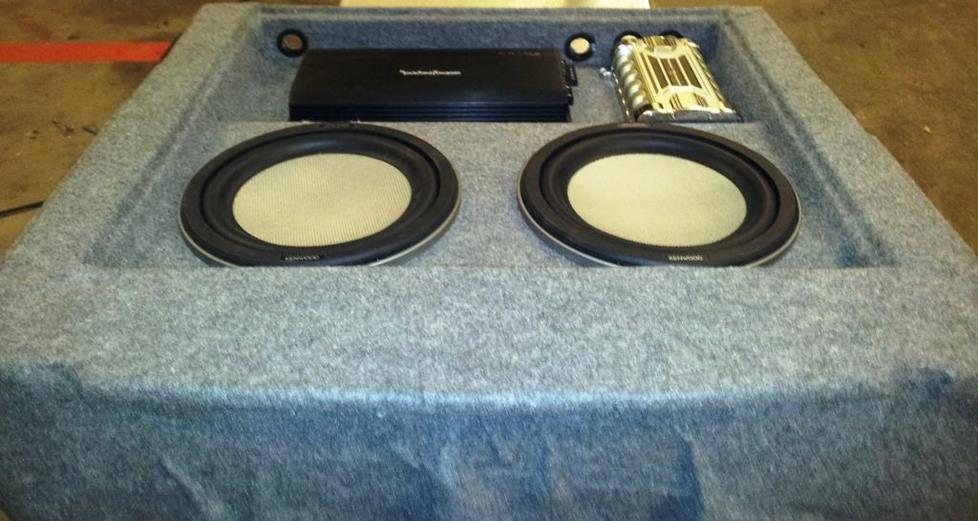 Speaker challenges
Tyler wanted to use the same speakers for the front and rear doors, but the Kenwood components he ordered were going to require some modifications to the vehicle to make them fit in the rear doors. He had to cut each rear door speaker opening to the desired 6.5 inches, but then the speakers were too deep for the doors to fit. Tyler made custom MDF speaker mounts to hold the speakers in the rear doors, then drilled the speaker grilles directly to the door's interior surface. Luckily the front door speakers were easier to install, as you can see here: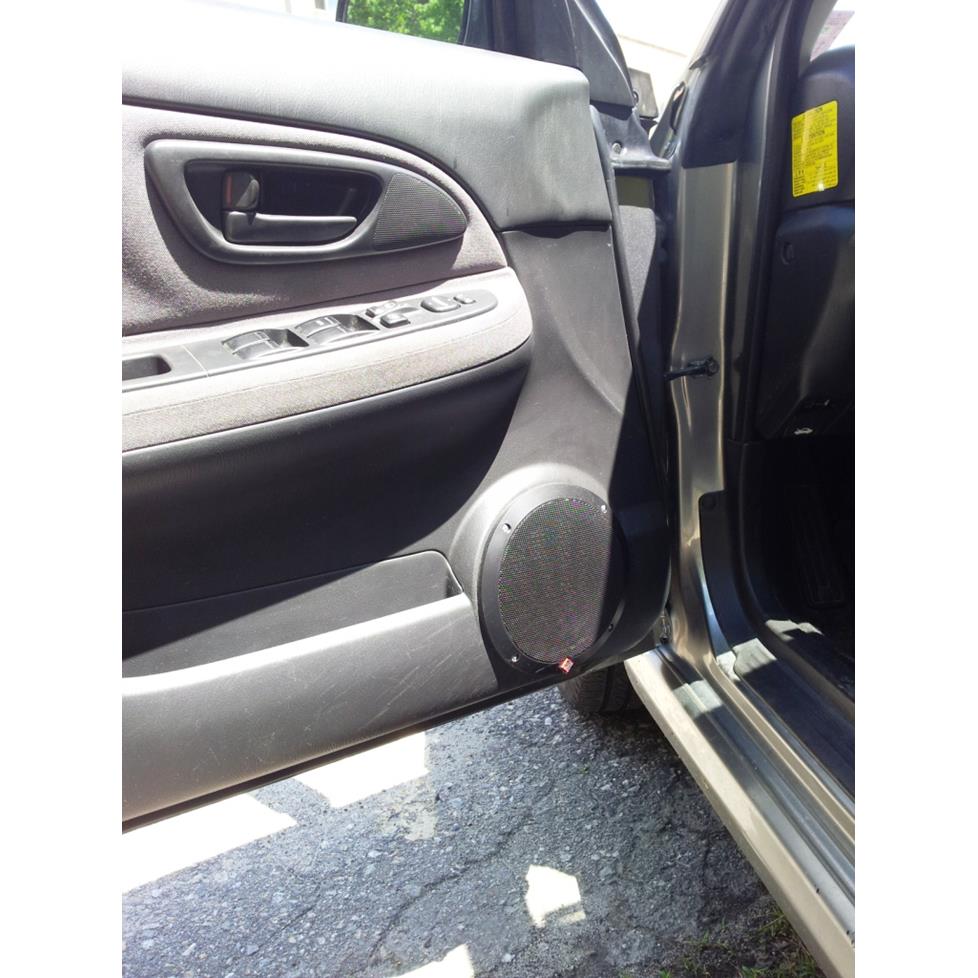 For the tweeters, Tyler drilled into the car's A-pillar and C-pillar and mounted them where they would deliver the most efficient sound.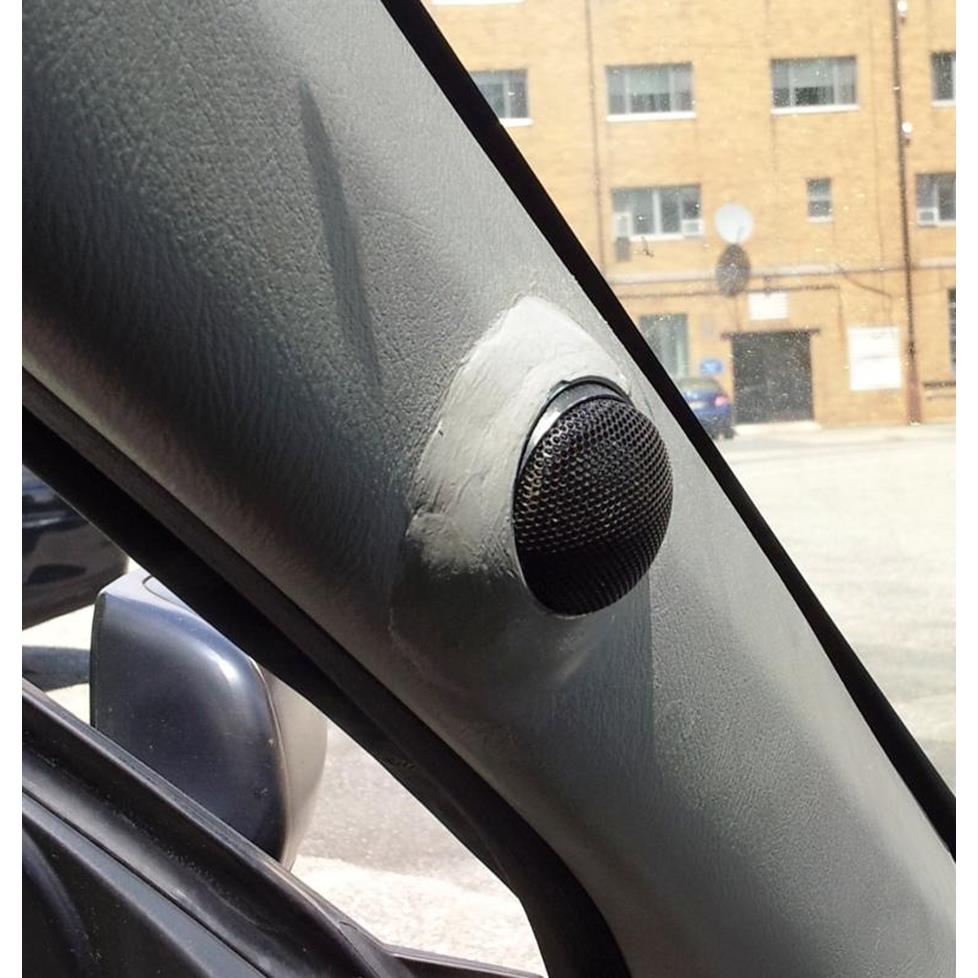 Adding the GPS and more wiring
Tyler wanted to keep his new Garmin portable navigator with its 5" display handy without cluttering up his windshield, so he invested in a mount and adapter plate from Pro.Fit to secure the Garmin to his dash. He also spliced the Garmin's power cable into the rear of the 12-volt power port in his dash so he could keep the navigator charged, his power cables hidden, and have his port free for other portables, like a cell phone or MP3 player.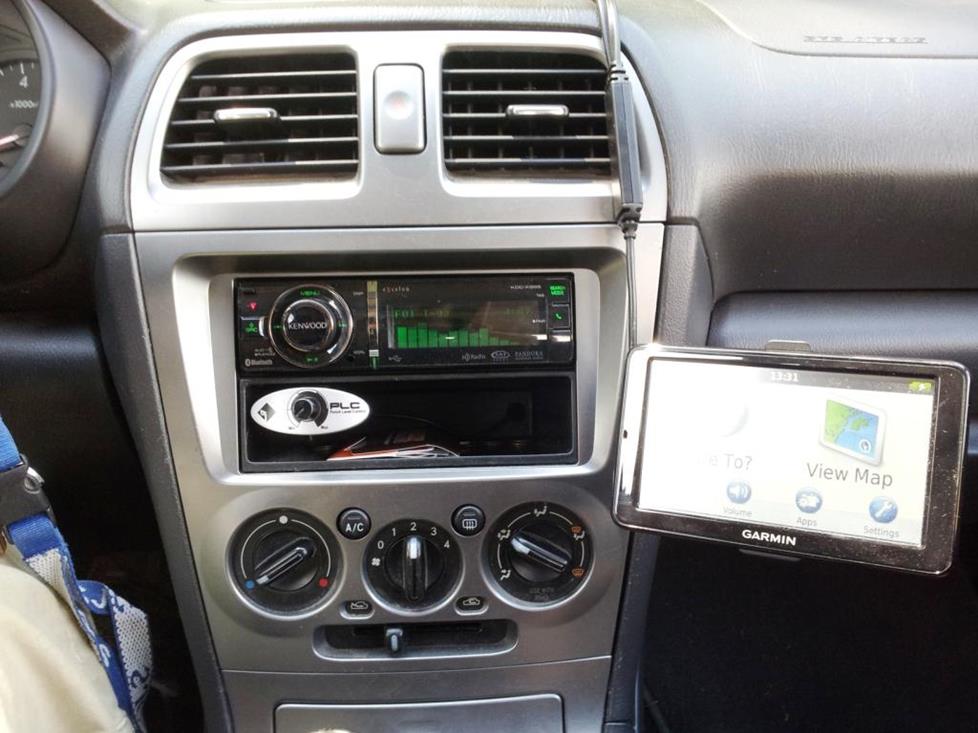 Tyler also ran a cable from the aux input in the rear of the head unit to the center console which would allow any passenger in the car with a portable MP3 player to access the stereo. He also ran the stereo's rear USB input cord to the glove compartment where he has an iPod® stashed. Here's a look at Tyler's Subaru Impreza with all his new gear installed and the sub/amp/capacitor enclosure covered up for safety: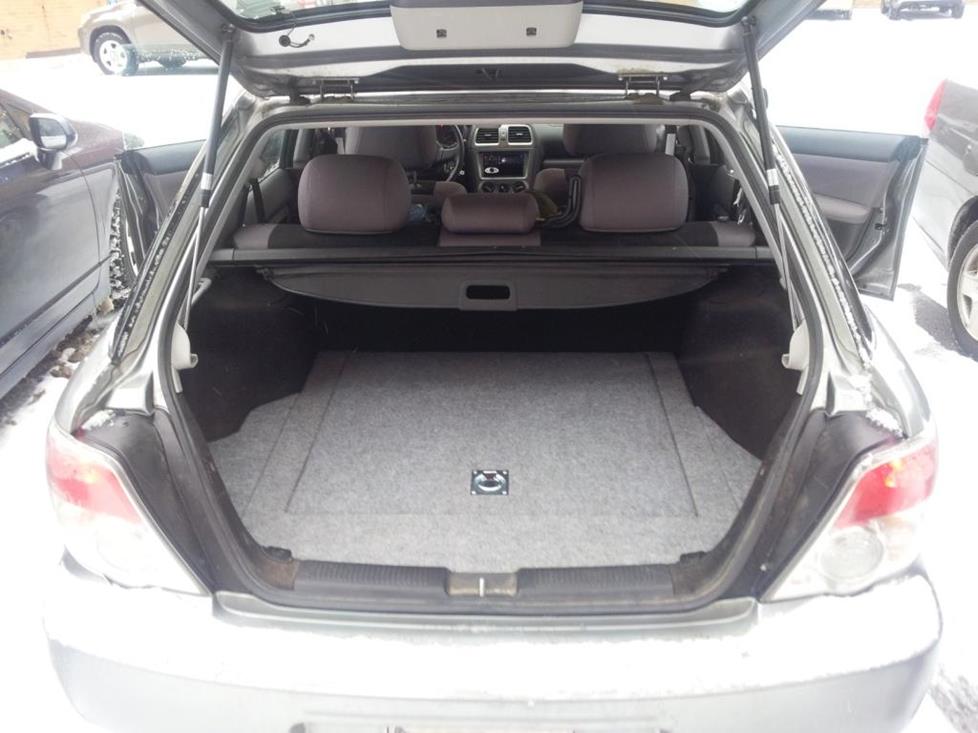 Up next for Tyler: adding some sound damping material to reduce the rattles in his car and make it sound even better.
---
Vehicles in the Custom Car Showroom are submitted by customers and fans, and edited by Crutchfield writing staff. You can find more of these articles on the Showroom main page.