What you need to know about sound masking
For privacy and improved productivity in open-plan offices
Open-plan offices are designed to promote a collaborative workplace culture. Great for fast-growing startup companies, open seating layouts are cost-effective and easy to reconfigure as needed.
The downside is that open offices tend to be noisy, which can distract workers and hurt their productivity. When one team gets a little loud, others talk louder to be heard above the rising din. Or workers don noise-canceling headphones, which defeats the purpose of the open-plan concept.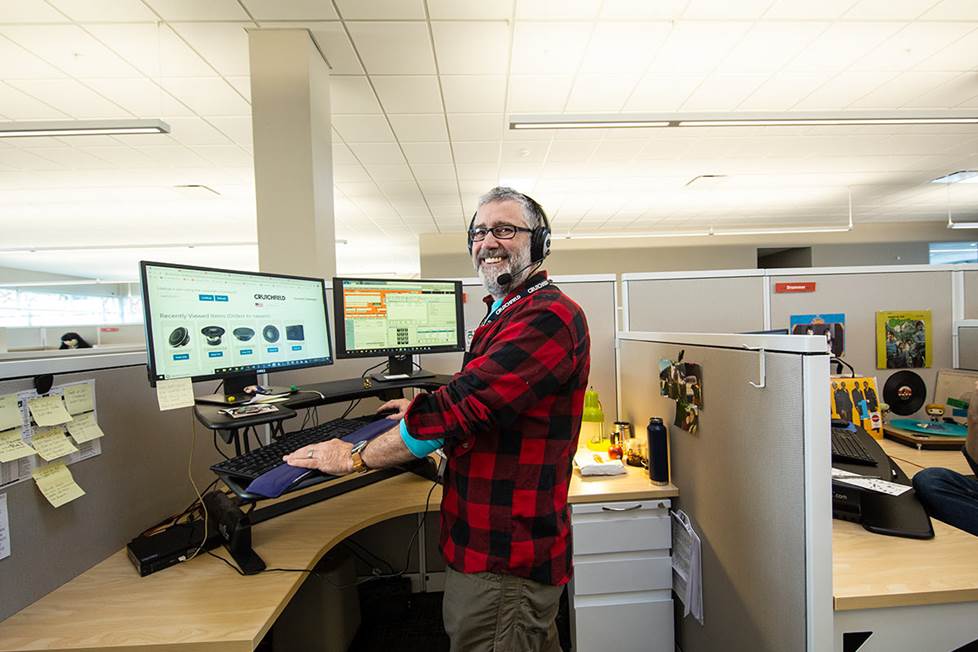 We installed an Atlas sound masking system in our new contact center building. It's remarkably quiet, even with dozens of advisors talking to customers at the same time.
Open offices also lack privacy. Conversations can be overheard (sometimes even those held behind closed doors in adjacent conference rooms). In some settings, such as medical offices or financial institutions, the lack of privacy is not a trivial matter.
The solution? An office sound masking system.
What is sound masking? How does it work?
A sound masking system fills your space with a low level of background sound. This barely perceptible "noise floor" makes it much harder to hear voices coming from across the room.
So, adding noise to a room makes it quieter?
If it seems counterintuitive, think of sound as if it were light. Turn on a lamp in a dark room, and everyone sees it. Turn on a lamp in a room that's already filled with light, and others might not even notice it. They certainly won't be distracted.
What type of noise does a sound masking system produce? Is it safe?
The AtlasIED systems Crutchfield offers generate a signal that starts as pink noise. Before it's amplified, the noise is routed through 1/3rd-octave filters to produce a specific "shape" that's designed to cover or "mask" human speech (without being annoying to listeners).
The AtlasIED system software includes a variety of preset filters designed by sound masking expert Dr. Robert Chanaud. These filters simplify system setup for DIY installers.
At the recommended volume level of 46-48 dBA, the sound masking noise is barely louder than the ambient noise in an unoccupied room. Prolonged exposure to sound at this volume is perfectly safe.
Normal conversation between people standing three feet apart is typically measured at 60 dBA. Guidelines from the National Institute for Occupational Safety and Health allow for worker exposure to 85 dBA over eight hours.
A properly designed and tuned AtlasIED system is much safer than those inexpensive personal white noise machines, which can be easily misused.
What's in a sound masking system?
The heart of a sound masking system is a sound generator/amplifier like the 2-zone AtlasIED Z-2B. Of course, you'll also need several speakers to distribute the sound evenly throughout your space. The Z-2B and the 4-zone Z-4B work with any 70-volt speakers.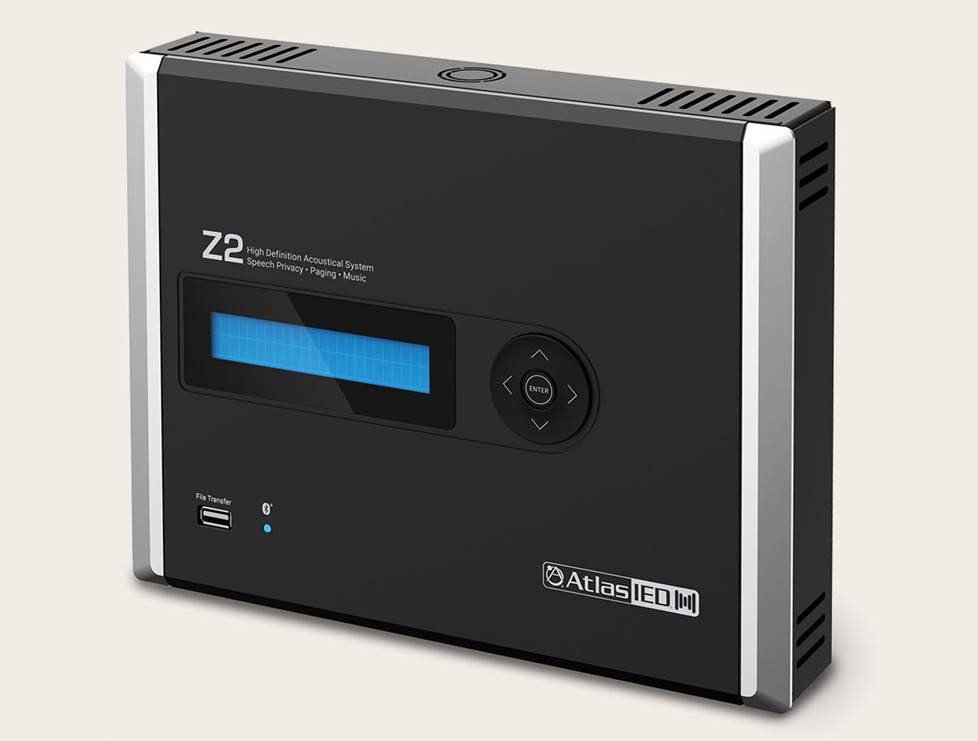 The AtlasIED Z-2B provides sound masking for two zones, covering up to 7,000 square feet in total.
Speakers like the AtlasIED M1000 are designed to be hung in the space above a drop ceiling. The sound radiates through the ceiling tiles. You can also use commercial-grade in-ceiling speakers like the AtlasIED FAP33T.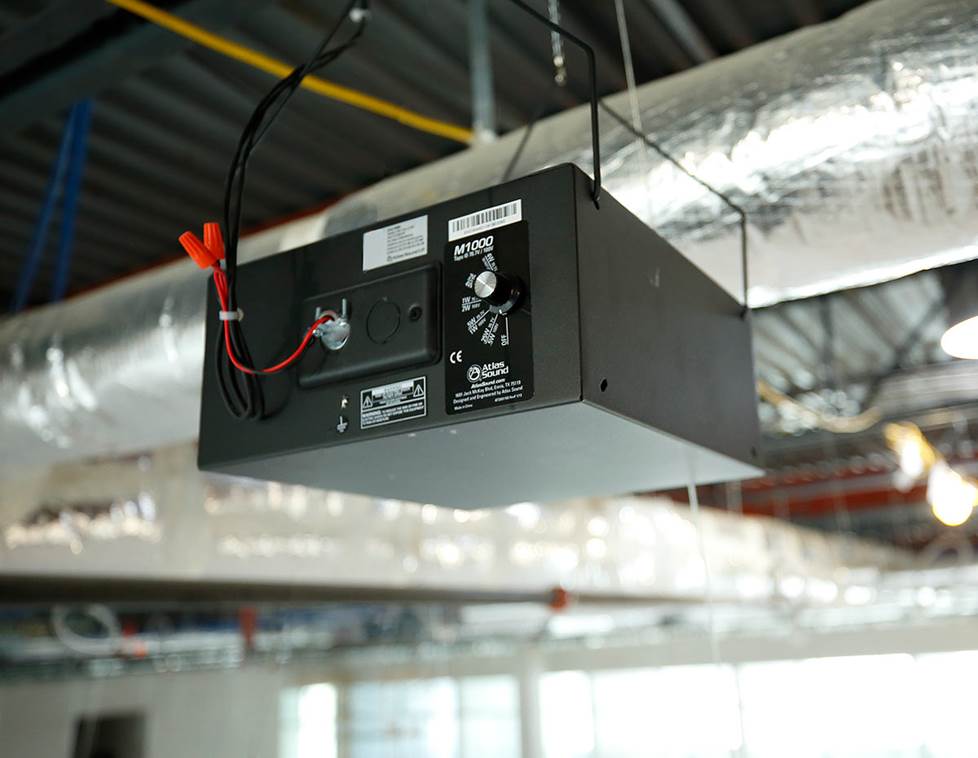 The M100 speakers are easy to hang above your drop ceiling. They can be configured for upward, downward, or horizontal sound dispersion.
You'll also need speaker wire. And that's about it for a basic system. Here's a link to a typical 2-zone bundle.
The Atlas gear can be configured and controlled via a smartphone app. The Z-series app is available for iOS and Android.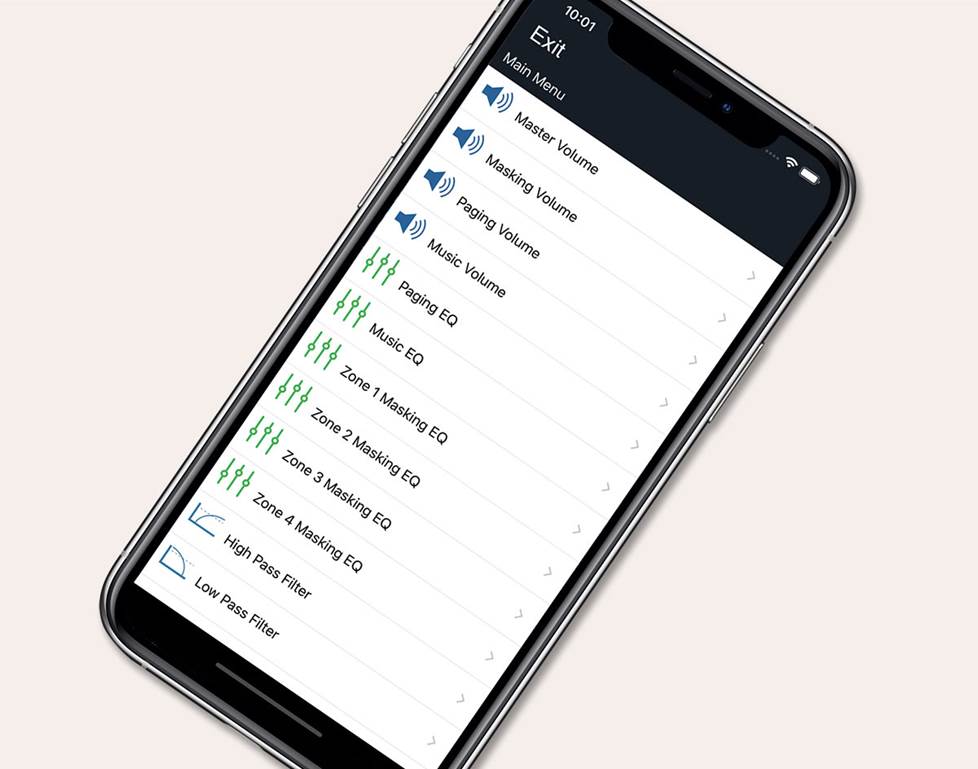 The Atlas control app for iOS makes it easy to set up and fine-tune your sound masking system.
Background music and paging, too
With the addition of a music source component, these systems can provide background music in one zone (say your reception area) and sound masking in another zone. With an optional microphone, they can provide paging capabilities in one zone or all zones.
How much does a sound masking system cost?
Our 2-zone sound masking bundle includes 12 pairs of speakers, which should cover about 7,000 square feet. The cost for the gear alone works out to less than 50 cents per square foot. Professional installation might add another 50 cents per square foot (or more than that, depending upon your location and the structure of your building).
What's your return on investment? That's hard to say, but even a small increase in productivity over the life of the system would more than offset the cost.
Free system design service and tech support
How many speakers do you need? Where should they be placed? Can I install it myself?
Great questions!
For the answers, take advantage of Crutchfield's free commercial audio system design service. Your designer can take a look at your floorplans and then hook you up with all the gear you need, as well as guidance on where to place everything. Lifetime tech support is free with your system purchase.
Get started with
a free system design
After we gather your information, we'll send you a detailed system plan. It will include a link to a pre-filled shopping cart. Ordering is easy, and delivery is fast.