Sound mixers buying guide
How to find the right mixer for your needs
What is a mixer?
A sound mixer (also known as a mixing board) has two primary jobs:
It lets you blend and tweak the audio signals coming in from microphones, musical instruments, and other audio sources.
It sends the mixed and polished signals to its output jacks, which connect to amplifiers, powered loudspeakers, or a recording system.
There are three types of audio mixers — analog, powered analog, and digital. Each type has its pros and cons. This article will help you choose the right mixer for your purposes.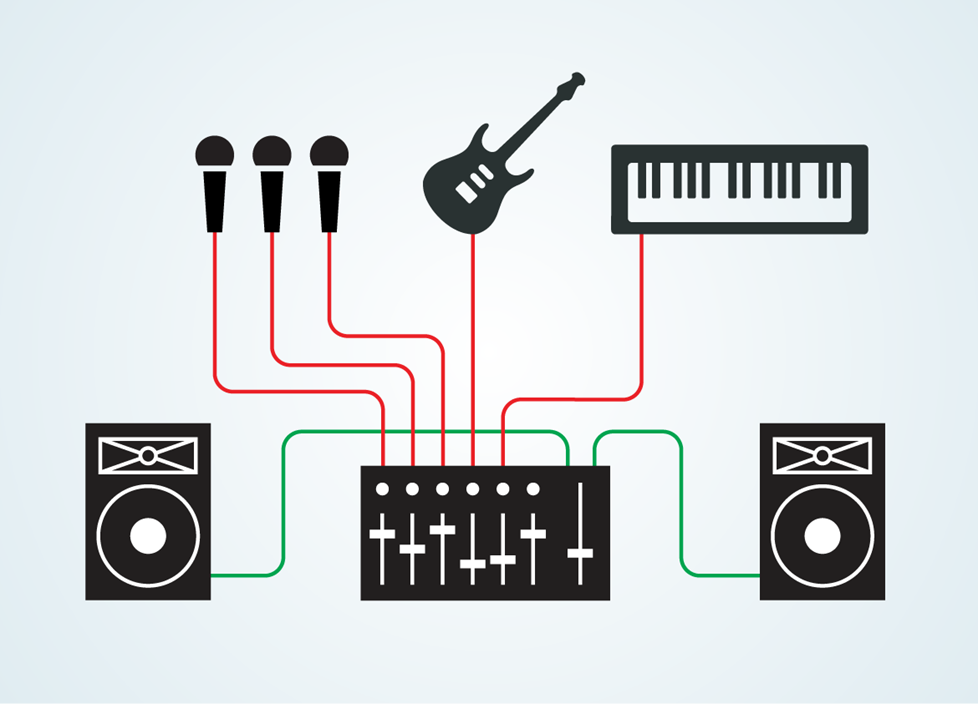 In this basic PA system, sound flows from microphones and instruments to a mixer, then on to powered speakers.
Analog mixers
Analog mixers are great for live sound, and often for recording as well.
Each control on an analog mixer performs a single function. You can see at a glance exactly what the mixer's doing and make quick adjustments.
Analog mixers cost less than digital models, but they lack the automation and programmability you might need for complex shows and recordings. And there's no wireless remote control — the operator has to be at the board.
Analog mixers have fewer onboard audio effects than digital mixers. You'll have to buy extra outboard equipment to get advanced effects.
Yamaha MG16XU 16-channel mixer features onboard effects and USB output.
Powered mixers
A powered mixer is an analog mixer with built-in amplification. Powered mixers are compact, portable, and easy to set up. They work with non-powered PA speakers.
Most powered mixers have two amp channels. They can power two main speakers or one main speaker and one monitor. (A monitor is an onstage speaker aimed so the performers can hear themselves.)
Powered PA mixers usually feature line-level outputs so you can expand a system by adding powered speakers and monitors. With a powered mixer, you don't have to carry around separate amps. But you don't get a lot of features or output power.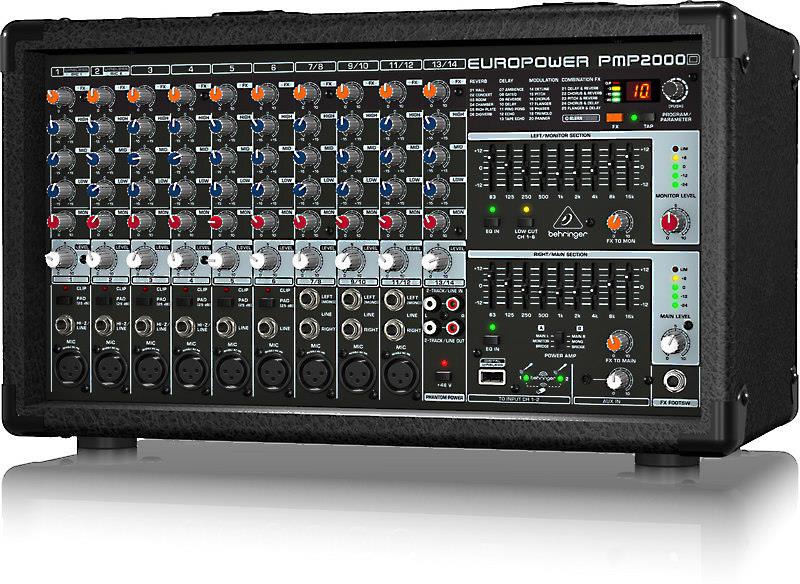 Behringer's PMP2000D powered mixer features 9-band graphic equalizers for the main and monitor outputs.
Digital mixers
Digital mixers offer a wide range of control capabilities. You can save and recall setups, which is a big time-saver for bands that play the same rooms on a regular basis. This is also great for making quick scene-by-scene changes during theatrical productions.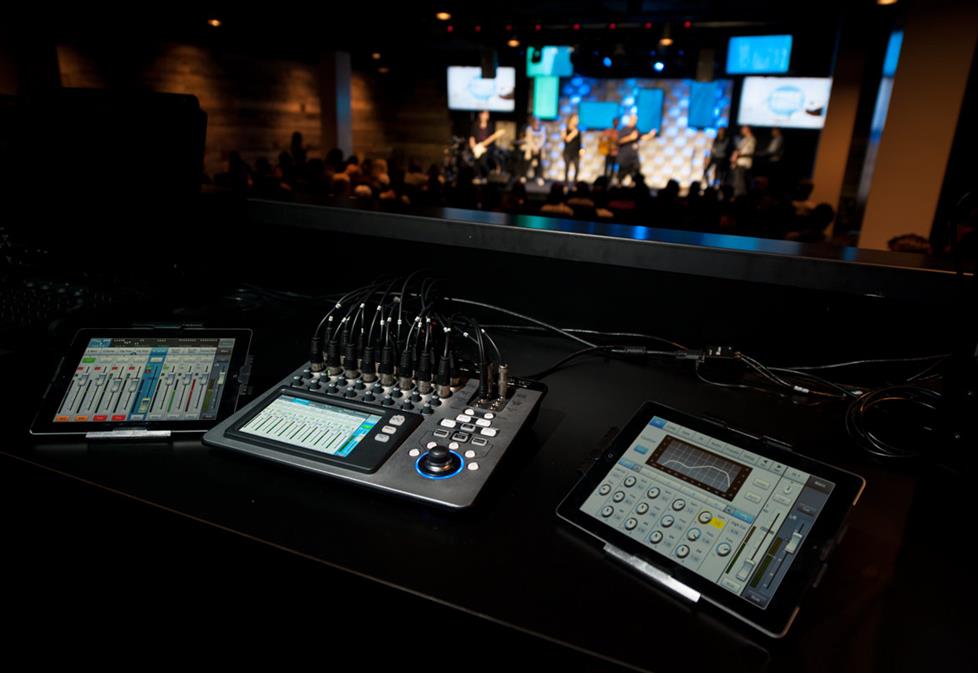 A QSC TouchMix-16 digital mixer hard at work with two remote pads.
Some digital mixers feature wireless remote control. You can walk around a room while mixing on your smartphone or tablet, making sure the music sounds good everywhere.
It's much more awkward to mix from the audience with an analog mixer. That's because you need an expensive and heavy multi-channel extension cable called a snake. Even then, you're stuck in one spot.
With a digital mixer, you can apply more than one audio effect to every channel. You won't have to invest in outboard effects units.
Making quick changes with a digital mixer can sometimes be a challenge. You may have to use a touchscreen to dig through a menu before making an adjustment. And to change two or more settings at the same time, you have to pre-program the changes.
How will you use your mixer?
Before looking through a random selection of mixers, consider how you intend to use one.
Beginners
Just getting started? Consider a live sound bundle. The typical bundle includes all the electronic components, cables, and hardware you'll need. These packaged PA systems usually feature powered mixers and are simple to set up and operate.
Acoustic musicians
A powered mixer will work well for a soloist or small acoustic act. The compact size and modest output of most powered mixers make getting one a good choice for playing in coffeehouses, classrooms, and other small spaces.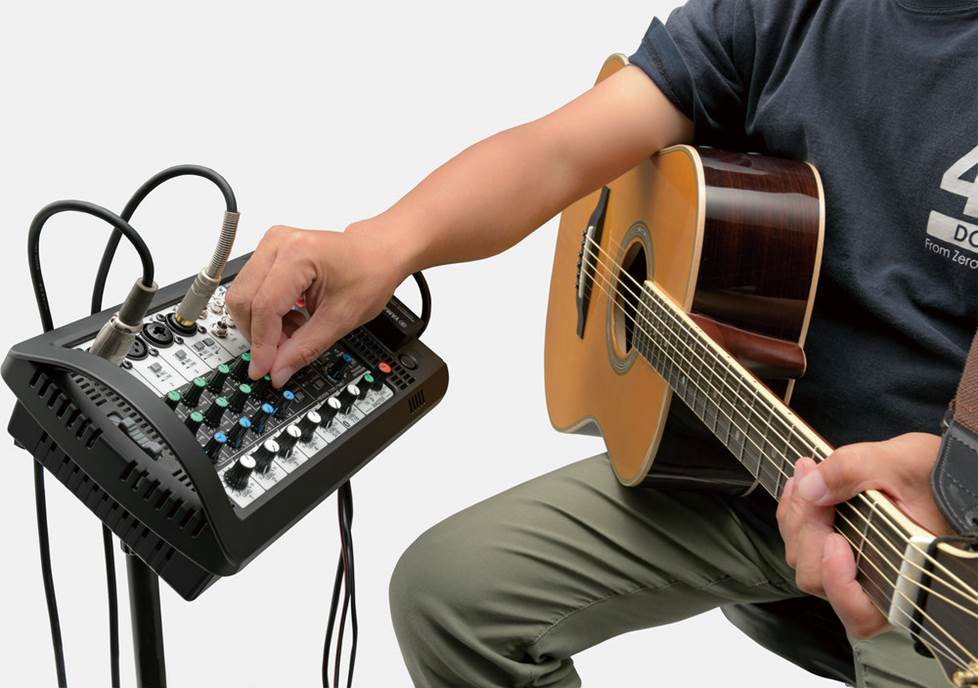 Yamaha STAGEPAS 400BT portable PA works great for a solo act.
Portable PA for school, church, and business events
A powered mixer will also work in a portable system used for events in small auditoriums and meeting rooms. But a PA system for a single microphone doesn't need a mixer. You can plug a microphone directly into a powered speaker for a complete and compact PA.
A small analog mixer running a powered PA speaker will give you more options for your presentations.
Rock band
A band should look for a mixer with at least enough input channels for every member of the band. It should also have enough auxiliary outputs for the number of monitor mixes the band wants.
An analog mixer with onboard digital effects like reverb and delay works for a lot of bands. With a digital mixer, you can store and recall settings, saving a lot of time during set-up and sound-check.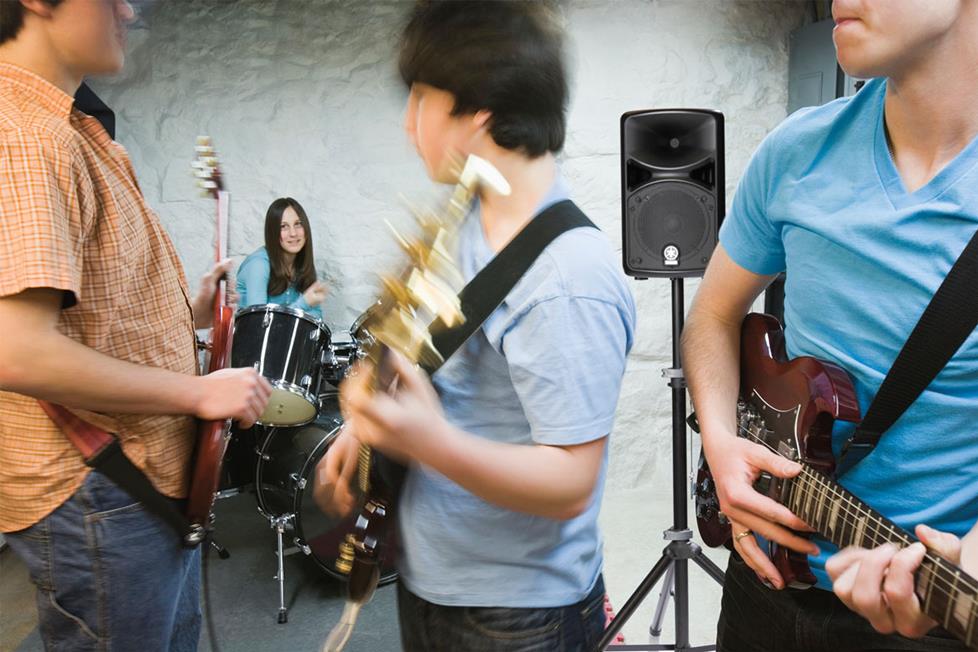 Even if you're just practicing in the basement, a mixer comes in handy to keep all the sounds organized.
Permanent PA system for church, club, or theater
For permanent installations, look for a mixing console that performs the most functions and has the most inputs and outputs you can afford. More than one operator will use the system, so choosing a mixer with the simplest, most intuitive controls will be helpful.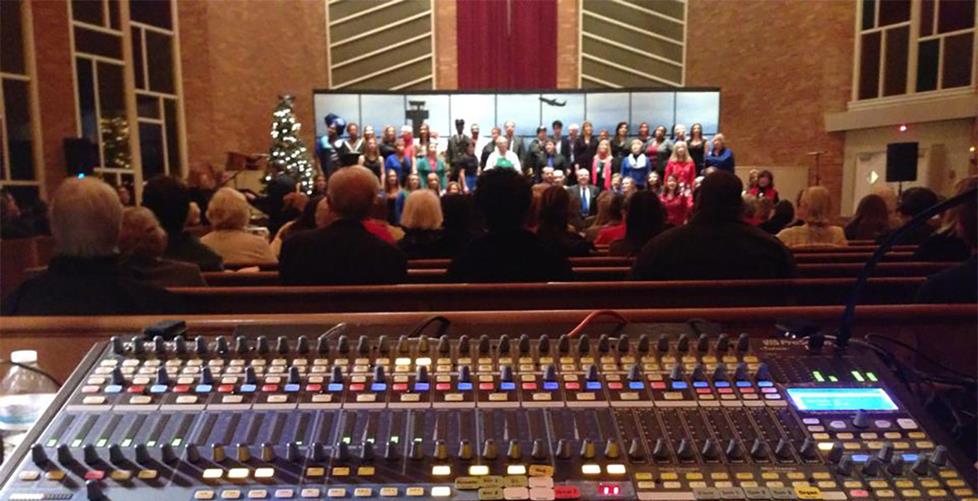 Example of a large mixing console for a church PA.
Recording studio
For recording, the mixer's output goes to your computer running DAW (digital audio workstation) software. Some analog mixers have digital outputs, so you can use them in the studio. With a digital mixer, you can set levels and route signals with both the DAW software and the physical controls on the console.
Radio, podcast, voice-over, and narration
For broadcasting voices and background music, you'll need a small mixer with a digital output so you can stream or upload your mix to your network.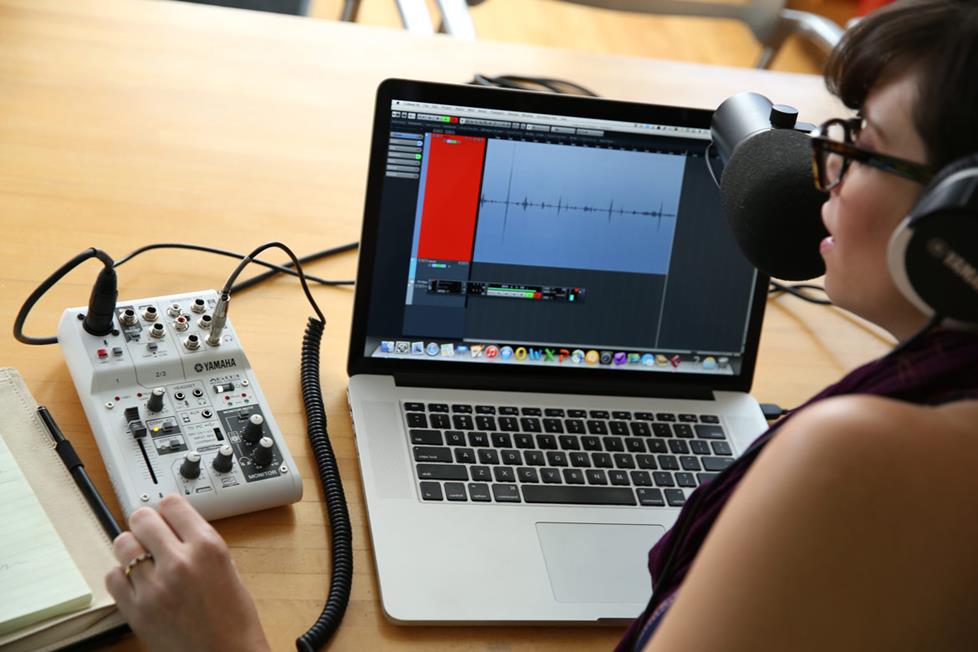 Yamaha AG03 mixer/recording interface.
What to look for
Consider choosing a mixer with more inputs than you think you'll need. This will allow for future system expansion.
Does your band need several different monitor mixes? Then your mixer should have several monitor/auxiliary outputs.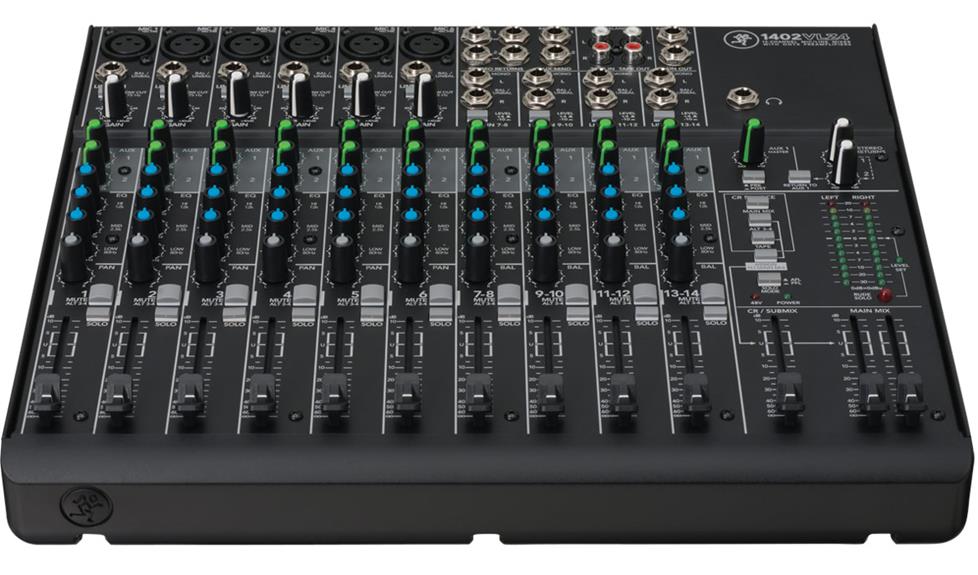 Mackie 1402-VLZ4 14-channel mixer.
Common features
Microphone preamps
Each mixer manufacturer claims that their mic preamps sound best. Actually, the differences in sound quality are very slight.
Phantom power
Some condenser microphones need phantom power to work. Most mixers feature a switchable supply of 48-volt phantom power for all the microphone inputs. A few mixers let you assign phantom power to individual channels.
Main outputs
The job of a mixer is to produce a stereo output signal for reinforcing or recording. You'll want to use balanced outputs, XLR or ¼" TRS, for the most noise-free wiring connections. For short runs, unbalanced RCA connectors will work fine.
Handy features to look for
Pad
Sometimes an electronic instrument's output is too strong for the mixer's preamp to handle. Switching on a pad lowers the incoming signal to a controllable level.
Low-cut or high-pass filter
This switchable shelf-type EQ is very useful in eliminating bass rumble picked up by vocal mics. It can also help prevent feedback.
Insertion (I/O) jack
An insertion jack lets you add an external electronic effect to a channel's signal.
Auxiliary and monitor buses and outputs
The output channels of a mixer are called buses because the input signals get on board and travel to their intended destination, like commuters on a bus. You'll want your mixer to have at least as many auxiliary/monitor outputs as the number of different monitor mixes your musicians want.
Assignment buttons
An assignment button directs a channel's signal to the desired output bus.
Pan
A pan control directs a mono signal onto two output buses at different relative levels. On a stereo channel, the pan adjusts the left/right balance.
On/off or mute buttons
A convenient feature is the ability to mute channels and outputs when not in use, so no loud accidents will occur.
Meters and peak lights
Meters, usually arrays of LEDs, show the relative strength of the mixer's signals. It's important to see that adding all the input signals together doesn't overload the output, creating distortion. Peak or clip lights turn on when the mixer senses distortion, letting you know you need to turn something down.
PFL and solo
Pushing a channel's PFL (pre-fader listen) or solo button sends that signal to the mixer's headphone jack and output meter. This lets you check its level and sound quality without being distracted by other sounds.
Subgroups
Subgroups are preliminary outputs you use to link parts of the music together. Subgroups allow you to control the volume of multi-miked parts (like a drum kit or backup singers) with one fader.
Compressors
Some analog mixers feature onboard dynamic compressors. Compressors keep the signal from getting too strong or sounding too weak. Compressors are very useful when working with drums or a singer who screams occasionally.
Equalizers (EQ) on main and monitor outputs
For live sound, the EQ on the main output is to equalize or fix the tone resulting from the interaction of PA speakers and the room you're in.
The EQ on a monitor output helps eliminate feedback. It's also used to enhance vocals so they cut through all the other onstage sounds and the singers can hear themselves clearly.
The more frequency bands your equalizers have, the better control you'll have over the sound.
Headphone and control room outputs
Headphone and control room outputs carry the same signal as the main outputs (at least until a solo button gets pushed). These features are only useful in recording studios.
Digital features
Onboard digital effects
Many mixers, including analog ones, have digital effects like reverb, delay, chorusing, and flanging. The effects let you add some extra feeling and dimension to your music.
Most analog mixers let you apply one effect at a time to the output channels. Many digital mixers let you apply more than one effect to all the channels and buses.
Digital outputs
If you want to record, you'll want your mixer to have at least two channels of digital output. This lets you record a stereo mix with your computer without needing to purchase a separate audio interface device.
Make sure your mixer's digital output connections — USB, Firewire, Ethernet — are compatible with your computer.
Digital inputs
Some mixers feature a USB port for playing digital music files for backing tracks or "break music" between sets.
Control via network app
A very convenient feature is the ability to wirelessly control the mixer with your portable device. This allows you to move around a venue while mixing, making sure the music sounds good everywhere.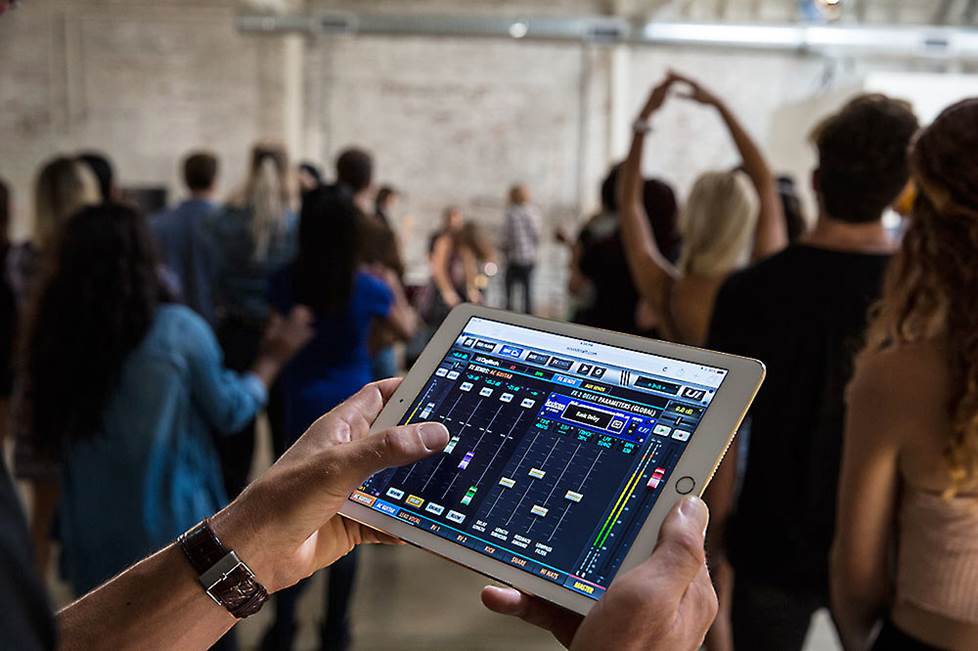 Mixing remotely via control app on a tablet
Recallable presets, scenes, and automation
Most digital mixers let you save and recall their settings, so you don't have to start from scratch each time you return to a venue. Some digital boards feature motorized faders that snap into position at the push of a preset button. It's fun to watch the faders move by themselves.
Programmable scribble strip
A scribble strip is the place where channel labels go. There's no need for messy tape and markers when you can neatly type in, save, and recall the name of each channel in every setup. Some mixers let you load in icons or photos as labels.
Ready to shop?
Check out our entire selection of live sound mixers at crutchfield.com/mixers.
For expert one-on-one advice, contact us today. To talk directly with a Pro Audio specialist, call 1-800-555-9369. Free lifetime tech support is included with your Crutchfield purchase.
Want to learn more?
Watch this How to use a mixing board video for more details about mixers. If you want to learn more about PA equipment in general, check out our Introduction to live sound equipment.
Some of our other pro audio buying guides feature: