Soundtrack of a family van
Road trips. Soccer games. Grocery runs. My minivan is the ultimate workhorse, carting my family anywhere and everywhere. And, right up until I came to work at Crutchfield, I loved it just as it was, factory stereo system and all. But since calling Crutchfield home, I've learned to appreciate audio quality, and to understand just how much my manufacturer's system lacked.

Here's my very satisfied family, gathered around my very favorite family vehicle ever!
When I wanted to upgrade, I ran into a challenge many van owners experience: I didn't want to give up the dual DVD players that made road trips enjoyable for my kids, even if it meant lousy sound quality for me. Then I learned I didn't have to. When Rockford Fosgate offered me their solution to my common problem, I jumped at the chance for a major audio overhaul that let my kids keep their mobile movie theater.
Here's what we did to transform my stereo system:
Changed the speakers: New front and rear full-range speakers bring out the musical details I hadn't been hearing.
Added an amp and a subwoofer: The 5-channel amp delivers plenty of power to roll over road noise, while the 10" subwoofer gives the music depth and character. This is really the stage where the music comes to life.
Installed a sound processor: The 3Sixty.3 digital signal processor makes it possible to keep the factory stereo and its options, while getting high-fidelity sound. A processor lets you dial in the music and smooth out all the details.
Rockin' out with Rockford Fosgate
Keeping my rear-seat entertainment system meant keeping my factory stereo. Since many aftermarket pieces don't work with factory equipment, upgrading the sound can be a challenge. It's possible to add an aftermarket amplifier directly to a factory stereo and use it to drive new speakers. However, this uses signal that's been processed by the factory stereo, so often you're really just amping up sonic flaws.
Total control with the 3Sixty.3
That's where the 3Sixty.3 digital signal processor comes in. Rockford Fosgate designed this versatile tool to produce oustanding sound from any receiver, including factory stereos. It strips the factory stereo's processing from the speaker-level signal, balancing it and creating a pure, clean signal it can then send to external amps. It's like starting with a clean slate.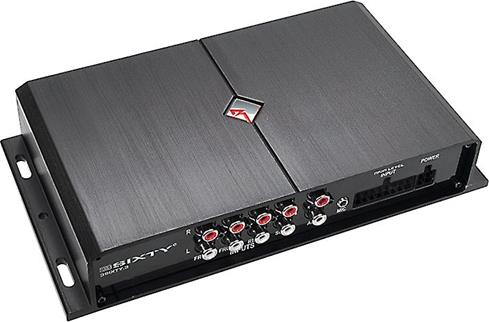 The Rockford Fosgate 3Sixty.3 processor let me keep my factory stereo but overhaul my sound.
The 3Sixty.3 was the key to keeping my factory stereo but overhauling my sound. Four programmable EQ settings let me preset it for different types of music, so my boys can hear plenty of bass in the hip hop music they prefer and I can simply flip the channel to a different preset that I designed with less bass when I'm relaxing with my Jimmy Buffett CDs.
Adaptability
It also has a programmable dual-function, dash-mountable remote control panel that controls the master volume, the subwoofer volume, and the Sub EQ so I can adjust my sound on the fly. And the 3Sixty.3 features Bluetooth® connectivity so I can stream audio through any A2DP-equipped Bluetooth device (in my case, an iPhone®). One of the coolest things? It can be set to "Auto Play," so it automatically switches the source over to my iPhone when the phone sends out a notification or plays music.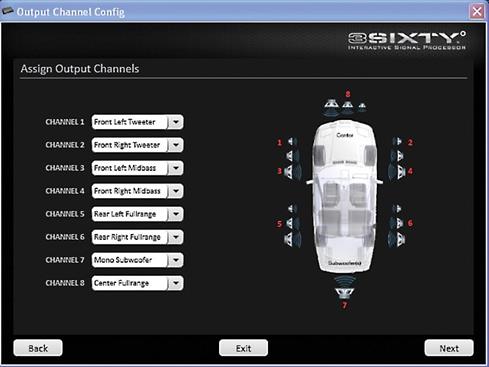 This processor lets me assign individual input and output channels so I can customize my sound.
(And while I'm using the 3Sixty.3 as a "black box" to integrate my original factory equipment, it's important to note it can also be used as a complete surround sound DSP for those who want to design a more complex system in their vehicle.)
Custom-fit sound
The 3Sixty.3 comes with a setup CD and downloadable software that we used to set levels and normalize the EQ curve, which flattened out the entire system's response curve. Using my laptop, we then cleaned up the sound and adjusted the high- and low-pass crossovers and each of the 31 EQ bands on each of 8 channels to get a sonic signature that fit my van to a "T."
When I first heard it, the high-fidelity sound now coming at me, it knocked my socks off. Crutchfield's technicians helped me make the most of this useful piece. If you're considering using the 3Sixty.3, professional installation is probably a good idea.
It's all in the details
We installed Punch full-range speakers in the van's dash, front door, and rear panel locations. An extended woofer cone design moves more air for a fuller performance, letting them highlight musical details that I swear I didn't notice before. In fact, when I listened to the first song playing on my CD, I said, "Wow! There are cymbals in there!" I honestly hadn't noticed the layers in my music until I heard it played through this system.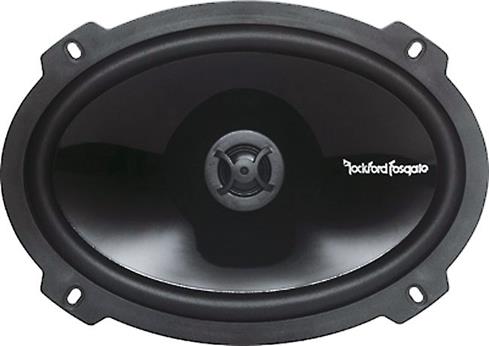 The Rockford Fosgate Punch Series speakers deliver amazing sound quality, letting me hear all the distinct differences in my music.
Rockford Fosgate designed these speakers to withstand the tortures of temperature extremes, humidity, and hours of use—all while delivering sonic excellence. And they do. I can really hear the high notes clearly from the dome tweeters, and pick out the midrange with no muddiness. The speakers also highlight the subtle nuances at low volume and maintain them when I crank it. And these puppies beautifully bring out the bass in a way I wasn't accustomed to with my original speakers (and that was before we added the subwoofer!).
All amped up
To drive the speakers and the sub, we installed a Punch P1000X5D 5-channel amp under the driver's seat. It sends 75 watts RMS of pure power to each of my front and rear speakers, and up to 500 watts RMS to the sub. This has a lot to do with my hearing musical aspects I'd previously missed, even with the volumed lowered—its power does a remarkable job overcoming the road noise that used to get between me and my sound. Plus, Rockford Fosgate engineered their Class-D Punch amp to draw less power and generate less heat, so it won't toast my feet like marshmallows at a campout.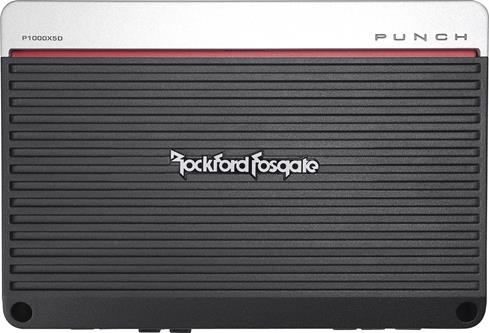 The Rockford Fosgate Punch amplifier drives the power to my speakers.
The amplifier increases what's called "headroom," which means I can hear all the musical details at lower volumes, and still hear them when I crank it up.
A high appreciation for low notes
The Punch P3 10" subwoofer loaded in a sealed Sound Ordnance box made one of the most striking differences in my new setup. The P3 with dual voice coils is light and responsive, and has 25% more cone area and unique venting to let it thunder the low notes without hogging space.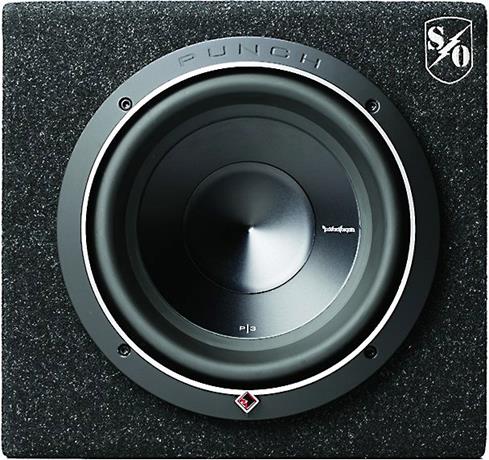 The 10" subwoofer from Rockford Fosgate, loaded in a sealed Sound Ordnance box.
The sealed box not only keeps the bass tight and focused, but the relatively small size doesn't take up a lot of space in the rear of the van. My music suddenly really rounded out and oh, boy, do I notice it. I went from simply "hearing" the music to "feeling" it. To call that exhilarating is an understatement.
The empirical view from the Crutchfield Labs
We wanted a scientific "before" and "after" measurement of the van's sound. In the Crutchfield Labs, we did a real-time analysis. We measured the sound pressure level (SPL) in decibels (dB) to gauge the gain in loudness, and the frequency response of the music to judge the improvement in overall sound quality.
A 30dB jump in sound pressure
Before the upgrade, the factory system could barely be turned up before it distorted. It put out very little bass, and it produced anemic audio—it just didn't have much power to offer. It measured 83dB.
The Rockford Fosgate system increased the maximum SPL to 114dB at maximum non-distorted output, a huge jump of 30dB. Now, you wouldn't listen to your car stereo this loud—the average rock concert is 115dB—but it indicates the headroom this system has.
Volume's only half the story
The sound quality also improved dramatically. The "before" graph (in grey) shows numerous frequency dips, which basically left holes in the overall sound. The smoother curve in the "after" graph (gold) depicts better blending, which means the sound is fuller and well balanced. Tighter, accurate bass now pairs with rich, warm sound that's ideally suited for the van's acoustics. There's a sense music is being performed inside the van, rather than reproduced.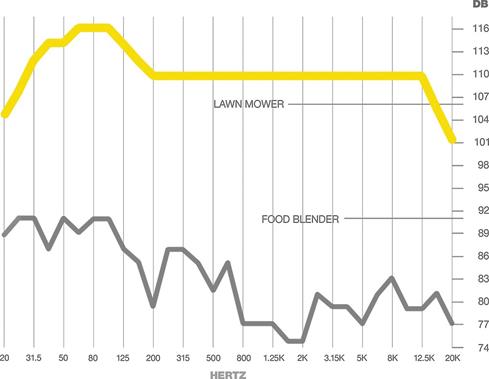 There's a big difference in the "before" (grey) and "after" (gold) system performance
A sound solution for all of us
The first thing my family and I did after the system was installed? We parked in the driveway and held a family movie night in the van so we could all enjoy the new system. The sound effects resonated for us in a way they never had before, prompting my 10-year-old son to say, "I never knew the seats in the car could rumble!" And though I'd heard the movie soundtrack probably dozens of times, I truly experienced it. It was so good, my husband commented we might never need to go to a movie theater again!
Now errands aren't such a chore (in fact, I've been known to take the long way to buy myself an extra song or two) and my van's no longer just a vehicle—it's a sanctuary. My kids are rediscovering movies they've seen 100 times before. It's definitely enhanced our many family trips together. If only we could navigate dinnertime as enjoyably...