Stealthy audio installation in a 2006 Jeep Wrangler Unlimited
Innovative thinking makes this TJ-L sound system special
In a nutshell: This 2006 Jeep Wrangler Unlimited has more sound than most, thanks to some innovative installation ideas. Chris, a Crutchfield supervisor, found some very cool ways to add amps and subs to his "dream Jeep." If you have a TJ or TJ-L that's in need of an audio upgrade, use our vehicle selector to find the gear that will fit your Jeep.
At Crutchfield, cars and trucks usually don't stay stock for long. Our people know what good car audio should sound like, so stock systems tend to come out pretty quickly. And when our audio enthusiasts run into challenges, they often come up with some very smart solutions.
Chris, a supervisor in our Norton, Va. office has owned this 2006 Jeep Wrangler Unlimited for about 8 years. He gives it regular outings on nice days and weekends, and if Southwest Virginia gets a long stretch of nice weather, the top can stay off for weeks at a time. This isn't a hard-core off-road Jeep, but the system is designed for top-down driving. It also sounds awesome.
The "TJ" generation is very DIY-friendly, so we hear from lots of owners who want to upgrade their stereo systems. Chris wanted to do something special with this TJ-L model, though, and some of the ideas he came up with are so cool that we just had to share them with the Jeep community.
Out with the receiver
We usually tell customers to start their system by replacing the receiver. And since we're usually pretty good about following our own advice, that's exactly what happened on this Jeep. Chris replaced the receiver and dash speakers almost immediately, choosing a single-DIN Alpine CD receiver and Infinity Kappa speakers in the dash and in the soundbar pods.
The initial boost in sound and functionality was pretty impressive. Was that a healthy improvement on the stock gear? Of course it was, but for a gearhead like Chris, that wasn't enough. As a result, this system has grown and evolved over the years.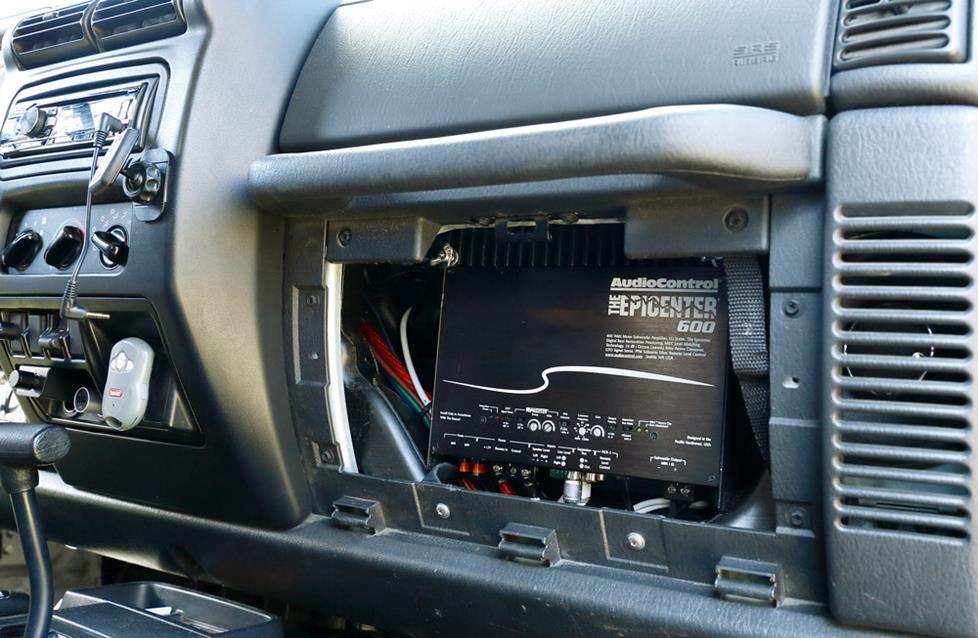 The mono amp fits snugly into the glovebox. Off to the left, you can see the sub level control knobs, the Alpine receiver, and a phone mount. It's a very efficient use of space.
An impressive amplifier installation
The amplifiers in this Wrangler really show off Chris' ingenuity. There are actually two amps hidden away in the dash, one on the driver's side in the area below the steering wheel and another in the glove box. Any "TJ-L" Wrangler owner knows that there's not a ton of space in that dash, but this example shows what's possible. Chris does a lot of advisor training at Crutchfield, and he often shows the Jeep to new recruits. "I tell 'em that if they can find the amps, they can have 'em," he said. "Nobody's found them yet!"
(Note to future SWVA trainees: Read ahead, win a couple of amps!)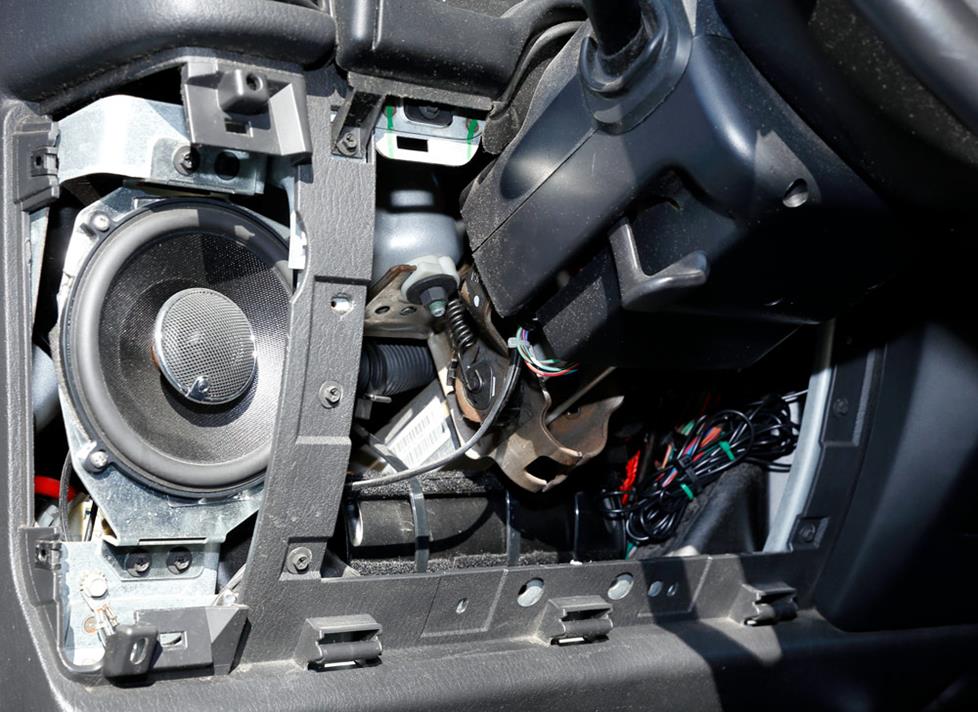 There's an amp back there, trust us. The Infinity speaker is a little easier to spot.
This really is a brilliant bit of installation work, though, because both amps are completely out of sight. The AudioControl mono amp behind the glovebox door, for example, is held in place by three backstraps and wing nuts. This is a very solid mount that also allows for quick access to the Jeep's fuse panel when necessary. The sub's level control knob is mounted neatly in the dash.
The amp below the steering column took "hours and hours" of work, according to Chris, but the results are very impressive. The Infinity Kappa speakers in the dash and on the bars are pretty powerful, but Jeeps are pretty noisy and the amp really helps maximize their output.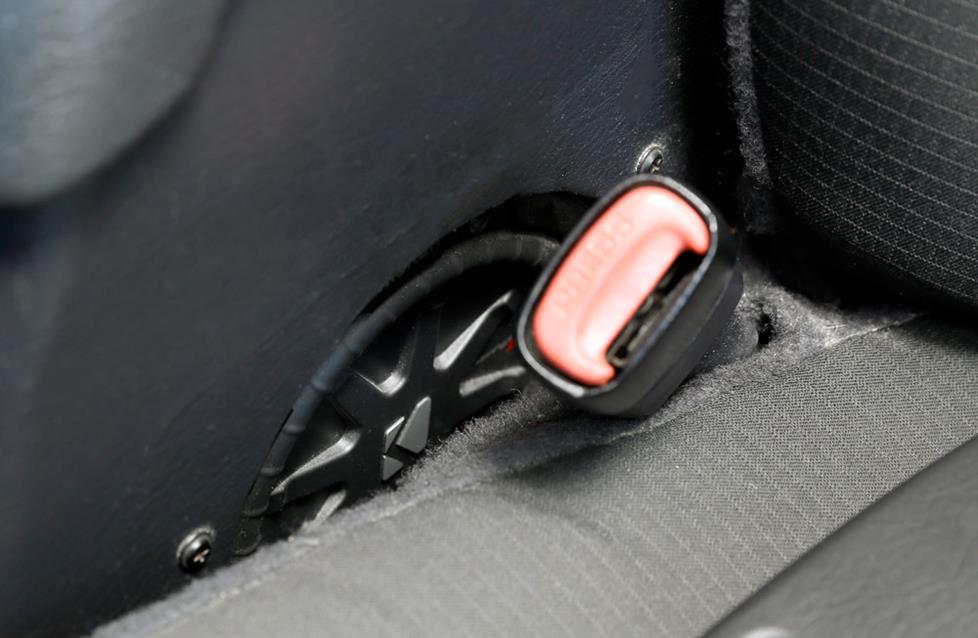 Chris started with a swapped-in center console, then created the space for this Kicker subwoofer
Two subs in a Wrangler? Absolutely!
The center console subwoofer is another innovative sound solution. Chris traded his Jeep's original console to a friend in exchange for a console from a Wrangler that had been equipped with the stock Infinity system. That system included a subwoofer, which provided a nice starting point for the upgrade he had in mind. With the help of some careful planning and a Dremel® tool, Chris was able to create an opening for a 6-3/4" Kicker subwoofer that really improved the bass performance. He also added some Dynamat on the inside to minimize rattling.
This Rockford Fosgate sub and enclosure can be removed when Chris needs the cargo space. A WeatherTech cargo liner protects the interior carpeting from dirt and damage.
In the cargo area, Chris has a 10" Rockford Fosgate T1S1 subwoofer mounted in a Rockford Fosgate enclosure. This big sub provides a healthy boost to the bass, plus it's easy to disconnect for top-down afternoons or weekend trips that involve outdoor gear.
A Jeep owner's "dream system"
All in all, Chris' skill and ingenuity have combined to produce one of the niftiest Jeep Wrangler installations we've seen. With a mixture of impressive performance and stealthy installation, this system shows that even a challenging vehicle like a Wrangler can house an outstanding audio system. Chris says he plans to keep this Jeep for at least twenty years, so we can't wait to see what he comes up with in the future!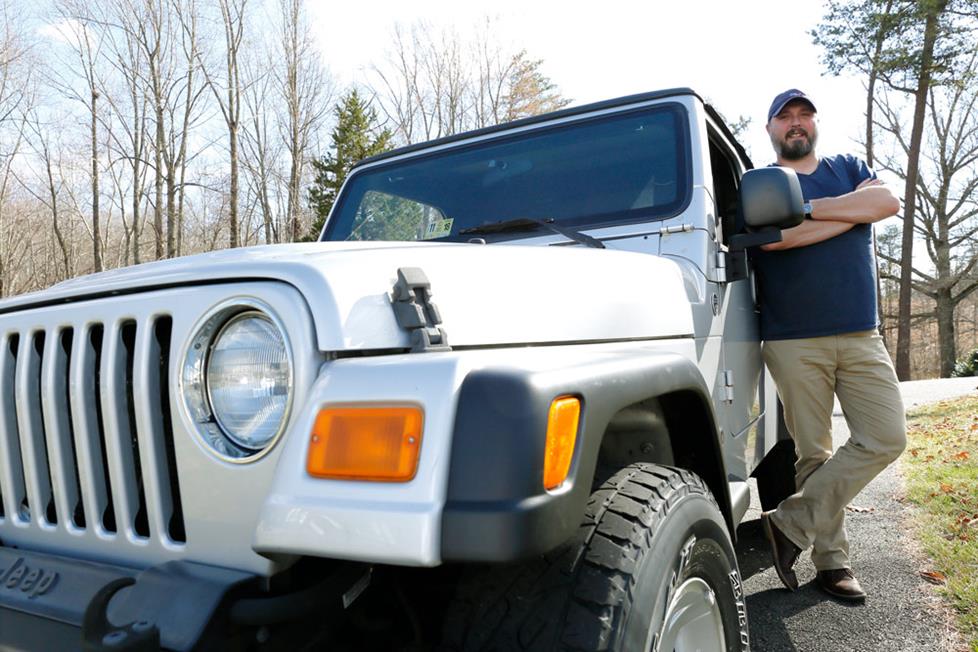 A lot of smart thinking went into this Wrangler's stereo system
Build your own
Thinking about upgrading your TJ or TJ-L Wrangler's audio system? We can help. Check out our Jeep Wrangler Vehicle Profile, then give us a call and talk to one of our expert advisors.