Surround Sound for a Music Lover
Choosing the ideal home theater for movies and music
Heads up!
Welcome to this article from the Crutchfield archives. Have fun reading it, but be aware that the information may be outdated and links may be broken.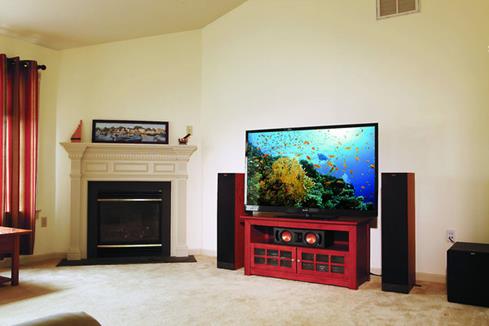 With only a small, two-speaker stereo connected to his TV, it's no wonder that Crutchfield Senior Home A/V Editor Steve jumped at the chance to set up a surround sound system in his living room. "I've become hooked on surround sound for movies," Steve says, "but as a music lover, I need a system that can also deliver high-quality two-channel audio." Problem solved. With a Marantz receiver supplying the muscle and a full set of Klipsch speakers and powered sub providing the voice, Steve has a system that does his vast collection of music and movies justice.
Taming a tough room with ease
"My living room's high, irregular ceiling, large open doorways, and reflective wall surfaces pose some real sonic challenges," explains Steve. "Luckily, the receiver in this system includes a secret weapon for dealing with these sonic hurdles — Audyssey MultEQ XT® auto setup and room correction." This advanced calibration system can easily deliver clear movie dialog and accurate, enveloping surround sound even in the toughest rooms.
Time to transform System 2.0 into Area 5.1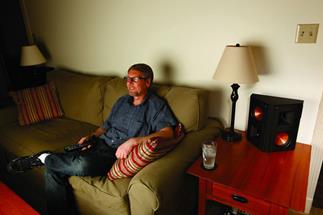 With an open-design living room and a sofa backed up against the wall, surround speaker placement was an issue. Steve simply set the Klipsch RS-52 II surround speakers on top of the end tables next to his sofa. It worked like a charm! The speakers' angled drivers created a wide, immersive soundfield.
"Once everything was connected, I engaged the Marantz receiver's Setup Wizard and followed the easy on-screen instructions to calibrate the system. With all the settings made, it was time to see how the system sounded. I put in a Blu-ray movie — No Country for Old Men — and sat back to enjoy the ride.
"The system kicked like a mule when called upon, but also displayed a great deal of finesse. The sound in front was firmly anchored to the screen, while the surrounds created a deep, ambient soundfield without drawing attention to themselves. This soundtrack has lots of subtle things happening, such as how the sounds of voices change in different rooms and locations, and dogs barking off to the side. I had my windows open, and the sound was so realistic that I paused the disc to make sure I wasn't hearing dogs in my own neighborhood. It was all the movie."
So it's awesome for home theater, but how does this new system meet Steve's high standards for music playback? "I'm totally impressed with its wide dynamic range and sense of ease, even at high volume levels. The entire system has transformed my living room into a concert hall."
Bi-amping for better sound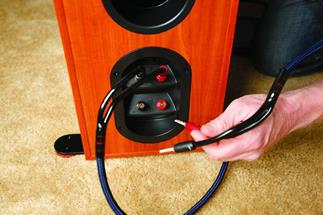 After removing the jumpers that connected the high and low speaker inputs, Steve prepares to attach a second set of cables in order to bi-amplify his towers.
Steve's surround system needed only five out of the Marantz SR6006 receiver's seven channels of power. So he used the extra two channels to "bi-amp" the Klipsch towers. Sending the additional power to the front speakers resulted in more dynamic, higher-quality sound for both music and movies.