Take Your iPad on the Road with inCarBite
Heads up!
Welcome to this article from the Crutchfield archives. Have fun reading it, but be aware that the information may be outdated and links may be broken.
Sometimes a new gadget comes along that, at first glance, doesn't cause you to raise an eyebrow. But at second glance, you realize the beauty or ingenuity of the thing and it blows you away.
That's my experience with the inCarBite iPad mounting system. When I first saw it, I didn't pay it much attention. But recently, our catalog team needed a volunteer to use the inCarBite so we could feature it in the Crutchfield catalog. I said, sure, I'll take a look.
The inCarBite is one of the most elegant in-car solutions I've ever seen. It installs easily, and it's a sturdy, well-built accessory that holds your iPad secure so that your passengers can watch movies in comfort.
---
What is the inCarBite?
The inCarBite is a two-piece system that lets you use your iPad 2 in the car—a case and mount that work together with your car's factory headrest to let you enjoy backseat video without a difficult installation.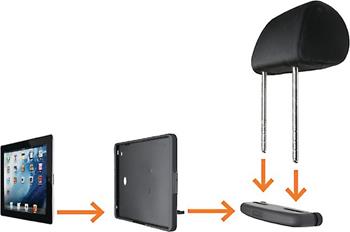 Installing the inCarBite—seriously, that's all there is to it.
It starts with a mount that goes on your headrest. This creates the secure, stable base of the system and it installs very easily in minutes. All you have to do is pull your headrest off of the seat, slide the dock onto the posts, then replace the headrest. Next, you slide your iPad into the rugged case, and slide the stand on the back of the case to the headrest mount.
The mounting system comes in three flavors:
The M2-20-1 basic kit is just the mounting system consisting of the headrest mount and the iPad case.
The M2-20-2 powered kit adds a power adapter to the headrest mount. It lets you charge your iPad by plugging into your car's 12-volt accessory power connection.
The third option is the M2-20-3F. It's another powered kit, but this one also has a built-in transmitter for use with (optional) wireless headphones or your car's FM radio.
You can buy extra mounts by themselves so that you can move your iPad from car to car, without having to remove the mount each time, or having to pay for extra iPad cases (that's especially helpful if you only have one iPad). These extra mounts are available in both powered and un-powered versions.
You're not limited to the car
inCarBite also makes a mounting attachment for use indoors, the SI-102 desktop/kitchen dock. You can use it as a base, letting you use your iPad on a table or countertop, or hang it upside down under your cabinets. It has powered speakers, so you can hear your video or music, and there's even an auxiliary input so you can play music from another device.
| | |
| --- | --- |
| SI-102 desktop/kitchen dock | The SI-102 dock mounted under a cabinet |
Easy backseat video in the car, a stylish iPad dock for the house—the inCarBite is one system that lets you use your iPad wherever you need it. And it proves that perfect design doesn't have to be flashy or complicated.