Testing Android™ compatibility with new car receivers
What does "Android compatible" mean?
Heads up!
Welcome to this article from the Crutchfield archives. Have fun reading it, but be aware that the information may be outdated and links may be broken.
Smartphone connectivity. It's an essential consideration when upgrading your car stereo. If you're an Android user, a long list of appealing specs can be meaningless until you see the phrase: "works with select Android phones." Yet, even if your Android phone is "select," you still may be excluded from some features. Unlike the iPhone®, the Android umbrella covers too much ground to have one simple interface for every phone.
Nonetheless, some manufacturers are prone to advertise what will work, not what won't, driving Android users, like me, to put on their detective hats. Itching to understand just what the average customer could expect from the label "Android compatible," I squared off with three of Crutchfield's top-selling touchscreen receivers using my own Motorola DROID MINI. My hope was that one of them would play nice with my phone.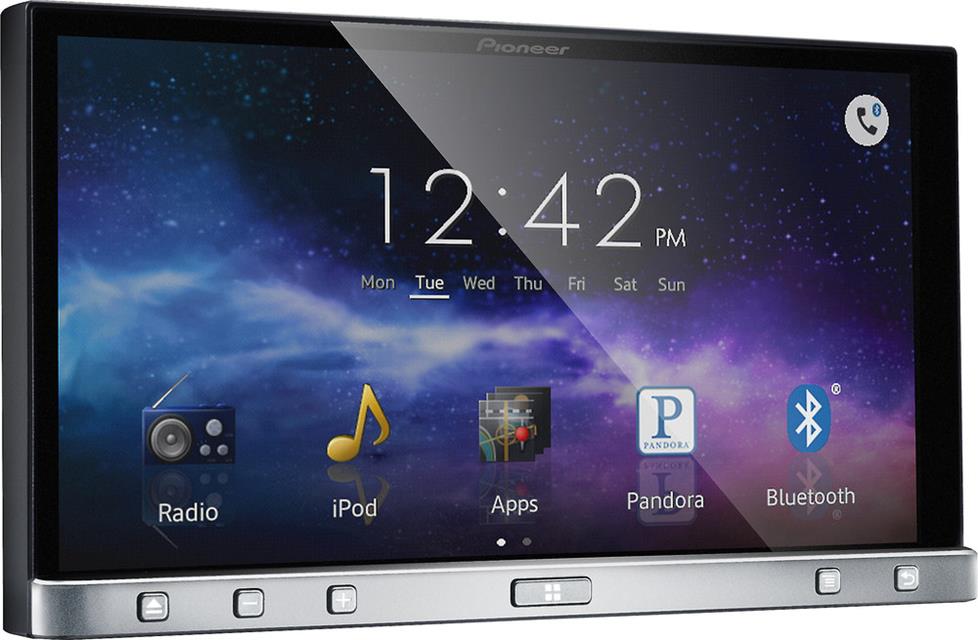 The Apple-lishous AppRadio 3 doesn't exclude Android from the fun
Pioneer SPH-DA210 AppRadio 3
Editor's note, 4/6/2015: The Pioneer SPH-DA210 is no longer available. However, Pioneer offers many similar receivers.
First up was the Pioneer AppRadio 3, which sports an elegant design and an admirably simple app-based interface. Sound familiar? It's no accident that this receiver is a stylistic match with the iPhone — it's optimized to be its in-car twin.
Still, pairing my Android via Bluetooth® connection was easy enough and allowed in-dash control of my phone's calling features, contacts, and call history. If I pre-selected a playlist from a music app on my phone, I gained in-dash, track-to-track control, and was glad to see artist and song title tags too. But that's where the fun mostly ended with my DROID MINI, because it's not compatible with Pioneer's AppRadio feature.
AppRadio is really the heart and soul of this receiver, and it's only accessible with a wired connection to iPhones and some Android phones. With the Crutchfield Labs' Samsung Galaxy S3, the world of AppRadio opened up to me. I could choose from a nice array of social, navigation, traffic, and internet radio apps for in-car convenience. I was especially impressed with Pioneer's CarMediaPlayer app, which has an expansive yet intuitive interface for navigating your mobile device's media library.
Pioneer is ahead of the game with the AppRadio format, and with one of over forty compatible Android phones, you'll really be able to make the most out of this receiver. In my case, however, it was time to move on, a little wiser, but hungrier than ever for full compatibility.
Sony XAV-602BT
One look at this Sony receiver, and I grinned. Volume control is managed by, get this… an actual knob. Nothing like the old-fashioned feeling of cranking a dial to get you in the listening mood. So, I jumped the gun and took Pandora® for a spin. Quick Bluetooth connectivity gave me total control over Pandora on my phone, letting me choose from my profile's radio stations, bookmark and add new stations by artist or song, and even tag tracks with the ol' thumbs up or down. The receiver's "BT Audio" function tapped me into the other music apps on my phone, giving me track info and basic play functionality.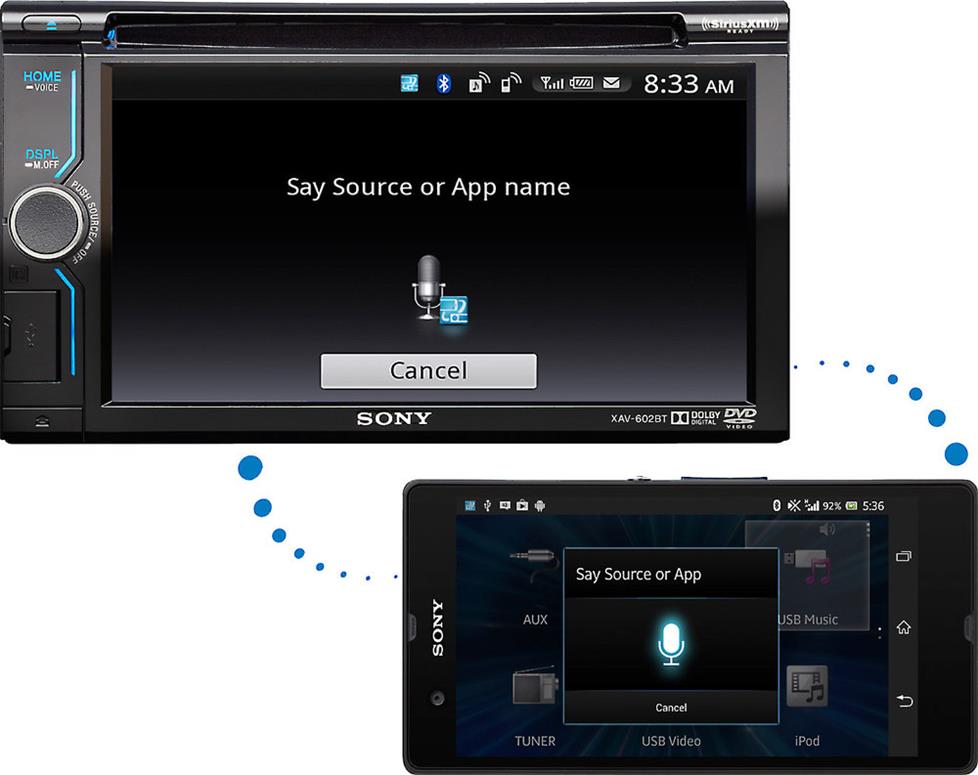 With Sony's AppRemote, your Android and your receiver partner up to make things easier on you
After downloading Sony's AppRemote onto my Android and giving it access to the phone apps of my choice, I was able to see a list of those apps on the receiver's screen, similar to a browser's bookmark list. Selecting an app on the receiver opened it on my phone — a snappy way to hand over music control to the kids in the backseat. Quickly, I discovered the beauty of AppRemote — control is a two-way street between your receiver and your phone. It's an inspiring interplay which exclusively gives Android users voice-control of useful functions like artist/song look-up.
In both the Pioneer and the Sony, MirrorLink capability was available with the Samsung Galaxy S3, but not with my phone. MirrorLink lives up to its name, funneling essential apps into a simple menu which is mirrored on the receiver's touchscreen. Not much of a replacement for AppRadio, but a convenient addition in the Sony, where, among other things, it provides a more complete music interface and better navigation interaction with your phone.
Overall, my phone saw a perk advancement with the Sony, but once again, it wasn't compatible with all the features this receiver has to offer.
Parrot ASTEROID Smart
The ASTEROID Smart is optimized for Android use, right down to the iconic Android home, back, menu, and recent apps buttons on the left-side of the touchscreen — the same buttons at the bottom of my DROID MINI and many other Android phones. Talk about a warm welcome.
Like the AppRadio 3, the ASTEROID Smart wears its simplicity well. The interface is also app-based, giving you room to populate two screens however you like. Just drag and drop apps onto the home screen. Quickly access already-open apps with a pull-down screen or the recent apps button. My DROID MINI works the same way, so there wasn't much of a learning curve in my case, which I appreciated.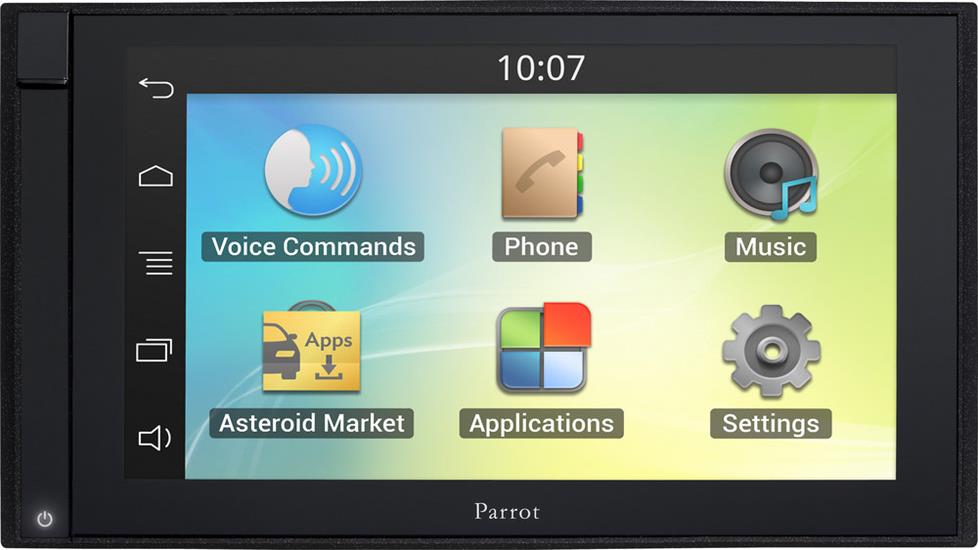 The ASTEROID Smart emulates Android right down to the buttons
Pairing via Bluetooth was as quick as with the other two receivers, giving me use of my phone book, call history (including dates and times), quick dial, and voice control. Parrot also allows two phones to be paired with the ASTEROID Smart at the same time, prioritizing one as the main phone for phonebook usage but still allowing both to receive calls via the receiver. As to who gets their music played, it's simply a matter of selecting the Bluetooth source once in the music app.
Speaking of Bluetooth music, Parrot makes it easy for you to keep your eyes on the road with very forgiving touch control. Just tap the screen to pause or play, and skip songs with a big finger swipe across the screen. Likewise, volume is a big swipe up or down.
It's a nice approach. Rather than shoot for impressive and fall short, this receiver takes aim at practicality and refines it. Where the ASTEROID Smart really gains an edge in Android compatibility is its embrace of the very characteristic that defines Android — freedom. Its wireless capability and SD card slot make it more of a companion to your phone than a mirror, thus skirting the worst of compatibility issues. Good news if your phone breaks and you need to buy a new model. With a wireless connection (I used my phone as a mobile hotspot), you can download apps to the receiver from the Parrot Marketplace. Some of those apps like Waze and Glympse are in Pioneer's AppRadio Marketplace, but I was particularly jazzed to find VLC and Spotify in Parrot's. If you have a Spotify Premium subscription, you can sync your favorite playlists with the ASTEROID Smart and listen offline. The app is as complete as the one on your phone.
Toying with the ASTEROID's wireless capabilities was when I officially fell for this receiver — one designed with the same spirit that's kept me coming back to Android over and over. Case closed for me, now how about you?
The chicken or the egg
I dove into this investigation already an Android devotee, but if you're a blasé Android owner, ask yourself what comes first? The phone or the receiver? If the receiver is more important to you, then you might be better off switching to an iPhone — you'll have a lot more options. If you're a die-hard Android fan, then you've got a bigger journey ahead. Get passionate, investigate the details, weigh phone compatibility importance against other features, call us any time and ask a lot of questions, but most of all, stick in there. Even though you're not the one-size-fits-all type, the perfect receiver is still waiting for you.