Testing the Bluetooth® features of six car receivers
Heads up!
Welcome to this article from the Crutchfield archives. Have fun reading it, but be aware that the information may be outdated and links may be broken.
Bluetooth compatibility has become a top priority for shoppers when deciding on a new car receiver, and understandably so. It's more than simply another cool feature, it's downright practical. With your phone and stereo wirelessly paired, life in your car just gets easier.
What Bluetooth connectivity gets you
Generally, when your phone and receiver have a Bluetooth connection, you should gain access to hands-free calling and be able to stream music wirelessly from your phone.
For stereos equipped with CD playback, USB ports for iPod® connection, an HD Radio™ tuner, SiriusXM compatibility, and an AM/FM tuner, the addition of these two Bluetooth functions rounds out an already stellar array of car audio options. But the beauty of Bluetooth is that it allows even more fun features.
We tested a range of receivers to see how well each one uses Bluetooth in six core categories and we rated them on a 5-point scale. At its best, a Bluetooth pairing turns your phone and receiver into one seamless system — that was our holy grail.

Ease of use: While the menus and buttons weren't the most intuitive, we were able to pair relatively quickly. Score: 3
Call quality: Using the receiver's internal mic felt akin to setting your phone on the dash and putting it on speakerphone. It'll work, but you're going to have to speak up. However, a seperately sold external mic is available. Score: 3
Phonebook: We were happy with the fast load of phone contacts and the overall quick response in dialing functions. Score: 4
Voice control: Not an option on this receiver. Score: N/A
Metadata: Metadata was solid across the board, but the persistent labelling of information with "ARTIST:", "TITLE:", etc. felt like overkill. Score: 3
Music options: Create station, thumbs-up, and thumbs-down buttons for Pandora® made that music service particularly fun to stream. Score: 4

Ease of use: We were able to pair via NFC (Near Field Communication) by simply touching our Android™ phone to the Sony's volume knob. App Remote™ opened up a lot more options than most single-line receivers have by letting us use our phone's touchscreen as the receiver display. App Remote is iPhone-compatible with a wired connection. Score: 4
Call quality: Our calls were clear and well-received on the other end thanks to Sony's included external mic. Score: 4
Phonebook: If we had a hard-to-find number, we could always access the phonebook menu in App Remote, or better yet, create voice-tagged contacts for hands-free operation. Score: 5
Voice control: App Remote has a voice control function that allows app control, phone control, and artist/track control. Pretty great, in theory, except it was a little glitchy for our Android phone. Score: 3
Metadata: During CD playback, we were impressed that Gracenote grabbed metadata via our cell connection to display album art via App Remote. Score: 4
Music options: Large icons on the App Remote menu made it easy to launch a music app in the car. We organized all our music services together in the App Remote menu and loved using Sony's expansive sound settings app. Score: 5

Ease of use: Pairing was simple. For bigger functions, Alpine makes good use of their buttons, but when it comes to finer tuning, navigating menus took a bit of mastery. Score: 3
Call quality: Alpine's commitment to sound came through in call quality and the option to customize. We could tweak mic gain for the included external mic and could program which speakers we wanted to play call audio. Score: 4
Phonebook: Alpine allowed scrolling contacts by last name and by first name, as well as an ABC search. We used a dedicated button to click through contact-specific info like house, mobile, and work numbers. Score: 4
Voice control: Voice control at the press of a button was nice, but nothing fancy here — it simply taps you into Siri® or Google Voice on your phone. Score: 3
Metadata: Like the Clarion, "ARTIST:", "TITLE:", etc. before the corresponding info felt unnecessary. However, metadata was quick and reliable across most of the music apps we used. Score: 3
Music options: We had no trouble using our music services, but Pandora really stood out thanks to a station search feature and a button to add new stations and one to bookmark tracks. Score: 4
Ease of use: SSP (Secure Simple Pairing) pairing let us get hands-on quickly. At 4" tall, there was more room for big buttons, but play/pause for Bluetooth Audio was oddly small and inconvenient. Score: 3
Call quality: JVC provides an external mic for hands-free calling. Call audio was reliable but not excellent. Score: 3
Phonebook: We got brisk response scrolling through and selecting contacts, and the 2-line display enhanced readability. One of our favorite features was the ability to pair two phones at once. Score: 4
Voice control: Voice control was available for Siri Eyes Free and performed consistently. Score: 3
Metadata: No complaints here. Artist, track, and album info was available across all the music services we used. Score: 3
Music options: For our Android phone, the JVC Smart Music app got competitive with Sony's App Remote by providing a receiver EQ interface controllable from our phone and allowing music-related voice commands like "next song" and "artist search". Score: 4

Ease of use: The interface was refined and the adjustable 2- to 3-line display made menus a breeze. Pairing was fast with SSP and gave us the ability to prioritize a phone. Score: 4
Call quality: Like the Alpine, a great sounding stereo made for great sounding calls, and an external mic had us heard loud and clear on the other end. Score: 4
Phonebook: The expansive display made scrolling contacts the next best thing to scrolling on our phone, and the option of an ABC search sped up the process. Score: 5
Voice control: Voice control got the job done for Siri Eyes Free but it wasn't compatible with Google Voice on our Android. Score: 3
Metadata: Using Bluetooth Audio, we were able to get artist, track, and album info on some Android phones but not on others. Be sure your phone accommodates (AD2P) and control (AVRCP) protocols. Score: 3
Music options: The Kenwood gave us dedicated menus for Pandora, iHeartRadio®, and Aha™. Music from apps like Spotify® and Google Play Music were playable through Bluetooth Audio too. Score: 4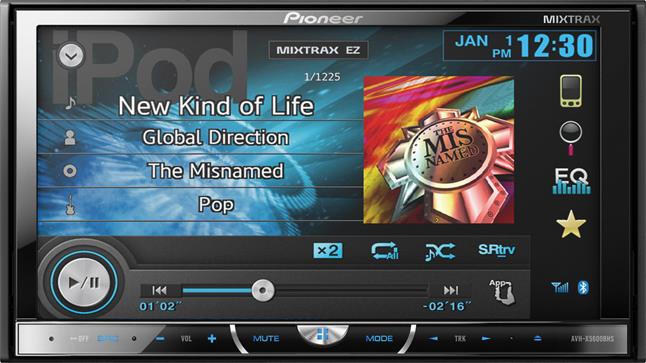 Ease of use: With its 7-inch touchscreen display, this Pioneer had a lot of room to get things right, and it did. Interacting with this fast, sleek receiver was a pleasure. Score: 5
Call quality: The Pioneer's power, speed and sound quality all combined to make phone calls as clean and simple as if we were using our handheld. Score: 5
Phonebook: An ABC search was a great perk for searching contacts, but what made this unbeatable was that, with this much touchscreen space, we could scroll through contacts in the same way we do on our phone. Score: 5
Voice control: This was a great experience. As with call quality, a sensitive external mic and excellent Bluetooth performance helped our phone get voice commands right every time. Score: 5
Metadata: This receiver provided solid metadata like most of the other units. The difference was in the pleasure of seeing it all once, rather than scrolling, plus album art. Phone battery and signal monitors were a bonus! Score: 4
Music options: Bluetooth audio options were reliable like the best of the other receivers, only with the added benefit of in-dash touchscreen control. Score: 4
The right fit
To see all of the Bluetooth compatible receivers that fit your car, use our vehicle selector or contact our advisors with any questions.