The Power Conditioner Challenge
Heads up!
Welcome to this article from the Crutchfield archives. Have fun reading it, but be aware that the information may be outdated and links may be broken.
The Problem – Dirty Power
Sometimes the power that operates your gear is also the cause of its diminished performance. Electromagnetic interference (EMI) from high-current appliances such as refrigerators and vacuum cleaners can get into your AC power and interfere with your system.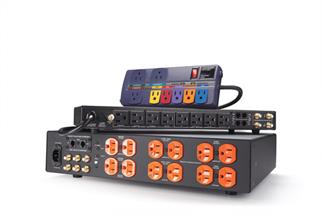 This keeps your home theater system from operating at its best. Images on your HDTV can lose color intensity and definition, while the sound from your speakers might lack detail and range.
The Solution – Power Conditioning
Power conditioners counteract this by acting as a buffer between the wall socket and your system. They take the house current coming in, smooth out fluctuations, and filter out EMI before passing it along to your gear.
The Question – How much of a difference can power conditioning make?
To find the answer, we compared three power protectors: an entry-level model just offering power protection, a standard component with some power conditioning, and a high-performance power conditioner. We used a noise sniffer to measure electrical interference and static, and discovered a big difference between the power coming out of the wall and the current passed along through the components. The differences between each of the power protectors were small, though. Were those incremental changes enough to improve performance of a home theater system?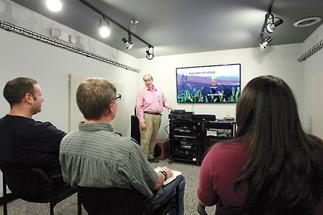 The Test
To find out, we asked three of our staff to do some critical listening and viewing in the Crutchfield Labs home theater room. We played the same material on the same system in four trials. We did a trial for each of the three power protectors, and a final trial with the system plugged directly into the wall with no conditioning.
Although the members of our panel noticed different things during each trial, they all came to the same overall conclusion: there was a discernable improvement in system performance between the three power protectors. And the difference between even the most basic conditioning and none at all was quite dramatic.
The Setup
To minimize the time between the trials, we kept the connections simple. Our Crutchfield Lab Home Theater Test Room system consisted of the following:
Samsung UN55D7000 55" 1080p LED TV
Onkyo TX-NR709 home theater receiver
Denon DBP-2012UDCI High-definition Blu-ray/DVD/CD player
Polk Audio Blackstone™ TL350 home theater speaker system
Polk Audio PSW125 12" 150-watt powered subwoofer
The Test Content
We used two content sources: standard-definition over-the-air transmissions and a Blu-ray disc.
The standard-definition broadcasts were the worst possible signal we could find. Since we ran the trials mid-morning, the panel viewed syndicated talk and game shows. The source videos were poor quality to begin with, especially the local commercials run between the segments. Would power conditioning improve even marginal picture and audio quality?
Our Blu-ray disc was Dave Matthews and Tim Reynolds: Live at Radio City Music Hall. It was a live acoustical concert with a lot of subtle sonic detail, and filmed in high-definition. Would power conditioning make a difference with the signal degradation resulting from dirty power?
The Power Conditioners
For the trials, we used three components that offered different levels of power protection.
Monster Power AV 800 – Designed for a small system, the AV 800 was our entry-level unit with 8 outlets.While not a power conditioner per se, it's designed to minimize signal degredation.
Panamax M4300-PM – This unit was made for the standard-sized home theater system that would benefit from power conditioning. It featured 8 outlets divided into two banks, isolated from each other. This isolation prevents digital components, such as an HDTV, and analog components like a receiver from electronically interfering with each other.
Furman Elite -15 PFi – This was the high-performance unit of our trio. The Elite-15 was built for highly sensitive electronic components. The 12 outlets are divided into three isolated banks to further reduce cross-interference. In addition to wide-bandwidth noise filtration, it's designed to deliver more power to your components when necessary.
The Panel
Steve: Senior Editor, Crutchfield Creative Department. Steve is our resident TV technology expert, and is an avowed audiophile.
Jordan: Senior Manager, Sales Development & Technology. Jordan manages the Crutchfield Lab and spends a great deal of time setting up and testing a wide variety of audio/video gear and systems.
Annissa: Crutchfield Digital Assets Coordinator. Annissa is an A/V enthusiast who is most familiar with the newer portable audio and video technologies.
The Results:
| | | | |
| --- | --- | --- | --- |
| | Over-the-Air | Blu-ray video | Blu-ray audio |
| Steve | The Monster AV 800 provided a little improvement, smoothing out the "jaggies" a bit. | With the Monster conditioner, deep blacks appeared even more solid and stable. | It was easier to hear reverb. |
| Jordan | Slightly less blur than direct to outlet; text a bit more legible. | Improved sharpness, better detail in dark scenes, motion was fairly artifact free. | A bit better detail in the high frequencies. |
| Annissa | Visible blurriness. Show logos were still blurry around the edges and name tags on shirts were not clear. Did notice a difference in the sharpness on the small print in commercials, although it was still blurry. | Background and audience still had slight blurriness. Lights on the stage still appeared blurry. | Sound was a little more crisp and open (highs and lows sounded clearer). |
---
| | | | |
| --- | --- | --- | --- |
| | Over-the-Air | Blu-ray video | Blu-ray audio |
| Steve | I didn't notice any improvement with the Panamax M4300-PM compared to the Monster AV 800. | With the Panamax it became easier to pick out individual faces in the audience. | Video improvement was more noticeable than audio. |
| Jordan | Unable to differentiate from the slight improvements made by switch from outlet to AV 800. | Greatly improved definition in dark areas, no blurring or artifacts of any kind. | Deeper bass evident, improved high-frequency detail. |
| Annissa | Did not notice much improvement over the Monster. Image still blurry with jagged edges. | Colors appear richer and deeper. Audience was more visible. Back of the stage was less fuzzy – less blur and noise around Reynolds' fingers while playing the guitar. | Sounds was more crisp and open. Bass sounded deep and I could hear the individual strings on the guitar being rapidly plucked. |
---
| | | | |
| --- | --- | --- | --- |
| | Over-the-Air | Blu-ray video | Blu-ray audio |
| Steve | The Furman Elite-15 PFi had a definite positive effect. The blurriness was less severe, and I noticed deeper blacks with improved shadow detail. | With the Furman, even more audience details became clear. | The soundstage for Tim Reynolds' solo guitar piece expanded. |
| Jordan | Slightly improved edge detail and contrast. | Excellent contrast. I was able to identify a background object in the menu screen as being metallic in finish — that was not noticeable previously. There was a reduction in light bleeding around the edges of objects in high contrast scenes | Maintained all the benefits of the Panamax 4300 and added significantly more ambient detail. |
| Annissa | Improvement on small print and name tags – edges appear less blurry on darker colors. There was less noise around logos and objects. Definitely richer and deeper color. | Images in opening screen appeared brighter and there was more contrast. Blacks were so much richer and darker making everything appear so bright, clean and crisp. The chairs in the far background and Tim Reynolds' shirt appear a lot darker and cleaner (very rich color). Faces in the audience were so clear. I could see the individual hairs on Reynolds' arm and even on the top of his head. Scratches on the guitar top appeared so bright and vivid (did not pick up on those at all with the Monster). | Sounds were very open. |
---
| | | | |
| --- | --- | --- | --- |
| Direct to Wall Outlet | Over-the-Air | Blu-ray video | Blu-ray audio |
| Steve | Syndicated, standard-def video on an HDTV looks shockingly bad – very blurry, with jagged edges on any angled surface | With all the components plugged back into the wall, both the picture and sound seemed a little flat | |
| Jordan | Blurring, lots of pixilation, poor edge detail. A big digital mess. | Noticeable loss of contrast, digital noise in background object, lack of edge detail, light and dark areas blended to gray, loss of sharpness and detail. | Bass not as pronounced, high-frequency detail and definition loss, more compressed sound. |
| Annissa | Images towards back were blurry. Fuzziness and lines around objects appear jagged (name tags, tables, etc.) | Picture seemed relatively clear – some small blurring around dark darker colors. The back of the stage seems to have some noise. Lights on the stage lacked focus. Audience members appear blurry. | I agree with Jordan. The bass lost its punch, and the overall sound was muddier. |