Train your dog with smart tech
Stop barking, digging and escape attempts with Smart Pet products
Heads up!
Welcome to this article from the Crutchfield archives. Have fun reading it, but be aware that the information may be outdated and links may be broken.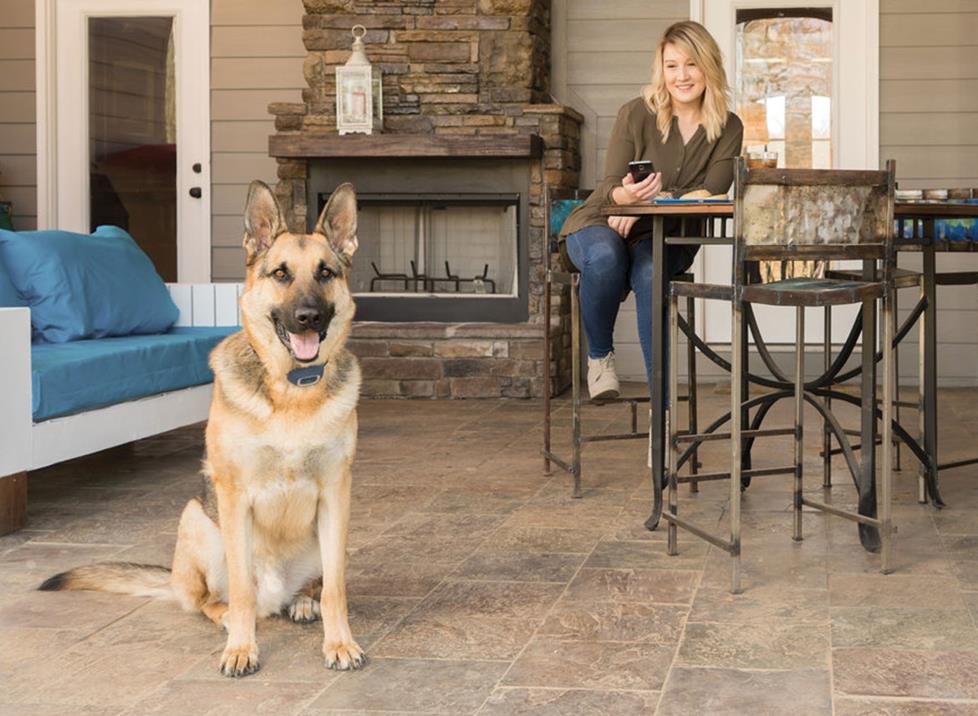 Smart training devices like PetSafe's Rechargeable Bark Collar can help you keep your dog out of trouble.
My beagle likes to watch my back. If someone comes up behind me suddenly, he leans back on his haunches and bays with all his might. As much as I appreciate the sentiment, the noise is startling, embarrassing, and disruptive. I've been able to bring him to work with me, but I'm afraid I'll have to stop if he doesn't settle down.
Barking, digging, marking territory, shredding fabric — these and other common pet behaviors drive humans batty. But we love our pets and want to keep them around, so we try to train them in a humane manner.
Clever electronic devices have given pet parents new ways to understand and control pet behavior. In this article, we'll take a broad view of this growing field, exploring preventative measures, positive reinforcement, and some corrective measures.
Keep your pet busy
Just like humans, pets get cranky and anxious when they miss out on exercise or sleep. A fitness tracker with a good app will let you monitor activity and rest patterns, so you can determine if your pet is getting enough of both.
If you feel lack of activity is contributing to your pet's unwanted behaviors, try an interactive pet toy that you can remotely control, even when you're at work.
Motivate your dog with rewards and treats
My dog is *very* motivated by treats — I suspect I could teach him to walk upright, wear clothes, and speak French, as long as I reward him with his favorite snack.
This type of training — where you choose a behavior you wish to promote and reward it consistently — is known as "active training." Dogs are taught to sit, stay, roll over, and similar feats, using this method. Tech makes it more effective by offering ways to reward your dog when you're not face-to-face.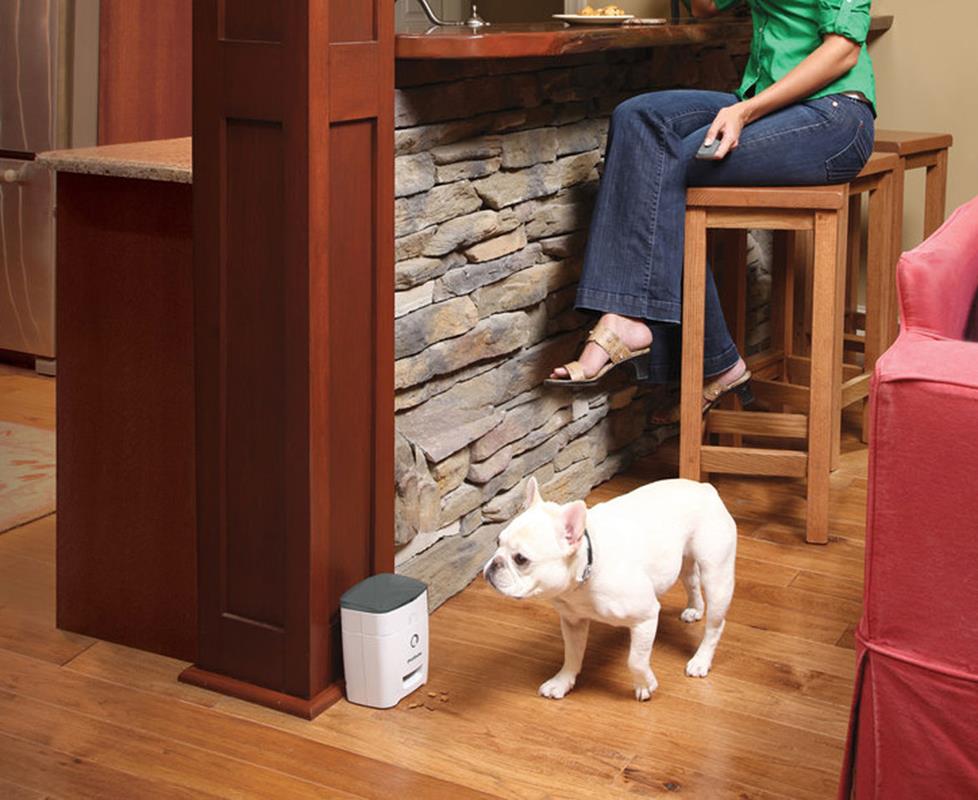 You can immediately reward a pet who's doing the right thing with a remote-controlled treat dispenser.
A treat dispenser like the PetSafe Train n' Praise can be used for active training. When you see your pet doing the right thing, just press a button and a treat appears immediately, even if you're in the next room.
Try a dog training collar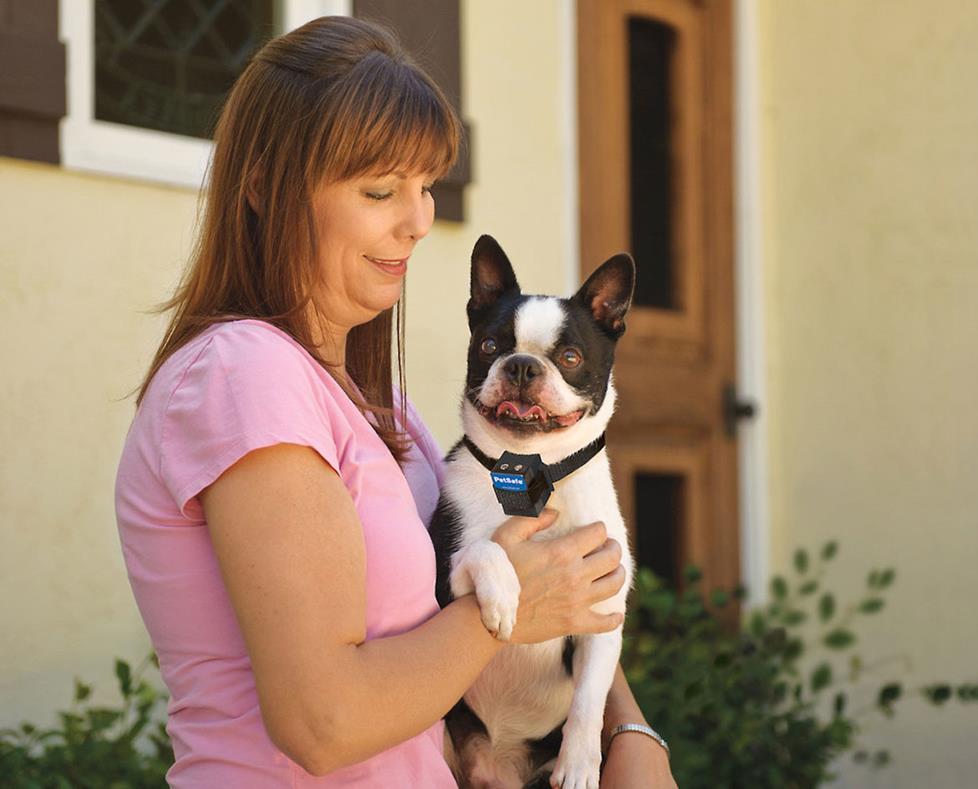 You can train your dog to avoid trouble with a collar that dispenses a citronella scent to get her attention.
The collar is the one thing most dogs have on them at all times, so it makes sense to use it as a connection point for a training device. Modules that attach to the collar may administer any of the following forms of correction that connect unwanted behavior with an unpleasant sense memory:
Scent spray – a quick squirt of a strong scent (example: citronella) issues from a collar device such as the PetSafe GentleSpray Anti-Bark Collar.
Static – this is like the static electricity zap you get from shuffling your feet on a carpet; something you want to avoid – surprising but not truly painful
Ultrasonic – the classic "sound only a dog can hear," and it's a sound they don't particularly enjoy
Vibration – think of this like the way your phone buzzes in your pocket on silent mode
Sound – any of the above can be paired with a "warning tone" that may stop the behavior before correction is needed, once the association is made in your pet's brain
An active training collar like the Garmin Delta Smart can be directly remote controlled by you or a trainer, but an anti-noise module like the PetSafe Indoor Bark Control can listen and react as soon as it hears your dogs begin to growl or bark.
Will "static stimulation" hurt my dog?
Many of us — me included — weren't totally comfortable with the idea of using static stimulation on our beloved pets. So several of us decided to try these devices on ourselves before we started carrying them. I tried the collar that comes with the PetSafe YardMax In-Ground Fence.
The lowest setting is a light tingle — kind of a mild wake-up call. The higher levels felt more like the times I'd bashed the funny bone in my elbow a little too hard. It wasn't a pleasant sensation, but I didn't find it really painful.
Several of my colleagues tried other devices and reported a similar feeling — it was something to be avoided, but it didn't seem inhumane. And those who had used them with pets reported that after a couple of incidents needing correction, their pets started responding to the tone and vibration warnings and never needed static correction again.
My final take is: if your dog is stubborn and gets himself into dangerous situations like running toward the road or showing aggression when he shouldn't, static correction is a safe and effective way to deter him from those detrimental behaviors and keep him with you long-term.
Wireless fences and barriers for dogs
Many pet owners struggle with the desire to let their pets roam, while keeping them safe in the yard and away from gardens and trash cans. There are smart pet products that help us accomplish both.
Wired and wireless pet fences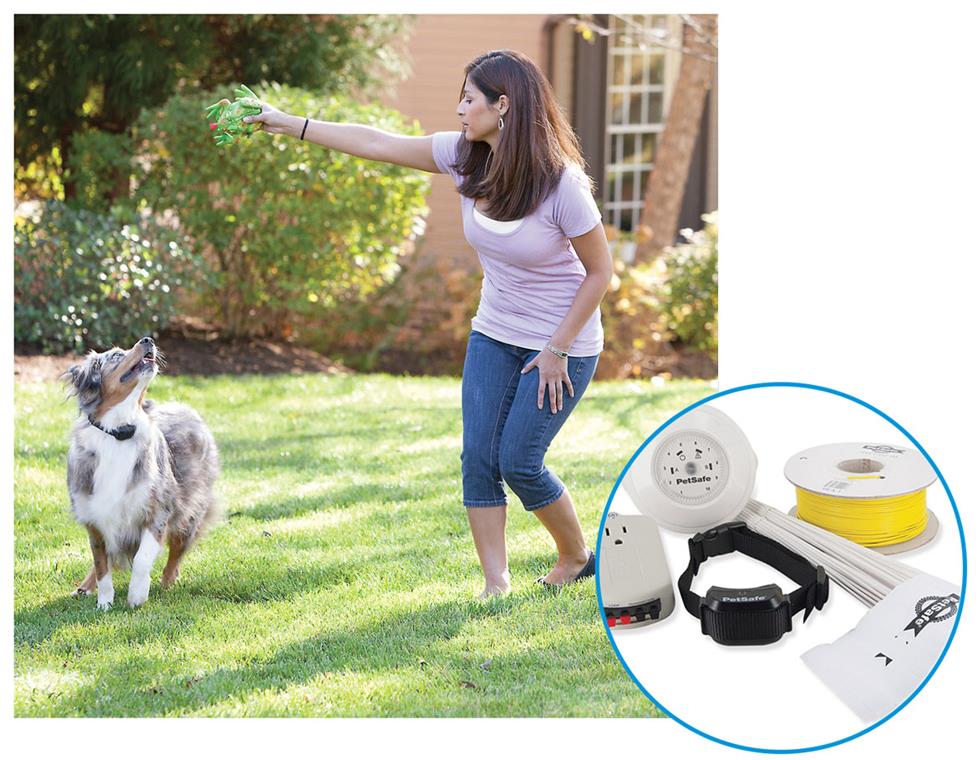 A buried wire fence lets you and your dog play in the yard without having to erect a costly physical barrier.
Most pet owners are familiar with the "invisible fence" system, in which a perimeter of buried wire is established. A device attached to the pet's collar administers correction any time the pet approaches the unseen buried wire, so they learn to avoid the perimeter altogether.
Wireless technology — like that used in the PetSafe Stay+Play Wireless Fence — provides an alternative to burying wire. A centrally-located base unit broadcasts a signal that establishes an invisible "dome" of sorts. If your pet attempts to leave the area of the "dome," she gets a warning, then a correction.
Pet barriers keep dogs out of trouble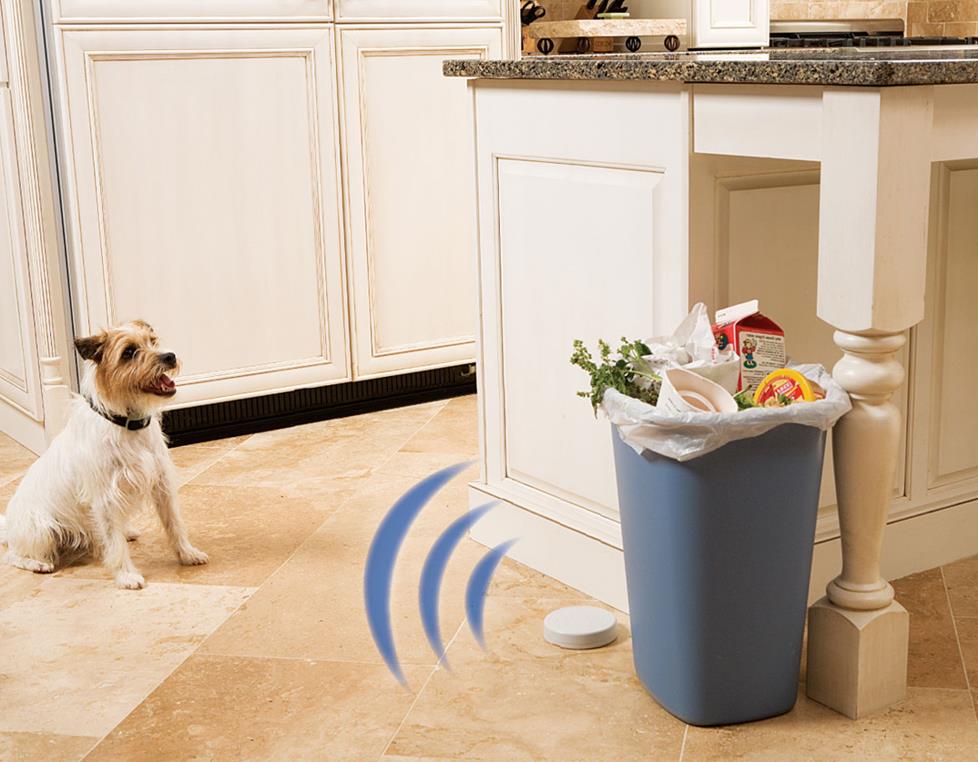 Barriers correct your pet with sound, vibration, or static correction when they get too near something you want them to avoid.
Most homes have forbidden areas where pets aren't allowed. Avoidance products let you safeguard small areas while allowing your pets to roam the rest of the house or yard.
The PetSafe Pawz Away Threshold Barrier laid across the doorway to the baby's room lets your pet know it's a no-go zone. In similar fashion, short-range Garmin Keep Away tags establish an invisible perimeter around a nice couch, or that super-enticing trash can you insist on leaving in Rover's line of sight.
Smart pet doors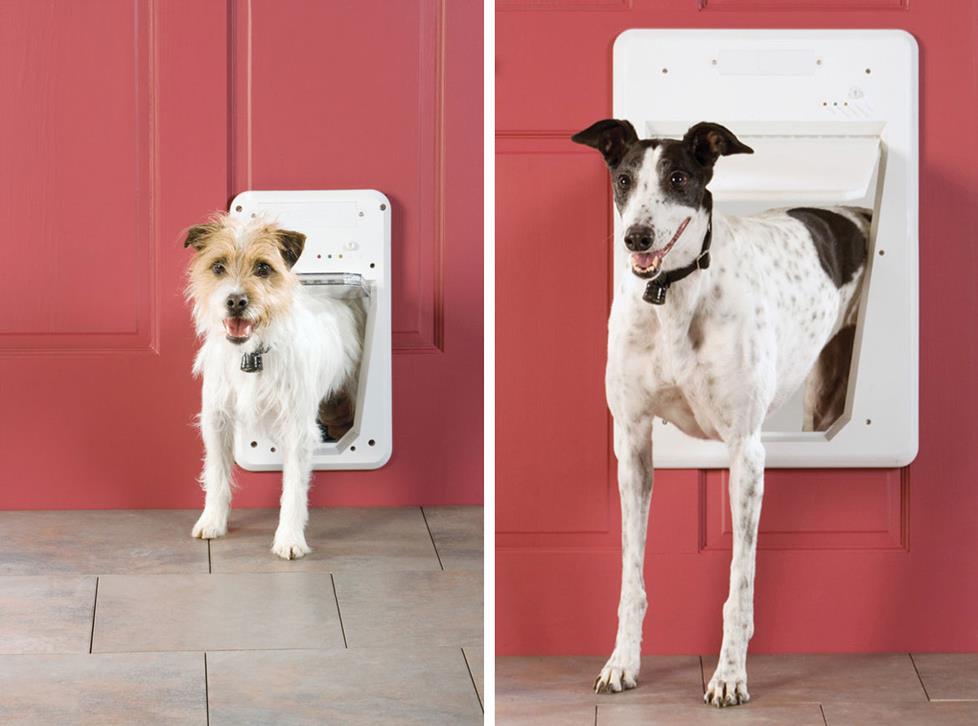 Smart pet doors let only your dog in — no strangers.
If you have a yard, it can be nice to install a pet door so your fuzzy friends can go in and out at will. It keeps us from having to rush home for bathroom breaks, and lets our pets be more active throughout the day.
But nobody wants two-way traffic. I still laugh at the memory from my childhood: my best friend caught a raccoon eating the food meant for his Scottie dog. His nervous attempts to dislodge the invader with a broom were both hilarious and completely ineffective.
PetSafe's SmartDoor solves this problem by tuning the door to open only when it detects the right signal – which is broadcast from a SmartKey collar fob that only your pets are wearing.
Let us help you train your dog
Using smart tech to train your pet is a great start. We've also hand-picked products to help you keep your pet fit, take the stress out of being home alone, and make getting lost a thing of the past. Call 1-888-955-6000 and a Crutchfield advisor will help you choose the right solutions for your home and beloved pets.