This Toyota Yaris is a mobile audio lab
New Sony GS Series gear gives Stephen's car a great new sound
In this article... A Crutchfield car audio buyer upgrades the system in his Toyota Yaris with a new amp and speakers from Sony. Check out the gear he added and how he did it.
When your day job involves searching for the latest and greatest in car audio, you're not going to settle for anything less than awesome in your own car. For Crutchfield buyer Stephen, his 2008 Toyota Yaris isn't just a daily driver, it's a mobile listening lab.
For his latest upgrade, Stephen installed Sony's new GS speakers and a new 4-channel amp. His old Sony gear was still cranking right along after seven years, but there's nothing like new gear to bring out the best in Stephen's music collection. We asked him to tell us more about his most recent audio upgrade.
This isn't your first upgrade with this car. What inspired you to choose this new Sony gear?
I change out gear in my car often to try out new technology, but I always come back to Sony as a great everyday sound system. While the older gear in the car still rocks, I wanted to get the latest GS speakers and amps in there to see how much of a difference they'd make. It's also a great way to let our advisors hear this gear in a real-world application.
With that thought in mind, I picked up the phone and made a call to my contacts at Sony. They graciously offered to supply the gear for a whole new sound system. Thanks, Sony!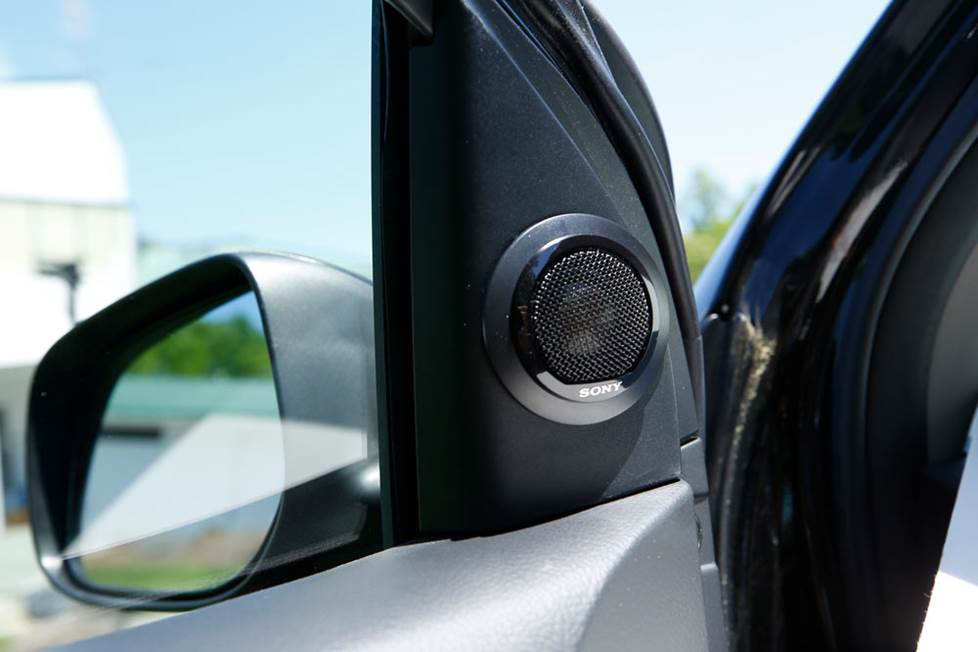 The new tweeters worked with the old mounting hardware, which was a big help.
When you installed your first aftermarket system a few years ago, you had to modify the car a bit to mount the tweeters. Did the new tweeters go right into those old openings?
The new XS-GS1621C tweeters worked with the old mounting hardware, which was awesome. The new cups were smaller than the holes we originally cut, but we could secure the new tweeters in the existing mounting cups, so they fit nicely in the panel.
Some people would say that "Speakers are speakers." What's impressed you the most about the new models, especially when paired with the new Sony amplifier?
The new component speakers have a smaller crossover, so it made for an easier installation in the door panel—less stuff to potentially rattle around and less weight to secure inside. The 1621Cs provide smooth, detailed highs that aren't too bright or harsh. Solid mid-bass performance helps fill out the sound, too.
I enjoyed the nuanced sound I got from the old amplifier, but then we hooked up the XM-GS4. This amp has improved frequency response, so it makes the speakers sound even better. I've actually heard some new details in songs I know very well, and that's really impressive.
A lot of the "hard" work was already done during an earlier upgrade. What was the most difficult part of this installation?
I very much enjoyed NOT having to run all new speaker wire and power/ground wires! I've never had any issues that would make me consider changing that out anyway, so that saved a ton of time and effort.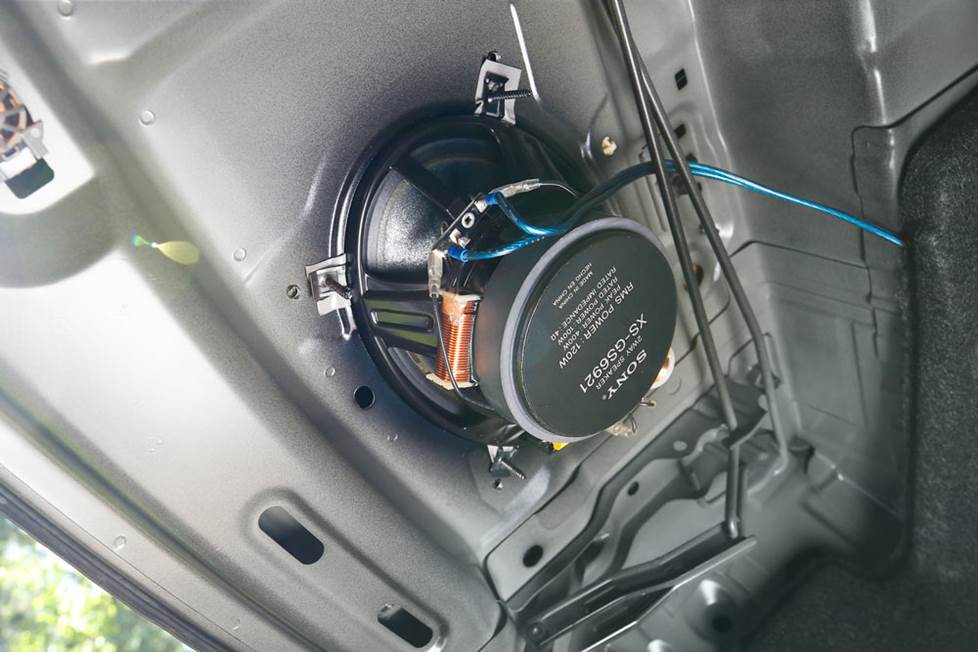 The new 6"x 9" deck speakers add a lot to the sound in this Yaris.
There wasn't anything necessarily "hard" about this—just the time it took to disassemble the doors and rear deck and install the new drivers. We polished up some connections on the end of wires and it took a little time to secure the smaller crossover in its new home, but it was well worth the effort.
Swapping the amp was a breeze, since we labeled all the speaker wires and it fit exactly in the same spot as the old one—the side of the subwoofer enclosure. We had a lunch appointment that day, actually, and we made it with plenty of time to spare!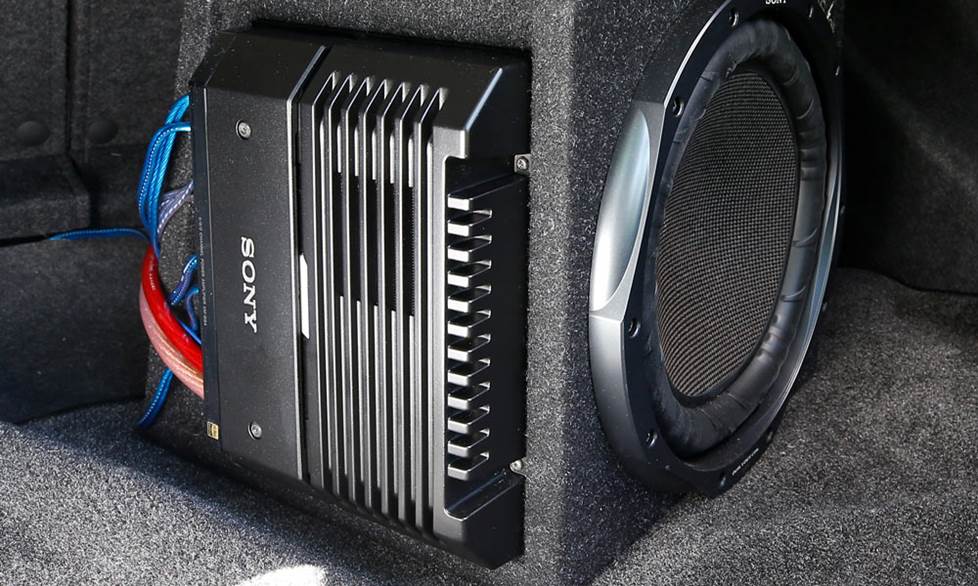 If it ain't broke.... Stephen's older Sony subwoofer still sounds great, so he's still using it.
You stuck with the older Sony subwoofer and mono amp for now. How are they sounding after a few years? Do they match well with the newer GS Series speakers?
The XM-GS100 mono amplifier is still jamming and Sony hasn't needed to upgrade that amp because it's still a solid performer. With 600 watts RMS (at 2 ohms) of power, it's right on point for the size of my car and the level of bass performance I want.
The newer Sony XS-GSW121D subwoofer works great in this setup and it fits the enclosure. I just decided to keep the older one in there for now and let one of our Advisors enjoy the new model in his vehicle. Sony subs still hit hard for synthesized, bass-heavy songs and they keep their accuracy for more musical bass notes, too.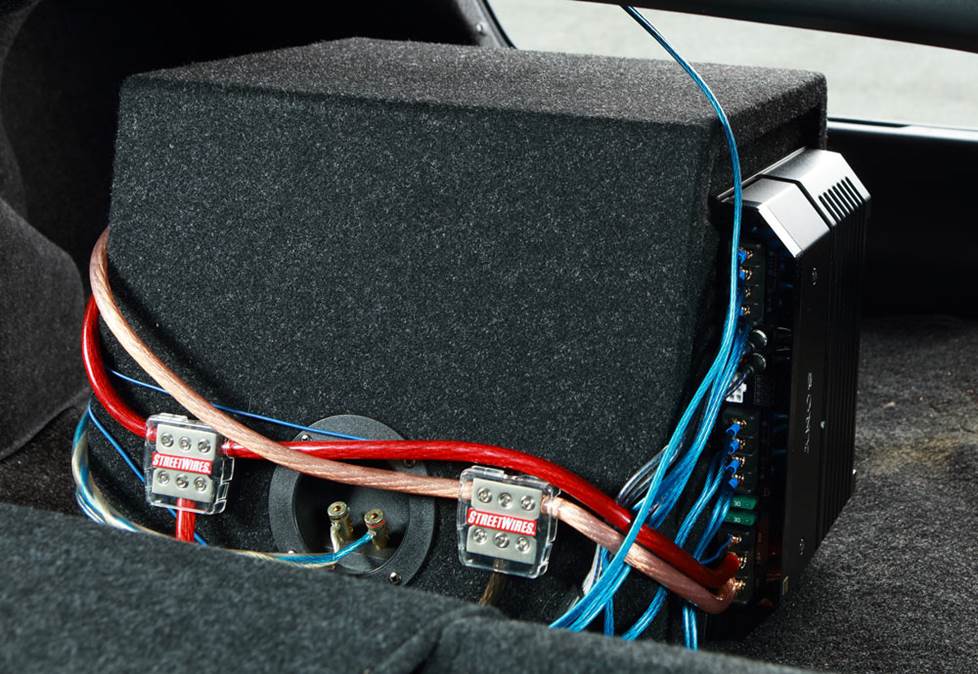 We know that a new receiver is on the top of your wish list. Any other upgrades in store for the Yaris?
Doing this level of upgrade allowed me to clean up a few installation tidbits with the crossover, connections, and mounting hardware. If I wanted to push it to the next level, I could consider the hi-res tweeters for added fidelity but that would require a different mounting setup. Also, if I chose a 3-way design for the front speakers, I'd probably have to do some more work in the door panel and the dash.
I've added Dynamat to the doors and rear deck, which helps with sound and also helps quiet the inside of the car a bit. The next "quality of life" upgrades include a rear-view camera, all-weather floor mats from WeatherTech, a Qi-charger for my phone, and some car diagnostic gear. It's a 10 year-old car, but it's still cruising great, so I'm going to keep making it better!
New items installed:
Sony XM-GS4 4-channel amplifier
Sony XS-GS1621C 6-1/2" component speaker system
Sony XS-GS6921 6"x9" full-range speakers
Older gear already in place:
Sony XM-GS100 mono amplifier
Sony XS-GSW121D 12" subwoofer
Planning your own multi-stage audio upgrade? Don't hesitate to reach out to our Advisors via phone, email, or chat. Their experience with systems like this one can save you hours of research!
---
Vehicles in the Custom Car Showroom are submitted by customers and fans, and edited by Crutchfield writing staff. You can find more of these articles on the Showroom main page.