Three awesome home audio control apps
Turn your phone into a powerful tool for your home music system
Smartphones have revolutionized how we listen to music. A single app can give us instant access to whatever we want to hear, wherever we happen to be.
But there are also apps that can change how we listen to music at home. Manufacturers are developing and improving companion apps for their products all the time. And we're starting to see apps that work with more than one brand of hardware.
Check out three of our favorite audio control apps below. Together with the right gear, they mean better sound, easier control, and even virtual liner notes for everything you listen to.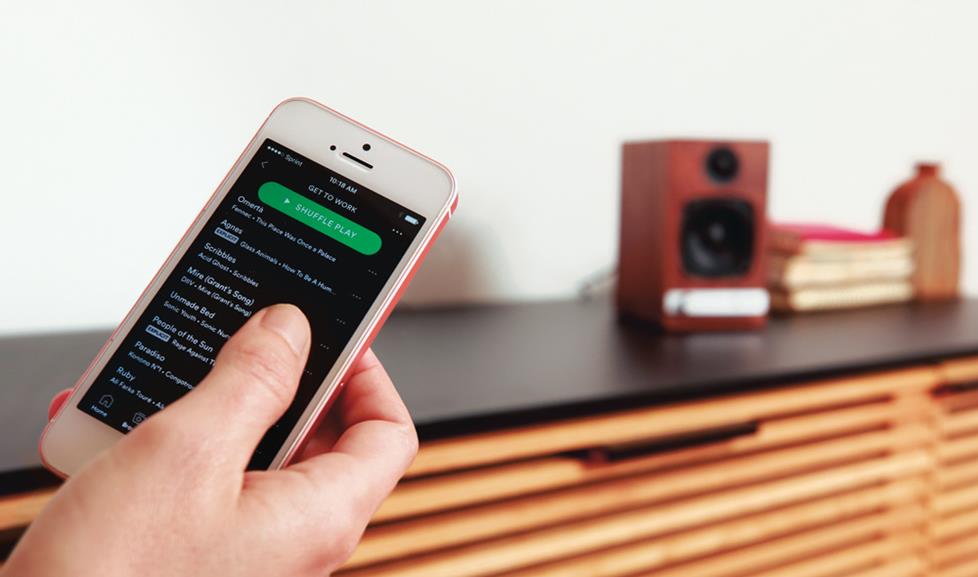 ELAC SUB Control for iOS® and Android™
Getting your subwoofer to blend with your stereo speakers can be tricky. So ELAC made an app for that. Their SUB Control app works with ELAC's Debut series subwoofers via Bluetooth®.
The app uses your phone's microphone to play test tones and take EQ measurements. Then, it tailors the sub's output to your main speakers and your room. The result is deep bass that seamlessly blends with your main speakers.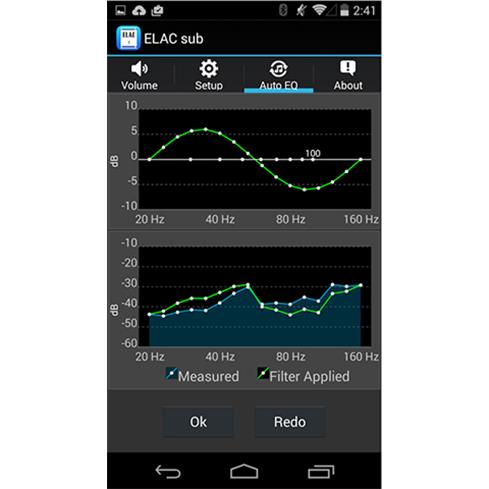 ELAC's SUB Control app measures the output of your subwoofer and applies EQ corrections to tailor it to your room.
There's also a delay function, which is useful for subs that are placed much closer to your seating position than your speakers. And you can tweak the sub's EQ manually to suit your preference.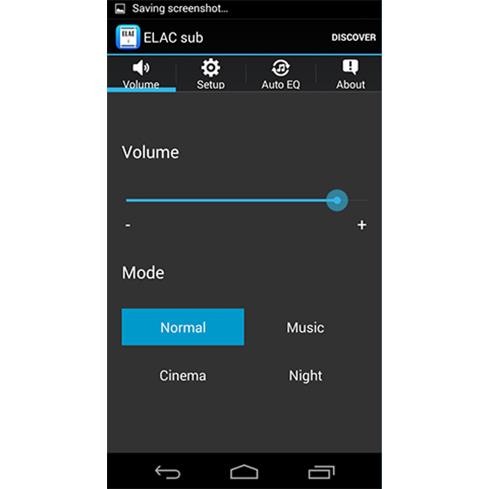 The SUB Control app also offers volume control and listening modes for compatible ELAC subs.
The app also offers full control over all the Debut-series subwoofers' functions – no more having to get up and reach around the back of the sub to turn the volume up or down.
Roon Remote for iOS® and Android™
If you're obsessive about music and have a large library on your computer, you simply must check out Roon. It's a new way to organize your collection and even send music throughout your home with compatible gear. Think of it as iTunes on steroids.
Roon is software you install on your computer. The software finds all your music, organizes it, and allows you to slice and dice it with various search functions and filters. Then, you can download the app to your phone and use it to play music on compatible gear throughout your house (more on that later).
But the real fun with Roon is in the amount of information you can get about all your music. For instance, let's say you're a big Elvis Costello fan. Search his name in the Roon app, and you'll see all his albums that you own in your digital library.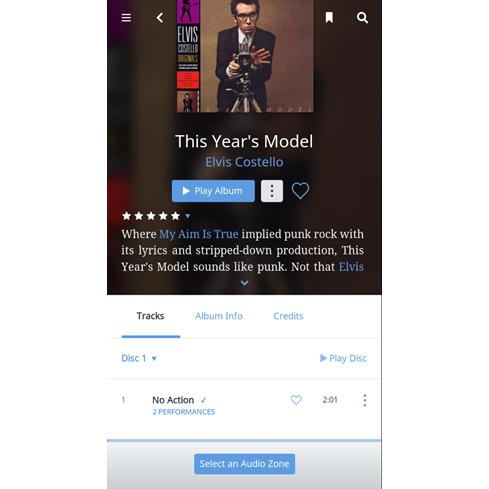 Dive into a specific album and see when it was released, read a review, and see who played which instrument. It's like having an entire library of album jackets and liner notes at your fingertips.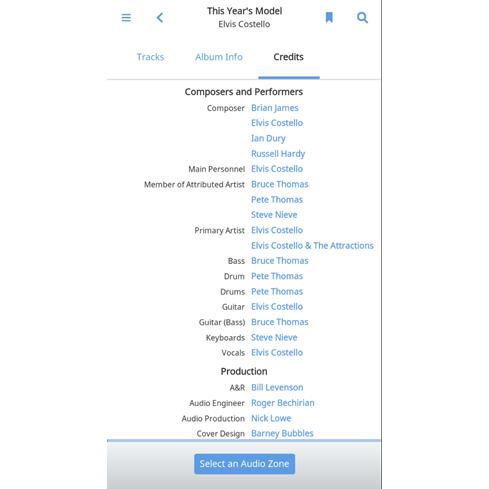 Go even deeper with TIDAL
Since its introduction, TIDAL has become one of our go-to music services. Now that it's compatible with Roon, there's even more reason to subscribe.
If you subscribe to Roon and TIDAL, you'll see TIDAL's entire library of millions of tracks folded into your personal collection. So when you search Elvis Costello, you'll see his albums that you own as well as all of his output that's available on TIDAL. Basically, just about everything he ever recorded.
The beauty of Roon is how it combines the power of the internet's wealth of music information with your entire music collection and TIDAL's massive library. The first time I used the Roon app on my phone, I found myself tunneling deep into the rabbit hole, discovering new music just by clicking links in album credits and following a delightfully twisted path through the history of Memphis soul. It's incredibly addictive.
So how do you listen?
Roon is compatible with a growing number of receivers, amplifiers, and wireless speakers. It's compatible with Google Chromecast, which means you can use it with a wide range of wireless powered speakers and multi-room audio systems. It's also AirPlay compatible, which means it will work with even more home theater receivers and wireless speakers. It also works with Sonos and Bluesound, two of the most popular multi-room audio systems.
You use the app (or the software for your computer) to send music to any compatible device. Roon will find these devices on your network and let you assign them room names.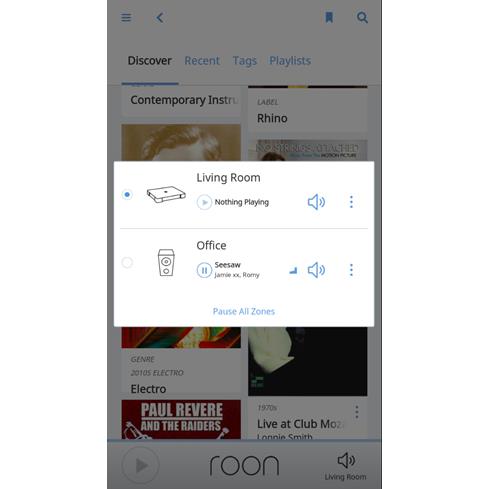 Roon lets you play music on compatible gear throughout your house.
You can even group speakers within the app for multi-room playback, as long as they use the same wireless protocol. (No, you can't group a Sonos speaker with an AirPlay speaker.)
Roon requires a subscription. Click here for more info.
Yamaha AV Controller for iOS® and Android™
When it comes to apps for controlling an A/V receiver, Yamaha's AV Controller app is one of the very best we've seen. It's a snap to use, customizable, and powerful. If you own a Yamaha receiver, this app is a must.
Don't need to see every possible input source? Hide the ones you're not using. Wish you could rearrange the order of the icons? You can, just like you would on your smartphone's home screen.
For music lovers, the app allows you to dial in the sound just the way you like it. There are tone controls for tweaking treble and bass. Or if you want to use your surround speakers for music, you can select from Yamaha's wide variety of DSP modes. They do a great job of "remixing" a stereo track for surround output that truly fills your room.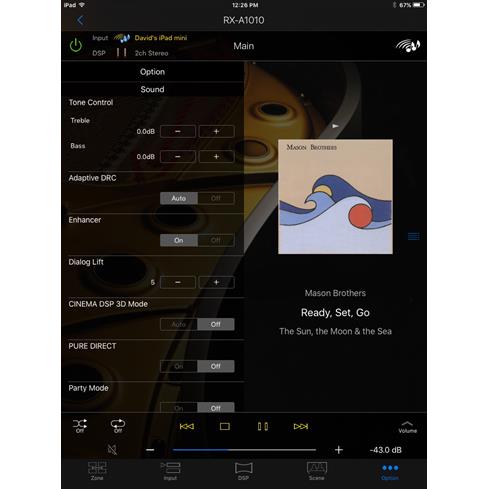 The Yamaha AV Controller app is even better on a tablet. The larger screen puts so many controls right at your fingertips. On either kind of device, the touchscreen interface is much more intuitive than with an old school remote.
For folks who want to keep their receiver out of sight in a closet or cabinet, an app like this is the ideal remote. Since it works over Wi-Fi®, you don't have to worry about setting up IR repeaters.
Simple multi-zone control
If you're using a Yamaha receiver to power a multi-zone speaker system, this app is a life-saver compared to using the an old-school remote. It's super-easy to play music from different sources in each room. The app will always show you what's playing where.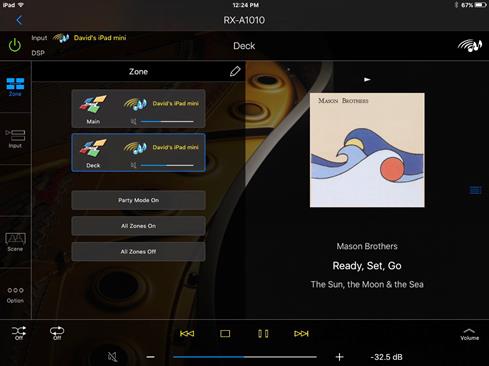 Multi-zone control in a receiver has never been simpler than with the Yamaha AV Controller app.
Want the same song to play in every zone? Tap "Party Mode" and all your connected speakers will sync up instantly.
Have more questions?
For one-on-one help, call our expert advisors at 1-888-955-6000. They can give you the scoop on everything we sell.