Tips for outdoor high-contrast photo shooting
Heads up!
Welcome to this article from the Crutchfield archives. Have fun reading it, but be aware that the information may be outdated and links may be broken.
What happened to my shots?
We've all seen them: pictures with blazing cheekbones and dark eye sockets, or two silhouettes in front of a well-exposed beach panorama, or a big flare obscuring your subject as you shoot with the sun off to your side or in front. While these things are frustrating, they're not inevitable. Here are a few techniques for upping your success percentage in outdoor high contrast situations, shot on location at Virginia's Wintergreen Resort.

On the left, no filter is in place; on the right, a circular polarizer is in effect.
Use a lens filter
Let's get the basic business out of the way first: using a UV/Protective lens filter is a great idea the moment you take your lens out of its packaging. It's cheap insurance against smears, dings, and scratches that can ruin your photos. But shooting where there's a lot of sunny and shadowed patches, or big expanses of sky, or reflective surfaces like water, demand a more specialized kind of filter, a circular polarizing filter. These filters act in the same way as most sunglasses do, by aligning the otherwise chaotic rays of light that come from the sky and surface reflections. The overall effect deepens sky colors and tames areas of glare. Check out our example, at right.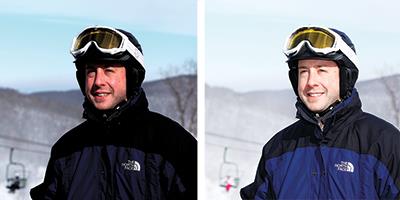 On the left, we've taken a portrait of Crutchfield Advisor Brian in bright light without any other light support, and on the right, we've employed a flash to even out the shadows.
Consider a reflector or fill-flash
When you depend on outdoor light as your main source of illumination, unflattering shadows can creep into your portraits. You can moderate this effect with a well-placed reflective object (like a big piece of white foam-core), or better yet, use your on-board flash to fill in those shadow areas. If your camera doesn't feature an on-board flash, consider an external flash unit.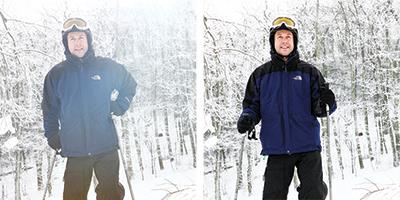 Left, a shot with a visible flare, and right, the same subject, with the lens protected from light by a lens hood.
Try a lens hood or cast a shadow on the lens
As an outdoor photographer, you'll always be playing hide-and-seek with the sun. Sometimes you'll find yourself shooting in its general direction — or dealing with a bright light source off to the side — and you'll notice a flare in the picture, or a washed-out appearance to your image.
Lens hoods, or even a well-placed hand, card, or book, can shade the lens from strong light sources that can affect your shots. See what we mean, at right.