Surround sound for video games
Make the most of your Xbox One, PS4, or Wii U
Heads up!
Welcome to this article from the Crutchfield archives. Have fun reading it, but be aware that the information may be outdated and links may be broken.
If you're playing video games on a small TV or listening to their soundtracks through a TV's built-in speakers, you're missing the full experience. Video games like the Xbox One, PS4™, and Wii U™ can pull you in and make you feel like you're part of the action. The right equipment can immerse you in the game even further. The larger the TV, the more you can see of the action, and surround sound gives you the one-up on your enemies by letting you hear exactly where they're coming from. In this article, we'll show you what we recommend to help get you in the game.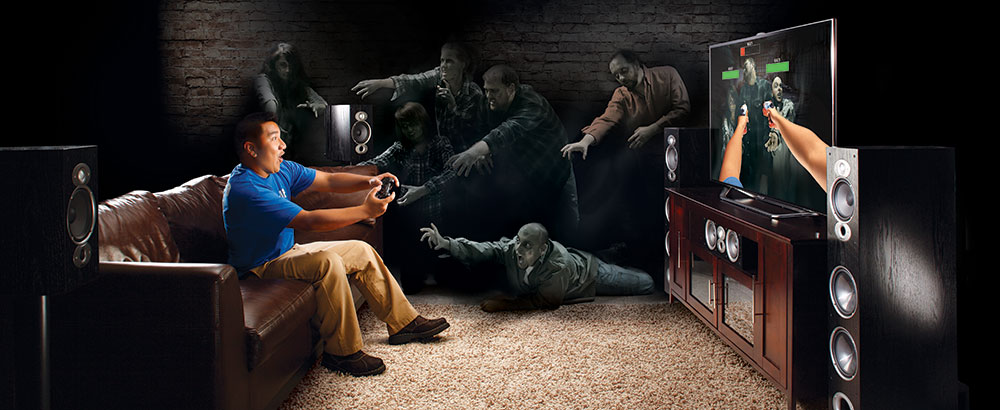 See what you're missing with a big HDTV
Sometimes, bigger is indeed better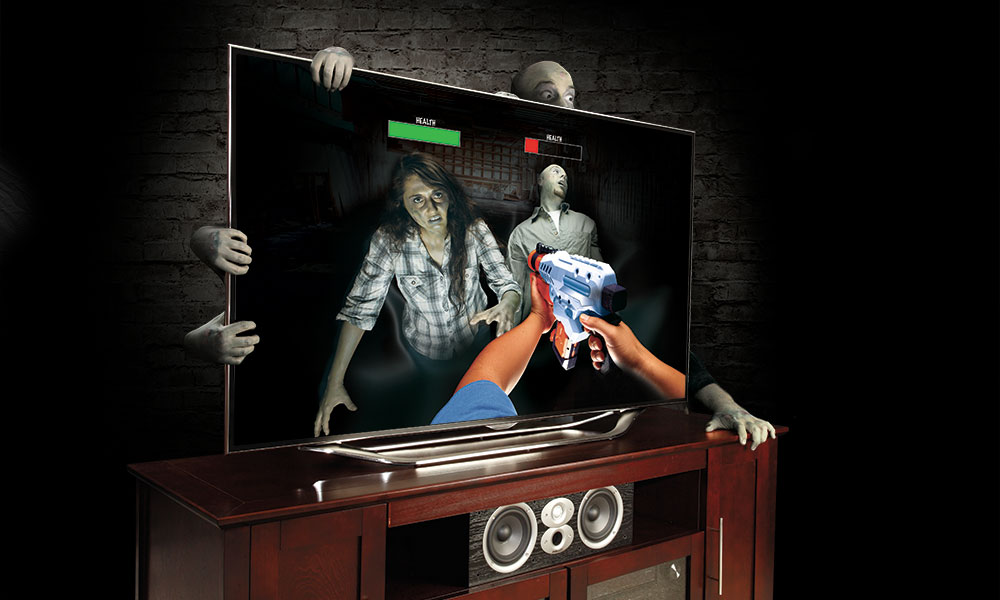 The bigger they are, the easier they are to shoot.
In video games, missing visual cues or not catching an opponent coming at you from the distance can be game over, so investing in a large television helps you to spot things faster. Whether it's an enemy sniping you cross-map in your preferred first person shooter or a cache of treasure in your favorite dungeon crawler, a big TV makes a huge difference.
If you're a fan of having friends over and playing split-screen multiplayer, you know how difficult it can be to see what's going on when you split it up four ways. A large HDTV helps with that, too. If you divide a 60" TV up into four separate screens, you and your buds will have the equivalent of a 30" TV per person. And if you really want to feel like you're in the game, consider a front-projection TV. A 100-inch plus screen can make on-screen enemies and obstacles larger than life.
LCD vs. plasma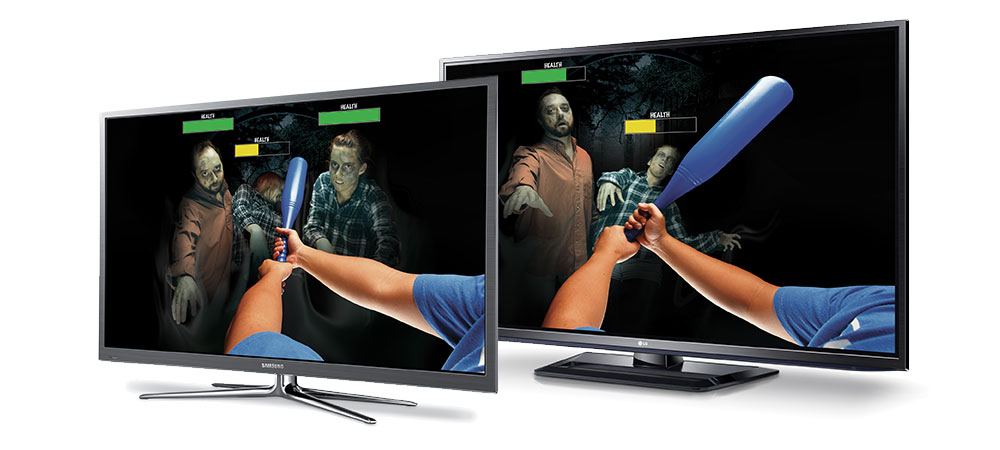 Plasma's accurate colors and deep black levels let you see subtle shadow details, and work especially well in more dimly lit rooms.
Start shopping
LCD (including LED-backlit LCD) and plasma are the two main TV technologies on the market right now. They each have their own benefits to gaming and watching TV in general. LCD TVs really excel at light output, so they do a great job in rooms with lots of ambient light or sunlight. They also use less electricity than plasma sets, so you'll save money over time.
Plasma TVs give you more natural motion reproduction and deeper black levels that do a bang-up job in a more dimly lit room or dedicated home theater space. Inch for inch, plasma TVs cost less than LCD sets, giving you the most bang for the buck. This helps if you want the largest TV within your budget.
Game mode decreases input lag on your TV
Input lag is the time it takes from the moment you press a button on the controller to the moment the action takes place on screen. The greater the input lag, the longer the amount of time between your input and the corresponding onscreen action. This can slow your reaction times, and make it harder to compete in multiplayer. The good news is that most modern televisions have a game mode that cuts out extra processing done by the TV, which lowers input lag. In this test we set out to see how much of a difference game mode can make.
For this test, we connected a computer to each of the three HDTVs shown above and ran a stopwatch application on the computer's monitor and television screen simultaneously. We then took a picture of the monitor next to the television, and subtracted the time shown on the TV from the time shown on the computer. This gave us the amount of lag. We ran this test in each TV's game mode and normal mode, then compared the results to see if game mode makes a difference.
Test Results
The times below were measured in milliseconds and show the decrease in input lag due to game mode.
| TV | Game Mode |
| --- | --- |
| Samsung UN60ES8000 (LED-LCD) | - 85 ms |
| Samsung PN51E7000 (plasma) | - 45 ms |
| LG 60 PM6700 (plasma) | - 88 ms |
Conclusion
We found that game mode cut input lag by a noticeable amount. So if you're serious about game play, game mode will help to give you the edge. The response time that it saves can mean the difference between your bullet connecting with the intended target or barely missing.
You can hear your enemies coming
Heighten your in-game awareness with surround sound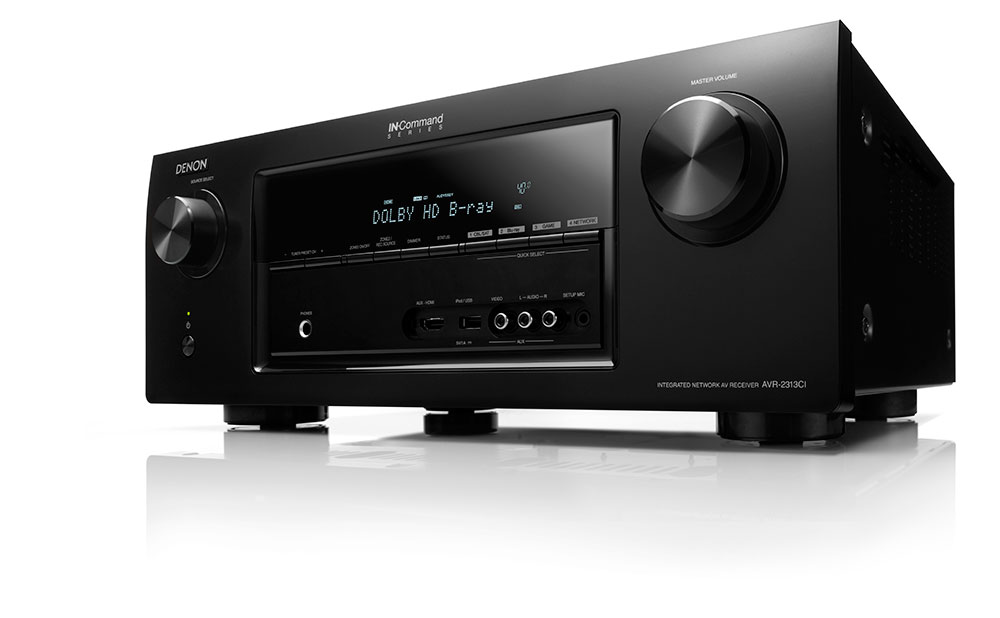 You'll need a home theater receiver to decode the surround soundtracks your games offer.
Almost all games released in the last few years offer a 5.1-channel Dolby© Digital soundtrack, and some games even offer a 7.1-channel soundtrack, so why not take advantage of it? Surround sound helps immerse you in your games, and it even offers a tactical advantage. In competitive online games, you can literally hear an opponent's footsteps approaching you from behind, and you can tell what direction to avoid when you hear the clatter of a grenade.
You'll also enjoy all of the perks that movie watchers have enjoyed for years. Dialogue comes through easier to understand, musical soundtracks have more depth, and explosions will rock your room. Here we'll show you what you need as well as two example systems.
Take your sound system to the next level
Interested in building a surround sound system? Check out these pages to help you get started:
What's in a surround sound system?
Click on the yellow circles below to learn how each piece of a surround sound system helps you improve your gaming experience.
Other audio options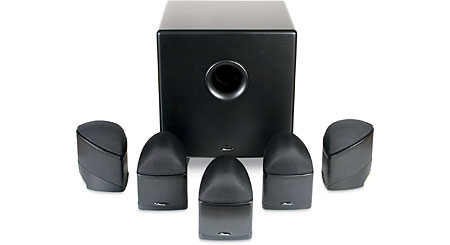 Looking for surround sound speaker systems?
Start shopping
For smaller rooms
If you don't have the space or don't want large speakers in your room, consider pairing a receiver with a surround sound speaker system. These systems take up little space and still give you a solid surround sound experience. See our article on choosing surround sound speakers for more info.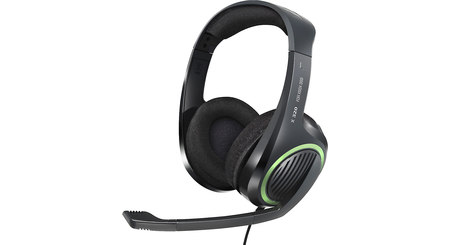 Play into the night
If you like to keep gaming late and don't want to bother your family or neighbors, then consider a set of gaming headphones like Sennheiser's X320. This wired Xbox 360® headset plays the game's soundtrack and lets you chat with other gamers with its built-in microphone.